This No Bake Chocolate Cream Pie is a delicious and easy dessert to put together when it is too hot to bake. Perfect no bake pie for any picnic or party this summer!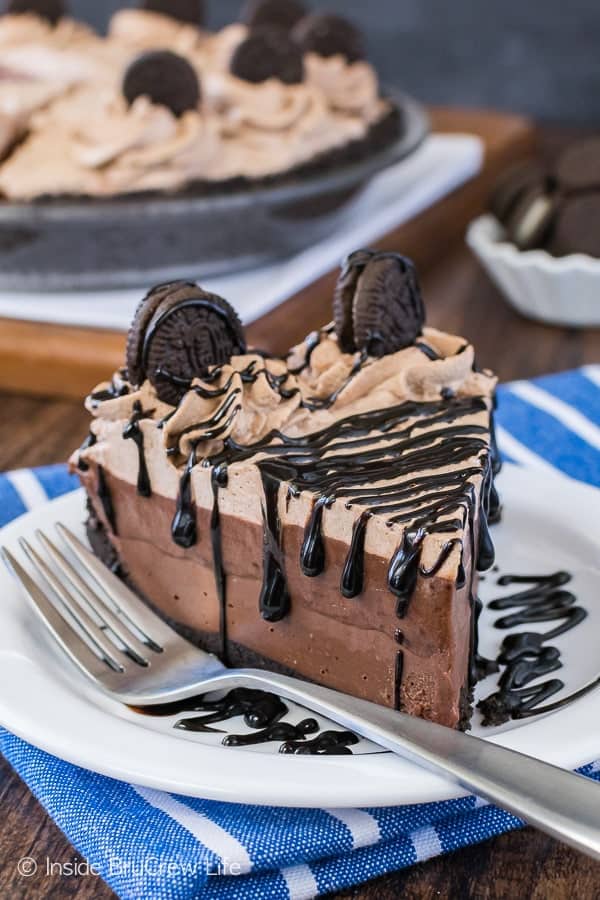 With it being hot and sunny, our kids are enjoying some time at the pool with their friends. The other day though, our youngest son asked me if I could buy him a new swimsuit because his old one was getting tight. I didn't remember buying him one last year, so I said yes. I had him bring me his old suit, so I could take a look at the size.
Turns out the poor child hasn't had a new swimsuit in a few years because this one was a 6/7. And he is 13 years old. Now for the record, he is a tiny, skinny little thing and has always been a few sizes smaller than his actual age. Swim suits tend to get looser when they are wet, so he has always liked his tighter. Although, we were just at the pool the other day, and I couldn't tell this one was too small.
So, I headed out to Old Navy for a few new suits for him. Gotta love super cash days, right? Now here's the dilemma when shopping for a younger teenager who still wears little boy clothes. There are not many plain or simple options. Most kiddy suits have characters or animals on them. I found one that was blue, but it had a giant shark across the front and back. Now in my mind I didn't see anything wrong with it because the blue was fun. Yeah, he wasn't so fond of it. Thankfully they had stocked the racks overnight, and I found a striped blue and yellow in his size that he liked.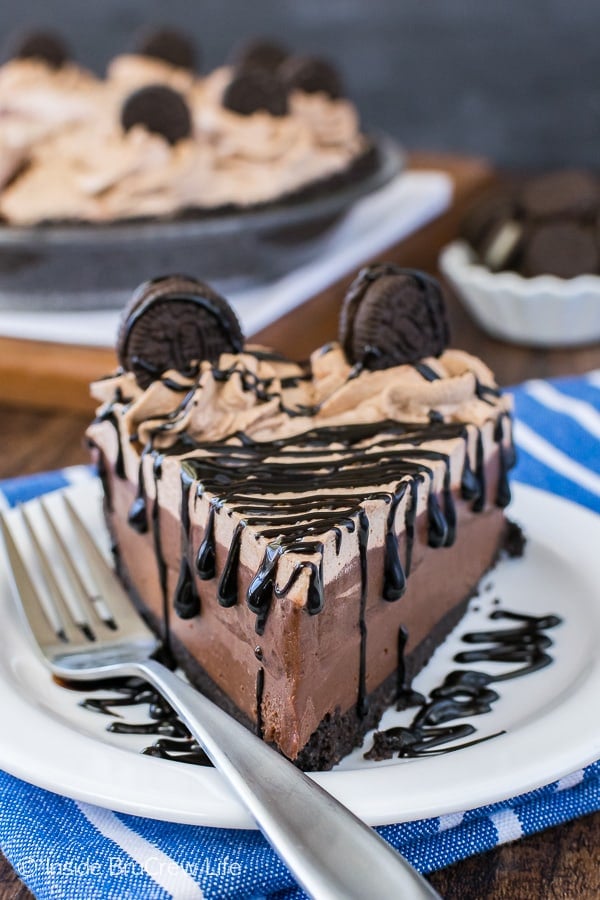 If the boy would just eat all the food, he wouldn't have these clothing issues. He has always been our pickiest eater, but it has gotten worse as he has gotten older. He doesn't like very many meats. In fact, right now the only kind of chicken he will eat is canned or Steak & Shake. And if we would let him, he would eat ramen and homemade chocolate chip brownies for just about every meal. Thankfully he does like veggies, so he will eat salad every time we have it.
His sweet tooth has gotten bigger over the years though. I don't know why he is still so tiny because he is the biggest candy and cookie stealing thief in our house. I find empty wrappers hidden in the back of the pantry all the time. He definitely knows all my hiding spots.
I guess it's time to start hiding the sweets in the real food cupboard since he never looks in that one. LOL!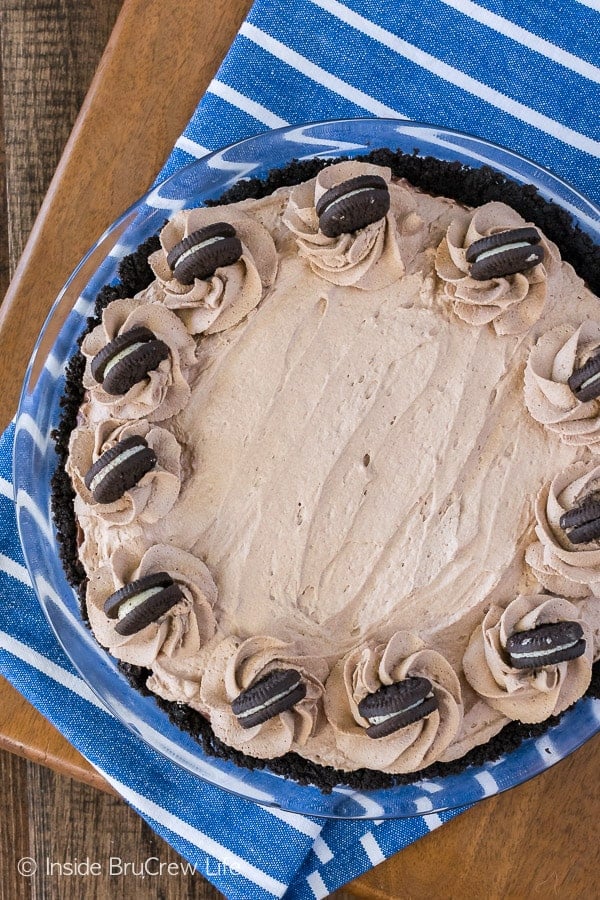 I knew if I wanted to make this easy no bake pie, I would have to buy extra cookies because the Oreo cookies tend to go missing in action very quickly. Some crushed cookies and melted butter makes an easy pie crust for any filling. One of my favorite easy treats to make with a cookie crust are these no bake chocolate cream tarts. I like to refrigerate the pie crust while I am mixing up the different layers because it helps it set up faster.
This no bake chocolate cream pie is similar to the tart but it has three layers of chocolate goodness. Four if you count the crust.
Spread the layer of chocolate cheesecake in the bottom of the crust first. Top that with a creamy chocolate pudding layer. And for the final layer, whip up a batch of homemade chocolate whipped cream. You could totally use Cool Whip, if you want to make it even easier, but trust me and try this homemade version. Plus, it's chocolate so why would you not want to try it.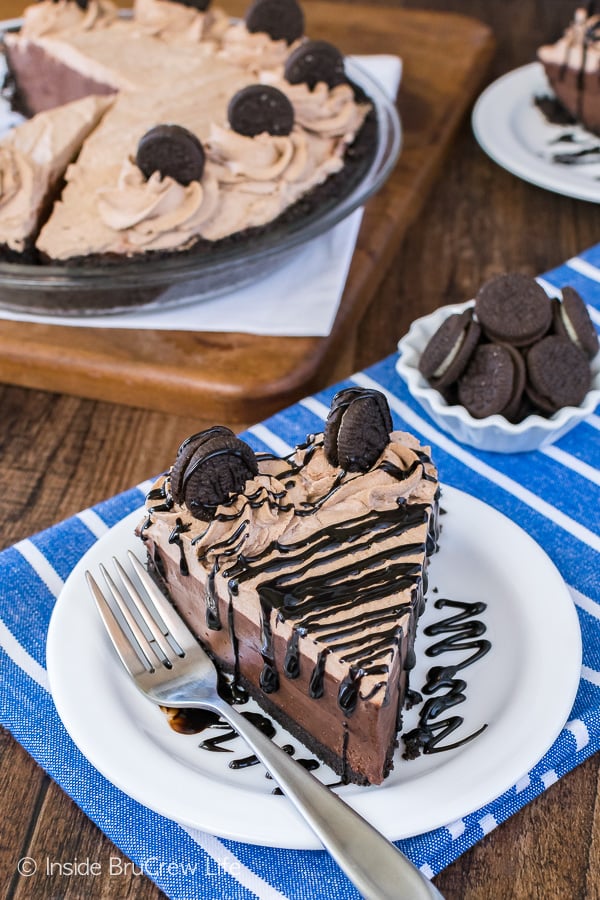 The great thing about this pie is that it sets up very quickly. Give it about 15-30 minutes in the fridge after layering everything and then you can slice into it.
It's the perfect easy dessert for when it is too hot to bake, and you need a chocolate fix in a hurry. Yes, I realize a chocolate candy bar or a bag of chocolate chips would be much faster, but this pie looks fancier and tastes so much better!
If you are still craving some easy chocolate goodness, I suggest checking out these recipes from some of my friends. The candy bar lover in me is drooling over these no bake Snickers crunch bars! And then there are these no bake chocolate peanut butter pretzel cookies that are calling out to the sweet and salty lover in me. So fun to add salty pretzels to no bake cookies! This fudge brownie no bake cheesecake is definitely on my must make list for this summer! It looks a chocolate lover's dream come true!