A chocolate icebox cake is the perfect dessert to make when it is too hot to bake. This Rocky Road Icebox Cake has layers of chocolate graham crackers and chocolate filling that come together in minutes. Such an easy and delicious summer treat.
*I am partnering with Dixie Crystals to bring you this easy icebox cake recipe.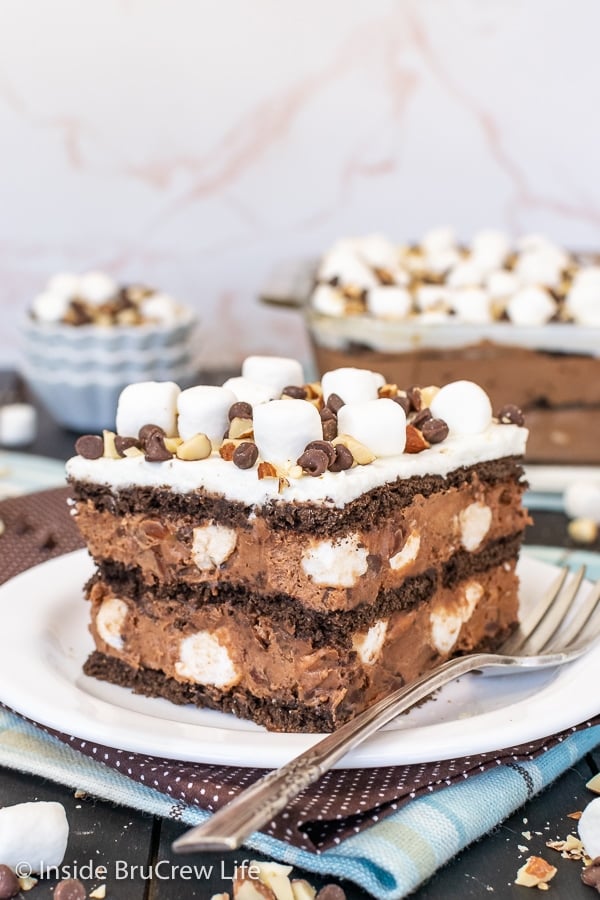 One of the best desserts to make during the hot summer months is an icebox cake.
For this chocolate icebox cake I decided to give it the flavor of Rocky Road ice cream by adding marshmallows, nuts, and chocolate to the layers. It tastes like this easy chocolate mousse only in cake form.
When you need an easy crowd pleasing dessert, you can't beat an icebox cake. It really can be made in minutes.
What is an Icebox Cake?
An old fashioned icebox cake is a no bake dessert that was made from layering cookies and filling in a pan and placing it in the refrigerator to chill.
The original Nabisco cake recipe called for chocolate wafer cookies and whipped cream stacked together in a pan. While it chilled the crackers would absorb the moisture, so the cake could be served in slices later.
Now there are endless variations to these easy no bake cakes. You can use different crackers and cookies such as Oreos instead of the wafers. Puddings, cheesecake, and pie fillings can be mixed with the homemade whipped cream for the creamy center.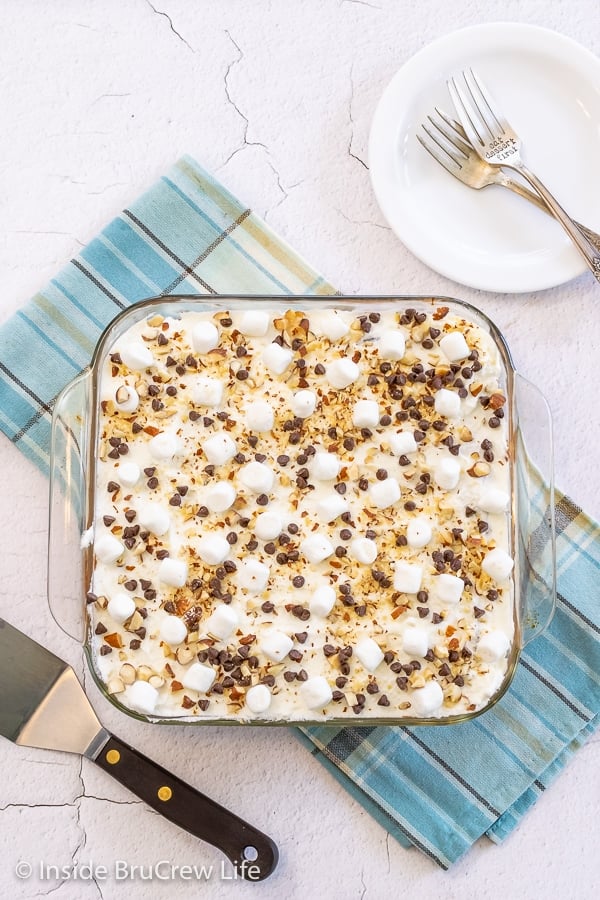 What You'll Need
You will only need a few simple ingredients to make this chocolate icebox cake. Adding chocolate chips, marshmallows, and almonds gives it the look and taste of Rocky Road ice cream.
Cream Cheese - softened to room temperature before beginning
Marshmallow Cream - sweetens the filling
Cocoa Powder - gives it the look and taste of chocolate ice cream
Whipped Cream - adds a fluffy texture to the filling
Mix Ins - Mini marshmallows, mini chocolate chips, chopped almonds
Chocolate Graham Crackers - you can also use chocolate wafers or Oreo cookies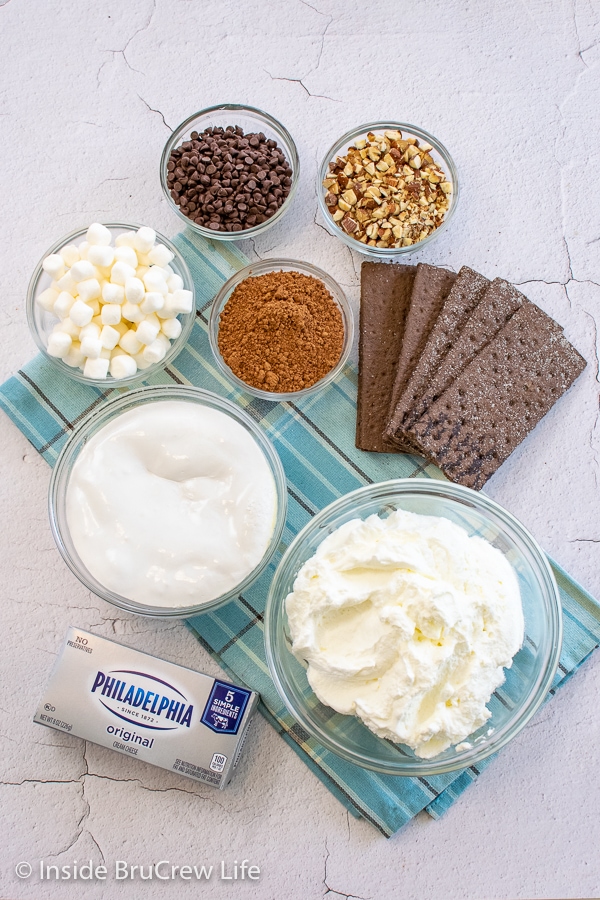 How to make a Rocky Road Icebox Cake
The layers in this chocolate icebox cake recipe come together in minutes. The hardest part of this Rocky Road recipe is waiting for it to chill for at least 4 hours, so you can easily cut it into squares.
Step One: Make Homemade Whipped Cream
Beat the heavy whipping cream and powdered sugar until stiff peaks form.
Refrigerate until needed.
BruCrew Tip: I like to chill a metal mixing bowl and whisk attachment for 10-15 minutes in the freezer before making this Homemade Whipped Cream recipe. The cold bowl will help the cream stiffen faster.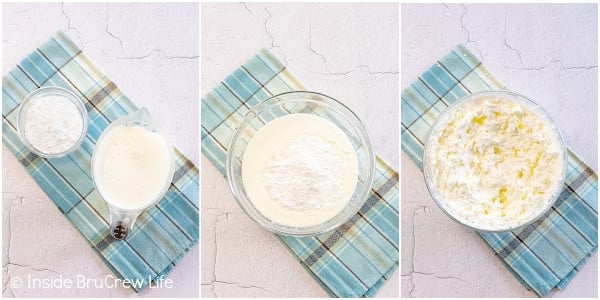 Step Two: Make Chocolate Filling
Beat softened cream cheese and marshmallow fluff until light and creamy.
Add cocoa powder and mix again.
Fold in 3 cups of the whipped cream gently until no streaks appear.
Spread a large spoonful of filling on the bottom of an 8x8 pan.
Add the mini marshmallows, chocolate chips, and almonds to the chocolate filling and mix gently.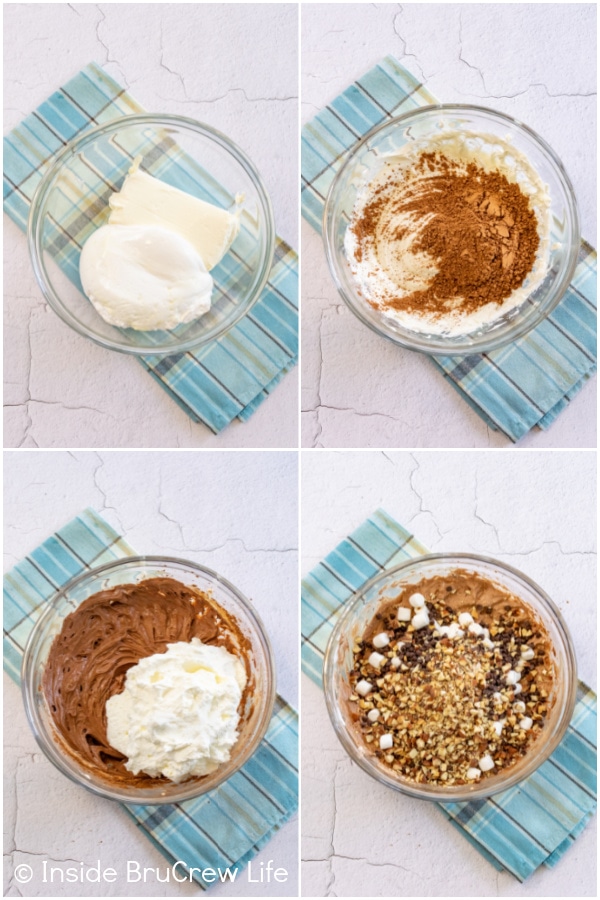 Step Three: Assemble the Chocolate Icebox Cake
Place chocolate graham crackers on the bottom of pan.
Spread half the chocolate filling on top.
Press another layer of chocolate graham crackers on top.
Add the rest of the chocolate filling and spread out.
Top the icebox cake with a third layer of chocolate graham crackers.
Spread the remaining whipped cream on top.
Refrigerate the icebox cake for a few hours, so the crackers soften and the filling sets up.
Add extra mix ins to the top of the cake right before serving, so everyone knows what is in it.
BruCrew Tip: You may need to break some of the crackers to fit make them fit or to cover the filling as the layers go up.
SEE THE FULL RECIPE:
I am sharing the ingredients and full directions for this ROCKY ROAD ICEBOX CAKE RECIPE over on Dixie Crystals website.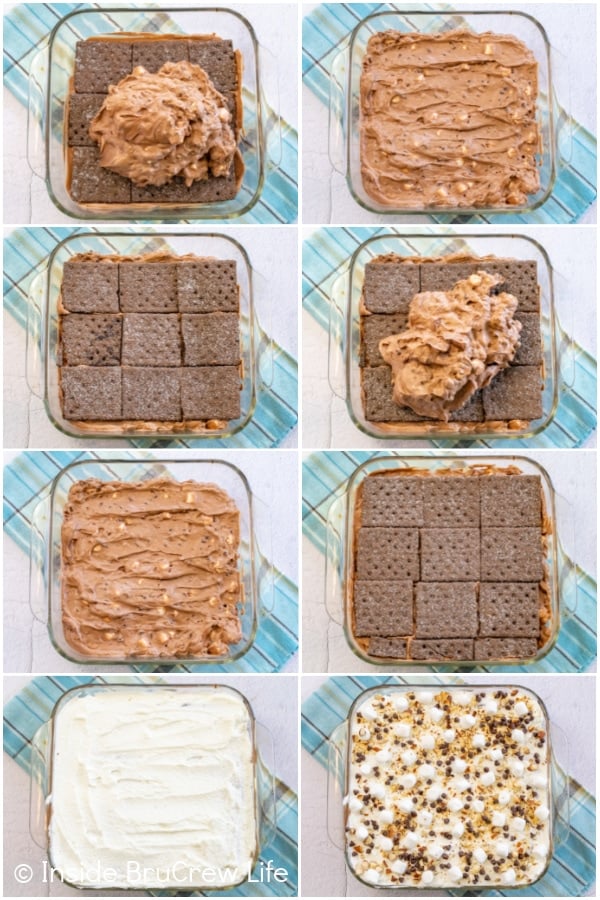 Frequently Asked Questions
Can an icebox cake be made ahead of time?
Yes, an icebox cake recipe is great for making ahead of time because it needs time to chill and soften. Do not make it more than 24 hours ahead of time, so it stays light and creamy.
How do you serve an icebox cake?
After the cake is chilled and set, cut it into squares and serve with extra toppings. Feel free to drizzle the top with chocolate syrup or hot fudge for more chocolate goodness.
How do you store this rocky road icebox cake?
Icebox cakes need to be kept in the refrigerator. Keep it stored in a tightly sealed or covered container for 2-3 days in the fridge. It is best eaten within the first 1-2 days because the graham crackers will continue to absorb the extra moisture and dry out after a few days.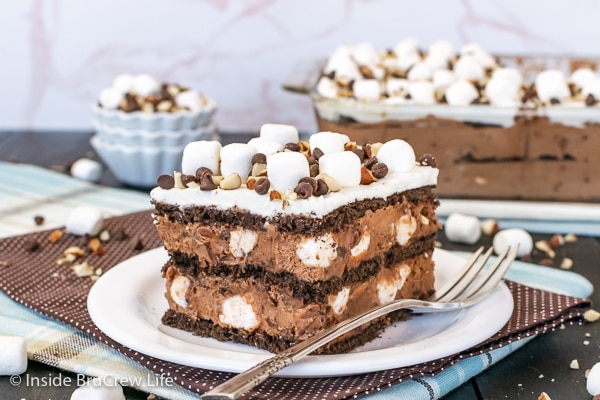 More Icebox Cake Recipes
Other Easy No Bake Desserts