Gift Ideas for the Baker - use this gift guide to buy kitchen tools or utensils for the baker in your life. These gifts are all ones that I own and use the most in our kitchen.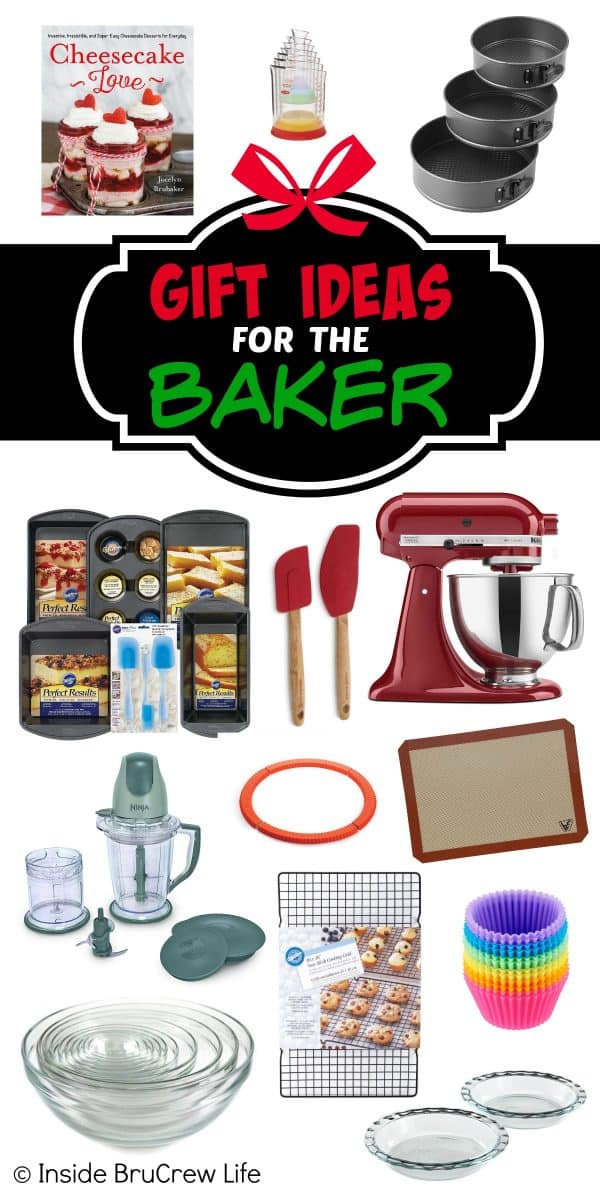 As someone who spends many hours baking up a storm in the kitchen, I wanted to share with you the most used items in our kitchen. If you are looking to buy something for a fellow baker, you can be sure that these tools are ones that will be used over and over for baking fun.
This gift guide centers around the main tools that you need when you bake. There are so many more fun tools that you can purchase, but I wanted to share the basic baking tools to get started with. I will explain each pick and why I think it is useful.
Kitchen Aid - I love using my stand mixer for just about everything. It makes it so much easier to make multiple batches of frosting and cookie dough in a short amount of time. I love that I can also walk away while it is mixing to do another task in the kitchen.
Pastry Blender - this hand held tool helps you cut butter into your flour mixture easily when you are making things like these Banana Toffee Scones. Yes, a fork works too, but I think this blender works a little better.
Ninja Blender/Food Processor - We have had one of these kitchen tools for a long time and love it. It's perfect for making smoothies or pie crust, chopping nuts, or grinding cookie crumbs to make this Chocolate Cherry Mousse Tart!
Cookie Dough Scoop - I love using a medium cookie scoop to make even and consistent cookies every single time. It's also great for filling cupcake liners.
Cooling Grid - We have a couple different sizes of these cooling racks. They are great for cooling cookies and cakes easily on your counter.
Angled Spatulas - I love using angles spatulas to spread frosting on cakes. The angled blade on these 9, 11, 13 inch spatulas keep your hands clean. You can also use them to spread different batters in pans.
Bundt Pan - This pan is one of my favorite pans to use. The molded sides of the pan make the cake pretty enough to serve alone or you can drizzle glaze down the sides to show it off even more like on this Pumpkin Spice Bundt Cake. The nonstick coating on this pan keeps cakes from sticking while they bake.
Pie Plates - These glass pie plates hold up great and make your pie look so pretty with the fluted edges. I have this size and one smaller as well.
Pie Shields - I use these adjustable silicon shields to keep the edges of the pie crusts from burning or over baking.
Donut Pans - We love using these donut pans to bake fun little treats for breakfast or snacks. They are great for shaping donut shaped rice krispie treats too.
Mixing Bowls - This set of glass bowls will give you plenty of sizes for measuring out ingredients and mixing up different parts of recipes.
Whisk - I like to use a whisk to mix ingredients smoothly and quickly when I don't want to pull out the big mixer. This 9 inch wire whisk has a soft comfortable grip making it easy to use in bowls
Silicon Baking Cups - I love the bright colors of these little cups. These reusable cups are great for baking, snack cups, and more and they work in all standard muffin tins
Spatulas - We have quite a few different rubber spatulas because they are so great for scraping the sides of bowls. The silicon blades on these sturdy spatulas are safe for all cooking surfaces.
Measuring Cups - These cups make it easy to measure your ingredients easily. I love the extra big cup for measuring 1 ½ cups of flour or sugar.
Baking Pans - These are the basic pans that you will need to get started on your baking adventures. I have one of each of these.
OXO Nesting Measuring Cups - I love that these little measuring cups sit inside of each other, so they do not take up much room in your drawer. They also measure from 1 Tablespoon up to 1 cup.
Silpat - I can rest assured that cookies and scones will not spread or stick to baking sheets when I bake with this silicon baking mat.
Cheesecake Pans - These three springform pans are the most used sizes that I make full sized cheesecakes in. The set includes an 8-inch, 9-inch, and 10-inch pans.
Cheesecake Love - I had so much fun writing this fun cheesecake book. It is filled with so many delicious cheesecake recipes. Learn how to incorporate cheesecake into every dessert or treat that you bake with these easy recipes!
Disposable Decorating Bags - I love to fill these bags with frosting or whipped cream to add fun decorations to the tops of cakes and cupcakes.
Icing Tips - It's easy to learn how to make different frosting decorations for your cakes and cookies using these basic frosting tips.
Zester - This little kitchen tool is used to remove the outer peel of citrus fruits like lemons, limes, or oranges to add more flavor to your baked goods.
Dusting Wand - This fun little tool is one I grab all the time to shake powdered sugar on brownies or on the Best Lemon Bars. You can also use it to shake cocoa powder on this Easy Tiramisu.
Looking for other Gift Ideas? Check out some of the other gift guides I have done.
*Inside BruCrew Life is a participant in the Amazon Services LLC Associate Program. We may receive a small percentage from sales made through these links with no added cost to you. Thank you for helping to support us and for letting us continue to provide free recipes for you.