Make a loaf of this Gingerbread Banana Bread for an easy breakfast on Christmas morning. The molasses and spices give this banana bread recipe a delicious holiday twist.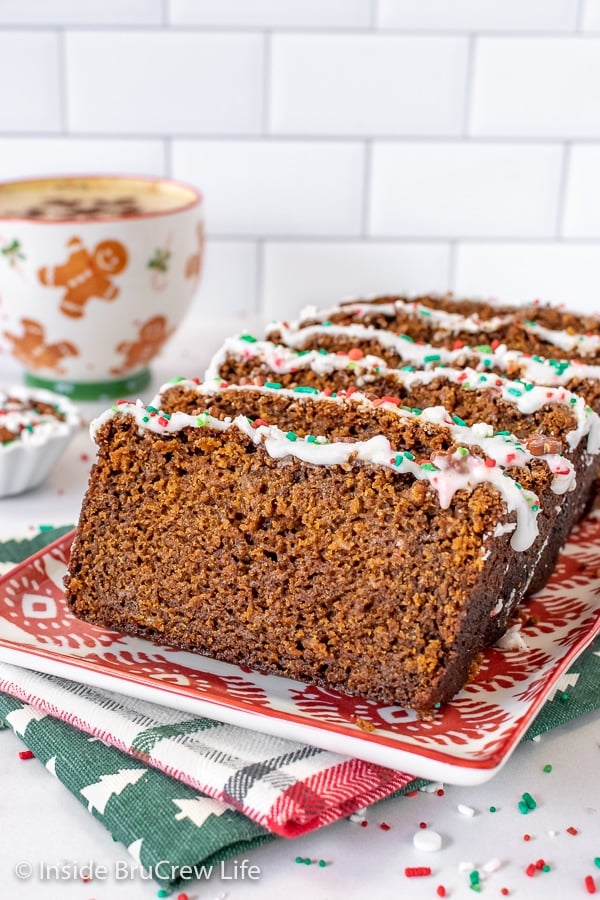 Earlier this year I went through a banana bread making phase. It seemed to be the thing to do as we were all at home more than usual. This Peanut Butter Cup Banana Bread still has the number 1 spot as the best one so far.
Then I just seemed to stop making banana bread. Apparently, it is feast or famine with me and banana bread. That and our youngest son kept eating all the bananas before they got ripe enough to bake with.
A few weeks ago we had a few bananas that sat on the counter for way longer than normal, so I decided to give this Sour Cream Banana Bread a fun holiday twist.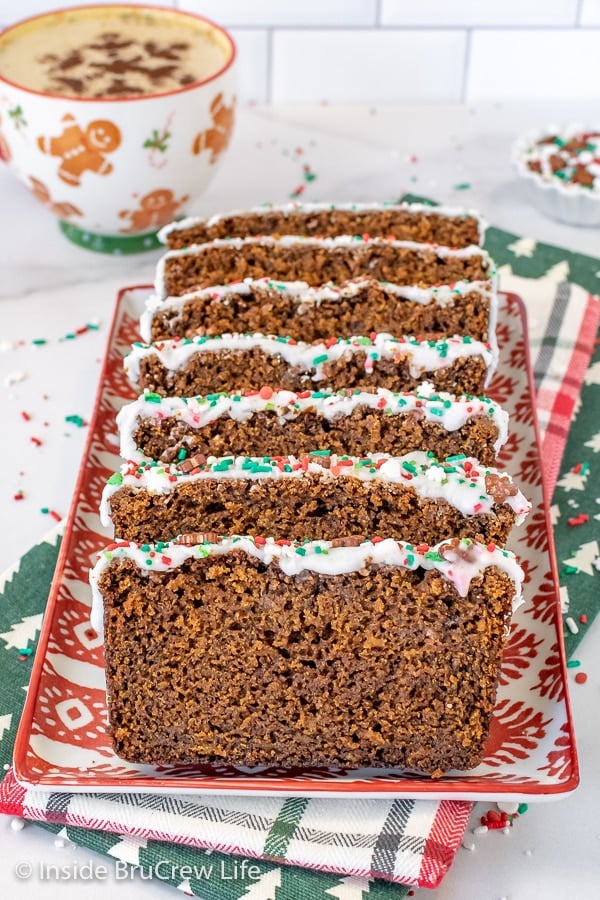 Changing out some of the sour cream for molasses and extra spices really gave this banana bread a seasonal flavor that I am loving right now. And of course, I'm all about adding a glaze to the top of all the sweet breads I bake. It just adds a little something extra.
The boys in the house say that adding a glaze makes it more of a cake. They actually prefer their banana bread without anything extra added in it or on it, and I usually cater to them when I bake a loaf.
But this time, I just had to give the banana gingerbread a fun holiday flair with a glaze and sprinkles. The little gingerbread and snowflake sprinkles on top made it so pretty and festive!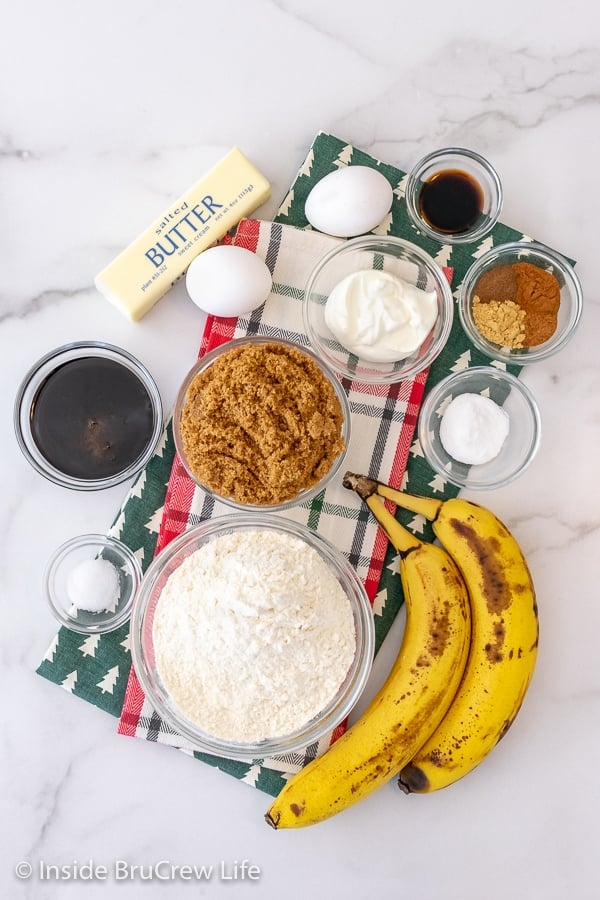 This banana gingerbread loaf turned out so good! It was soft, delicious, and moist. Yes, I went there and used the "m" word. I don't care if this is technically a holiday flavor, I want to make this molasses banana bread all.year.long!
Ingredients:
Butter - softened butter mixed with sugar produces a lighter more cake-like texture
Brown Sugar - using dark brown sugar gives this banana bread a richer, more moist flavor
Molasses - adds a richness to the flavor and gives it a darker color
Eggs - act as a binder to hold everything together and it helps it rise by holding air and giving the bread structure
Sour Cream - the creamy texture gives baked goods more moisture
Bananas - ripe bananas are easier to mash and are sweeter in flavor
Flour - the right ratio of flour to wet ingredients is key to the best banana bread. If you use too much, you will end up with dry banana bread, and if you use too little the banana bread will be too wet.
Baking Soda and Salt - helps the bread to rise and balances out the sweetness from the sugar and bananas
Spices - a mixture of cinnamon, ginger, nutmeg, and all spice gives this banana bread a delicious flavor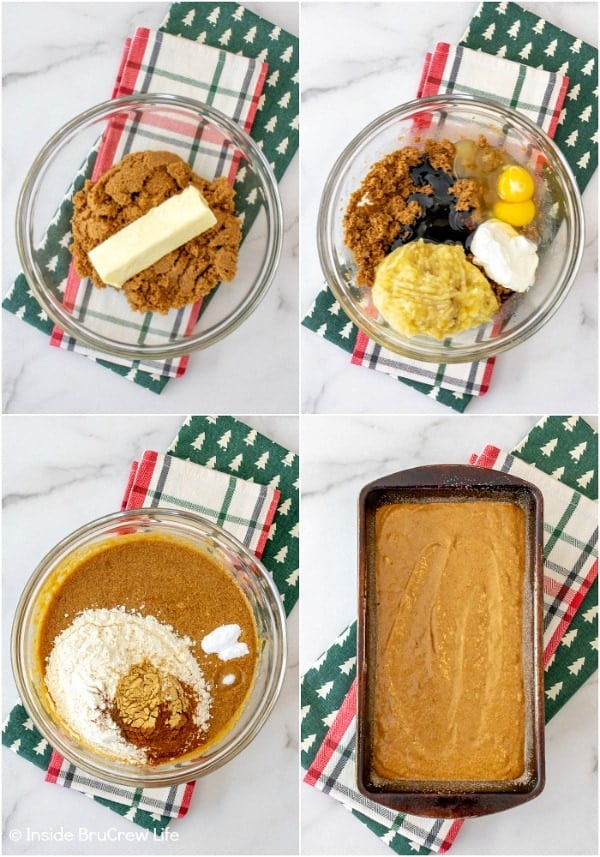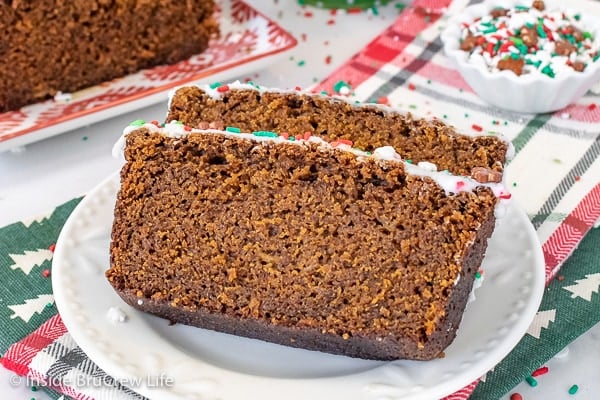 A loaf of this holiday banana bread is a great way to use up the ripe bananas on the counter and add some cheer to your Christmas morning breakfast. Add a homemade gingerbread latte and relax by the tree for a few extra minutes.
How to make Gingerbread Banana Bread:
Spray a pan with nonstick spray and coat it with some Cinnamon Sugar. This just adds the most delicious crunch to the outside of the bread as it bakes.
Beat softened butter and brown sugar until creamy. Add eggs, bananas, molasses, and extract and beat again.
Add the dry ingredients and spices and mix until it is all incorporated. Spoon into pan and bake.
Let cool in pan for 10 minutes, then flip out onto plate or cooling rack.
Once the banana bread is cool, add the glaze and sprinkles. (full recipe is at bottom of post)
How do I know when banana bread is done?
Start testing the bread about 10 minutes before you think it will be finished because all ovens bake differently. Use a toothpick or knife to check the center of the bread before removing it from the oven.
If it comes out clean or with a few crumbs on it, the bread is done. If there is batter on it, continue baking for another 5-10 minutes.
Should banana bread be covered when baking?
To prevent over-browning, tent the bread loosely with foil during the last 15 minutes of baking.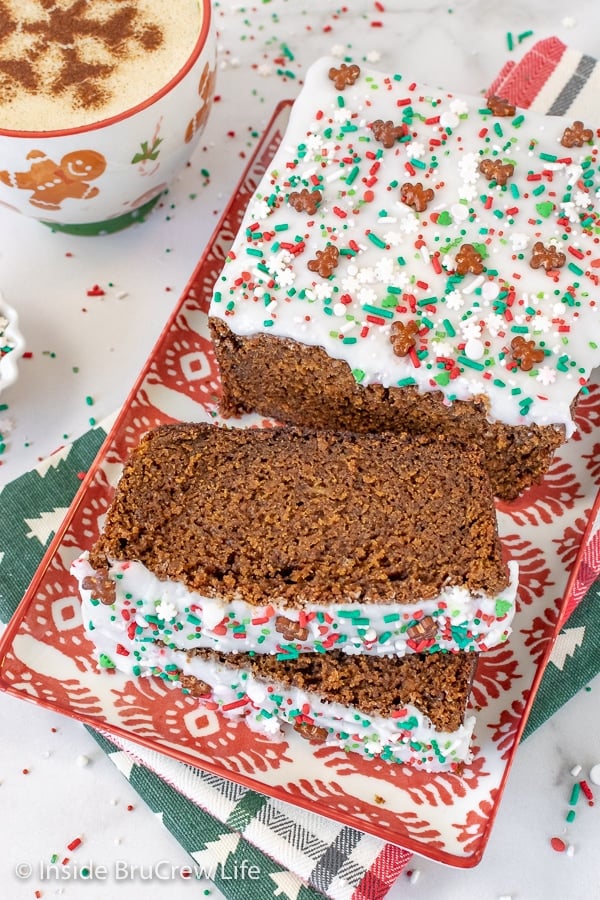 Other banana bread recipes: