Need a way to use up ripe bananas? It doesn't get any better than this Funfetti Banana Bread! Loads of colorful sprinkles and a sweet glaze make this cake batter bread a fun treat for any occasion.
*I am partnering with Dixie Crystals to bring you this fun recipe. Click HERE to see the full recipe.*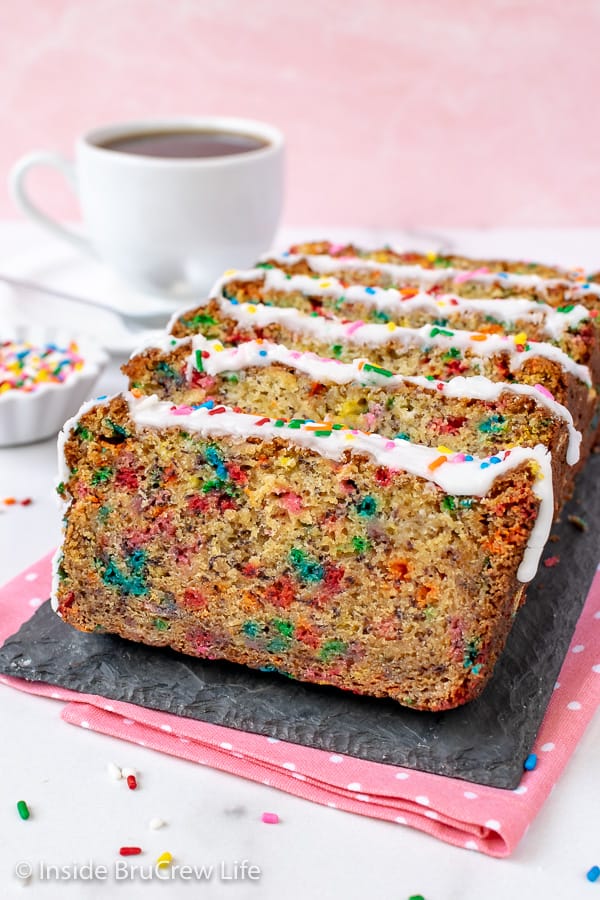 The answer is yes if you are wondering. Yes, I am currently obsessed with making sweet breads right now. Let me clarify that. Not just any sweet bread, lots and lots of banana bread.
A few weeks ago I had this crazy desire to buy a bunch of bananas, let them ripen, then develop every crazy idea I could for loaves of banana bread.
This Chocolate Banana Bread was the first one, followed by this crazy cake batter banana bread staring at you right now. Both were equally amazing and delicious.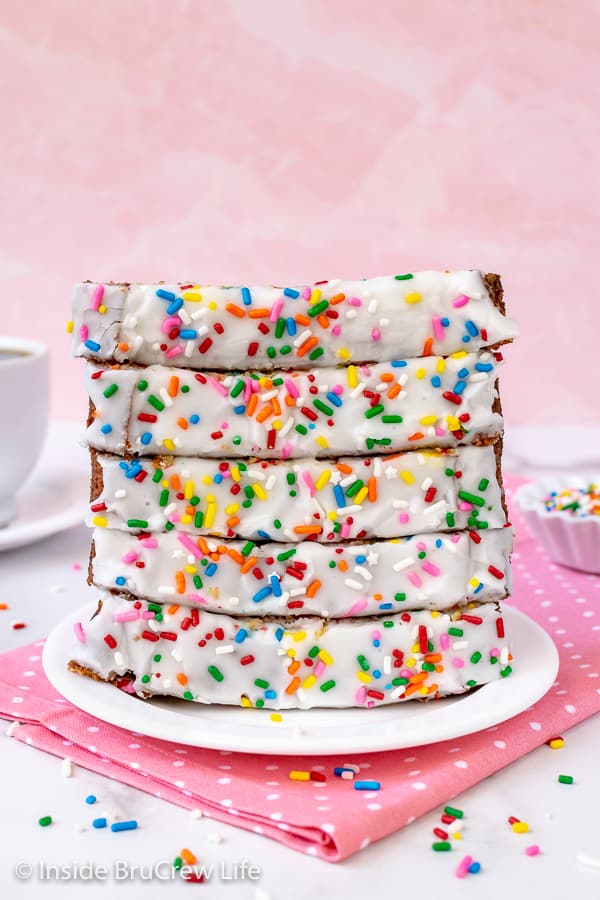 It took a few bites of the sprinkle laden sweet bread to get my daughter's approval. She is a chocolate lover through and through, so she was a little bit biased because of the first chocolate sweet bread I had made.
But the next day, she took another slice and said she really liked it. That's huge because I know she would rather have a slice of this Chocolate Cookies and Cream Banana Bread. In her mind, chocolate trumps sprinkles.
Usually I'm with her on that, BUT this Funfetti Banana Bread totally changed my mind. Although, the cheesecake stuffed banana bread I'm currently testing may sway me. Hhhhmmm...maybe I should add sprinkles to that one too.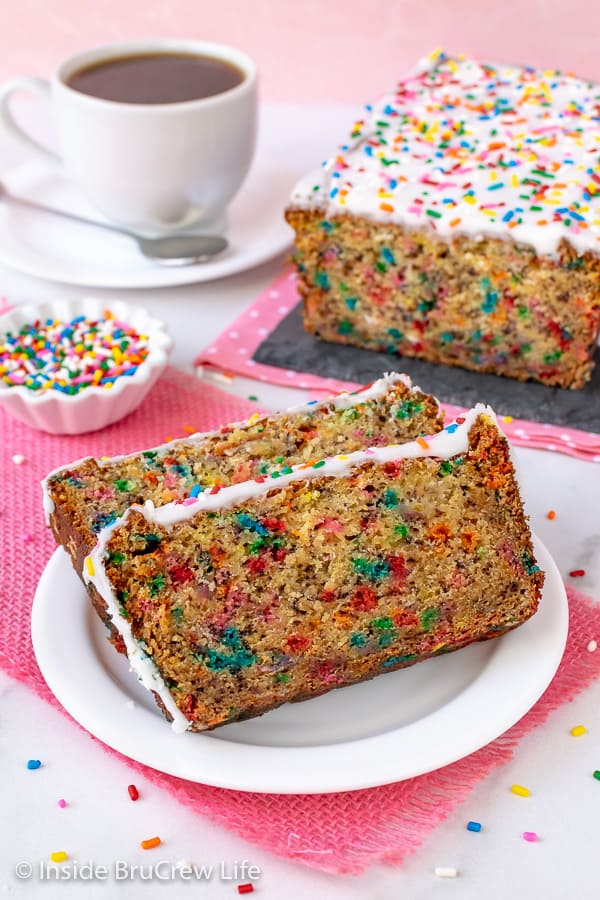 This Sour Cream Banana Bread recipe is my go to when I want to make a different variety. It's so easy to customize it with different mix-ins and different extracts. What is your favorite kind of banana bread to make?
I used cake batter extract in this banana bread, and it turned out so soft and delicious with an amazing flavor. Tons of sprinkles also made is so fun to slice into. And of course, a sweet glaze with more sprinkles was a fun addition to the top.
The frosting and sprinkles are totally optional, but totally necessary. I mean it is "cake" batter banana bread, so adding both just seemed right.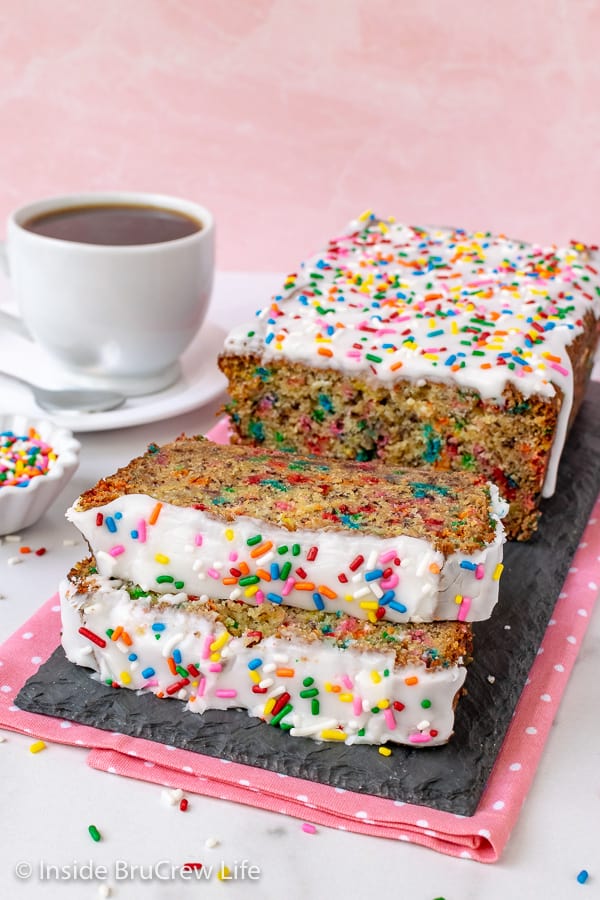 How to make Funfetti Banana Bread:
Beat the butter and sugar until light and fluffy. (link to full recipe below)
Add the extract, eggs, sour cream, and mashed bananas and beat again.
Stir together the dry ingredients and gradually add them to the butter mixture.
Add the sprinkles and stir gently. Pour the batter into a prepared loaf pan and bake.
Spread the glaze on top once the bread is completely cooled.
FYI: I am sharing this recipe over at Dixie Crystals today. Click on Funfetti Banana Bread to see the full recipe.
How do you know when banana bread is done?
Start testing your bread 10 minutes before you think it will be finished. Use a toothpick or knife to check the center of the bread before removing it from the oven. If it comes out clean or with a few crumbs on it, the bread is done. If it has batter on it, continue baking for another 5 minutes and test again.
Should banana bread be covered when baking?
To prevent over-browning, tent the bread loosely with foil for the last 15 minutes of baking.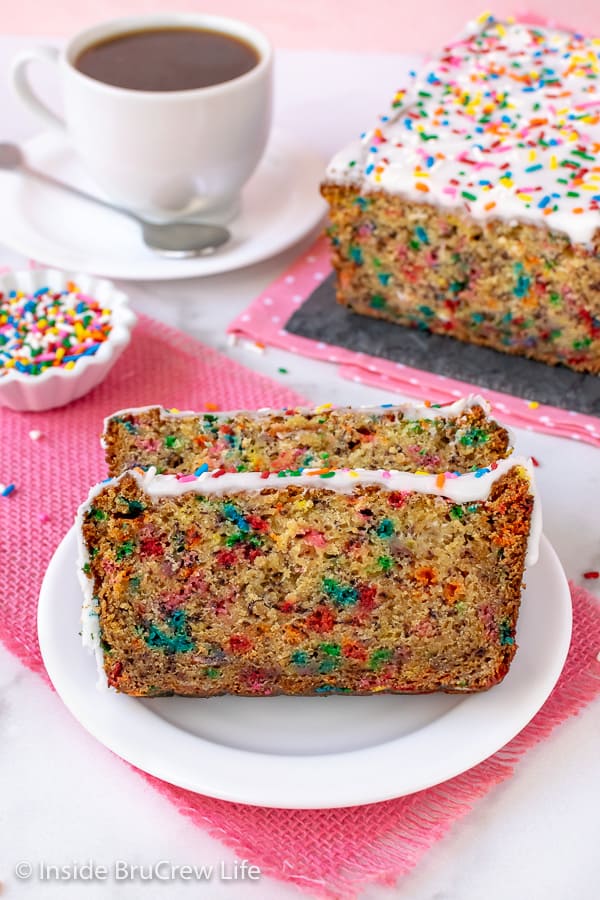 Recipe Tips:
Spray your loaf pan with nonstick spray and sprinkle it with granulated sugar. This will give the outside of the bread a sweet crunch.
Set the butter out ahead of time. Softened butter is much easier to beat with sugar.
If your bananas are not completely ripened, you can ripen them in the microwave. Use a fork to poke holes in the peel, then place on plate and microwave for 1 minute. Cool and peel.
Make sure you use jimmies. This type of sprinkle will hold its shape and not melt into the batter causing everything to be colored.
Only allow the bread to cool in the pan for 10-15 minutes after baking. Flip the bread out onto a plate or wire rack. Once the bread is out, turn it right side up and cool completely.
More banana bread recipes you may like: