This Double Chocolate Banana Bread is the perfect way to start your day. It's sweet, moist, and has just the right amount of chocolate chips and frosting to make it extra special.
Love chocolate and banana together? Make sure you check out these double chocolate banana muffins and this Oreo banana bread.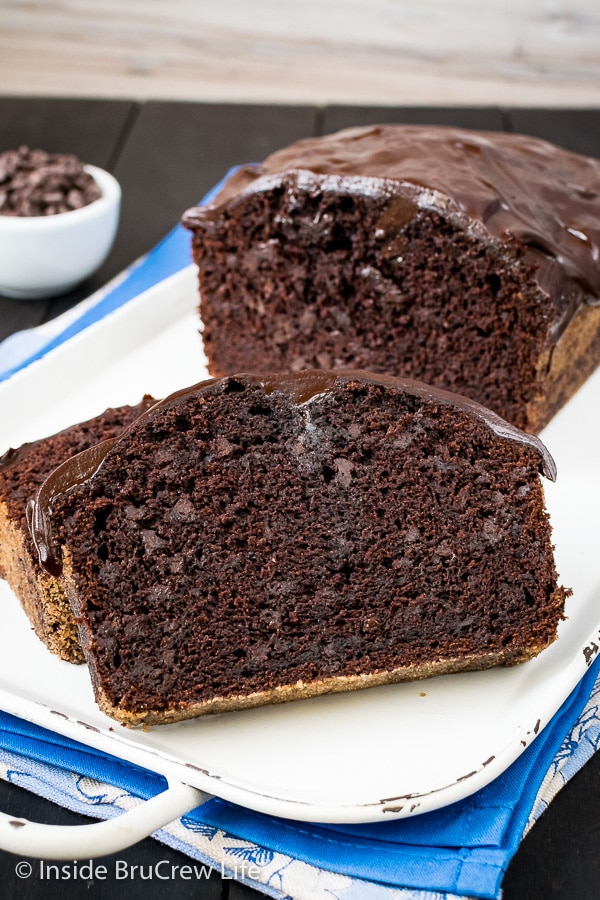 Do you ever look at the bananas on your counter and wonder what you are going to do with them when they ripen? Most of the time we use over ripe bananas in sweet breads or muffins.
I usually just make this sour cream banana bread because it's my favorite sweet bread, and it turns out perfect every single time. But it is also an easy recipe to change and modify when I'm craving something new.
Over the years I have used it to make maple pecan banana bread, cherry chocolate chip banana bread, and cinnamon banana bread. This time I decided to turn it into a dark chocolate banana bread.
Why This Recipe Works
Chocolate makes everything better. Three times the chocolate really gives it a deep chocolate flavor.
The texture is kind of like a brownie - rich, decadent, and moist.
Great way to use up ripe bananas and satisfy your chocolate cravings.
Add chocolate frosting to take it over the top for the chocolate lover in your life.
Best and acceptable way to enjoy chocolate for breakfast.
Dark chocolate in it is full of antioxidants. Wink, wink!
This loaf of banana bread came out so amazing! The inside is soft and moist with lots of chocolate chips in every bite. You won't be able to resist this tasty double chocolate banana bread.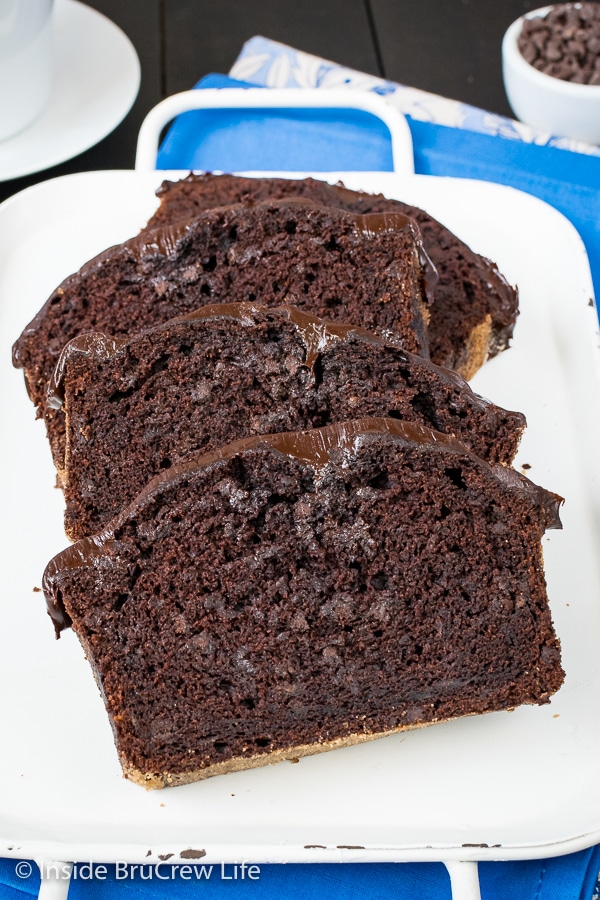 Main Ingredients Needed
Get ready to make your own loaf of chocolate banana bread with simple ingredients that you probably have in your kitchen or pantry.
Butter - I like to use unsalted butter in all our baking, so I can control the amount of salt in the recipes. If you have salted, just use less in the batter.
Granulated Sugar - Helps to cream the butter and adds sweetness to the batter. You can also use a mixture of brown and granulated for more moisture.
Bananas - Using 2 ripe bananas for the best flavor and sweetness. See how to quickly ripen bananas in the oven if they aren't quite ready.
Sour Cream - Adds a moist texture to banana bread.
Dark Cocoa Powder - I love using Hershey's dark cocoa powder in chocolate recipes because it tastes so good and gives it a really dark color.
Chocolate Chips - We like mini chocolate chips because then each slice has lots of chocolate in it.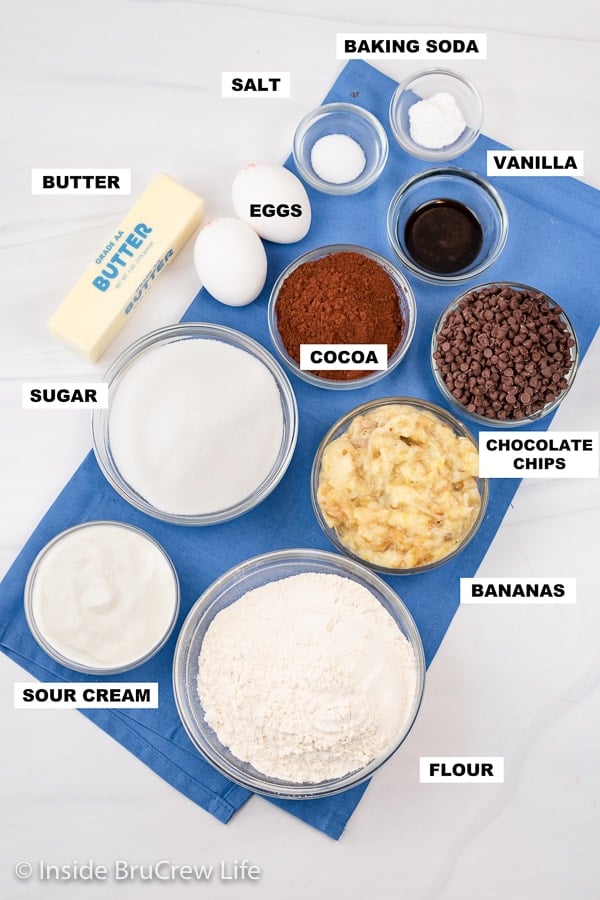 How to make Chocolate Banana Bread
Follow our step by step instructions to turn the ripe bananas on your counter into a delicious loaf of banana bread with triple chocolate goodness.
Preheat your oven to 350 degrees. Spray a 9x5 loaf pan with nonstick baking spray and sprinkle the pan with granulated sugar. This gives the crust a caramelized texture and taste. (full recipe at the bottom)
Beat the butter and granulated sugar in a large bowl until the mixture is light and creamy.
Add the eggs, mashed bananas, vanilla, and sour cream and beat again.
Slowly mix the flour, cocoa powder, baking soda, and salt into the banana mixture.
Add mini chocolate chips and stir gently. Pour the batter into the prepared pan and bake in a preheated oven.
Remove the pan from the oven and let the bread cool in the pan for 10-15 minutes. Then gently flip out and over and let it cool completely.
Once the bread is cooled, slice and serve.
BRUCREW TIP: Add a chocolate glaze to the top. Let it set before slicing to turn this chocolate banana bread into a decadent and divine treat.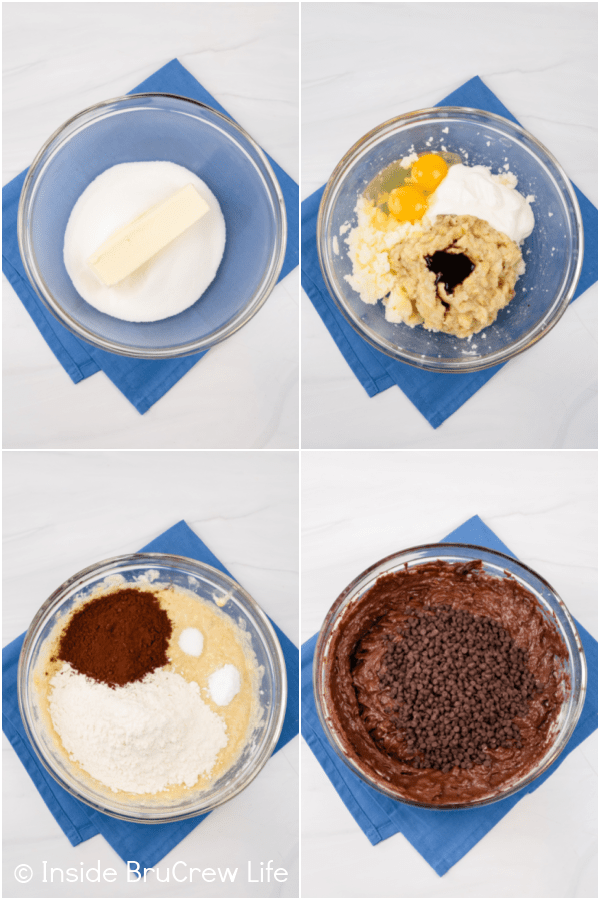 Other Mix-Ins
Nuts - pecans, walnuts, almonds
Chocolate Chips - white, semi-sweet, dark, peanut butter, butterscotch
Veggies and Fruits - cranberries, blueberries, cherries, pineapple, carrots, zucchini
Candy - peanut butter cups, candy bars, toffee bits
Other - coconut, cookies, coffee, Nutella, cheesecake
Storage
Keep the banana bread in a tightly sealed container on the counter for 2-3 days. You can also refrigerate it in an air tight container for 5-6 days.
Wrap the cooled loaf or individual slices in plastic wrap and place in a freezer safe bag. Freeze for 2-3 months. Thaw on the counter or fridge before serving.
CLICK HERE TO PIN THIS RECIPE FOR LATER!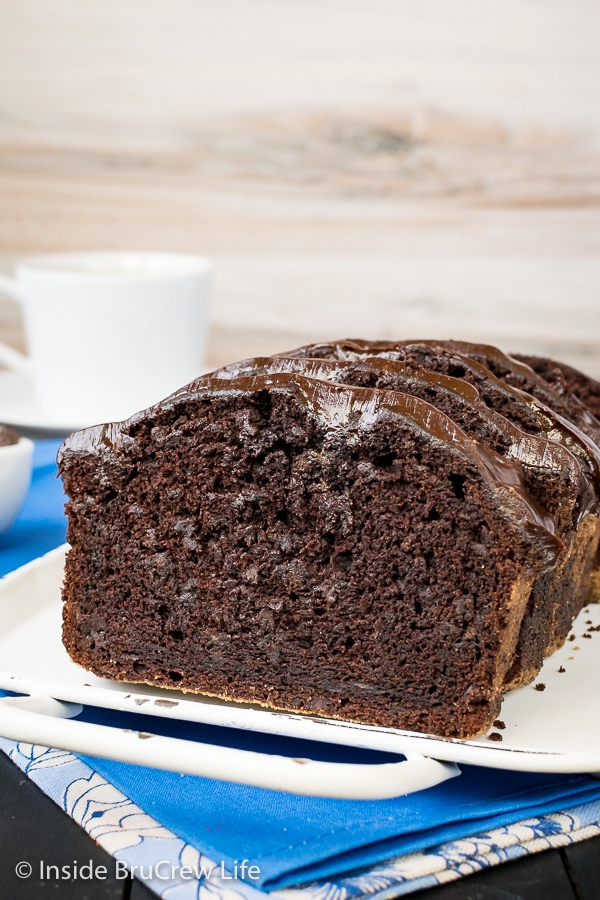 FAQ'S
Banana bread should have a texture that is closer to cake than bread. Here are a few common questions and problems that you may have when baking a loaf of banana bread.
How ripe do bananas need to be for baking?
The best bananas to bake with are dark yellow with lots of brown spots or very dark brown. They will have the best ratio of sweetness and moisture to bake light and fluffy bread.
Bananas that are completely black can produce bread that can be dense, gummy, or sticky. This is due to the extra moisture in the overripe bananas. If the bananas are extra ripe, reduce the amount of banana in the recipe by 25%.
Why is my banana bread sticky?
The bread may have cooked unevenly, it may have too little flour or too much fruit, or it could be undercooked.
Make sure your oven is heating to the correct temperature. An oven thermometer will help you know when your oven is preheated to the correct temperature.
Properly measure flour using the spoon and sweep method.
Use the size pan that the recipe calls for. If you use a pan that is smaller, the bread will be thicker than should be. This means it will need more time to bake correctly.
Do not add extra banana to the batter. Adding additional banana adds more moisture to the batter which will make the finished bread too wet. Discard or freeze any banana pieces you may have leftover.
Make sure the bread is done before removing it from the oven.
Let the bread cool completely before wrapping it up. Wrapping warm bread will cause steam to stay inside the packaging which will make the bread soggy.
How do I tell if banana bread is done?
Start testing your bread about 10 minutes before you think it will be finished. Use a toothpick or knife to check the center and sides of the bread before removing it from the oven. If the bread is done, it should come out with a few moist crumbs on it. If there is raw batter on it, continue baking for another 5-10 minutes.
Should I cover banana bread when baking?
To prevent over-browning, cover the bread loosely with foil for the last 15 minutes of baking.
How do I get banana bread out of the pan?
Make sure you butter or grease and flour your loaf pan very well. A nonstick baking spray with flour in it is also good. You can also sprinkle a cinnamon sugar ratio on the butter, grease, or spray instead of using flour. This will give the crust of the bread a sweet crunch that is amazing!
Only let the bread cool in the pan for 10-15 minutes after baking. Place a plate or wire rack on top of the loaf pan and flip the bread out. Once the bread is out of the pan, turn it right side up and let cool completely on a wire rack.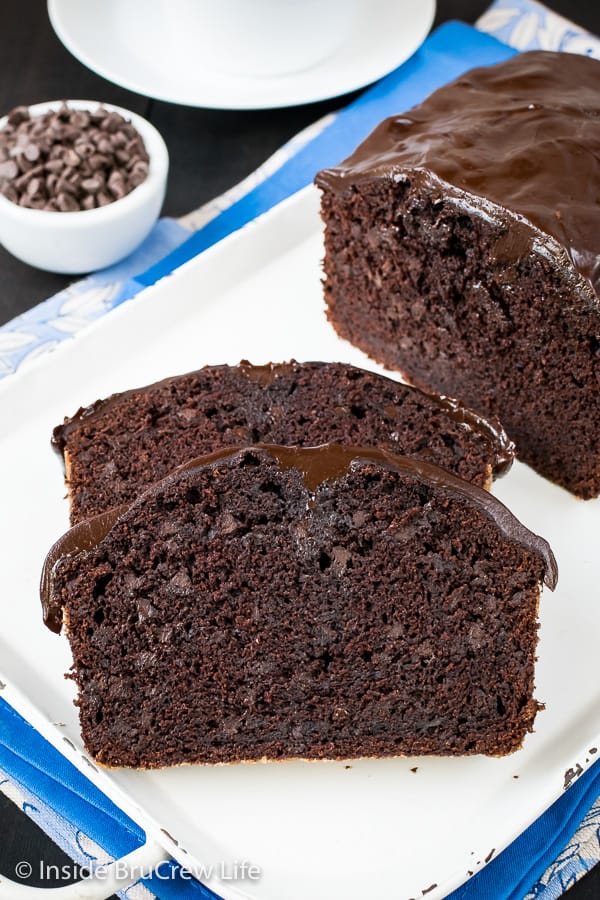 Things to Make with Bananas
Do you love a recipe you tried from Inside BruCrew Life?
Please leave a 5-star ⭐️ rating and a review in the comments section below.