This Chocolate Banana Bread is loaded with some serious chocolate flavor. Three times the chocolate make this sweet bread a delicious choice for the chocolate lover in your life.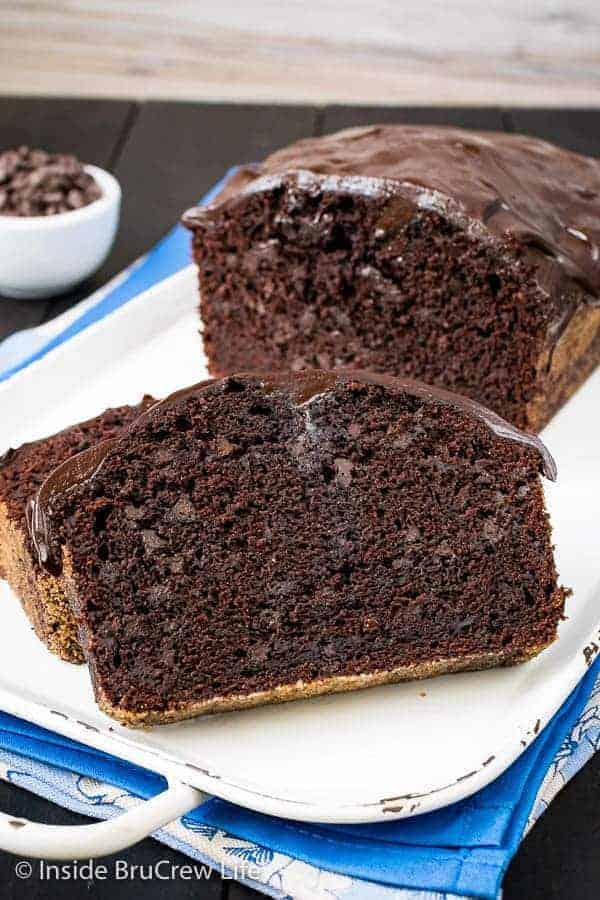 CLICK HERE TO PIN THIS RECIPE FOR LATER!
Bananas are one thing that I buy over and over again. There is no limit to what you can use them in. Well, ok, so you probably wouldn't want to add them to ravioli or pizza.
Unless you are me, and you turn everything into dessert like this Oreo Banana Cream Pie Pizza. I guess bananas on pizza can be a good thing.
Most of the time though we use bananas in smoothies, ice cream, muffins, or sweet breads. Our kids love when I make a batch of these Double Chocolate Banana Muffins with the extra ripe bananas on our counter.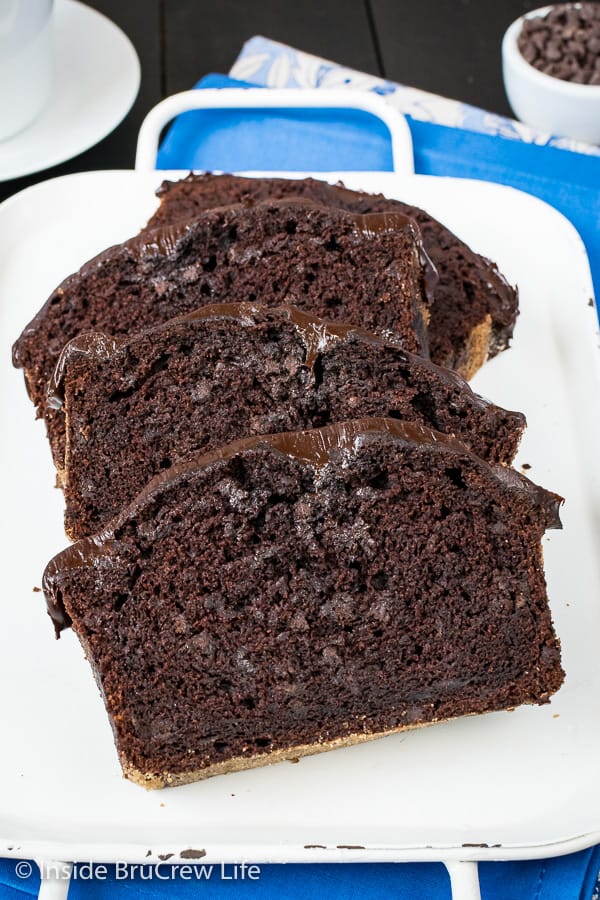 Last week I bought a couple of bunches of bananas because I wanted to make banana waffles, chocolate banana oatmeal, and a few loaves of banana bread.
This Sour Cream Banana Bread is my all time favorite sweet bread. It turns out amazing every single time. It is also a fun recipe to change and modify. I've used it to make this Maple Pecan Banana Bread, this Cherry Chocolate Chip Banana Bread, and this Triple Chip Banana Bread.
I love that by changing just a few things, you can make a totally different sweet bread flavor.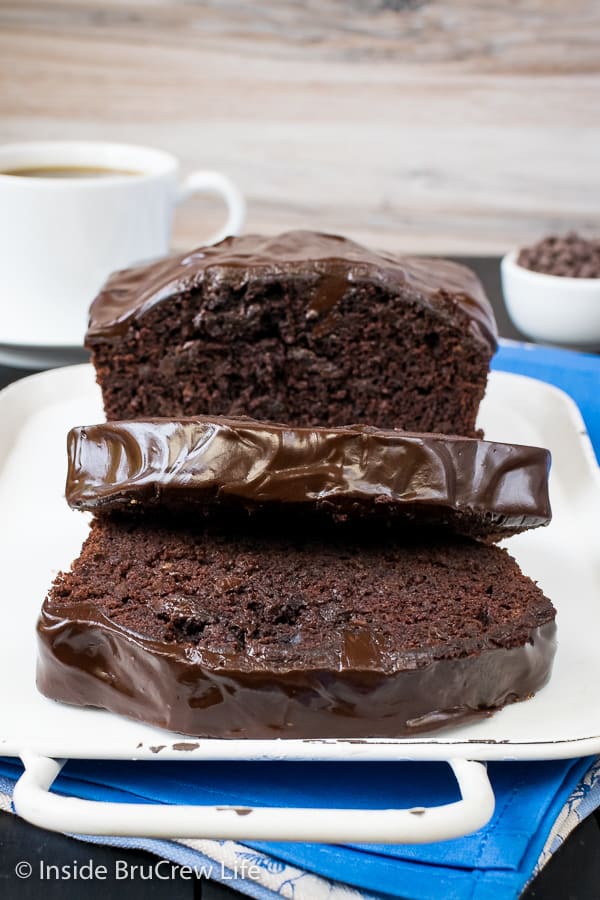 Now most of the time when I buy bananas, I buy the green ones. Yes, I'm the crazy person that loves to eat green bananas. Once they turn yellow or get spots on them, I just can't eat them. I'm crazy like that!
The problem with buying unripe bananas is that I have to wait too long before I can bake with them. Sometimes I get impatient and use a few of these methods to ripen the bananas quickly.
How to Ripen Bananas Faster:
Place the bunch of bananas in the warmest area of your home. Near a vent, the top of the refrigerator, or a sunny window are a few good places to put them. Leave them as a bunch because they will ripen fast this way. Doing this will take anywhere from 24 hours to 4 or 5 days to fully ripen the bananas.
To speed up the ripening process, you can place the bananas in a paper bag with an apple or a few ripened bananas and loosely fold down the top. The bananas should ripen in 1-2 days this way. Do not use a plastic bag because this does not let enough oxygen in.
To ripen bananas immediately for baking, place the unpeeled bananas on a foil lined sheet pan. Bake at 300 degrees for 15-20 minutes, or until the peels turn dark. Cool and scoop out the softened banana pulp.
You can also soften bananas in the microwave, but this method will not improve the flavor or sweetness of the bananas. It works best with partially ripened fruit. Poke the banana peels with a fork all over and place on a plate. Microwave for 30-60 seconds. Check the softness of the banana. If needed, microwave an additional 30 seconds. Let cool before peeling.
Do not ever put your bananas in the refrigerator because they will not ripen at all in there. And they will not ripen if you remove them from the fridge.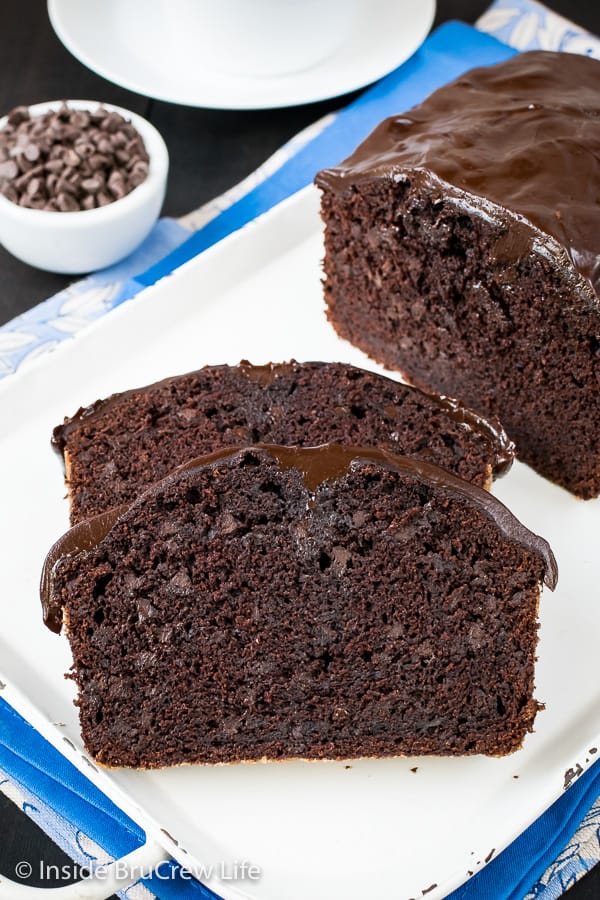 The other day I was craving a dark chocolate banana bread, but the bananas on our counter were not quite ripe enough. Since they were partially ripe though, I was able to use the microwave to soften them enough to bake with.
How to make Chocolate Banana Bread:
Preheat your oven to 350 degrees. Spray a 9×5 loaf pan with nonstick baking spray and sprinkle the pan with granulated sugar. This gives the crust a caramelized texture and taste. (full recipe at the bottom)
Beat the butter and sugar until light and creamy.
Add the eggs, mashed bananas, vanilla, and sour cream and beat again.
Stir together the flour, cocoa powder, baking soda, and salt. Slowly mix it into the banana mixture.
Add mini chocolate chips and stir gently. Pour the batter into the prepared pan and bake for 65 minutes.
Remove and cool in pan 15 minutes, then flip out and cool completely.
Once the bread is cooled, add a chocolate glaze and let it set.
What other mix-ins can you add to banana bread?
Nuts – pecans, walnuts, almonds
Chocolate Chips – white, semi-sweet, dark, peanut butter, butterscotch
Veggies and Fruits – cranberries, blueberries, cherries, pineapple, carrots, zucchini
Candy – peanut butter cups, candy bars, toffee bits
Other – coconut, cookies, coffee, Nutella, cheesecake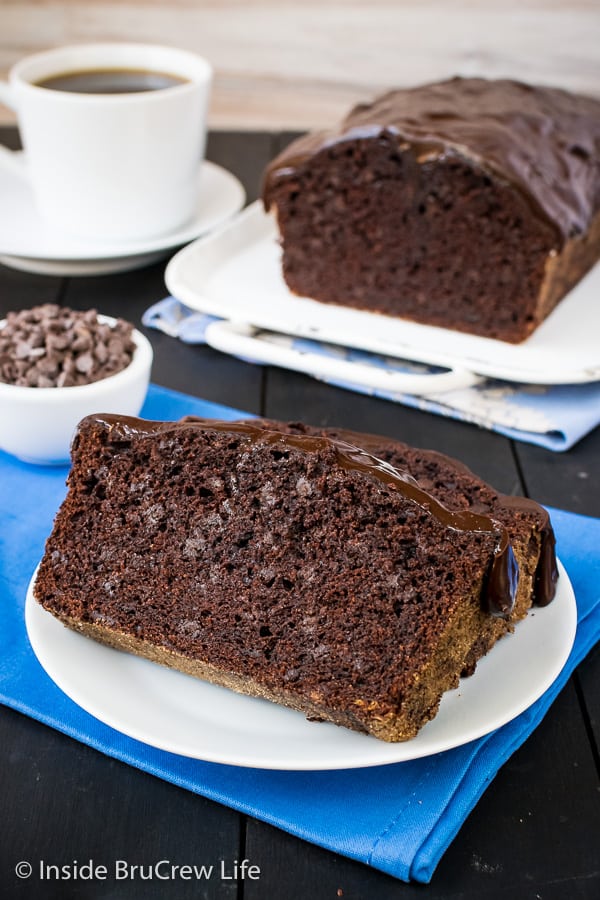 Banana bread should have a texture that is closer to cake than bread. Here are a few common questions and problems that you may have when baking a loaf of banana bread.
How ripe do bananas need to be for baking?
The best bananas to bake with are dark yellow with lots of brown spots. They will have the best ratio of sweetness and moisture to bake light and fluffy bread.
Bananas that are completely black will produce bread that can be dense, gummy, or sticky. This is due to the extra moisture in the overripe bananas. If your bananas are extra ripe, reduce the amount of banana in the recipe by 25%.
Why is my banana bread sticky?
The bread may have cooked unevenly, it may have too little flour or too much fruit, or it could be undercooked.
Make sure your oven is heating to the correct temperature. An oven thermometer will help you know when your oven is preheated to the correct temperature.
Measure your flour properly. Do not scoop the flour out with a measuring cup. First stir the flour to aerate it, then use a spoon to fill your measuring cup loosely. Do not shake or pack the flour. Level the top of the flour with a flat spatula or knife.
Use the size pan that the recipe calls for. If you use a pan that is smaller, the bread will be thicker than should be which means it will need more time to bake correctly.
Do not add extra banana to the batter. Adding additional banana adds more moisture to the batter which will make the finished bread too wet. Discard or freeze any banana pieces you may have leftover.
Make sure the bread is done before removing it from the oven.
Let the bread cool completely before wrapping it up. Wrapping warm bread will cause steam to stay inside the packaging which will make the bread soggy.
How do I tell if banana bread is done?
Start testing your bread about 10 minutes before you think it will be finished. Use a toothpick or knife to check the center of the bread before removing it from the oven. If it comes out clean or with a few crumbs on it, the bread is done. If there is batter on it, continue baking for another 5-10 minutes.
Should I cover banana bread when baking?
To prevent over-browning, cover the bread loosely with foil for the last 15 minutes of baking.
How do I get banana bread out of the pan?
Make sure you butter or grease and flour your loaf pan very well. A nonstick baking spray with flour in it is also good. You can also sprinkle a layer of sugar on the butter, grease, or spray instead of flour. This will give the crust of the bread a sweet crunch.
Only let the bread cool in the pan for 10-15 minutes after baking. Place a plate or wire rack on top of the loaf pan and flip the bread out. Once the bread is out of the pan, turn it right side up and let cool completely on a wire rack.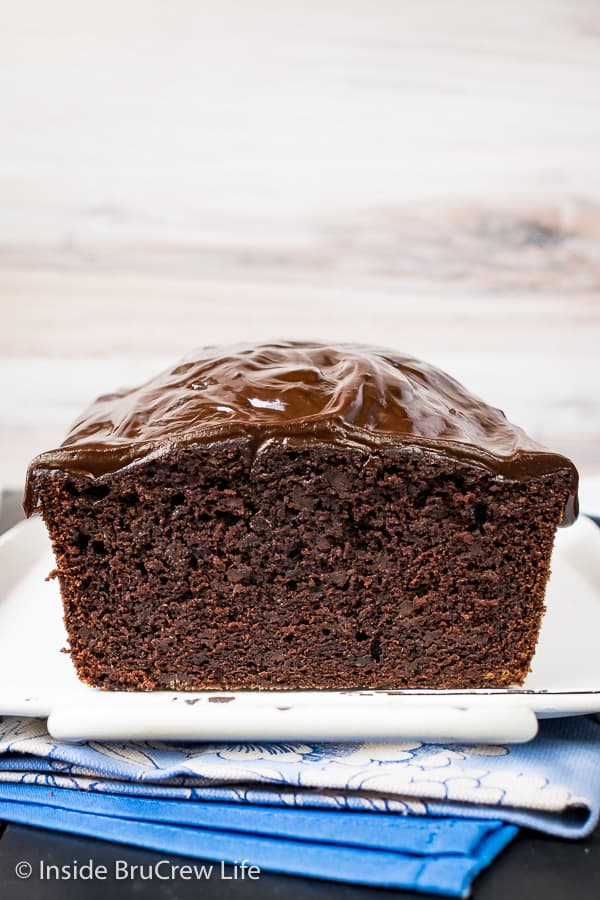 More recipes for ripe bananas: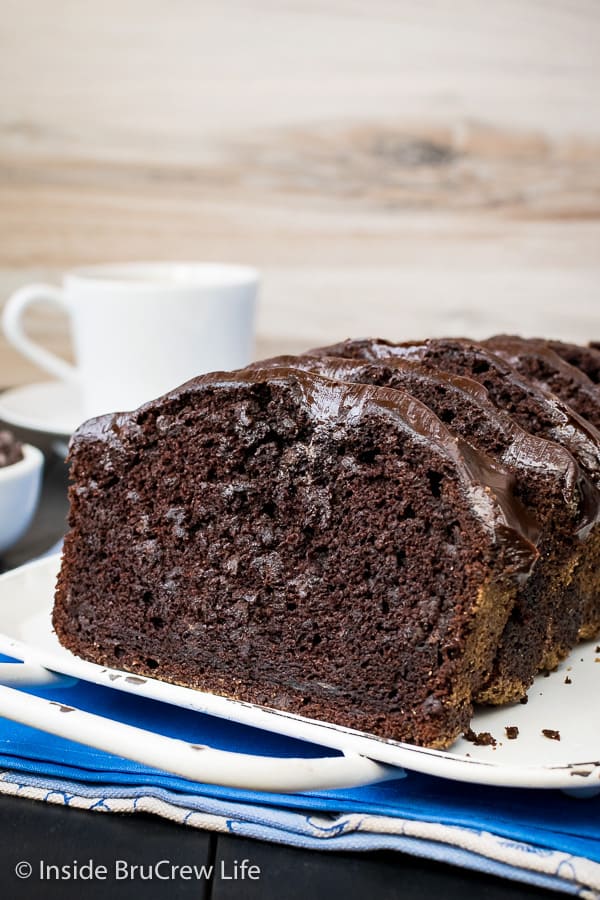 Connect with Inside BruCrew Life! Follow us on social media, so you never miss a post.
Email Subscription | Facebook | Pinterest | Twitter | Instagram | Bloglovin
I also created a fun new Facebook group, and I would love for you to join. It's a group where you can share your favorite recipes, ask questions, share photos, and see what's new with the BruCrew. If you would like to check it out, you can request to join HERE.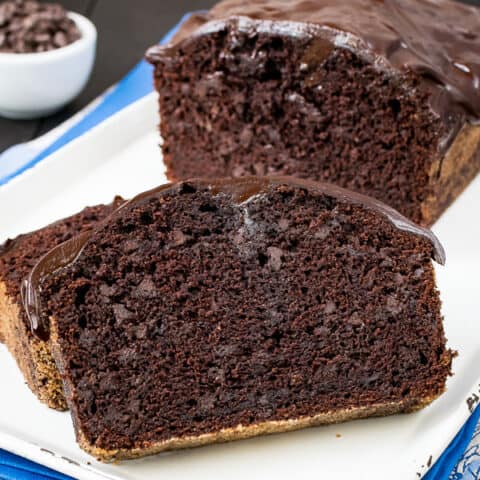 Chocolate Banana Bread
Total Time:
1 hour
15 minutes
This Chocolate Banana Bread is loaded with some serious chocolate flavor. Three times the chocolate make it a delicious choice for the chocolate lover in your life.
Ingredients
For the Bread
1/2 cup unsalted butter, softened
1 cup granulated sugar + 1 Tablespoon for the pan
2 large eggs
1 cup mashed bananas (2-3)
2 teaspoons vanilla extract
1/2 cup sour cream
1 1/2 cups all-purpose flour
1/2 cup dark cocoa powder
1 teaspoon baking soda
3/4 teaspoon salt
3/4 cup mini chocolate chips
For the Chocolate Glaze
1/2 cup semi-sweet chocolate chips
4 Tablespoon heavy cream
Instructions
Preheat oven to 350 degrees. Spray a 9x5 loaf pan with nonstick baking spray. Sprinkle the pan with granulated sugar.
Beat the butter and sugar until light and creamy. Add the eggs, banana, vanilla, and sour cream and beat again.
Stir together the flour, cocoa powder, baking soda, and salt. Slowly mix the dry ingredients into the butter mixture.
Add the mini chocolate chips and stir gently. Pour into the prepared pan. Bake for 60-65 minutes, or until a toothpick inserted in the center comes out mostly clean.
Remove from the oven and let cool in the pan for 15 minutes, then flip the bread out of the pan and cool completely.
Heat the chocolate chips and cream in microwave safe bowl for 30 seconds. Stir until melted and creamy. Spoon on top of the bread and spread out. Let set.
Recommended Products
As an Amazon Associate and member of other affiliate programs, I earn from qualifying purchases.
Nutrition Information:
Yield:

12
Serving Size:

1
Amount Per Serving:
Calories:

357
Total Fat:

18g
Saturated Fat:

10g
Trans Fat:

0g
Unsaturated Fat:

6g
Cholesterol:

63mg
Sodium:

257mg
Carbohydrates:

47g
Fiber:

3g
Sugar:

29g
Protein:

5g