A hidden lemon center and fluffy marshmallow frosting makes these made from scratch Lemon Meringue Cupcakes so fun and delicious. All the flavor of a lemon meringue pie in a cute portable size.
*I am partnering with Dixie Crystals to bring you this lemon cupcake recipe. Click HERE to see the full recipe.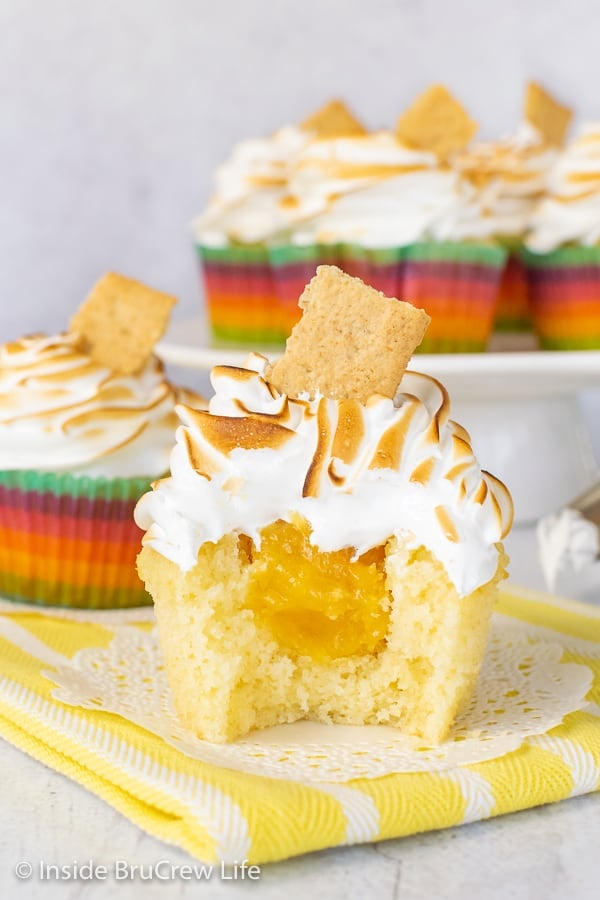 I remember making lemon meringue pies for my dad all the time when I was a teenager. Making tall peaks with the fluffy meringue topping and then toasting them was always my favorite part of those pies.
Now that I think about it though, I honestly cannot remember the last time I made a lemon meringue pie. Usually, I make the Best Lemon Bars or this Lemon Strawberry Poke Cake if I'm in the mood for lemon treats.
In fact, I had not even thought about those lemon pies until a few months ago when I was choosing recipes to make for spring. One of the recipes on my list were these lemon meringue cupcakes. This lemon cupcake just yells spring, doesn't it?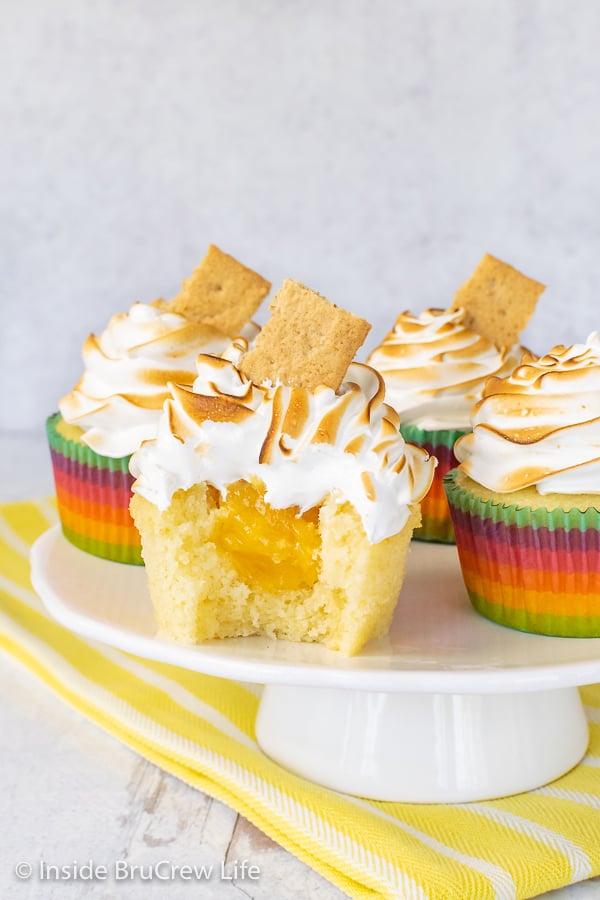 Immediately, I had a flashback to the kitchen that I grew up baking in, and it made me thing about all those lemon meringue pies I had made over the years.
Right away I knew I wanted to make these cupcakes for you. Honestly, I really just couldn't wait to make the homemade meringue frosting again. It's so yummy!
The last time I made this meringue frosting was a few years ago as a topping for one of the cheesecakes in my cookbook. It was definitely time to make it again.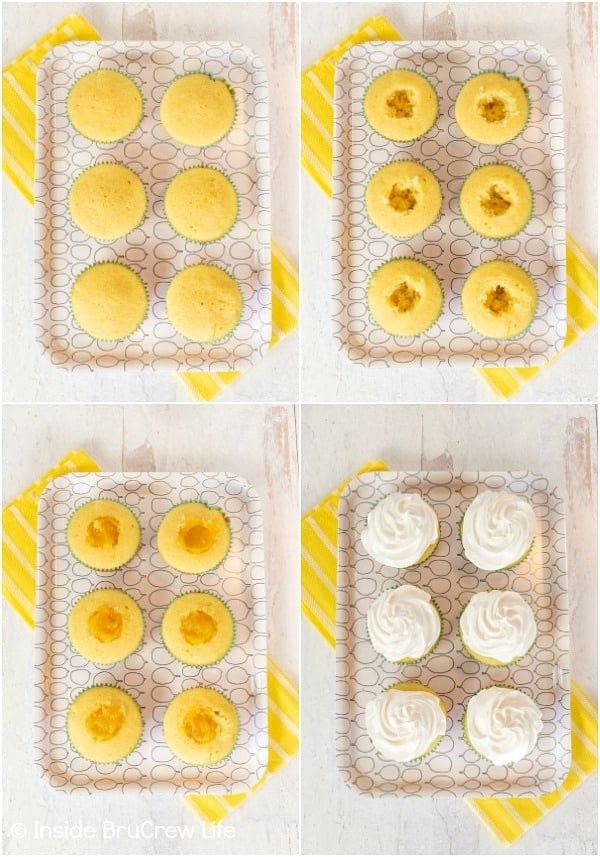 For the base of these cupcakes, I started with these Vanilla Cherry Pie Cupcakes. These homemade vanilla cupcakes have the right texture and density to hold up to any fun center.
All of the lemon flavor in this cupcake does come from the lemon curd center. Homemade or store bought will work just fine.
How to make Lemon Meringue Cupcakes:
Beat the butter and sugar until fluffy. Add the eggs and vanilla and beat again.
Stir together the dry ingredients and slowly add them along with buttermilk.
Spoon the cupcake batter into 24 cupcake liners and bake.
Once the cupcakes are cool, remove the centers with a cupcake corer.
Fill the centers with lemon curd and swirl meringue frosting on top.
FYI: I am sharing this recipe over at Dixie Crystals today. Click on Lemon Meringue Cupcakes to see the full recipe.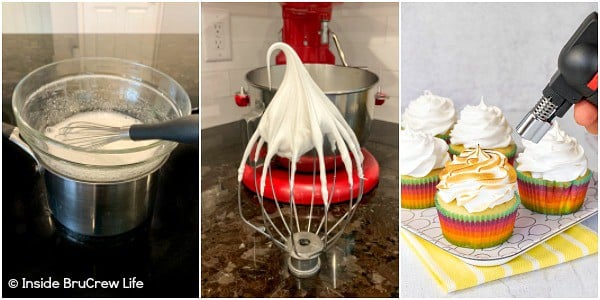 One of the best parts of this lemon filled cupcake, is the marshmallow meringue frosting. It is seriously so fluffy and delicious!
It's also known as 7 minute frosting because it takes that long to beat the warm mixture into fluffy marshmallow goodness.
How to make Meringue Frosting:
Stir together egg whites, sugar, and cream of tartar in a bowl.
Place the bowl over a pan of boiling water. Make sure the bottom of the bowl does not touch the water.
Whisk mixture for about 5 minutes. The sugar should be dissolved and the mixture should be warm to the touch.
Beat the warm egg mixtures with a wire whisk attachment for 6-8 minutes or until stiff glossy peaks form. Stir in vanilla gently.
Spoon the mixture into a piping bag fitted with a 1M tip. Swirl on cooled cupcakes.
Use a kitchen torch to toast the top of the frosting.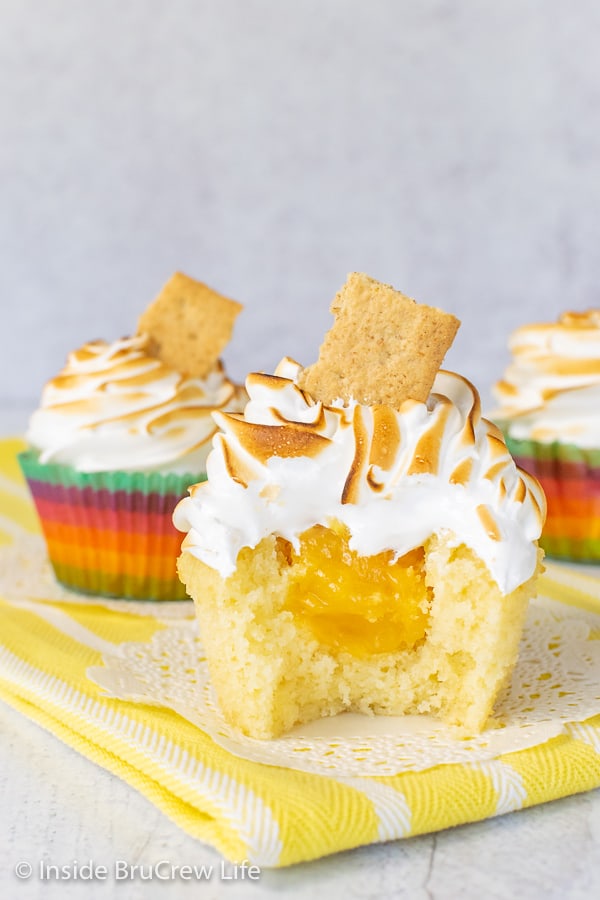 This cupcake recipe is a little more intensive than others I usually share. But trust me, the extra works is worth it when you bite into one of these Lemon Meringue Cupcakes.
The cake part is soft and delicious, the lemon curd is tart yet sweet, and the frosting is light and fluffy!
Recipe Tips and Tricks:
Do not over mix your cupcake batter. You want the cupcakes to stay light and fluffy as they bake.
Divide the batter evenly into the cupcake liners. Using a 2 Tablespoon cookie scoop is an easy way to keep them all uniform.
Use a cupcake corer or a melon ball scoop to remove the centers of the cooled cupcakes. Do not go all the way to the bottom of the cupcake. You are just creating a pocket for the lemon curd to fill.
Feel free to use a jar of store bought lemon curd, or make a batch of homemade lemon curd. If you have time, I recommend homemade because it is so silky and smooth.
The meringue frosting will take some time, and you do need to stay with it the whole time. Continue to stir the egg whites and sugar as they heat up over the boiling water.
If you have a double boiler, use that. But a glass or metal bowl that fits tightly over a pan works just as well. Just make sure the bottom of the bowl does not touch the water.
Once the sugar is dissolved, beat the egg whites until smooth and glossy stiff peaks form. You want them stiff enough to pipe on top of the homemade vanilla cupcakes using icing tip 1M. This will usually take about 6-8 minutes of continual beating.
Add the toasted look with a kitchen torch. Just do not get too close with the flame. The frosting will burn quickly.
Adding a graham cracker gives a fun "pie" touch. It's totally optional though.
These sweet homemade cupcakes filled with lemon curd and topped with marshmallow frosting will become your new favorite cupcake. They are the perfect Spring dessert for any party or event.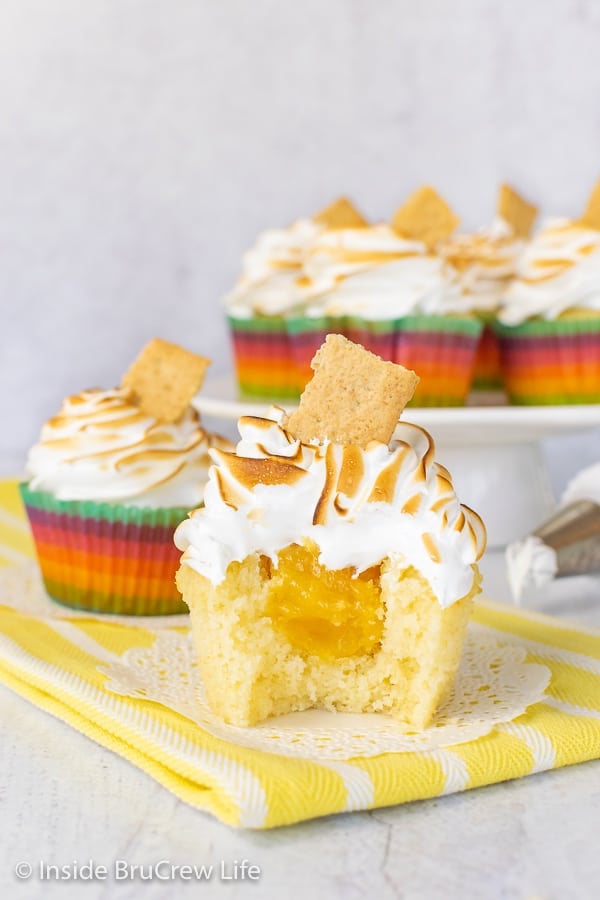 Other lemon desserts you may like: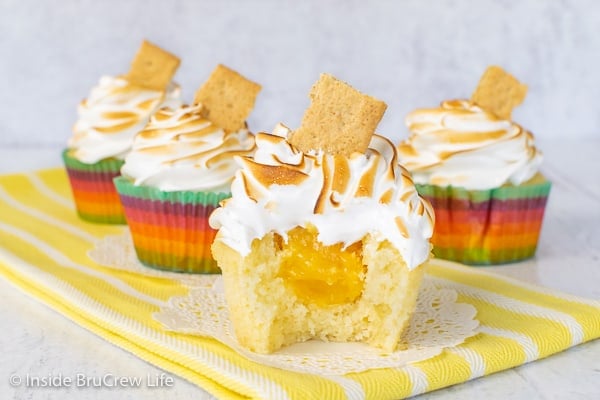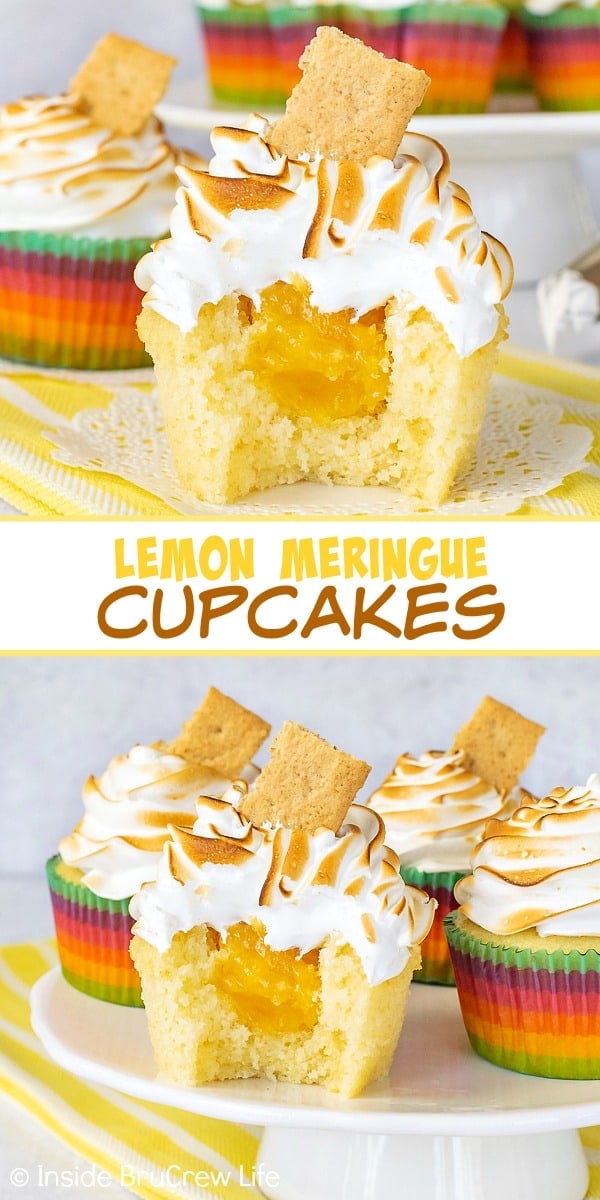 *Dixie Crystals has sponsored this recipe and post. All opinions expressed are 100% my own. Thank you for letting me share products and brands we use and love. See my disclosure policy for more information.*