A Lemon Fruit Parfait is an easy treat to bring to summer cookouts or barbecues. Layers of snack cakes, lemon mousse, and fresh berries make each no bake dessert cup so fruity and delicious.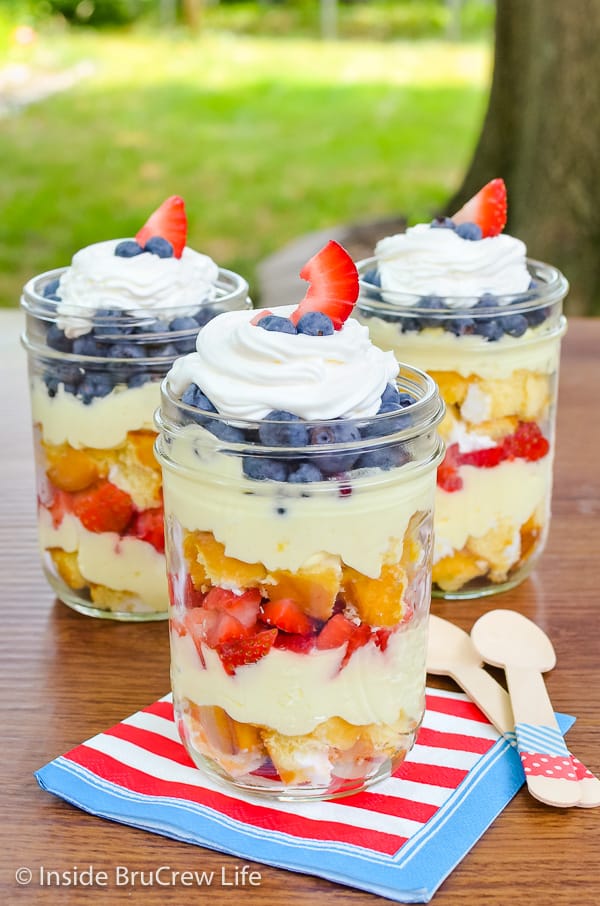 No Bake Parfaits:
Living in Florida, summer comes to us by early April. We are preparing for those nice hot days. Thankfully, the humidity does not come until later.
When it gets hot and extra humid outside, we really do not like to turn the oven on. Easy no bake desserts are the perfect thing for those hot summer days.
During the summer months I like to make a yogurt fruit salad using Cool Whip, lemon yogurt, and fresh berries for a light and refreshing dessert.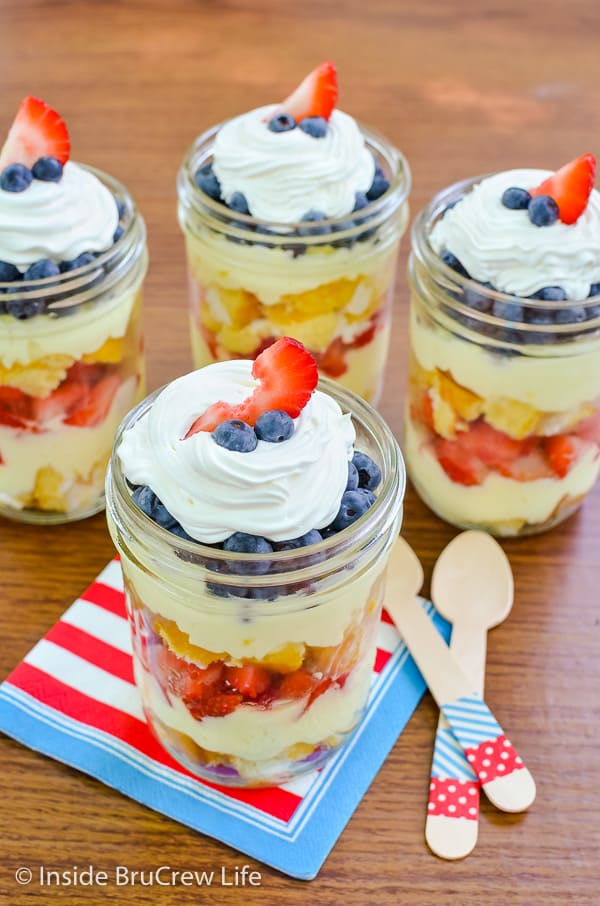 We had an extra can of lemon pie filling in the pantry, so I used that instead of the yogurt.
Strawberries and blueberries were a given for these easy no bake desserts. Those two fruits make the prettiest patriotic treats because of the red and blue colors.
Recipe Ingredients:
Cloud Cakes - any variety of cream filled cake will work
Lemon Pie Filling
Cool Whip - you can use store bought or make Homemade Whipped Cream
Fresh Berries - use your favorites
The extra swirl of Cool Whip makes these the perfect red, white, and blue desserts for holiday parties or picnics.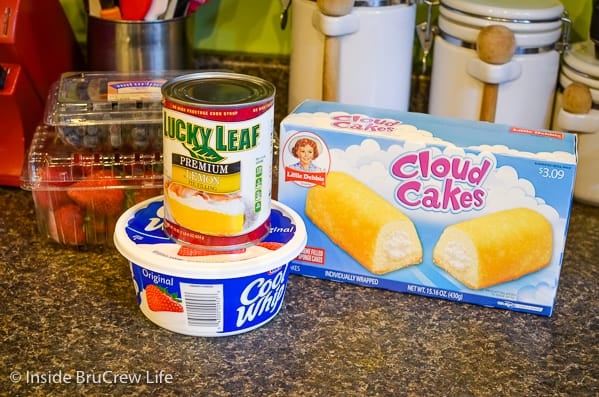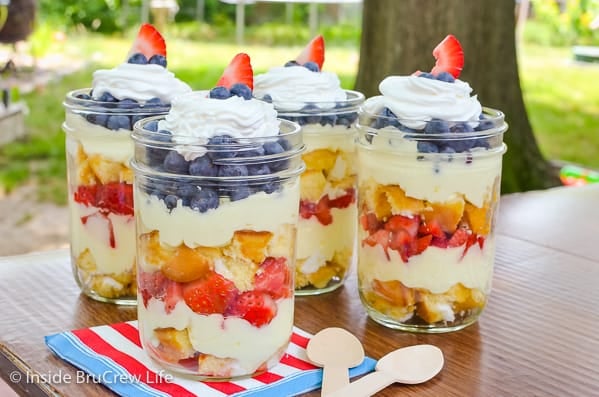 As soon as I saw the cream-filled cloud cakes, I knew they would be perfect with the fruit in the lemon parfait.
Other Variations:
If you can't find those cakes, try a different snack cake. There are so many different kinds of snack cakes that would work in these easy fruit parfaits.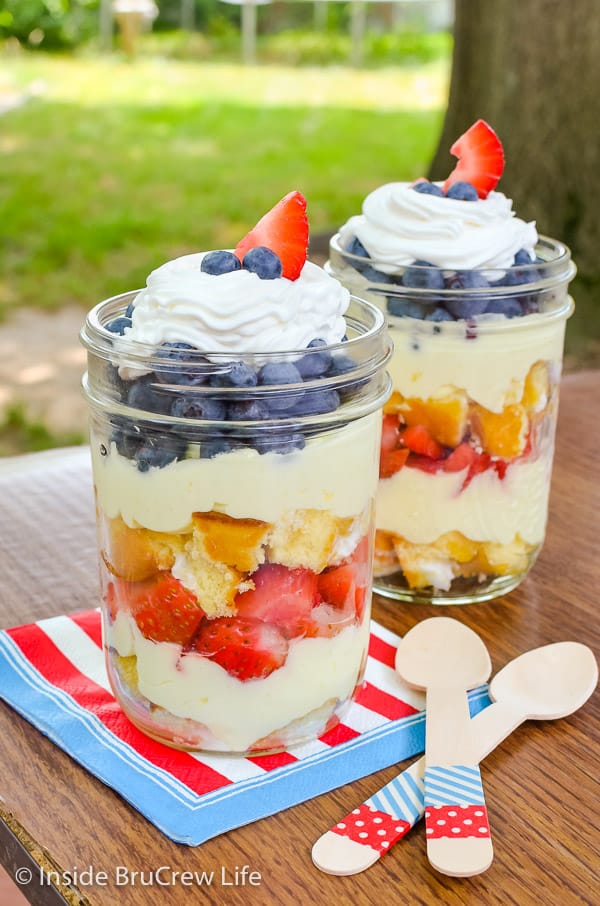 How to make Lemon Fruit Parfait:
Cut the snack cakes into small bite sized pieces. Dice the strawberries.
Gently fold together the lemon pie filling and Cool Whip in a bowl.
Layer the snack cakes, lemon cream filling, and fresh fruit in mason jars. If you are taking these fruit parfaits to a party, leave enough room at the top, so you can put the lids on.
Add the swirl of Cool Whip and extra berries, right before serving.
BRUCREW TIP: You can also use this Homemade Whipped Cream instead of the Cool Whip.
Other easy no bake desserts: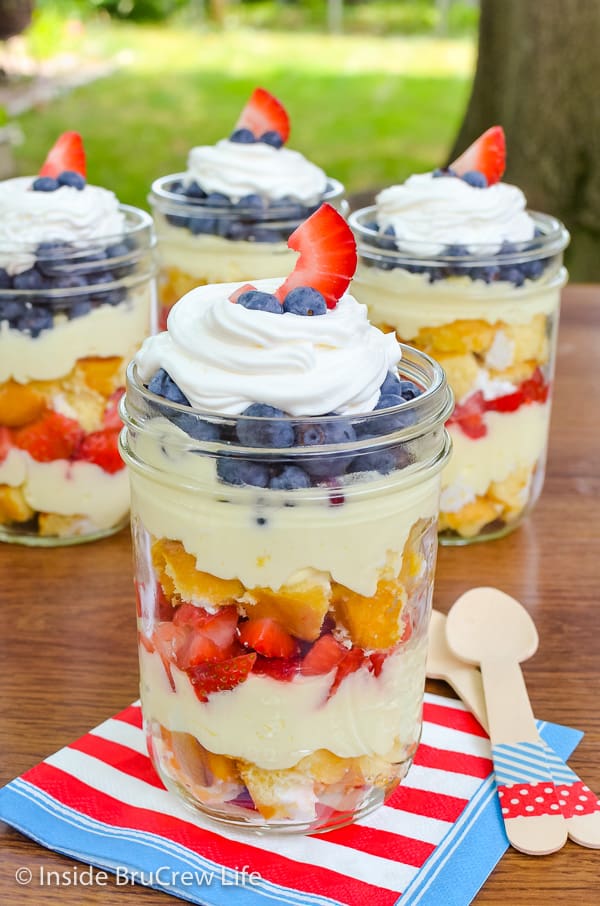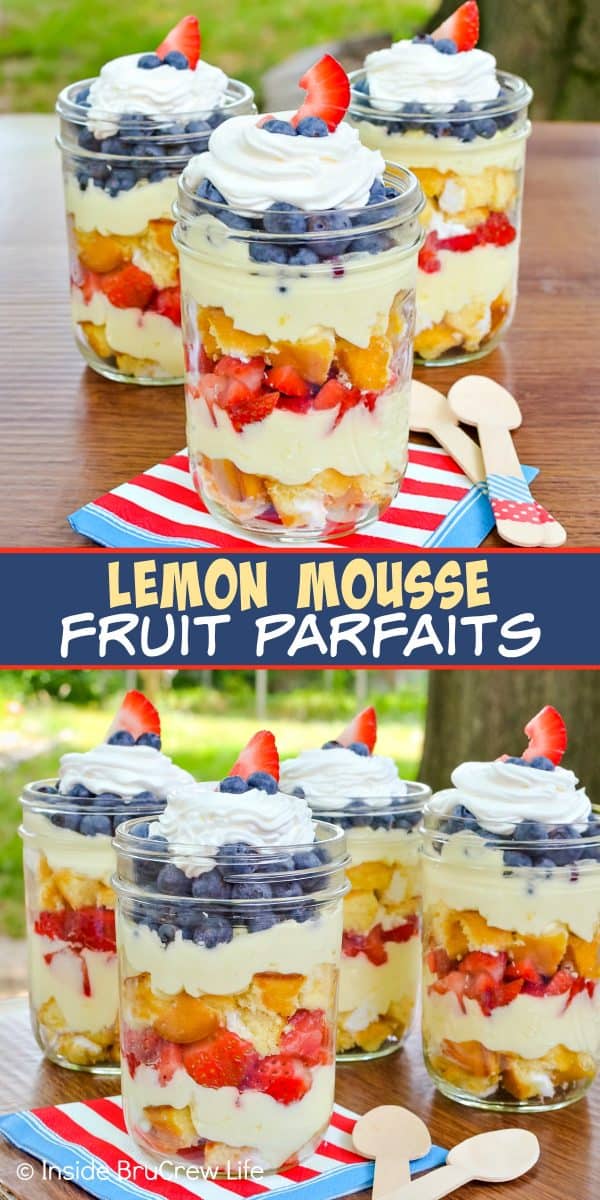 *The recipe and post for Lemon Mousse Fruit Parfaits was originally published on June 23, 2013. It was updated and republished on March 21, 2021.