Serve these warm Spiced Apple Waffles with maple apple cranberry sauce and whipped cream. Make this homemade waffle recipe for weekend breakfasts or holidays.
*This post was sponsored by Crunch Pak apples. I am partnering with them as a blog ambassador creating delicious apple recipes. All opinions are 100% my own.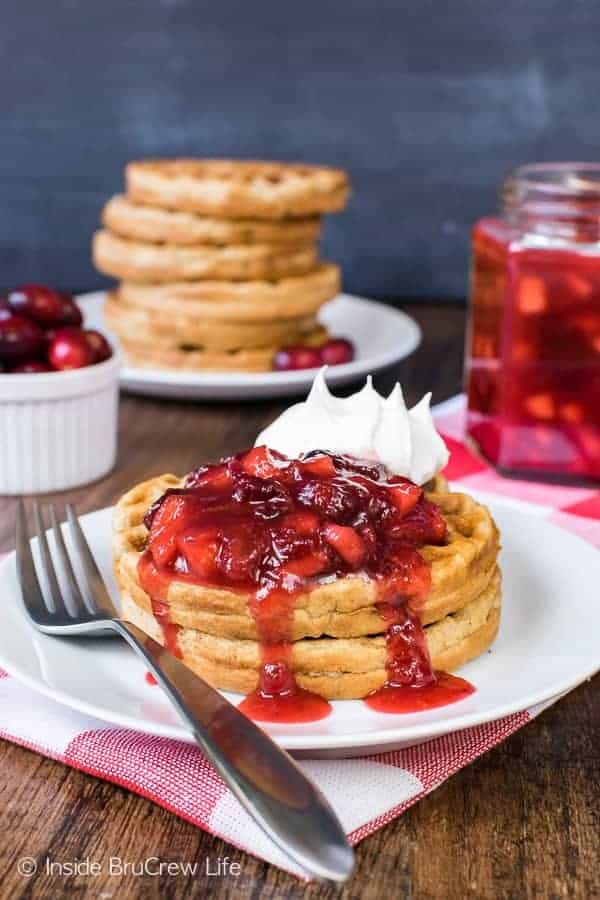 A few weeks ago my husband was out of town for a work trip, so the kids and I were on our own making dinner. If you have been around here very long, you know that meant our main dinner maker was gone. I don't mind making dinner, and I'm not bad at it. But given the choice between making dinner or dessert, I'm going to go for dessert every single time.
I decided to let the kids choose what things they wanted for dinner that week. Our youngest absolutely loves this Spicy Chicken and Rice Soup with slices of cheese on the side, so I knew he would be asking for that again. Don't tell him that I substituted this Easy Cauliflower Rice in it though. Making it lean and green can be our little secret.
Our daughter doesn't mind eating healthy foods, but her choices for the week were Spicy Parmesan Ranch Chicken Tenders with fries and breakfast for dinner. Total comfort food both nights!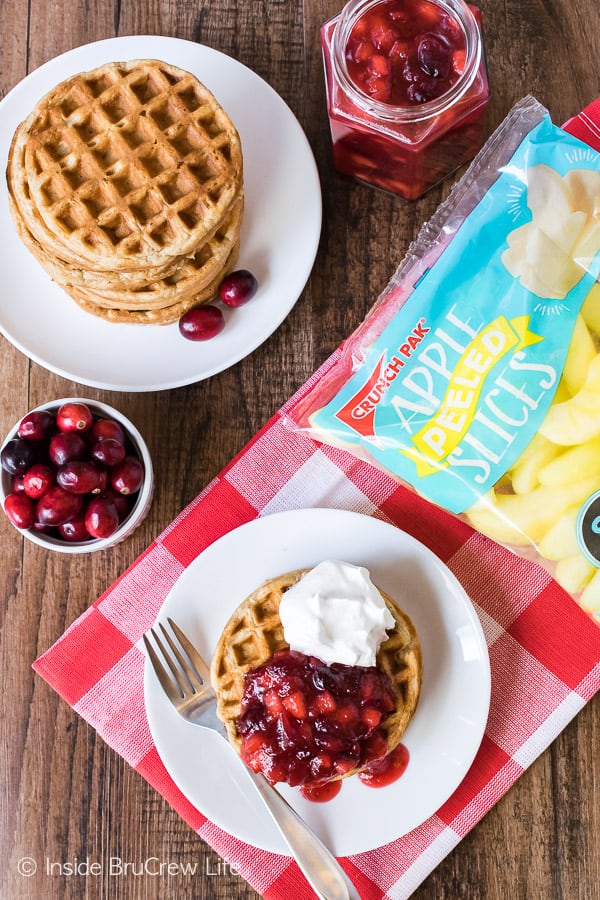 It actually has been a while since we have had breakfast for dinner, so it was a nice change. At the last minute though she decided that she wanted waffles instead of pancakes. Luckily I had a box of both mixes in the cupboard, so it was an easy thing to change up. I also just got this cute little waffle iron, so I was excited to try it out.
All that breakfast making inspired me to make homemade waffles later that week. That inspiration was just in time to use up some of the bags of Crunch Pak apples that I had in my fridge.
I have been working with Crunch Pak for the past few years, and I love finding ways to add apples to different recipes.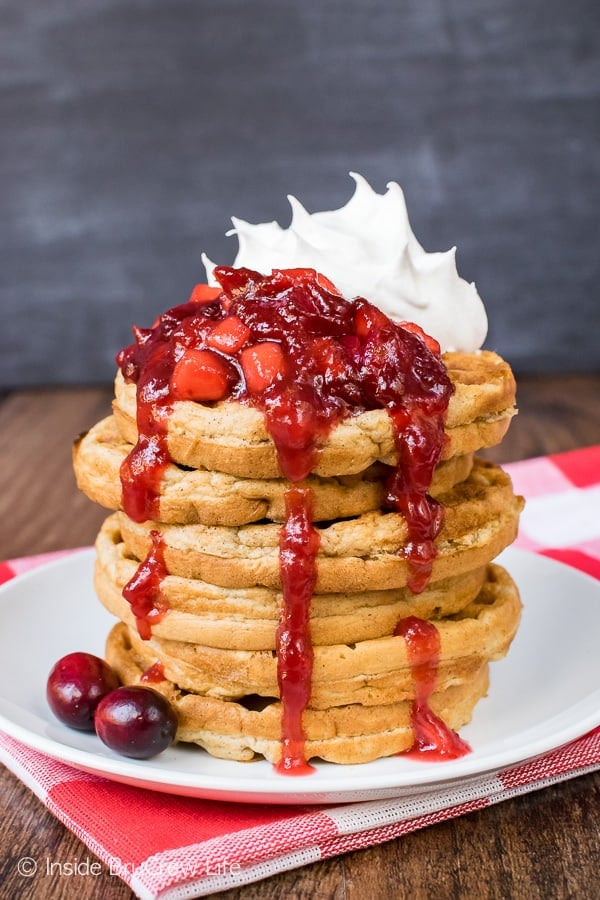 Shredded apples and apple pie spice give these homemade apple waffles an awesome taste.
How to make Spiced Apple Waffles:
Mix together all the dry ingredients in a bowl.
Whisk together the buttermilk, melted butter, eggs, and vanilla. Slowly mix it into the dry ingredients.
Stir in shredded apples gently.
Spoon the batter onto a heated waffle iron and cook.
Serve immediately with syrup or a homemade cranberry apple sauce.
Can you freeze homemade waffles?
Yes you can. Let the waffles cool completely, then place in a single layer on a sheet pan. Freeze for 30 minutes, then transfer to a freezer safe bag for 1-2 months. They can be reheated in a toaster oven to give them a crispy texture again.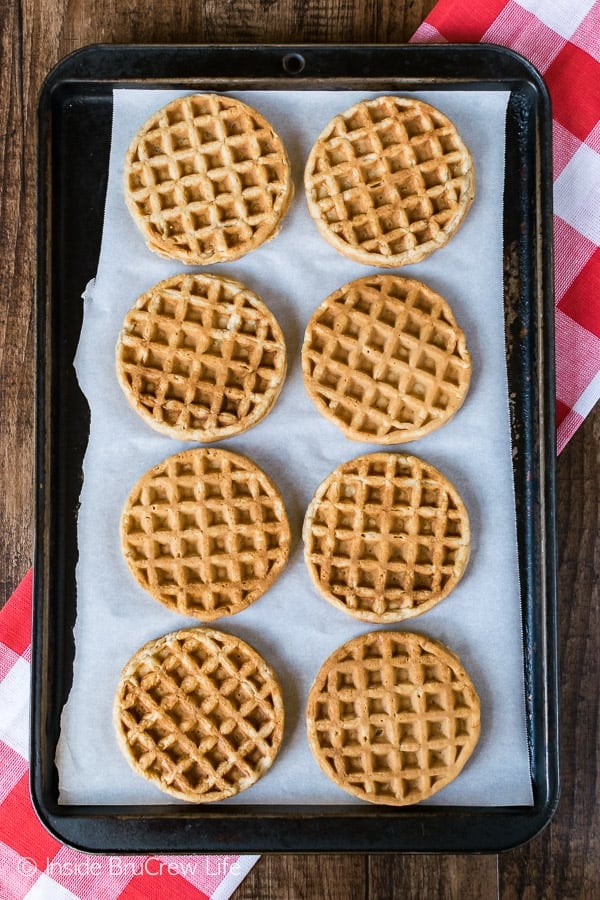 Our son ate some of the extra plain ones after I got done taking pictures, and he said they tasted like apple bread but in breakfast form. These are perfect to make ahead of time. When you need one, pop it in the toaster to warm it up and add a little bit of crisp back into the outside.
To jazz it up even more, I made an apple cranberry sauce to serve on top. Now you could just drizzle some regular syrup on top and call it good. But trust me and try this easy fruit topping!!
How to make a Maple Apple Cranberry Sauce:
Place fresh cranberries, diced apples, and maple syrup in a saucepan.
Cook over medium heat until the apples and cranberries are soft and the excess liquid cooks off.
Add butter and more syrup and stir until melted and mixed in.
Serve over warm apple waffles.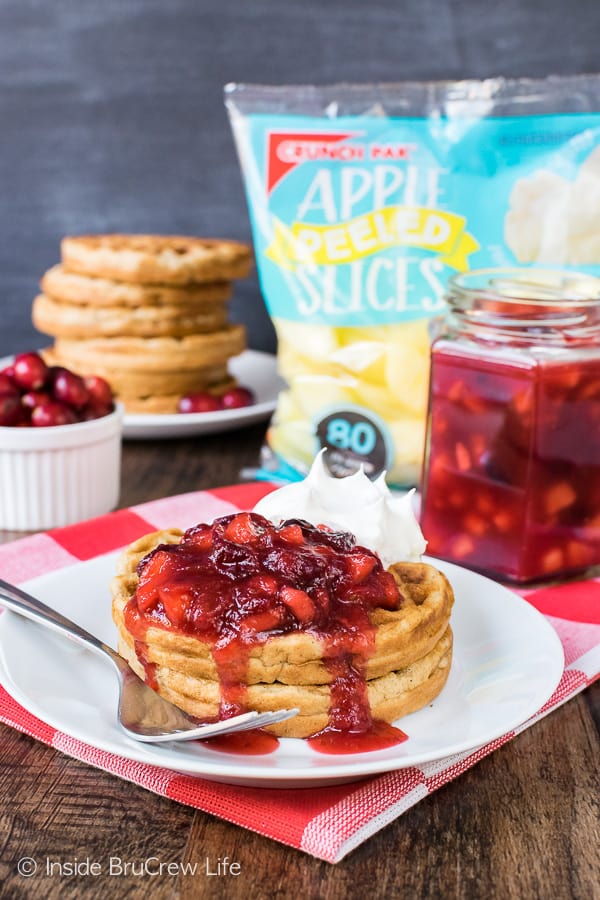 Another spoonful of Homemade Whipped Cream on top or the side totally gives these homemade waffles a great holiday look. Doesn't the red and white topping remind you of a Santa hat?
This waffle recipe would make the perfect Christmas morning breakfast to enjoy after opening gifts because you could have everything ready the day before. Have a batch of the waffles and the cranberry sauce in the fridge ready to go.
Use your toaster to warm them up and microwave the sauce before spooning on top. Easy peasy breakfast in no time at all!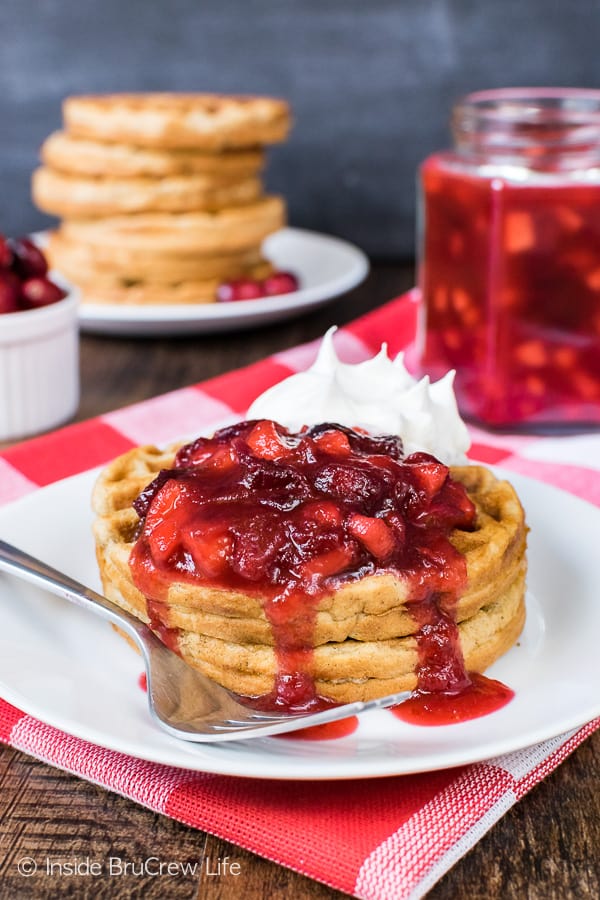 More fun and delicious apple recipes:

*This post has been sponsored by Crunch Pak apples. All opinions are 100% my own.