Mornings get a little bit easier when you have a delicious muffin waiting for you in the kitchen. These Oreo Muffins are a great way to kick start the day.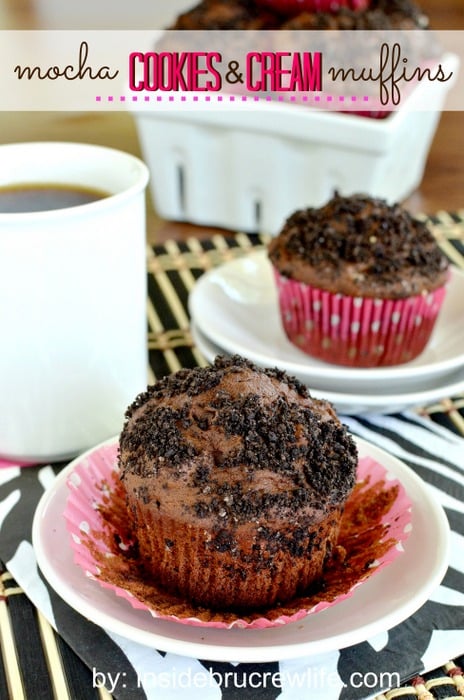 Every time I ask my kids what kind of muffin they want, they say chocolate. I'm not even sure why I keep asking because I already know the answer. I decided to add a fun cookie twist to these Chocolate Mocha Muffins that I made last year.
Does it still shock you that I add cookies and candy to my breakfast foods? I guess maybe if you are new around here, you might be gaping at this cookie topped muffin I'm calling breakfast. That's just how we roll around here.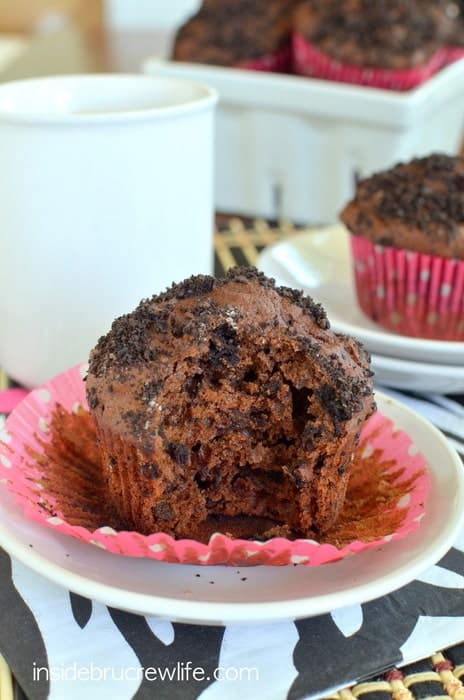 My husband thinks it is hilarious that we call pancakes and waffles acceptable breakfast food. He says anything drizzled with sugary syrup is not really a good breakfast. He always laughs when I talk the kids into having pancakes or muffins instead of cake or cookies for breakfast. To him they are the same thing.
For these muffins I added yogurt instead of sour cream to combat the cookies and chocolate chips. A little bit of healthy hidden inside a decadent breakfast muffin is definitely the way to go.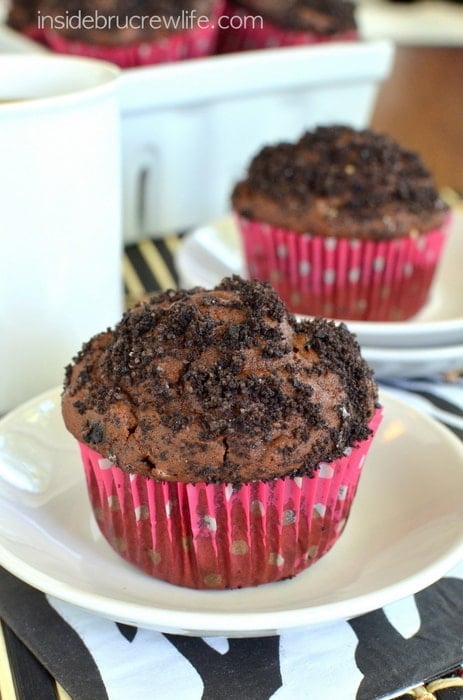 These muffins also have double the coffee. The original muffins called for half milk and half coffee. I wanted more coffee to really enhance the dark cocoa powder and chocolate cookies.
I'm thinking that all the caffeine from the coffee and the chocolate is a good way to get through the early morning hours. So if you are not really a morning person, these muffins might be able to lure you away from your pillow a few minutes earlier. Plus, your kids will think you are a rock star for letting them have cookies for breakfast.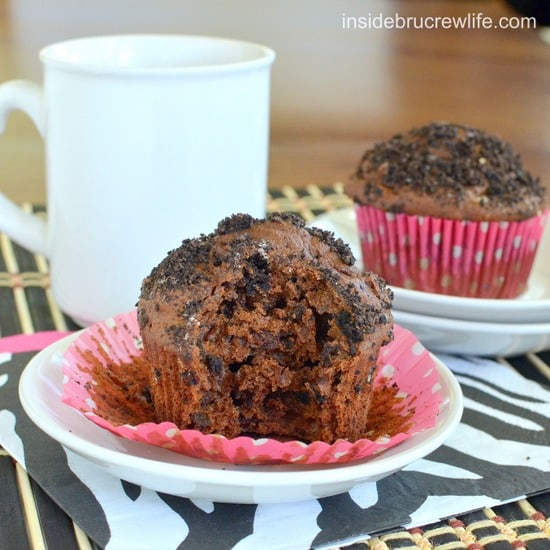 Need a few more fun and easy breakfast ideas?
Fluffernutter Pancakes - peanut butter chocolate chip pancakes served with a healthy dose of marshmallow cream
Orange Julius Donuts - homemade donuts made with orange juice and orange pieces and topped with a vanilla glaze
Mocha Chip Cinnamon Rolls - easy cinnamon rolls made with out yeast topped with an optional coffee glaze