These Owl Cookies can be made in no time and are absolutely adorable! With Oreo eyes and a candy corn beak, they're perfect for kids' parties or Halloween. No baking is necessary, so they're a hoot for any occasion!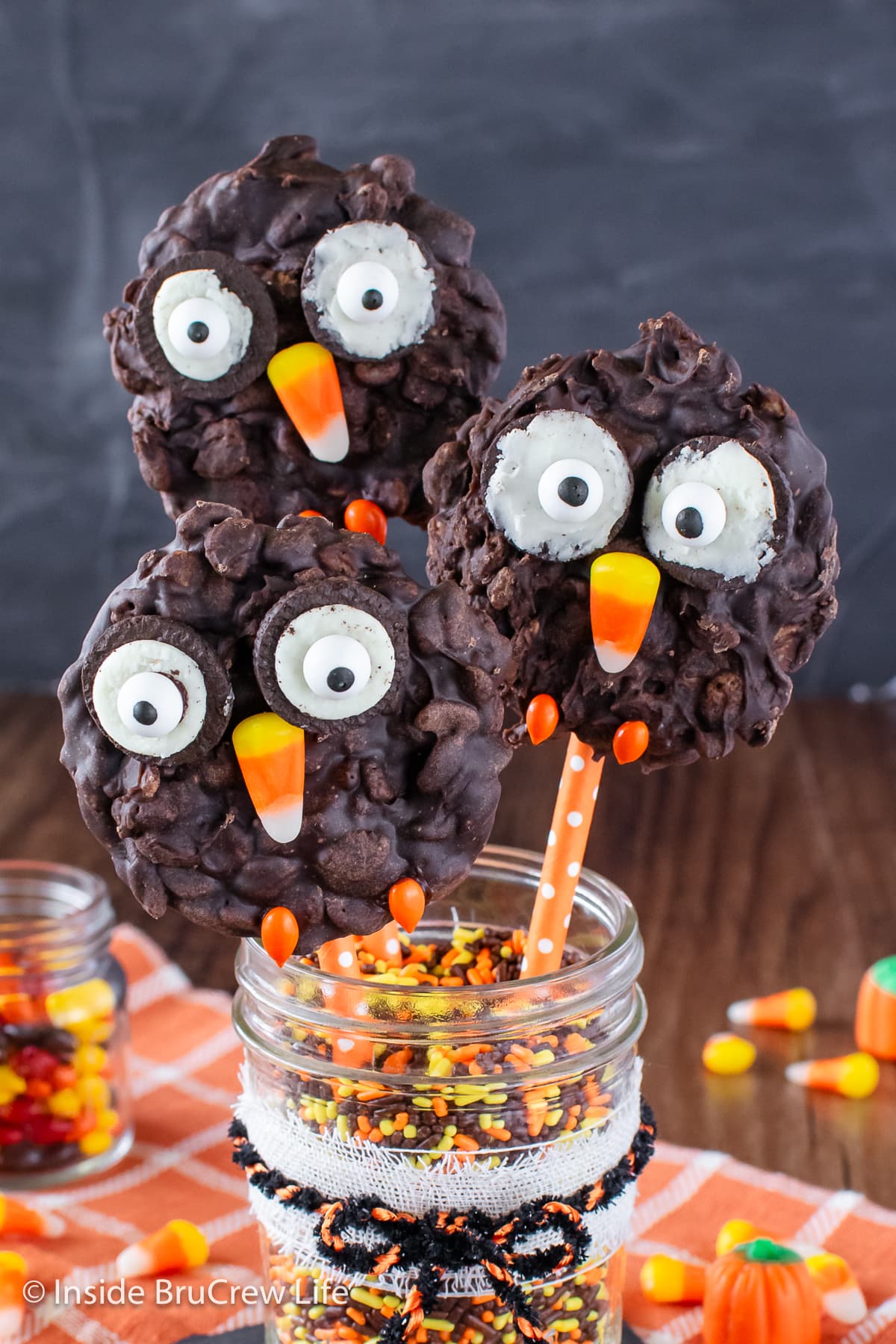 I love making adorable treats for various holidays. When Halloween decorations appear in stores, I create spooky yet cute treats like Oreo Bats, Reese's owls, or peanut butter monsters.
My children love helping me make holiday treats, so I knew they would have a blast decorating no bake cookies. Oreo cookies, candy corn, and chocolate-covered sunflower seeds transform regular cookies into cute owl treats.
Jump to:
Why You Will Love This Owl Recipe
These owl-shaped cookies are a delicious and easy-to-make treat that will impress your friends and family. Experiment with different decorations and colors to make them your own.
No baking is required. This easy cookie recipe comes together quickly on the stovetop.
Easy to decorate. Kids will have fun making these easy no bake cookies by using melted chocolate to stick the parts onto the owl's body.
A fun treat for any party. Serve these adorable owl-shaped cookies at your fall parties, Halloween gatherings, or simply because you adore these cute little creatures.
​Main Ingredients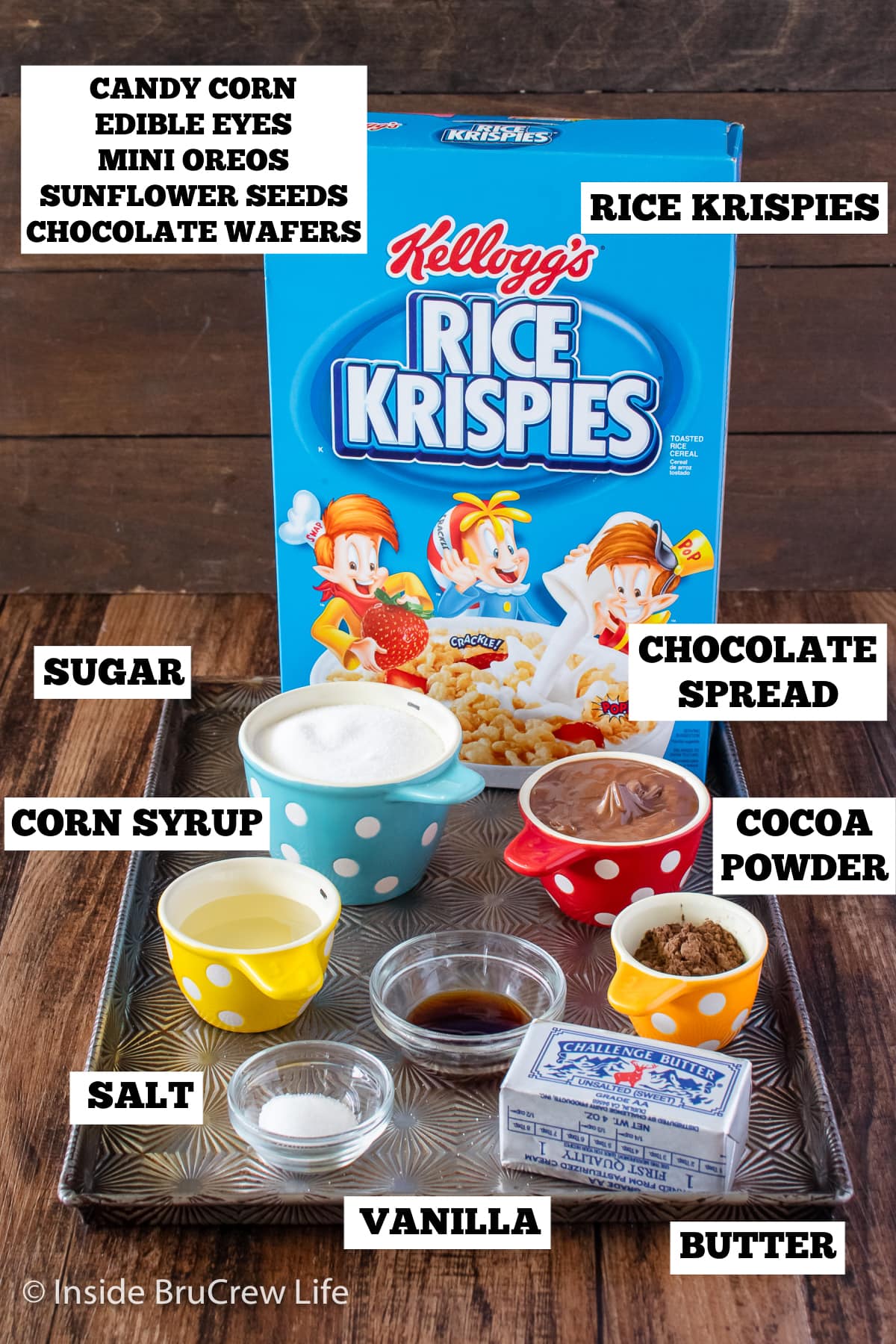 You can make these cute owl cookies with just a few decorations and a simple rice krispie treat cookie recipe.
Chocolate Syrup - A mixture of butter, light corn syrup, granulated sugar, and cocoa powder melts into a simple syrup.
Chocolate Spread - This recipe will work with any chocolate or nut-free spread. Find it in the same grocery aisle as peanut butter.
Rice Krispie Cereal - The small cereal pieces add a great crunch.
Melting Chocolate - We prefer Ghirardelli chocolate wafers because they melt the best and taste great.
Decorations - You will need mini Oreo cookies, edible candy eyes, mini candy corn, and orange chocolate-covered sunflower seeds.
How to Make Owl Cookies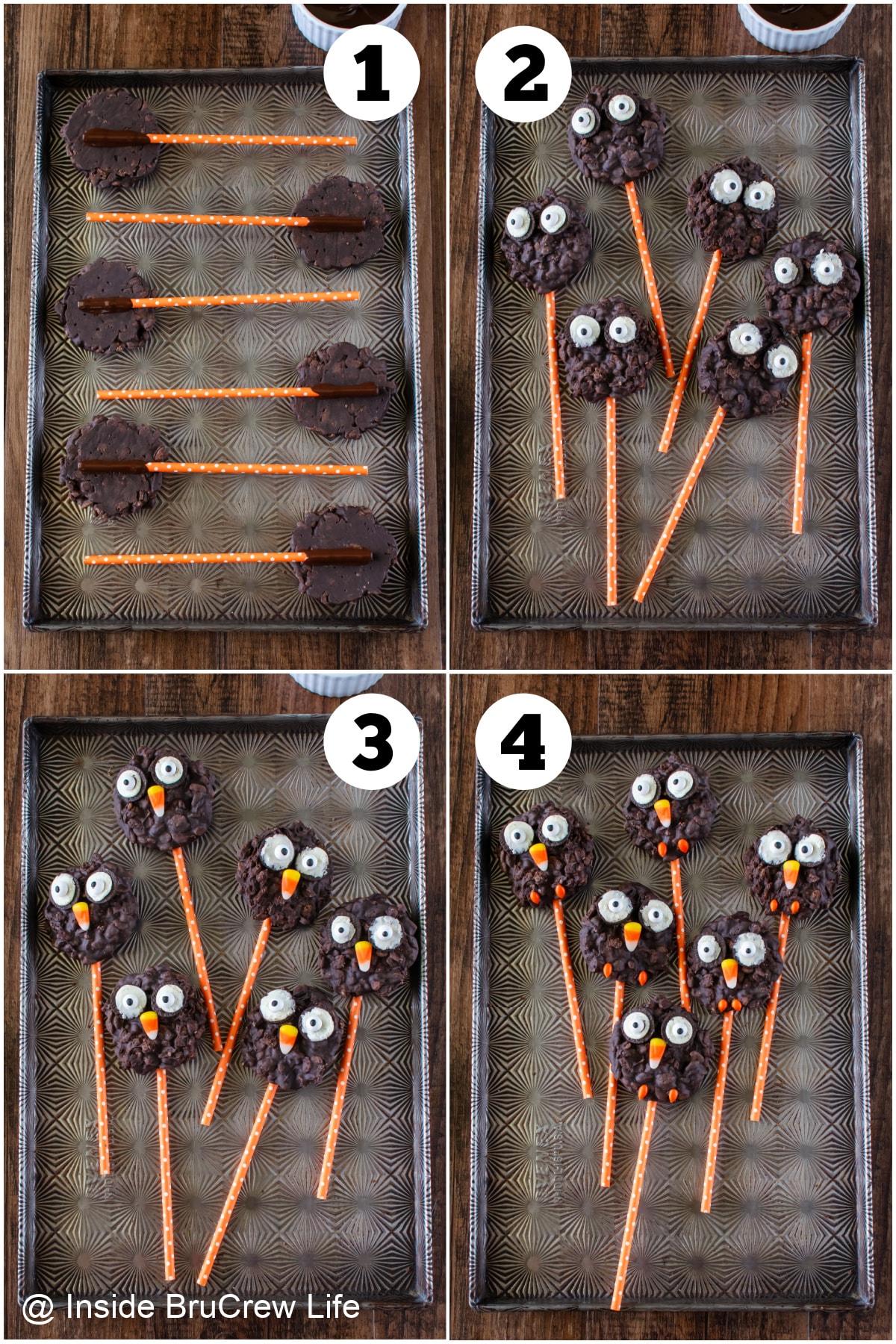 These owl cookies are adorable and easy to make in minutes. Children of all ages will have fun creating these fall treats.
Make the chocolate coating. Place the butter, corn syrup, sugar, cocoa powder, and salt in a pot over medium heat. Stir until it melts and starts bubbling.
Add more chocolate. Stir in chocolate spread and vanilla extract until creamy.
Stir in cereal. Add the cereal and stir until it is completely coated.
Make cookies. Drop the hot mixture onto a baking sheet lined with parchment paper. Use the back of a spoon to gently press the center of each chocolate circle down into an owl shape. Let cool completely.
Add straws. Melt the chocolate wafers in the microwave at 50% power for 40 seconds. Stir until melted and smooth, then attach a paper straw to the back of each cookie. This is optional, though.
Decorate the owls. Use the remaining melted chocolate and a toothpick to attach the cookies, candies, and sunflower seeds. Repeat with remaining cookies.
Storage Recommendations
Store leftover owl cookies in an airtight container in the refrigerator for several days. Place a sheet of wax paper between layers to keep them from sticking or ruining the faces.
Set the cookies out ahead of time unless you want to serve them cold. I actually think they taste great cold or at room temperature.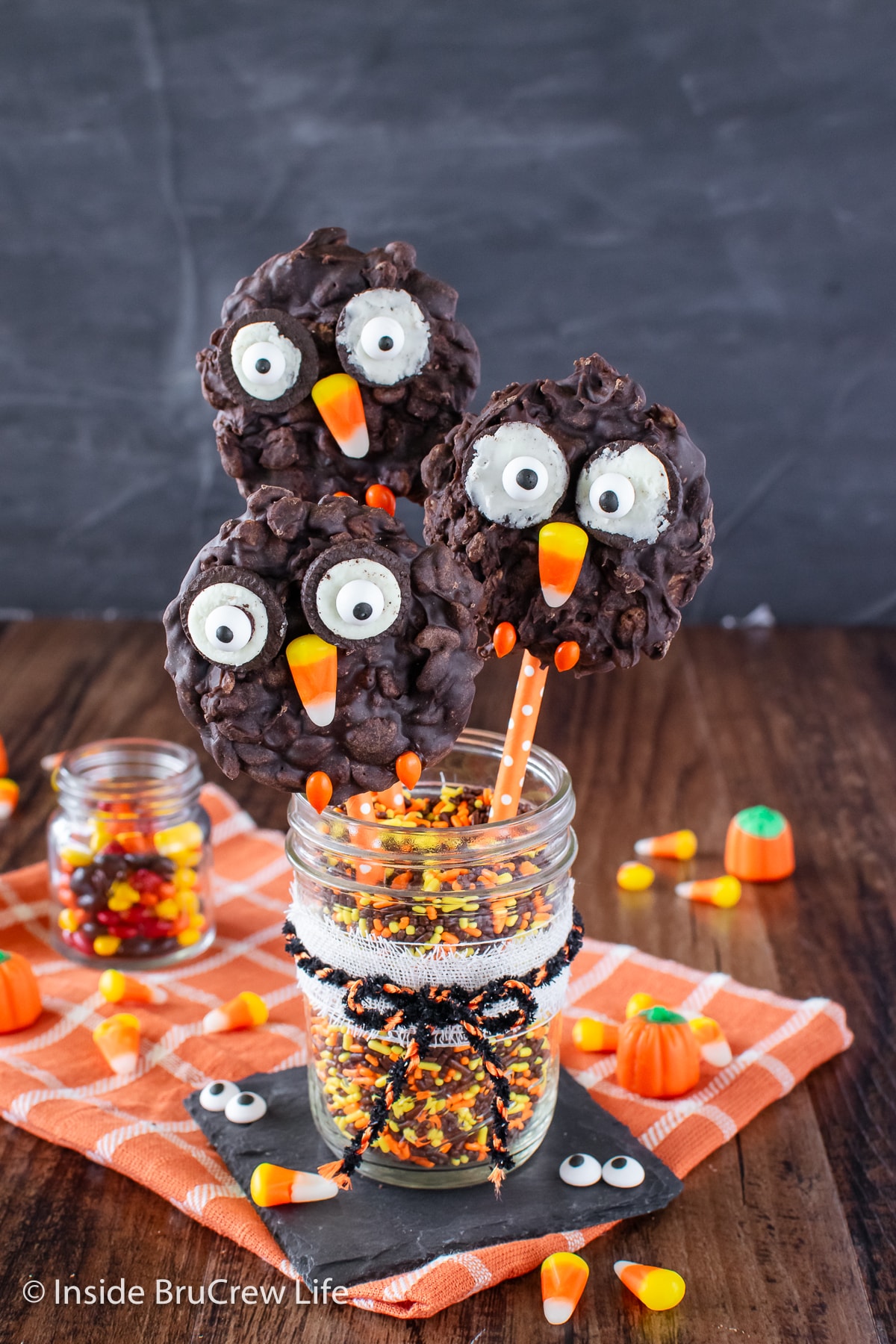 How to Serve
On a Platter - Arrange the no bake owl cookies on a tray with leaves or crushed graham crackers so it looks like a forest.
In a Vase - Put sprinkles, fall candies, or candy corn in a vase or jar, then place cookies on sticks inside to make a festive centerpiece.
Individually Wrapped - These cookies make a great party favor. Wrap them individually in clear cellophane bags tied with colorful ribbons.
Tips and Tricks
Set up an assembly line because it is easier to decorate cookies if you have your supplies ready.
Let the cookies firm up. This will make them easier to handle and help the decorations stay in place.
Split the Oreos with a butter knife so the frosting stays on one side of the cookie.
Use melted chocolate to attach decorations. A small pastry brush, a toothpick, or a piping bag can help, so it is easier.
Don't want to make owls? Drizzle the tops with white and orange chocolate, then add fall sprinkles.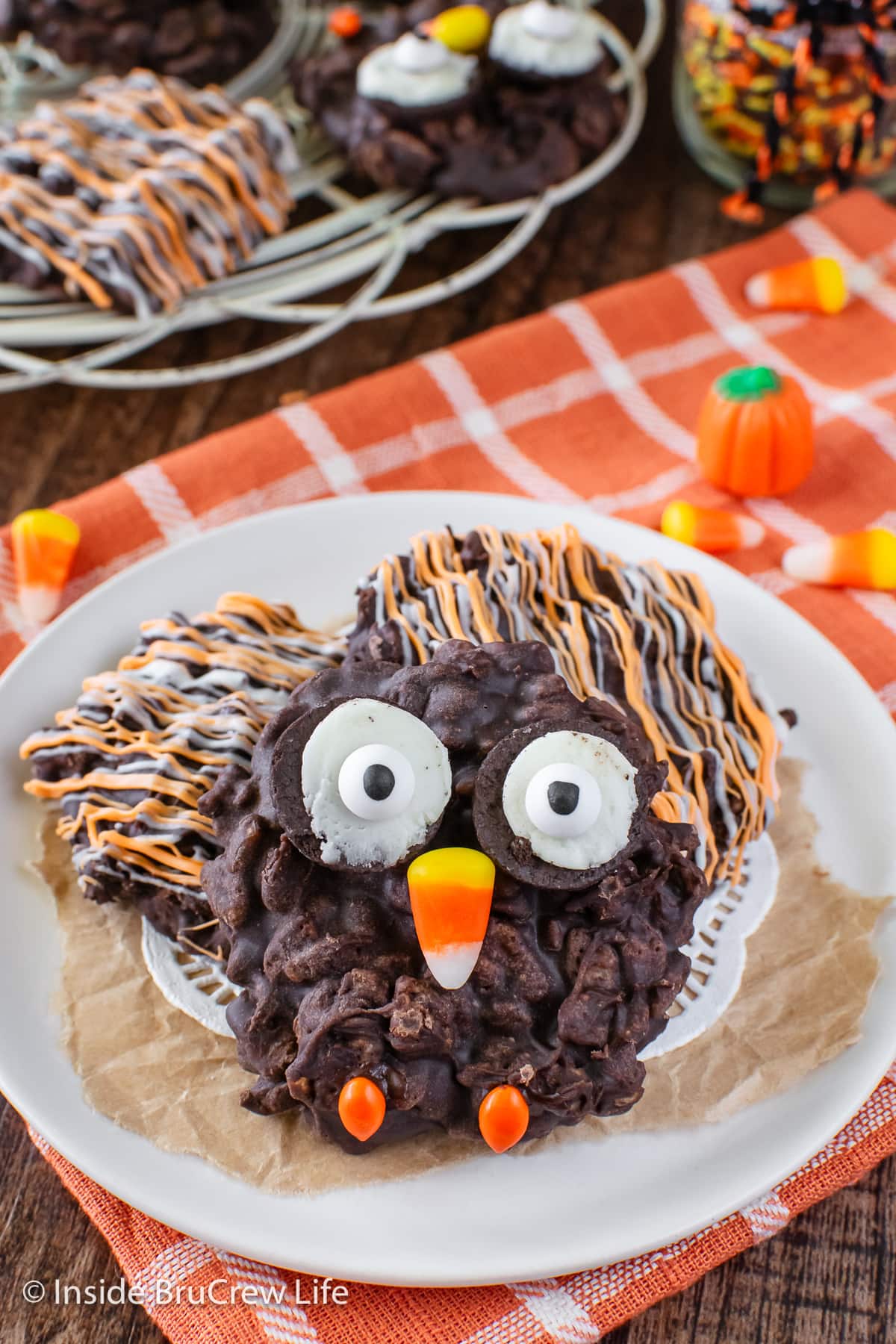 Variations
Choose Nutella, peanut butter, or a nut-free spread instead of chocolate.
Honey or maple syrup is an excellent substitute for corn syrup.
Use mini orange M&M's for the little toes.
A regular brown M&M or chocolate chip are great eyeball options.
Use a whole almond for the beak.
Chocolate or almond extracts can give the chocolate sauce a unique flavor.
FAQs
What is the best type of chocolate to use when attaching decorations to cookies?
We prefer to use quality melting chocolate, such as Ghirardelli, to attach the candies. Make sure you melt it properly in the microwave so it sets back up.
Can I use other candies to decorate the owls?
Absolutely. Use anything that you think looks good since that adds to the fun of decorating. It's exciting to see how everyone's different personalities appear when decorating a sweet treat.
What is the best way to store no bake cookies?
​Storage depends on your area. We recommend keeping the cookies in the refrigerator for a warmer climate so they do not get sticky.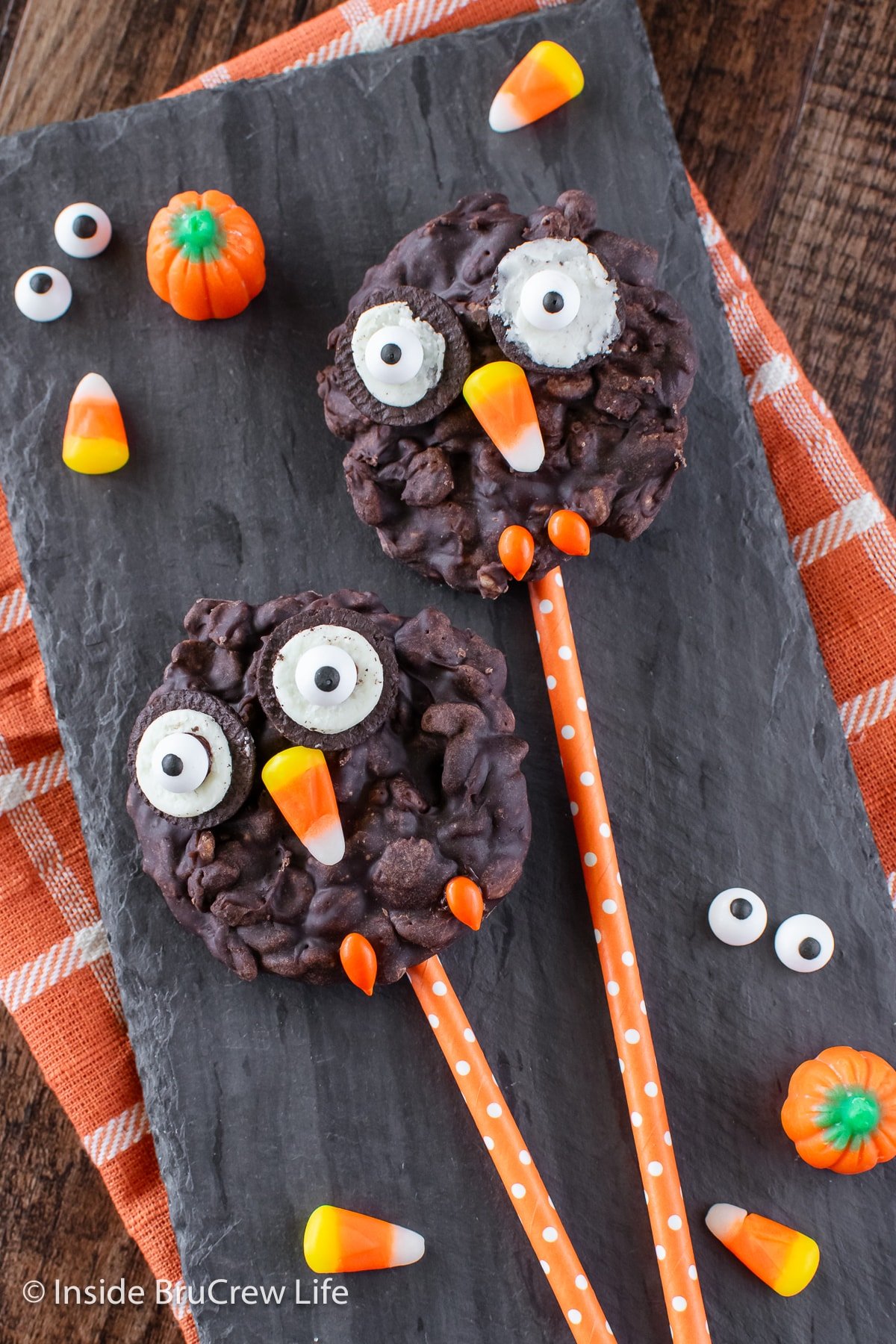 More Halloween Cookies
Do you love a recipe you tried from Inside BruCrew Life?
Please leave a 5-star ⭐️ rating and a review in the comments section below.
*This post was first published in October 2016. It was then updated and republished in September 2023.SaveSave