Cookies and candies make these fun No Bake Rice Krispies Owl Cookies a fun holiday treat for parties this fall.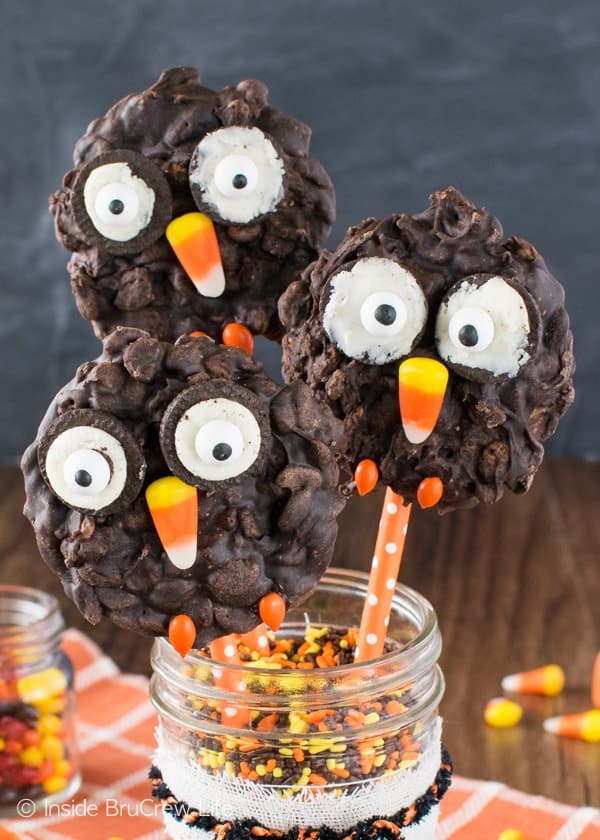 CLICK HERE TO PIN THIS RECIPE FOR LATER!
This is a sponsored post written by me on behalf of Kellogg's® Rice Krispies®. As always, all opinions are 100% my own.
The weather around here just cannot make up its mind. One day we are sitting at a soccer game in full sun, sweating, and trying to push up the sleeves of our t-shirts. Then the very next day we wake up to cool, chilly weather, and we have to pull out the jeans and sweatshirts.
Not that I mind this weather change one bit. After all, fall is my favorite season. There is something about chilly air, crisp leaves, bonfires, and wearing boots, jeans, and comfy sweaters. All those layers help me to hide the fact that I still haven't said no to sugar very often.
With the arrival of fall comes all the fun activities like going on hayrides, carving pumpkins, drinking warm lattes, and doing fun crafts with our kids. Well, those are the things we used to do. Our kids have gotten a little bit older, and now they enjoy going to hay mazes and haunted houses. The other day our daughter told me that she had signed up to scare people at a zombie run. When did they get so old?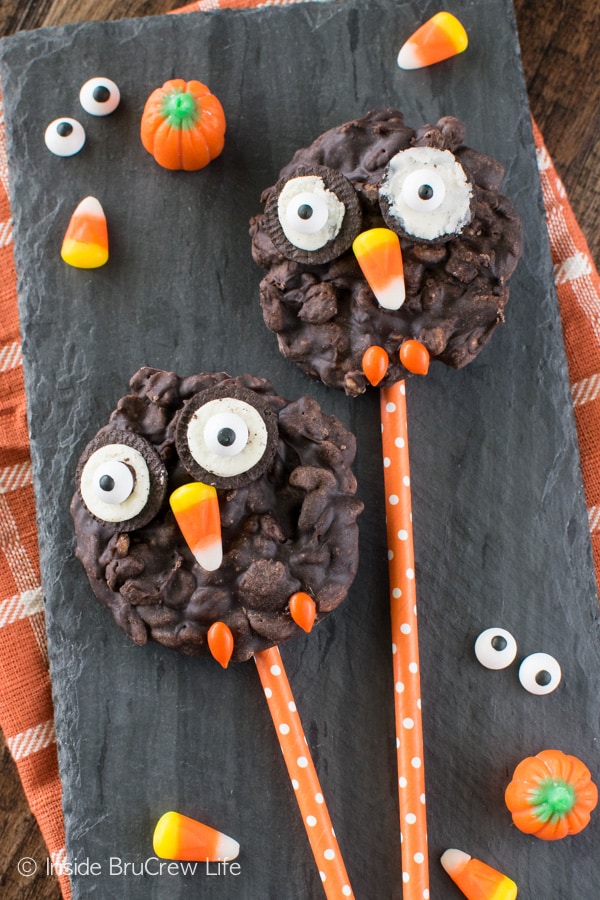 This fall I am partnering with Kellogg's® Rice Krispies® to create easy and fun treats that the whole family will enjoy. The first crisped cereal has been bringing families together with their delicious and simple treats for over 80 years.
As I thought about what kind of fall-themed treat I could transform the cereal into, I remembered these Reese's owls that I made a few years ago as cupcake toppers. Our kids had such a blast helping me make those treats, so I thought it would be fun to use the crispy cereal in individual owl cookies.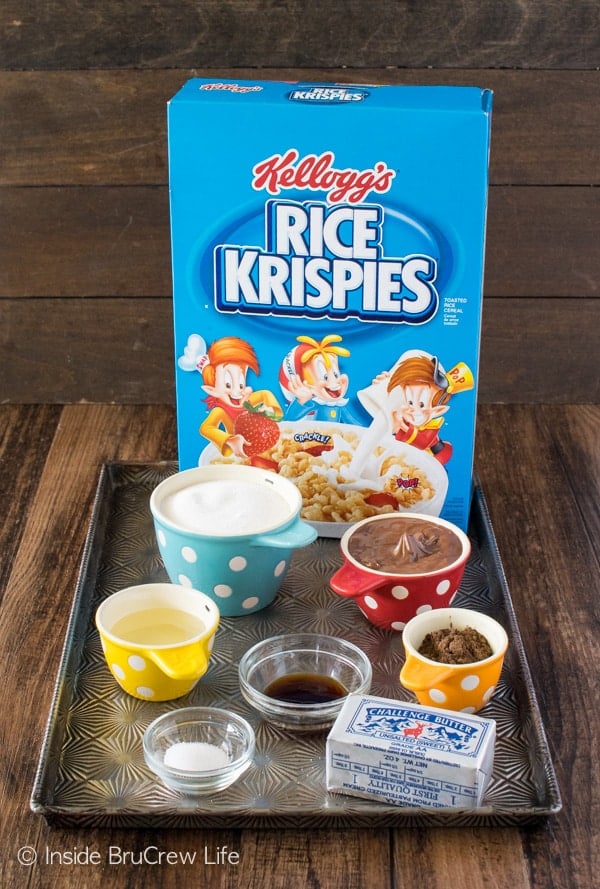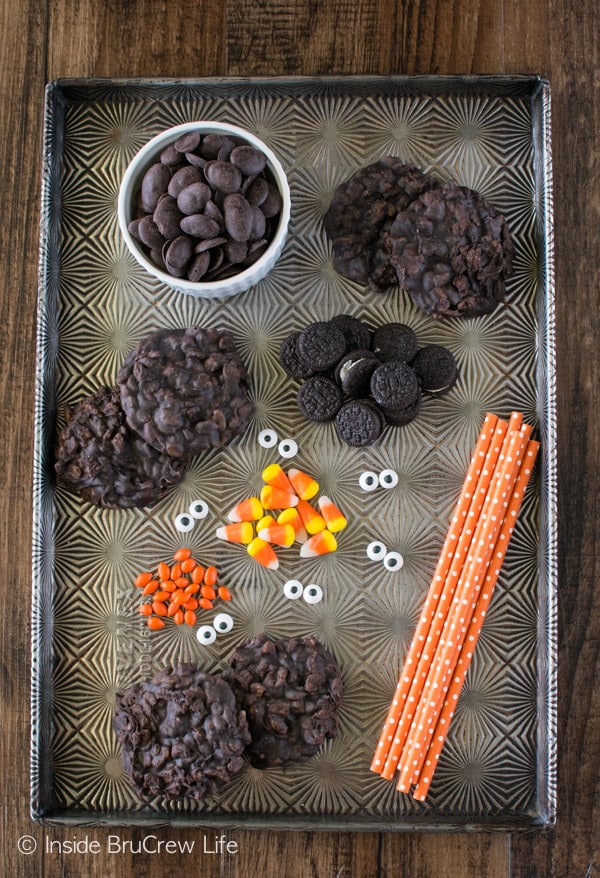 The fun part of these cookies was decorating them to look like owls. I absolutely adore those candy googly eyes. This time of year I start to look at the bottle of eyes and get creative with spooky treats for holiday parties.
These cookies are definitely more cute than spooky though. Cookies, candy corn, and chocolate covered sunflower seeds give each cookie that cute owl look.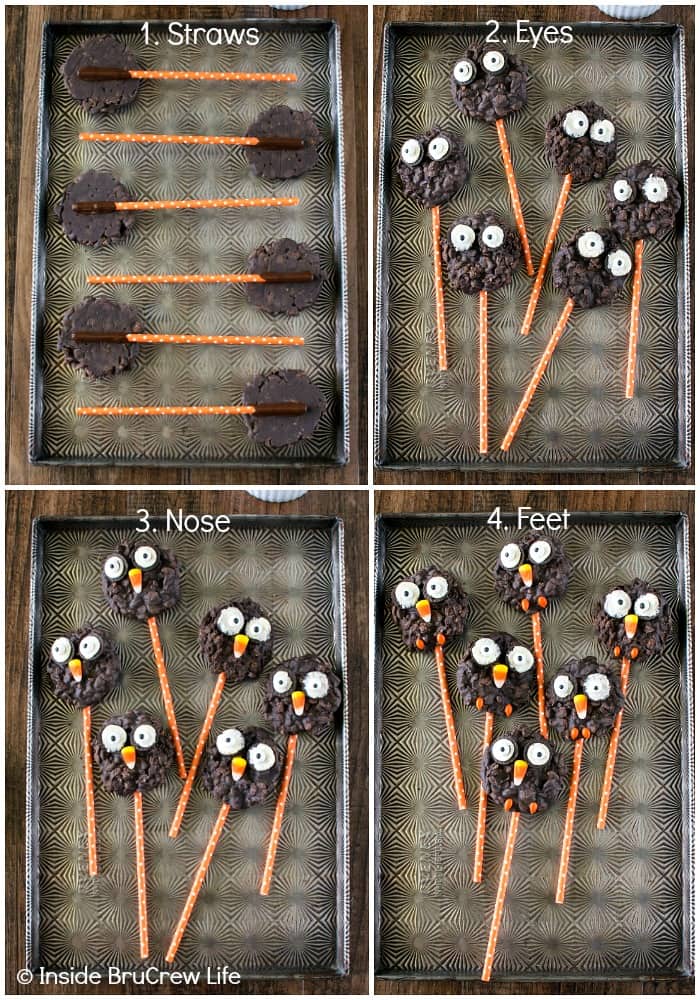 Our daughter came home from school and saw a few that I had put together already. The first thing she said was, "can I take one to school to show to my friends?" I'd say this is a winner recipe if a teenager is willing to show these cookies off to others.
Plus, these cookies are so easy to decorate that you could have a table set up at fall parties for kids to make their own. This would definitely keep them occupied for at least 10.7865538 seconds.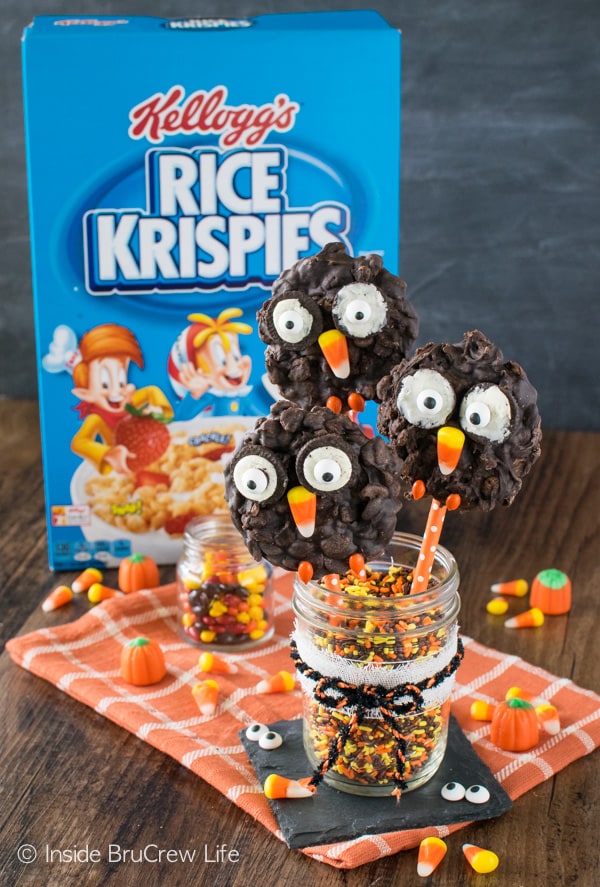 Although, I recommend having an adult present to make sure the cookie eyeballs do not go missing. Our kids kept swiping the cookies and candy corn while I wasn't looking.
I love how easy these no bake cookies are to make. Seriously, you can have a batch of cookies cooling on your counter in 15 minutes while you lick the pan and spoon clean. I'm not the only one that can be doing that, right?
Here are a few tips for making No Bake Rice Krispies Owl Cookies:
After you melt the ingredients together, stir in the Kellogg's® Rice Krispies® cereal.
Make sure you stir it together really well. We want the cereal to be coated with lots of chocolate goodness.
After it looks nice and chocolatey, drop it by large spoonfuls onto a piece of wax paper.
Use the back of a spoon to press the tops of the cookies down and round them into an owl shape. Let them cool completely.
Melt the chocolate and attach the straws to the back of each cookie.
Use the melted chocolate and a toothpick to attach the cookies, candy eyes, candy corn, and sunflower seeds.
Set out in a vase or jar filled with sprinkles for a fun holiday party centerpiece.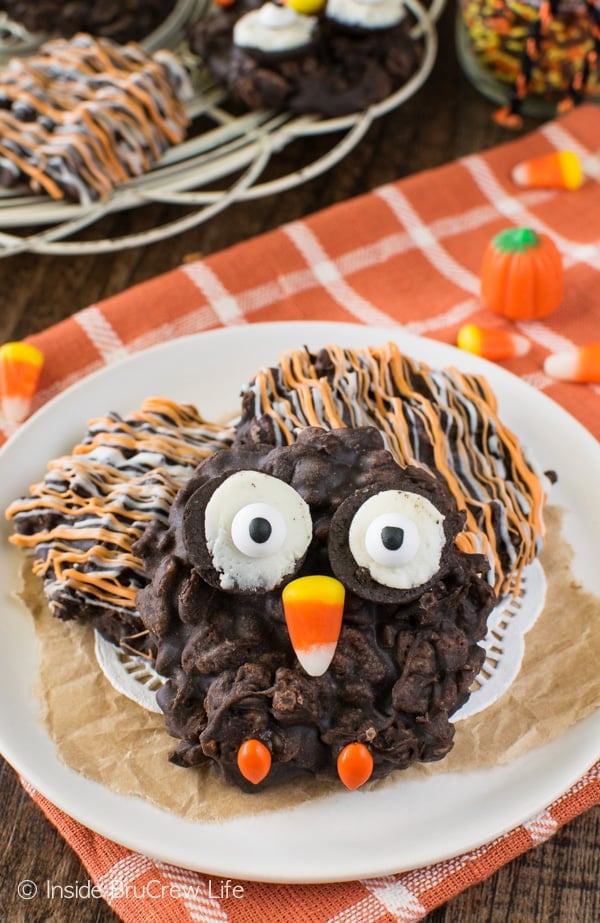 Connect more with #RiceKrispies
Facebook | Twitter | Pinterest

SaveSave