These No Bake Shamrock Shake Cheesecake Cones are a fun and easy dessert that comes together in minutes. Green sugar and a cherry makes this mint treat look just like the popular shake.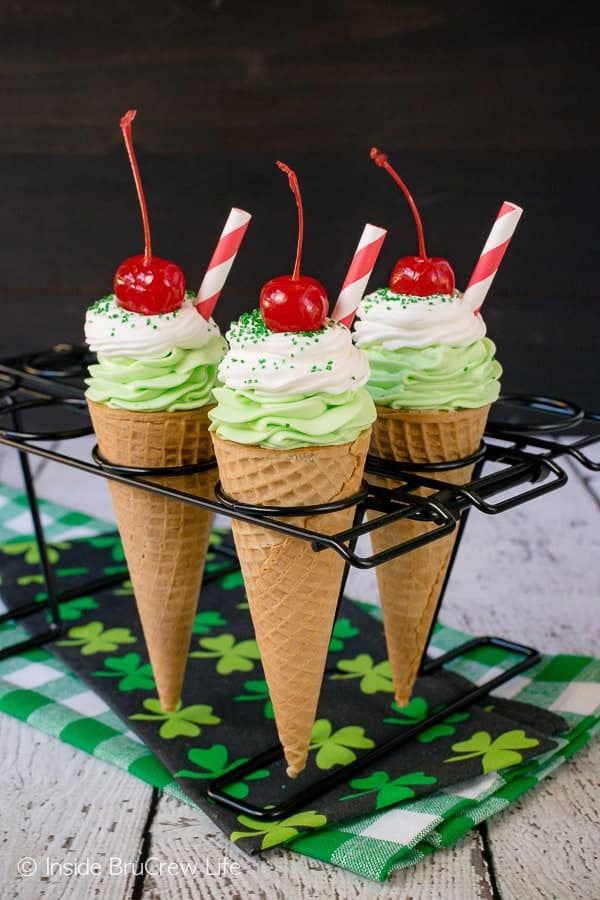 It's crazy how fast time is going these days. I mean it's the end of February already, and I feel like the new year just started. And it's not just this year that's going by fast. I feel like it was just yesterday that our kids were tiny, and now they are teenagers.
The other day we were driving home from church, and our son started playing one of his very first videos that he made playing computer games online. It took my husband and I a second to realize that it was actually him speaking.
The little voice on the video was so cute and young sounding. Now his voice is much deeper. It was crazy to listen to the younger one and then hear one from recently. Like I said time is flying!!!
I also feel like I just made these fun Shamrock Shake Sugar Cookie Bars, but that was a year ago too. Where has the time gone?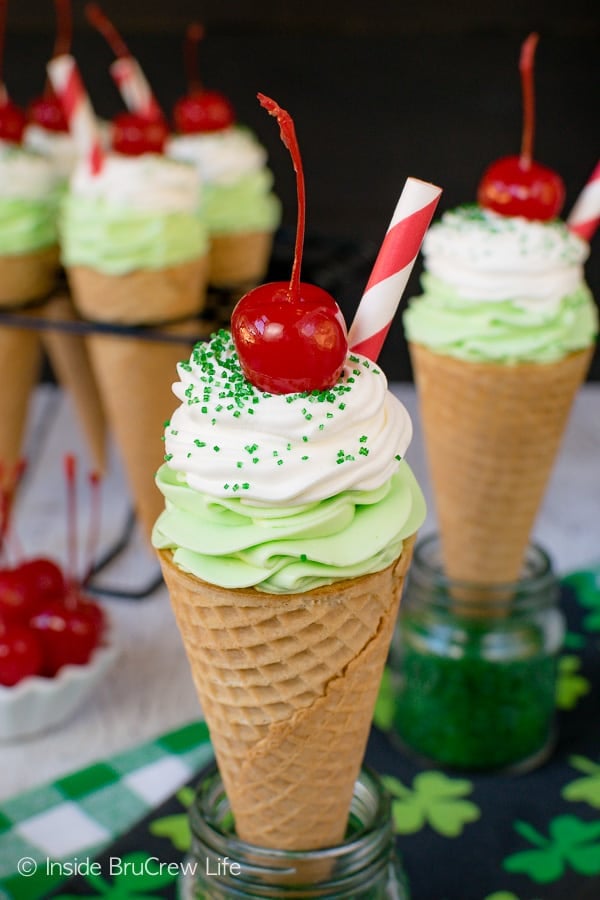 This week I realized that green desserts are popping up everywhere because St. Patrick's Day is almost here. Anyone else craving a shamrock shake from McDonald's now?
After the first shake that I saw, I got this crazy idea to make a mint no bake cheesecake filling and swirl it into a sugar cone. I'm all about finding ways to make fun new cheesecake recipes each month this year.
I used the cheesecake filling from this Thin Mint Cheesecake Brownie Cake. Minus the cookies, of course.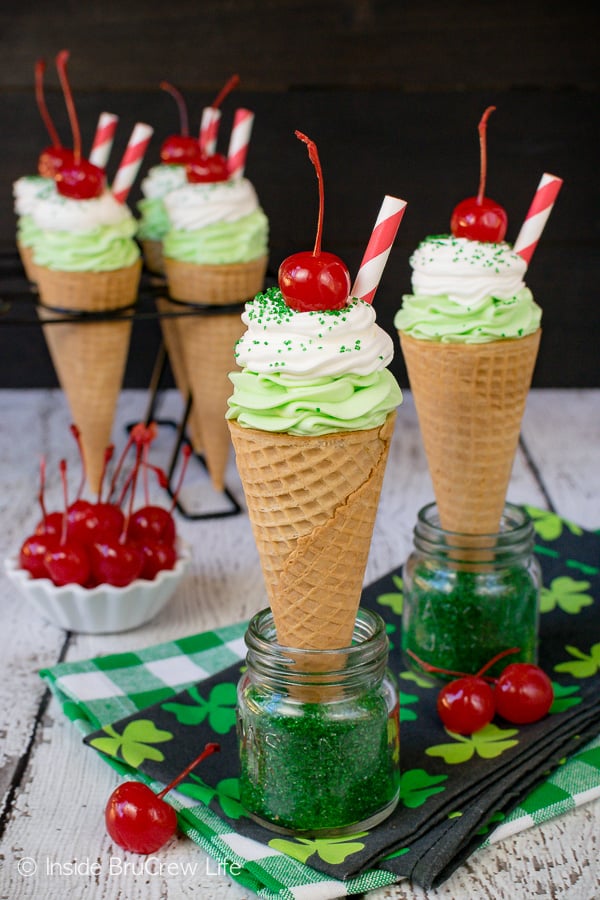 Will my mint dessert taste like toothpaste?
I get comments and questions all the time about using mint extract. That depends. If you use too much of this particular extract your dessert will taste like toothpaste. That's no bueno!
If you mix small doses of mint AND vanilla extracts together you can avoid getting that minty fresh taste. I used the same mixture when I made these Mint Chocolate Chip Cheese Balls, and everyone loved them.
Of course, there is the issue of genetics. Some people actually have genes that make them perceive tastes differently. Mint and cilantro are two flavors that give people issues, unfortunately.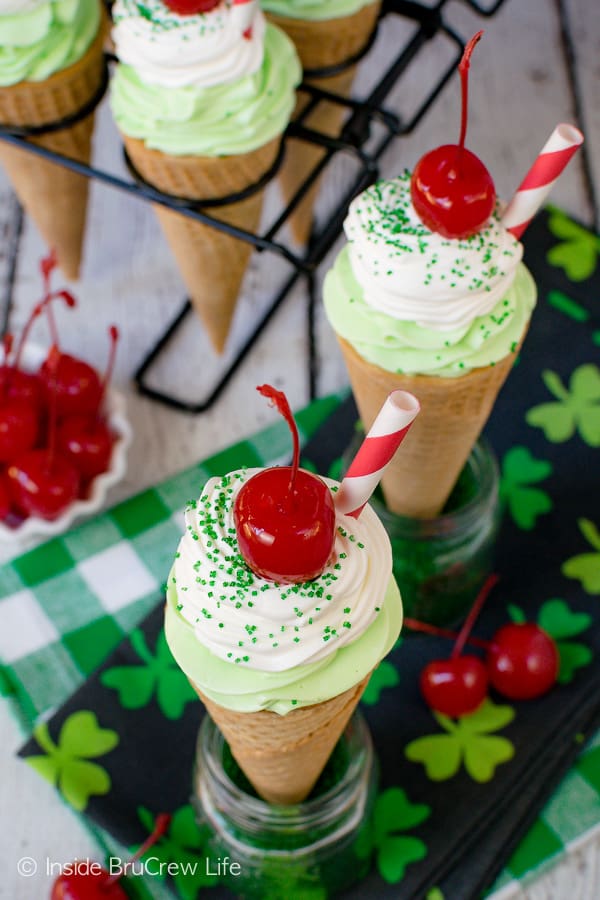 How to Make Shamrock Shake Cheesecake Cones
Use a piping bag and icing tip 1M to swirl the cheesecake mixture into your cones right before you want to serve them. If you put them together too early, the cones will get soft and soggy, which is not good.
You could use a spoon to fill these cones, but a decorating bag and icing tips make it so much easier. Plus, they look more professional.
The toppings on this shamrock shake dessert make them look like the popular drink. Add a little bit of green sanding sugar, a maraschino cherry with a stem, and a paper straw because it gives these little no bake treats the perfect little touch.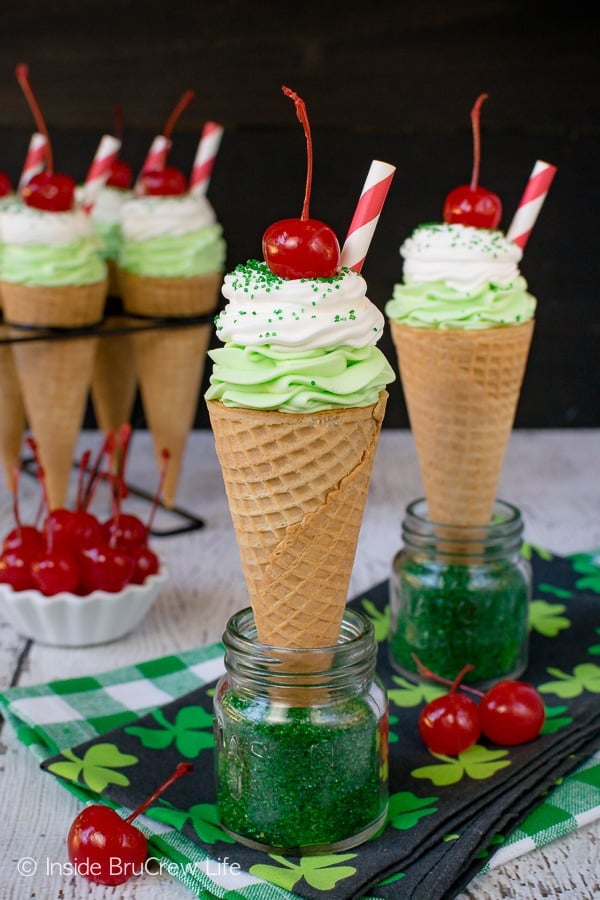 More mint no bake desserts you may enjoy
A pan of these Brownie Mint Rice Krispie Treats will disappear in a hurry. Chocolate and mint for the win!
Swirls of white chocolate and brownie fudge make this Mint Brownie Swirl Fudge a sweet treat any time of year.
How cute are these little Chocolate Mint Cream Cheese Buttons. The chocolate center is genius!!
Layers of creamy mint and coffee cheesecake make these little No Bake Mocha Mint Cheesecake Parfaits a fun and easy dessert.
This Fudge Mint Popcorn is loaded with mint cookies, candies, and chocolate! It's a great snack to munch on for movie night.
Recommended tools to make these No Bake Shamrock Shake Cheesecake Cones:

*This post contains affiliate links. Inside BruCrew Life may receive a small percentage from sales made through these free links. As always, these links do not cost you any extra. Thank you for letting us share products we use and love this way.