Enjoy a sweet surprise when you bite into these Cookies and Cream Cupcakes. Each chocolate cupcake has an Oreo cookie hidden inside the bottom.
To make them even better, they are topped with Oreo frosting and have another mini cookie on top. Such an easy cupcake recipe to make for any party or event.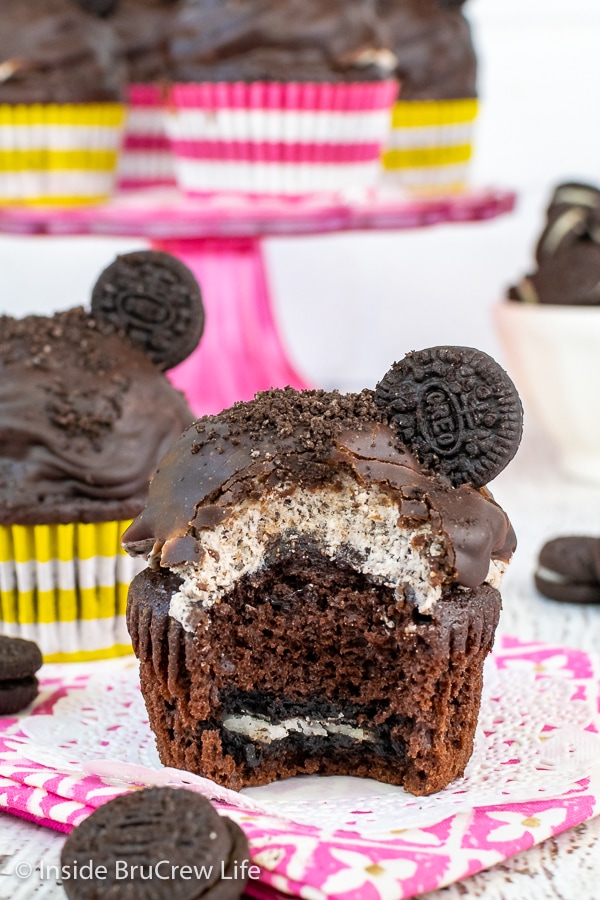 Years ago I used to make over the top decorated and themed cakes for our kid's birthdays. They requested Ninja Turtles, Strawberry Shortcake, Star Wars, and so many other fun ones. Those kinds of cakes always took hours and hours of time to make and decorate.
As they got older, they started to ask for cupcakes for their parties. I learned pretty quickly that cupcakes are so much easier to make. Everyone gets their own little "cake", and they take way less time to prepare. Cupcakes can also be jazzed up with extra ingredients to make them look and taste awesome.
Why we love these Oreo Cupcakes
Starts with a box mix.
Have a hidden Oreo cookie in the bottom of each one.
Topped with the best fluffiest cookies and cream frosting.
Dipped in melted chocolate frosting, so they look like a Dairy Queen cone.
These fun cookies and cream cupcakes were ones that we created years and years ago for birthday parties. It's still one of the most requested cupcake recipes in our house.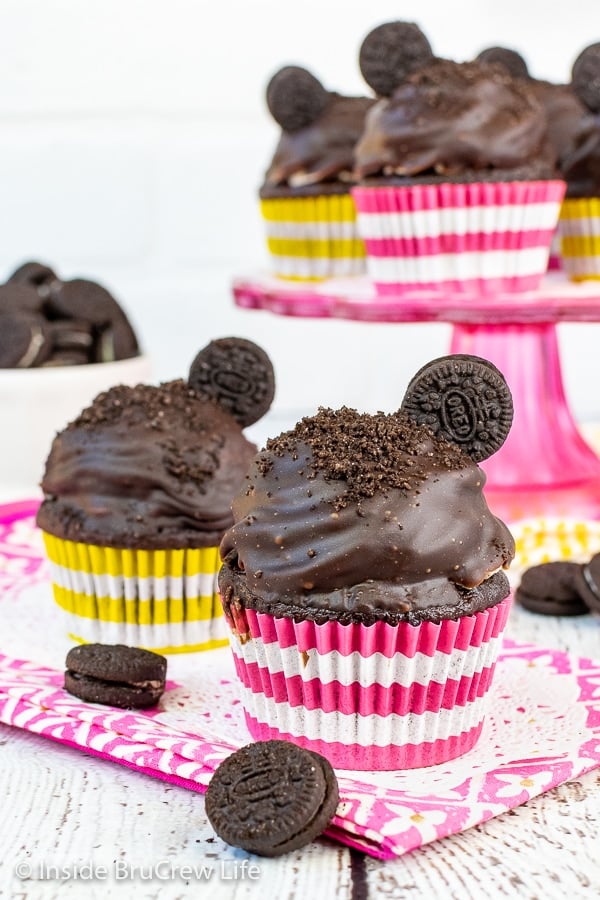 What takes these chocolate Oreo cupcakes over the top is the cookies and cream frosting. Adding crushed cookies to vanilla buttercream is the best idea ever! It turned these cupcakes into the ultimate dessert for Oreo lovers.
Ingredient List
These cookies and cream Oreo cupcakes come together quickly when you use a doctor up cake mix. A few extra ingredients gives it that semi-homemade flair. The hidden Oreo on the bottom of each cupcake will get smiles from everyone.
For the Oreo Cupcakes
Chocolate Cake Mix - milk or dark chocolate
Instant Chocolate Pudding - gives the cupcakes a delicious moist texture
Eggs, Milk, Oil - moisture for the cupcakes
Oreo Cookies - regular sized Oreos for hiding in the bottom of the cupcakes
For the Oreo Buttercream Frosting
Butter - unsalted and softened
Salt, Vanilla - for flavor
Powdered Sugar - sweetens and thickens the buttercream
Heavy Whipping Cream - gives the frosting a light and fluffy texture
Oreo cookie crumbs - gives it the Oreo taste and look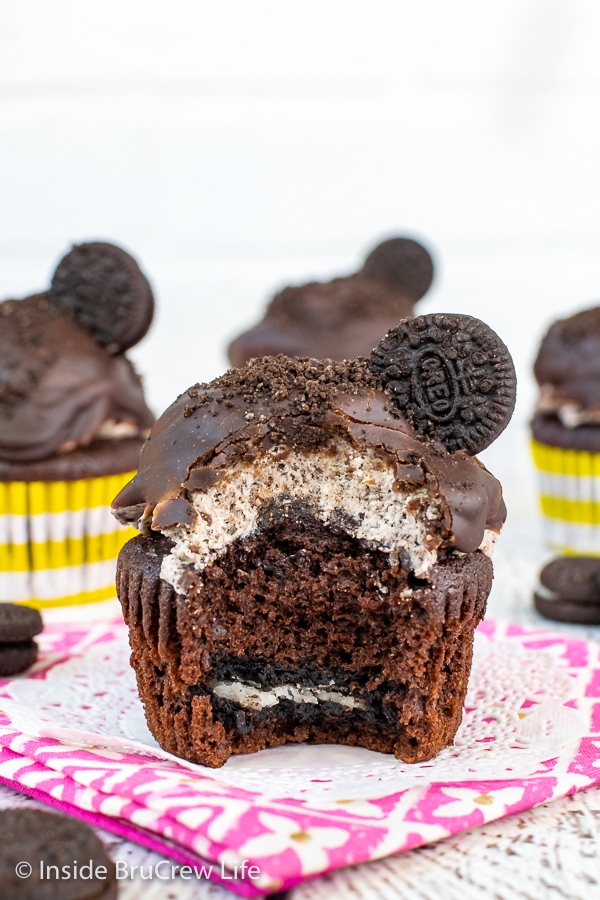 How to make Cookies and Cream Cupcakes
Oreo cupcakes are really quite easy to make. While the cupcakes are baking, mix up a batch of Oreo frosting. Once everything is cooled, you can have fun decorating the chocolate cupcakes.
Step One: Make Oreo Cupcakes
Line muffin tins with 24 cupcake liners.
Make the chocolate cake batter.
Spoon 1 tablespoon of batter in each liner, then place an Oreo cookie on top.
Fill the liners with the rest of the batter.
Bake and cool.
Step Two: Make Oreo Frosting
Beat the butter, salt, and vanilla until creamy.
Slowly add the powdered sugar and heavy cream until mixed in.
Beat on high for 1-2 minutes or until light and fluffy.
Stir in crushed cookies gently.
Step Three: Assemble the Cupcakes
Spoon the cookies and cream frosting into a piping bag fitted with icing tip #32.
Swirl frosting on top of each cupcake.
Freeze the cupcakes for 30 minutes to chill the Oreo frosting.
Open the canned frosting and remove the metal liner. Microwave for 30 seconds.
Stir until melted and pourable. You may need to microwave the frosting for another 15 seconds.
Dip the tops of the frozen cupcakes into the chocolate frosting. Let the excess drip off.
Place on a tray and sprinkle with Oreo crumbs and top with a mini Oreo cookie.
BRUCREW TIP: Use different frostings for the top of the cupcakes. This Fluffy Peanut Butter Frosting or this Marshmallow Cream Frosting would be awesome with cookie crumbs in it.
Recipe Tips
Use a food processor or blender to crush the Oreo cookies for the frosting, so they do not get stuck in the icing tip.
Let the cookies and cream Oreo cupcakes cool completely before frosting. If they are even a little bit warm, the frosting will melt and slide off when you try to dip them in the extra chocolate frosting.
How to store Decorated Cupcakes
Keep the cookies and cream cupcakes in an air tight container on the counter for 2-3 days.
Cupcakes can also be kept in an air tight container in the refrigerator for a few days longer, but they may dry out slightly.
Freeze unfrosted or frosted cupcakes for 2-3 months in a sealed container or bag. Thaw in the fridge overnight before serving.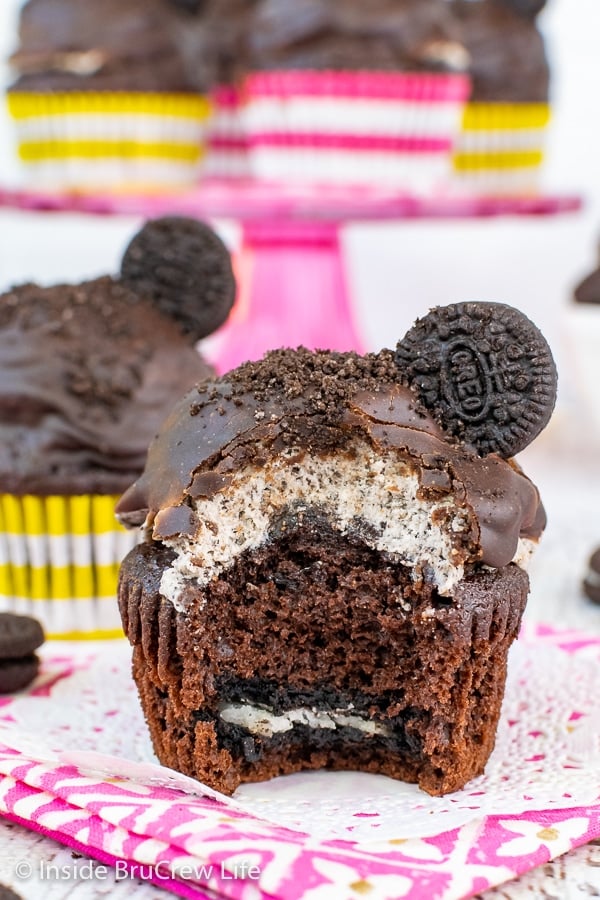 More Cookies and Cream Desserts
Other Easy Cupcake Recipes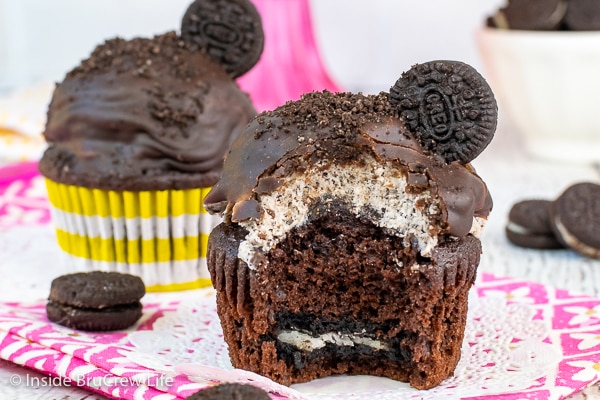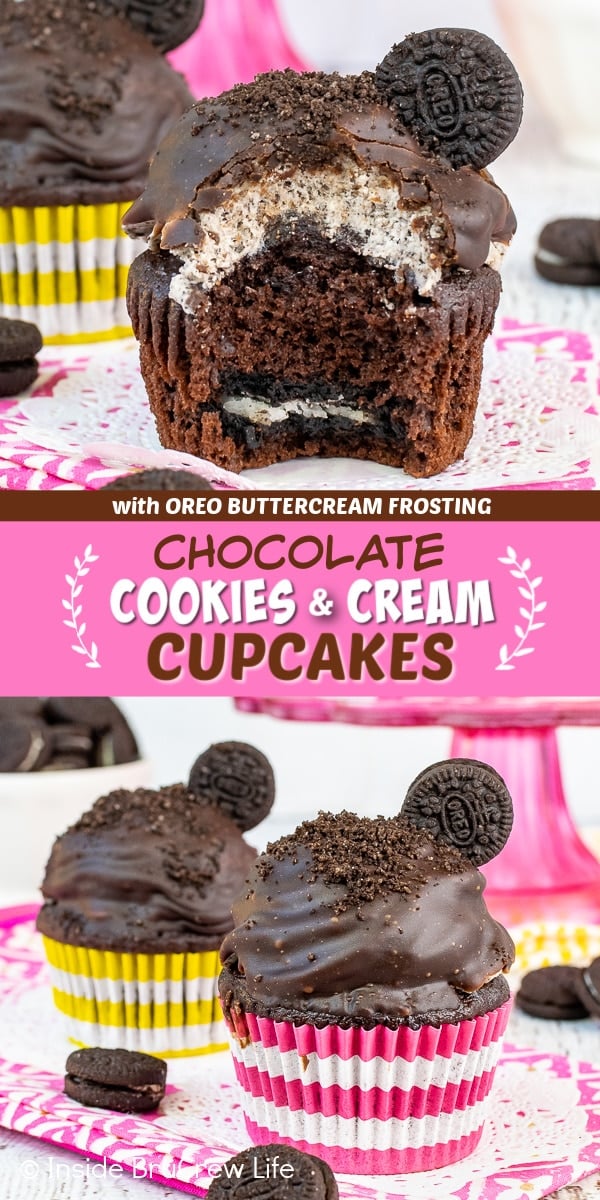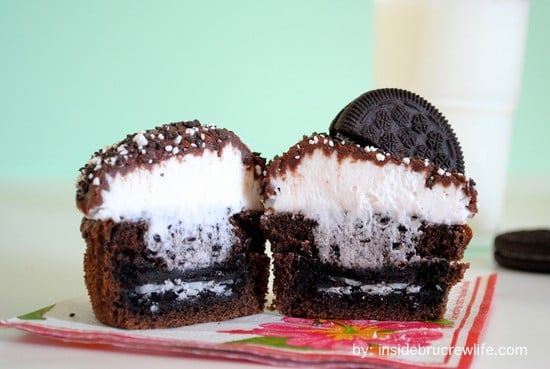 (original photo from April 2011)
*The post for Cookies and Cream Cupcakes was first published April 2011. The photos were updated October 2018 and the post was updated and republished May 2021.