This Cherry Mousse Brownie Cake is so easy to make and tastes amazing. The layers of no bake cherry cheesecake with a chewy brownie crust make it a pretty and delicious dessert to make for the holidays.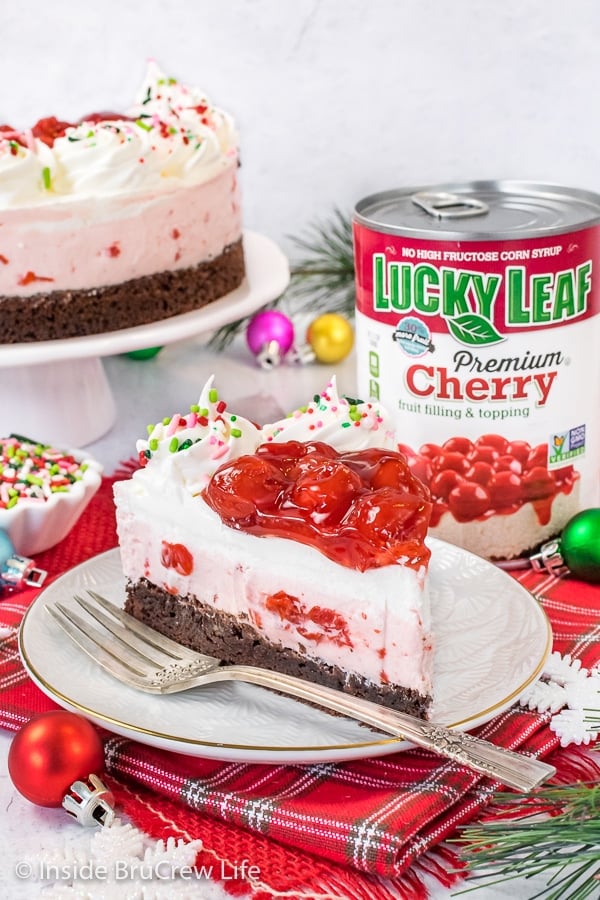 Over the years of making different desserts, I have come to realize that I love desserts with layers. There is something about all the layers that just makes me smile when I cut into one of my creations.
Brownie cakes have quickly become one of my favorite desserts to bring to parties or events. They are easy to make, and I love the texture contrast from the chewy brownie and the creamy mousse filling.
These fancy cakes will have everyone thinking you worked all day in your kitchen. The fact that they are so easy to put together can and will be our little secret.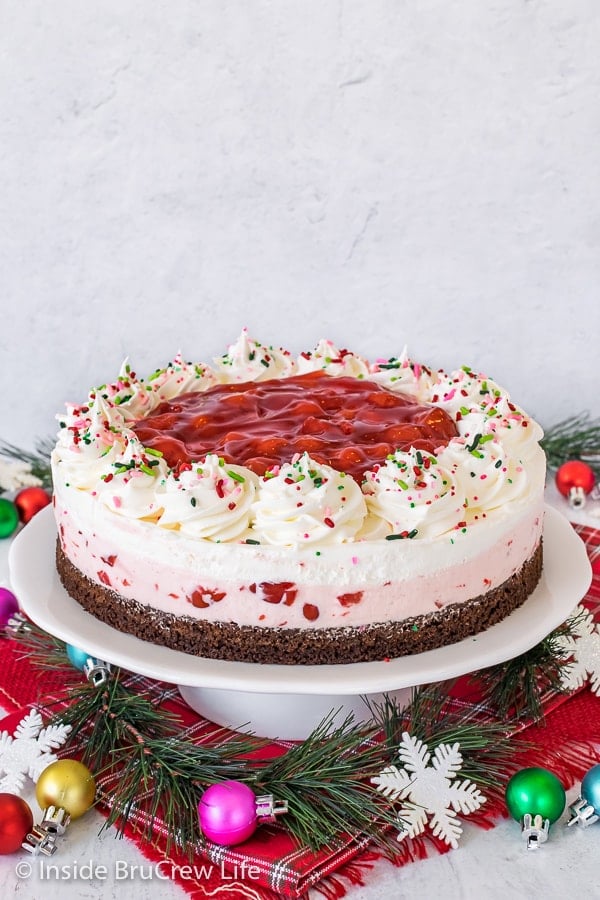 The layer of no bake cheesecake mousse on a brownie cakes is easy to customize. Candies, marshmallows, cookies, or pie fillings can give it a unique flavor and look without a lot of work or fuss.
I have had the privilege of working with Lucky Leaf® and their pie fillings for quite a few years now. I love that the majority of Lucky Leaf products do not use high fructose syrup or artificial flavorings in their fillings.
I can honestly say that I cannot wait to dig into each can. Each can is loaded with fruit, so I always like to taste a spoonful (or two) before I start to bake.
Now I realize that when you hear the words pie filling, you automatically think pie. I am excited to share with you just how versatile a can of pie filling can be.
Some of my favorite desserts made with pie filling are these Blueberry Key Lime Cheesecake Bars and these Lemon Coconut Cupcakes.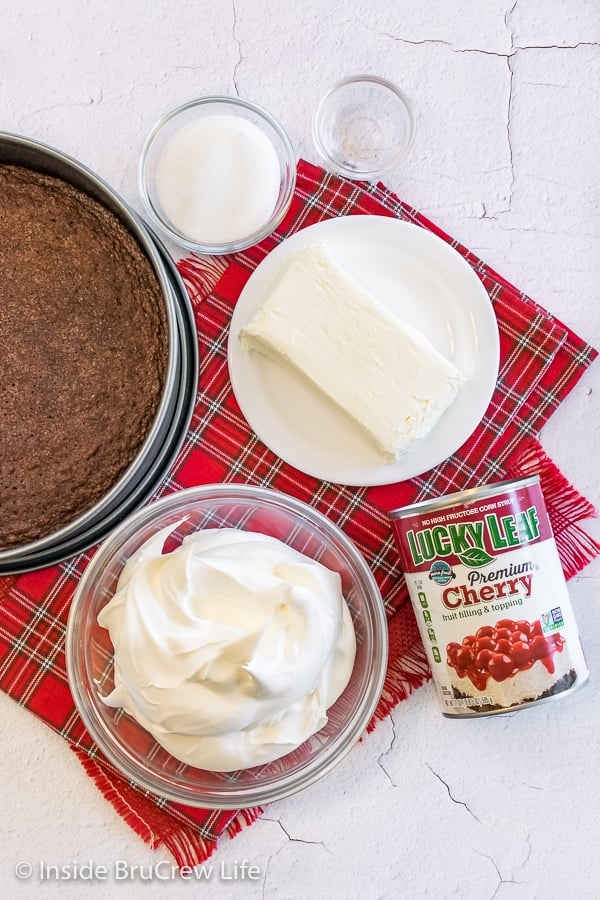 Spreading a layer of no bake cheesecake made with pie filling on top of a brownie is an easy way to make a fancy looking cake, that is actually very easy to do.
You will only need a few simple ingredients to make this brownie cake for your family and friends.
Ingredients:
Brownie Crust - You can use an 8x8 box mix or a batch of these Homemade Brownies.
Cream Cheese - Be sure to set the cream cheese out ahead of time, so it can soften
Sugar - This particular recipe uses granulated sugar to help smooth out the cream cheese before adding the pie filling.
Almond Extract - Almond flavor gives a cherry dessert such a delicious and unique flavor combo. You can also use vanilla if you do not have almond or do not like it.
Lucky Leaf Cherry Pie Filling - Lucky Leaf fillings are readily available in grocery stores and makes recipes easy to put together. If you do not like cherry pie filling, feel free to use strawberry or raspberry instead.
Whipped Topping - Use a large tub of store-bought topping, so you have enough for the filling and the decorations. A double batch of Homemade Whipped Cream is another option.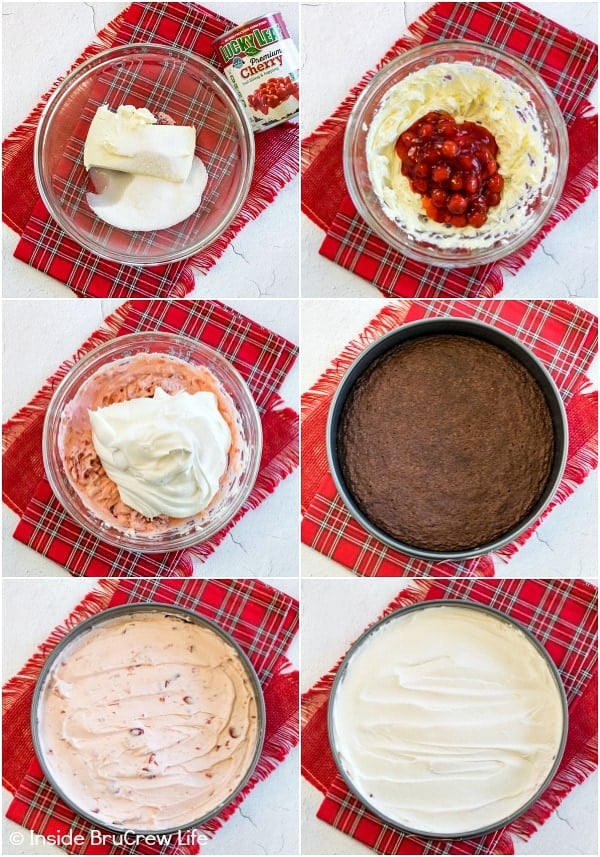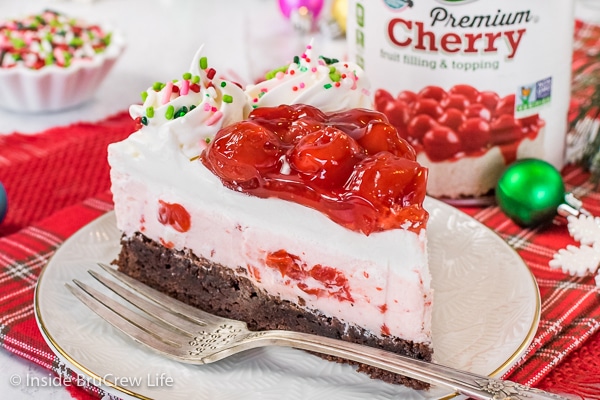 How to make a Cherry Mousse Brownie Cake:
The first thing you will want to do is make your brownie crust. I like to make a homemade brownie layer, but you can also take advantage of a box mix. Let the brownie cool completely before starting on the rest of the layers.
To make the filling, beat a package of cream cheese with sugar and almond extract. I love the flavor of almond with cherries. If you are not a fan, feel free to substitute vanilla extract instead.
Once the cream cheese is nice and creamy, add part of the can of cherry pie filling and beat it again. You want to use the mixer because it will help break up the cherries and spread them out in the no bake cheesecake.
Fold in whipped cream until it is light and fluffy. Be sure to fold gently, so you do not deflate the topping. Then spread the filling on top of the cooled brownie crust. Add a layer of whipped cream over the top of the cherry mousse.
Set the brownie cake in the refrigerator to chill and firm up. I like to make brownie cakes in the evening, so it can chill overnight. Easy desserts that can be made ahead of time are always good when you are busy.
Right before serving, remove the springform pan sides and add swirls of whipped cream, sprinkles, and the rest of the cherry pie filling to the top of the cake. These little extra garnishes makes the cake look beautiful and lets people know what flavor the cake is.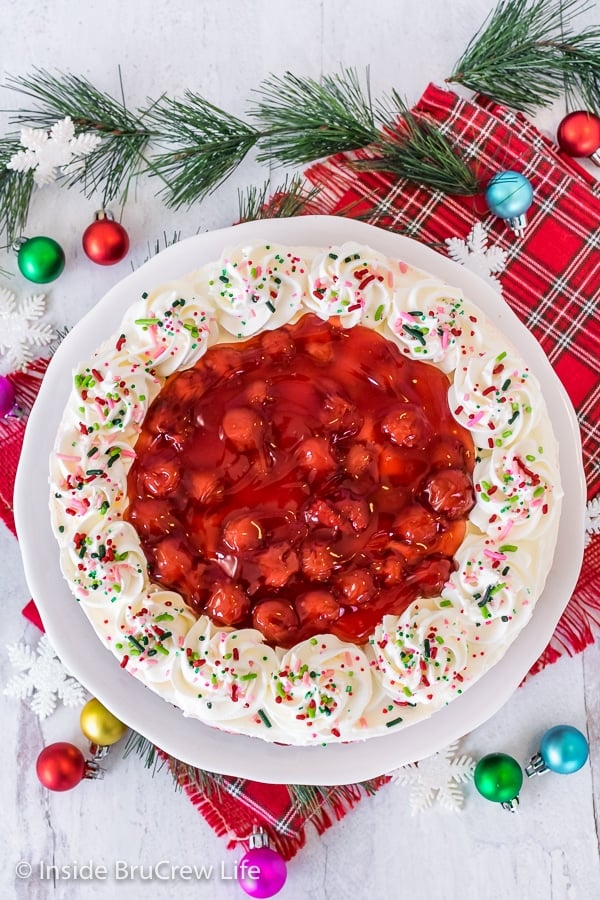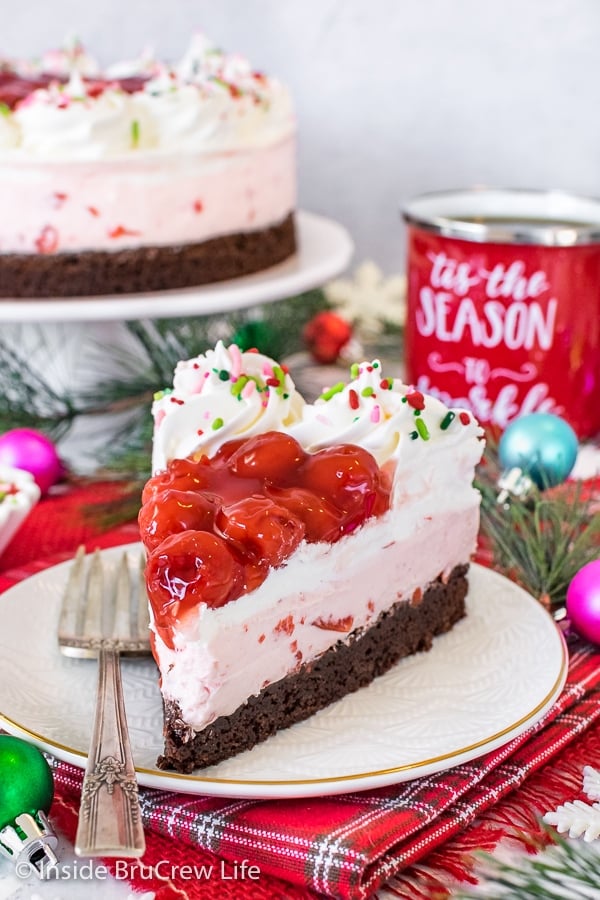 More recipes using pie filling: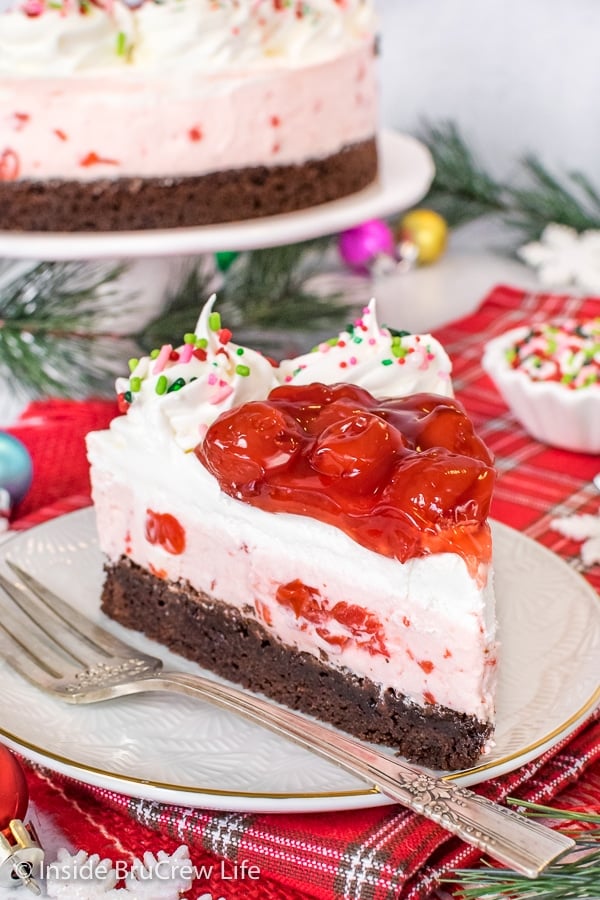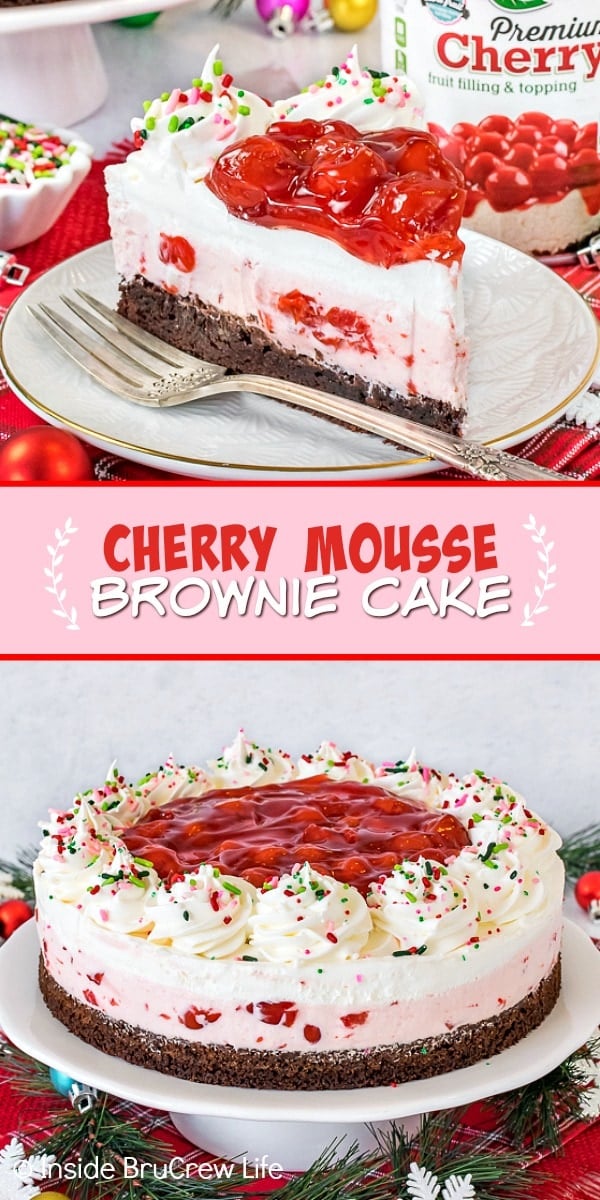 *This recipe was sponsored by Lucky Leaf. All opinions expressed are 100% my own. Thank you for letting me share products and brands we use and love. See my disclosure policy for more information.*