This easy Peanut Butter Fudge Poke Cake is topped with a creamy marshmallow frosting, peanut butter cups, and mini mallow bits.  Trust me when I say you will not have any left when you serve this cake for dessert.
*Love these recipes? Be sure to sign up for the BruCrew email to have them sent to your inbox each time a new recipe is shared.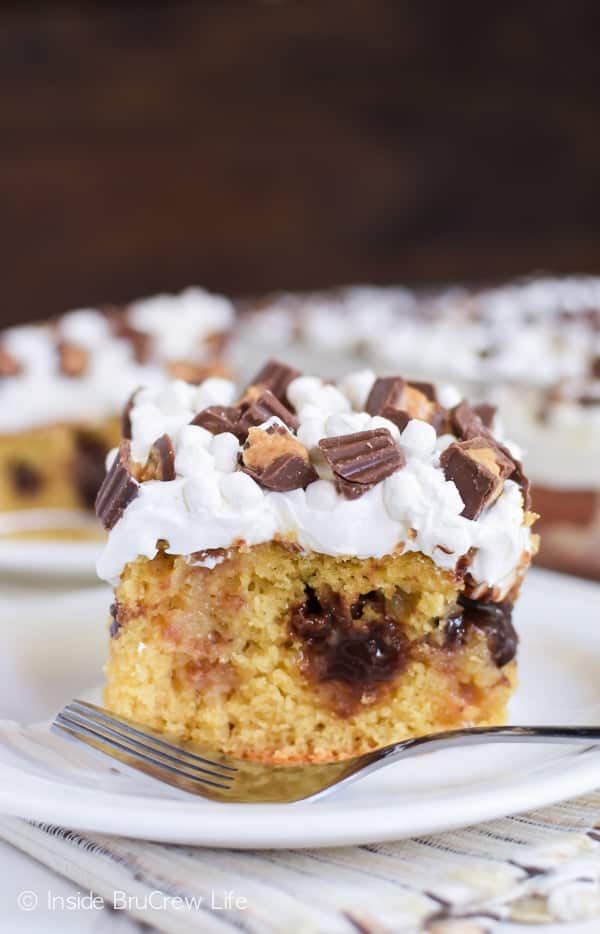 I have decided that getting older is for the birds.  You all know how much I actually enjoy working out, right?  My husband and I have been doing strength and conditioning at a local training facility for about a year and a half.  Even though I still do not eat as healthy as I should, I am definitely much stronger and in better shape than I ever have been.
Until recently.
You see my knees must have realized how old they were and that "old" people shouldn't be doing all these workouts and mud runs because all of sudden I have been having issues.  Pains and aches and all sorts of dilemmas. I personally think it was because I told my body it was time to get serious about eating better…aka no more cake.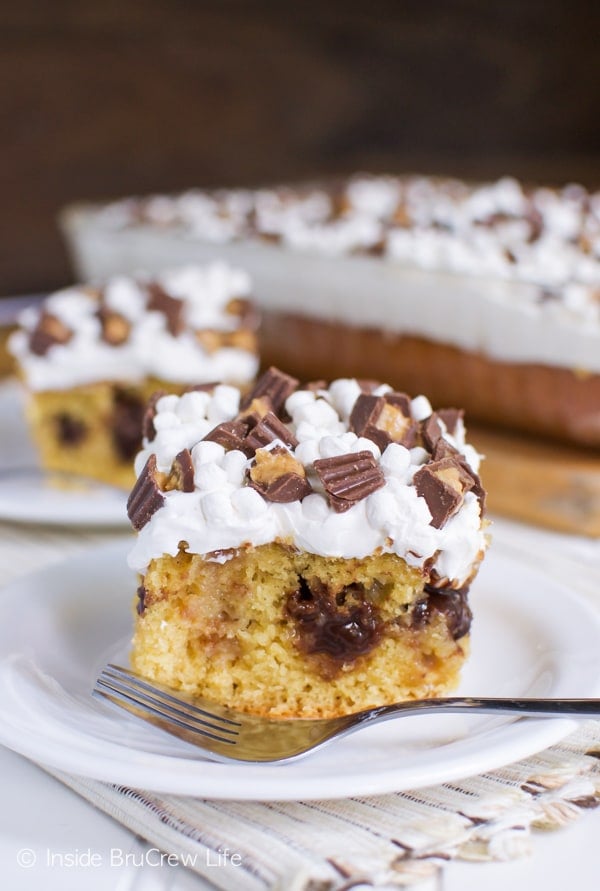 My body is reacting to this no cake idea big time.  And seriously, it was just a thought that I was contemplating.  Because let me tell you, I ATE this cake.  And holy cow, was it ever good.  Actually it was because I couldn't stop eating this cake that I made the rash "no cake rule" that my knees are rebelling too.
So, I have been hobbling all over the house getting laughed at by my hubby and kids.  Can you believe they think this is funny?  Yeah, me either.  How is getting old and being sore a laughing matter?  Ok, if it was my hubby limping I would totally be cackling at him.  We have such a loving relationship.  LOL!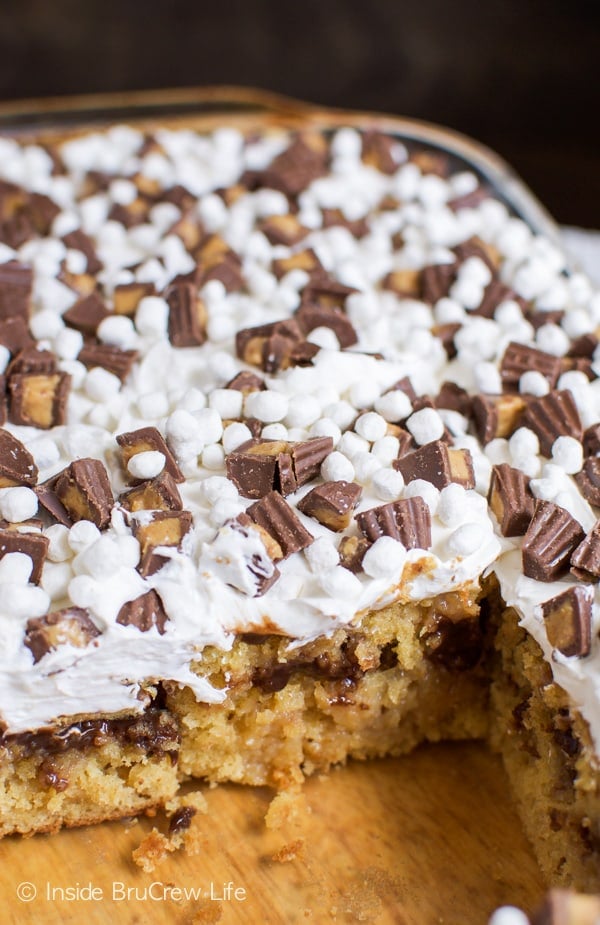 Let's talk about this cake in front of you…because you definitely need one in your life. Ever since I started with this chocolate coconut cake, I can't say no to a poke cake in the summer. There is something about a cool piece of cake on a hot summer day.  Of course one full of peanut butter and fudge and topped with all sorts of creamy marshmallow and candy goodness would be good any time of the year. 
Make and bake the cake using the package directions, plus some peanut butter. While it is still warm, poke it with the handle of a wooden spoon.  You want the holes to be big enough for the sweet goodness to soak into.  This goodness is a can of sweetened condensed milk and peanut butter.  Yes, take a spoonful.  It is glorious!  Then slowly drizzle it over the entire cake trying to get it all in the holes.  Let it chill, then do the same thing with the hot fudge.
But really what takes this cake over the top is the creamy marshmallow topping!!!  I made this topping last summer for this s'mores pudding cake and have been looking for another reason to make more. All it is is a jar of marshmallow fluff and a container of Cool Whip mixed together!  Be careful if you sample it with a spoon!  You will want to hide in a closet and devour the entire thing…then your knees and thighs and every part of your body might be mad at you too. Trust me and just slather the cake with it!
Peanut butter cups and mini marshmallows add a fun pop of taste and texture to the top of the frosting.  They aren't necessary, but seriously why would you leave them off?  Only aliens and crazy people think like that.  Now what are you waiting for?  Make cake!!!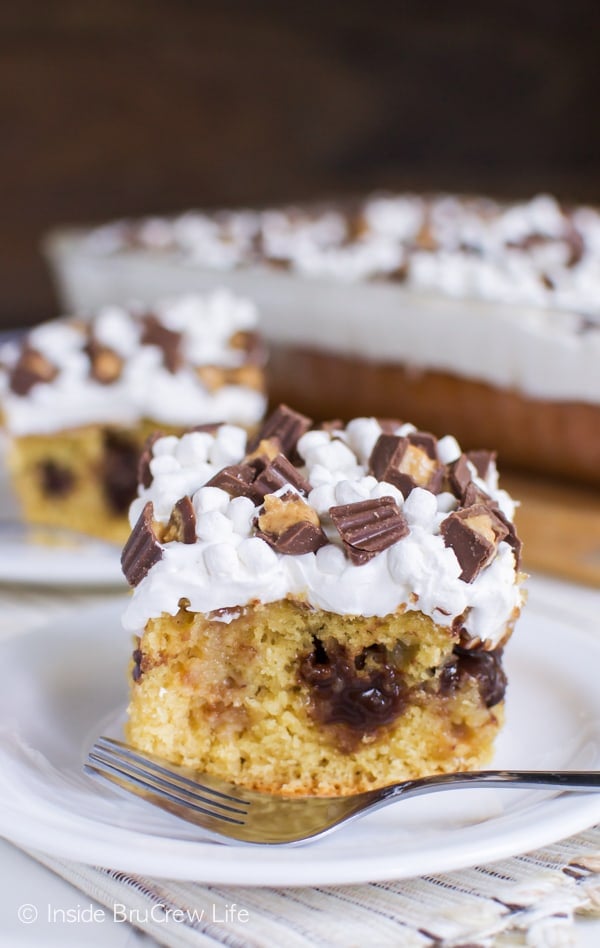 Stay up to date on all the BruCrew baking here:
FACEBOOK | PINTEREST | GOOGLE+ | TWITTER | INSTAGRAM | BLOGLOVIN
 Sign up to receive an email in your inbox for each new recipe:
EMAIL SUBSCRIPTION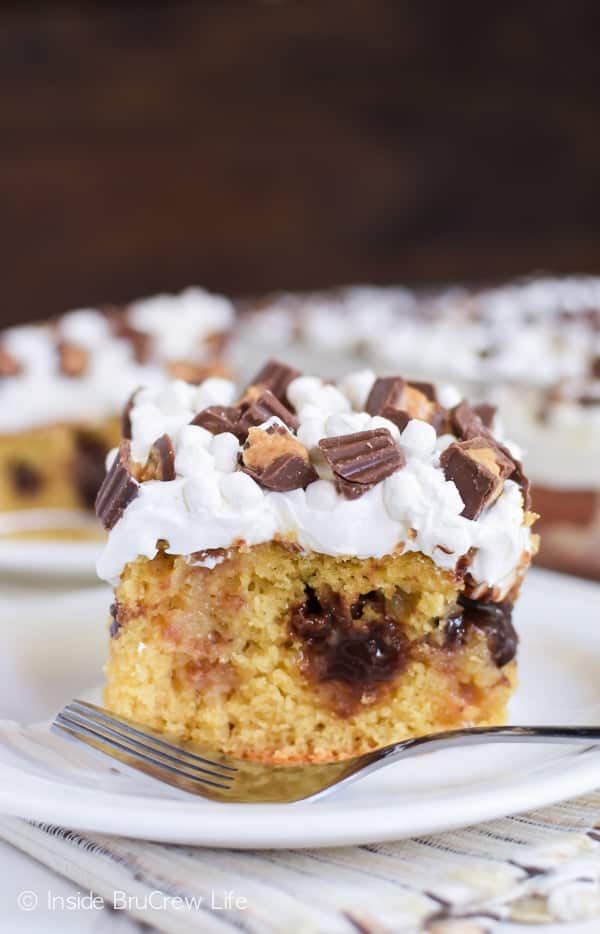 Peanut butter and fudge fill the holes in this peanut butter cake. A creamy marshmallow topping and candy add a fun taste and texture to the cake. I promise you will not have any left when you serve this cake for dessert.
Ingredients
1 yellow cake mix + ingredients from back
3/4 cup peanut butter, divided
1 - 14 ounce can sweetened condensed milk
3/4 cup hot fudge topping
1 - 7 ounce jar marshmallow cream
1 - 8 ounce container Cool Whip, thawed
1 1/2 cups quartered unwrapped mini Reese's cups
3/4 cup mini mallow bits
Instructions
Prepare the cake using the package directions. Add 1/2 cup peanut butter to the batter and mix in. Bake in a greased 9x13 baking dish at 350 degrees for 26-28 minutes, or until a toothpick comes out clean. Remove and cool 5 minutes.
Use a wooden spoon handle and poke the top of the hot cake all over. Stir together the sweetened condensed milk and 1/4 cup peanut butter. Slowly pour the mixture into the holes in the cake. Cool completely. Warm the hot fudge slightly or until pourable but not hot. Drizzle into the holes. Refrigerate the cake for a few hours or overnight.
Beat the marshmallow cream until creamy. Slowly add the Cool Whip and beat gently until creamy. Do not over mix. Spread over the top of the cooled cake. Sprinkle with the peanut butter cups and mini mallow bits. Store in a sealed container in the refrigerator. Cut into 24 pieces of cake.
https://insidebrucrewlife.com/peanut-butter-fudge-poke-cake/
Copyright Inside BruCrew Life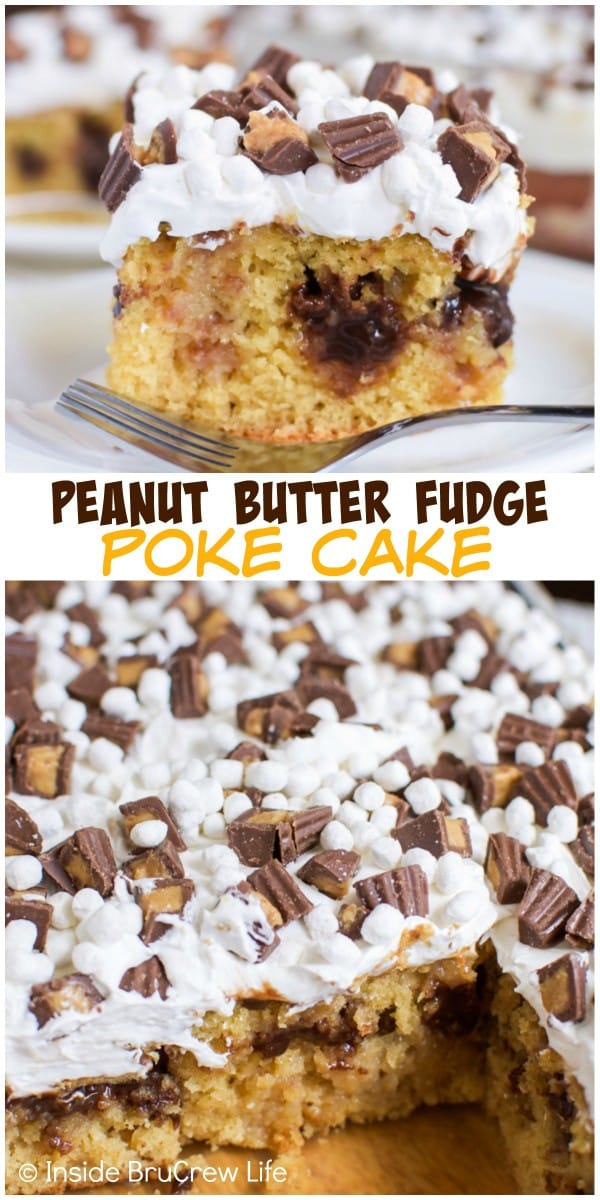 More fun and delicious poke cake recipes that always disappear when we make them: