This easy Peanut Butter Fudge Poke Cake is topped with a creamy marshmallow frosting, peanut butter cups, and mini mallow bits. You will not have any leftovers when you serve this poke cake for dessert.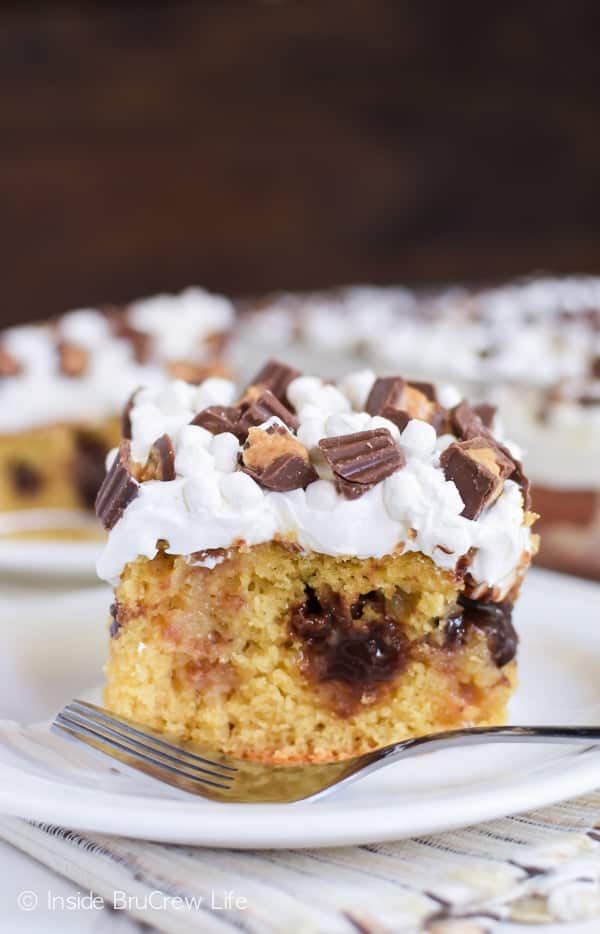 I have decided that getting older is for the birds. You all know how much I actually enjoy working out, right? My husband and I have been doing strength and conditioning at a local training facility for about a year and a half.
Even though I still do not eat as healthy as I should, I am definitely much stronger and in better shape than I ever have been. Until recently...
You see my knees must have realized how old they were, and that "old" people shouldn't be doing all these workouts and mud runs because all of sudden I have been having issues. Pains and aches and all sorts of dilemmas.
I personally think it was because I told my body it was time to get serious about eating better...aka no more cake.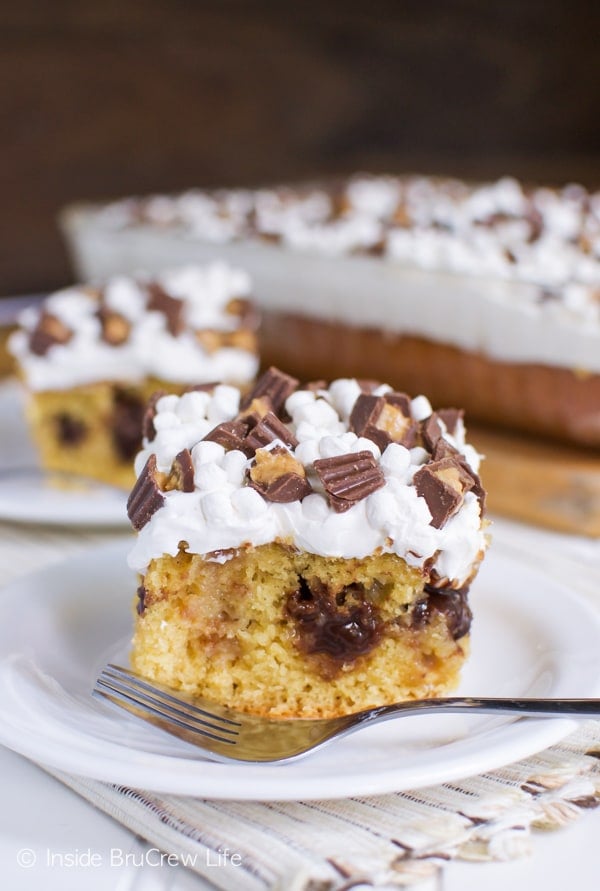 My body is reacting to this no cake idea big time. And seriously, it was just a thought that I was contemplating. Because let me tell you, I ATE this cake.
And holy cow, was it ever good. Actually it was because I couldn't stop eating this cake that I made the rash "no cake rule" that my knees are rebelling too.So, I have been hobbling all over the house getting laughed at by my hubby and kids.
Can you believe they think this is funny? Yeah, me either. How is getting old and being sore a laughing matter? Ok, if it was my hubby limping, I would totally be cackling at him. We have such a loving relationship. LOL!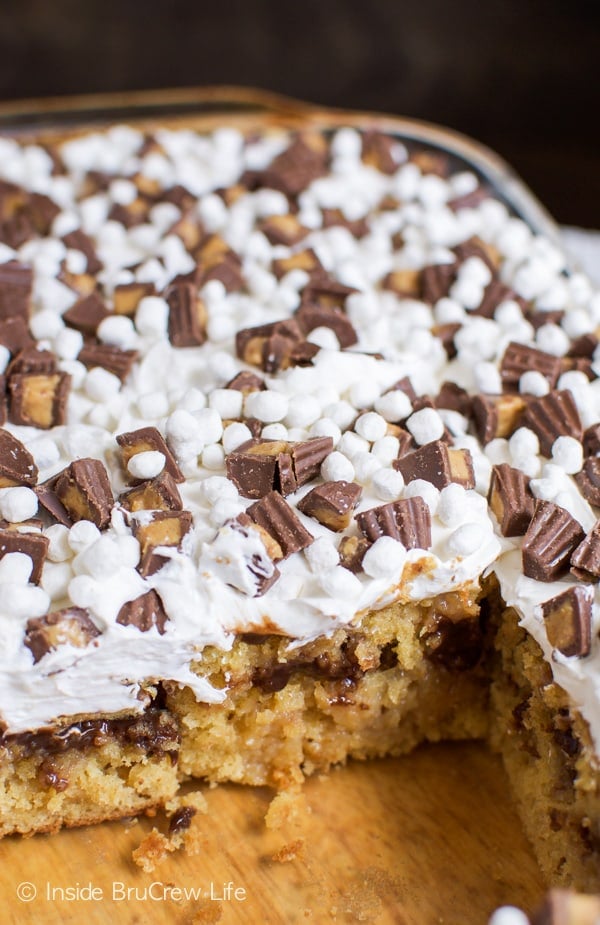 Let's talk about this cake in front of you because you definitely need one in your life. Ever since I started with this Chocolate Coconut Cake and this Strawberry Poke Cake, I cannot say no to a poke cake in the summer. There is something about a cool piece of cake on a hot summer day.
Of course, one full of peanut butter and fudge and topped with all sorts of creamy marshmallow and candy goodness would be good any time of the year.
But really what takes this cake over the top is the creamy marshmallow topping!!! I made this topping last summer for this S'mores Pudding Cake and I have been looking for another reason to make it again.
How to make a Peanut Butter Fudge Poke Cake:
Make and bake the cake using the package directions, plus some peanut butter. (full recipe at bottom of post)
While it is still warm, poke it with the handle of a wooden spoon. You want the holes to be big enough for the sweet goodness to soak into.
Mix together a can of sweetened condensed milk and peanut butter. Slowly drizzle it over the entire cake trying to get it all in the holes. Let the cake cool on the counter.
Warm the hot fudge slightly, until it is pourable. Slowly pour over the top of the cake, letting is soak into the holes. Refrigerate a few hours or overnight.
Gently fold a jar of marshmallow fluff into a container of thawed Cool Whip. Spread on top of the chilled cake.
Add peanut butter cups and mini marshmallow bits to the top before serving.
The extra toppings aren't necessary, but seriously why would you leave them off? Only aliens and crazy people think like that. Now what are you waiting for? Make a poke cake today!!!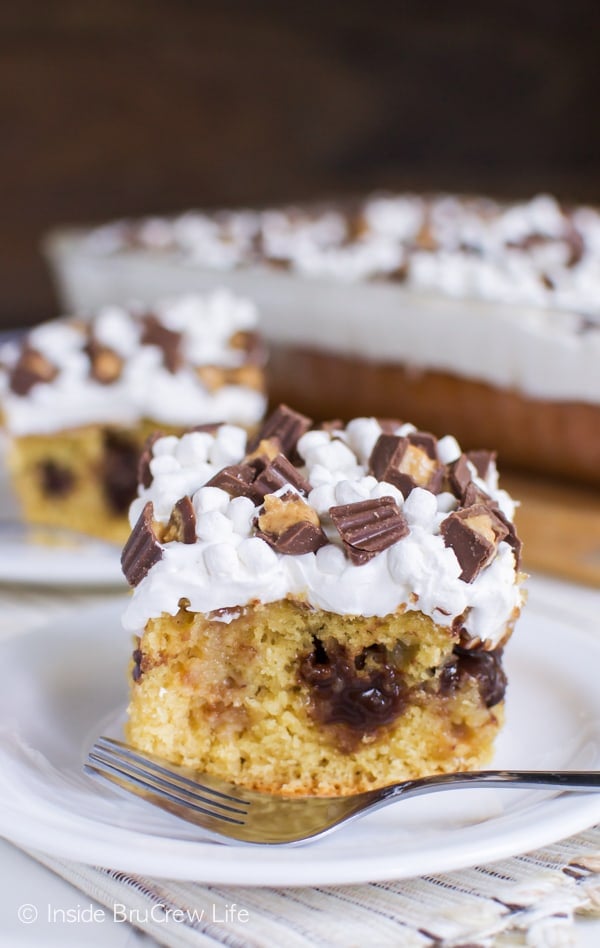 More poke cake recipes that you may like: