This sweet Strawberry Chia Jam recipe is a delicious and healthy alternative to store bought jams and jellies. It is easy to make, tastes great, and only uses a few natural ingredients.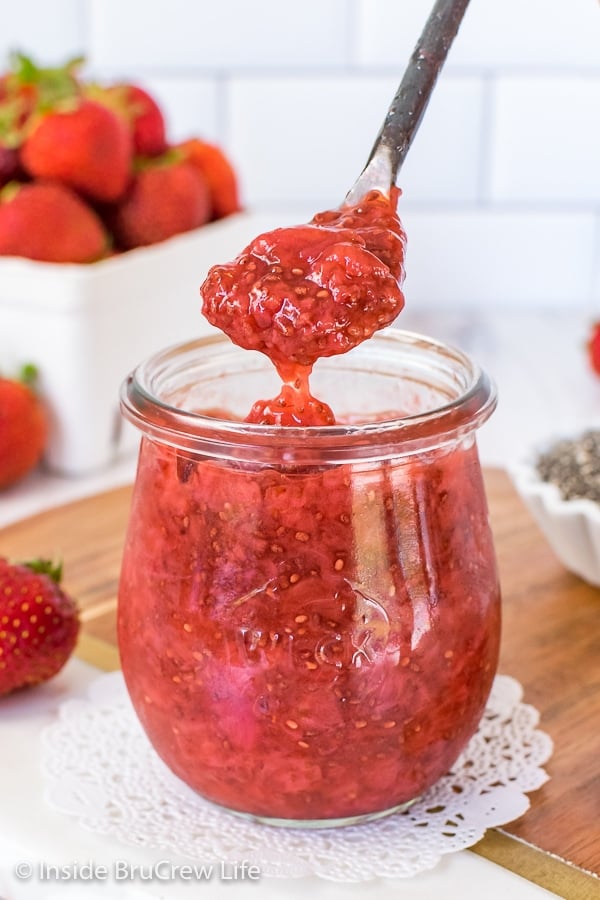 Once we started limiting our sugar intake, we really started noticing just how much refined sugar is in different foods. Take jams and jellies, for instance. Most store-bought ones have a high amount in them.
In the past year or so, I have started to make a few different homemade jams for us to eat instead. Once you start making your own jams and jellies, you will never want to buy the ones in the store again.
So, I said you won't want to, but there are time you will still do it. At the moment there is a jar of grape jelly AND a jar of strawberry preserves in our fridge because I was lazy this week and did not make more sugar-free jelly before school started this week.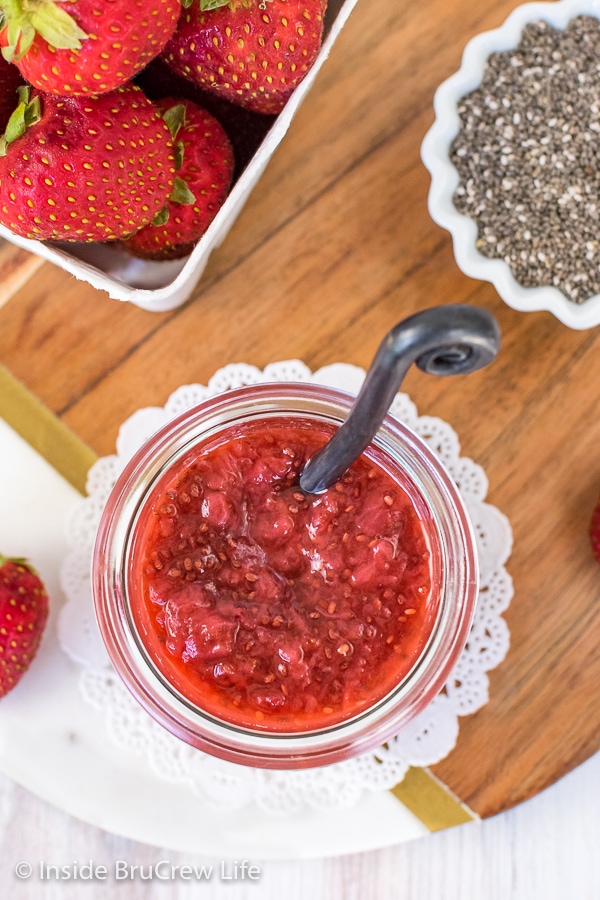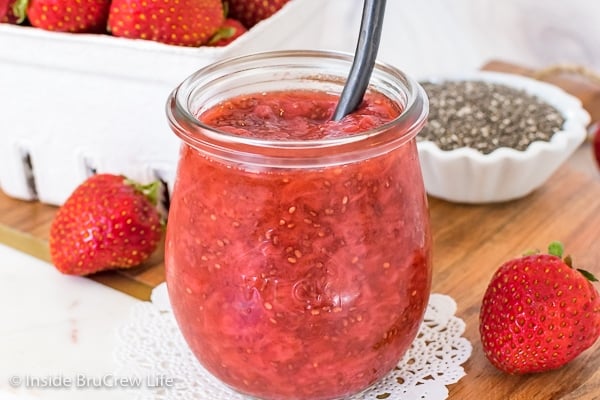 One of the things that you will always find in our fridge are boxes or bags of fresh fruit. Our kids love to snack on strawberries, cherries, blueberries, and grapes, so we try to keep those in the fridge every week.
Most of the time the fruit disappears in a hurry, but then there are those weeks when it just sits there. Then I have to freeze it so we can enjoy Blueberry Pineapple Slushies or Raspberry Orange Frozen Yogurt Bowls for a sweet treat on a hot day.
Making jams or preserves are one of the other ways I like to use fruit that is just past its prime. This Homemade Seedless Blackberry Preserves is one of my favorites. Did you know that you do not need refined sugar or gelatin to make a delicious spread?
Fruit is naturally sweet and has natural pectin in it. As you simmer the fruit, it releases this into the natural fruit juices and helps to thicken the jelly.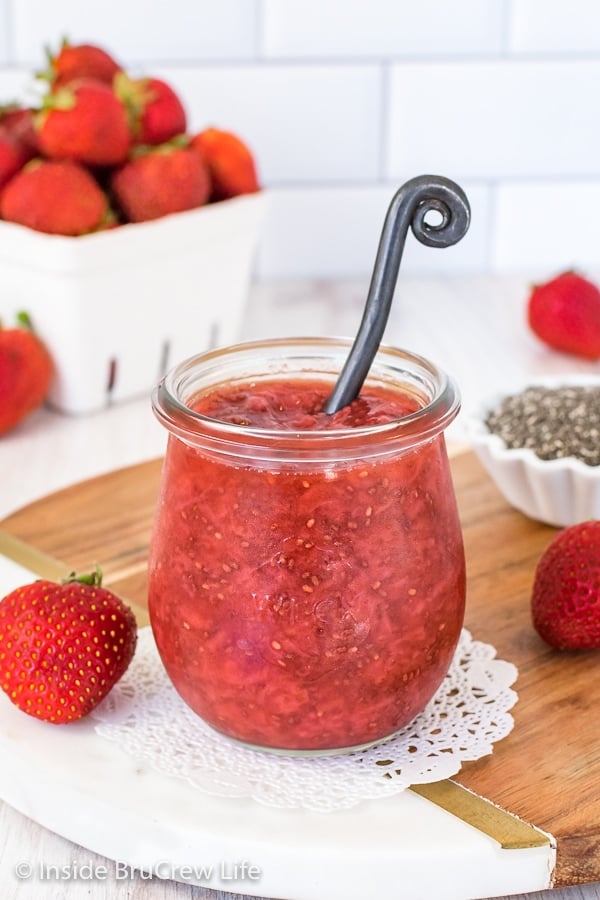 Adding chia seeds is another way to thicken homemade jams or jellies. The chia seeds help to absorb the extra juices and create a thick jam-like texture.
How to make Strawberry Chia Jam:
Add diced strawberries and lemon juice to a pan and place over medium heat until the berries release their juices. (full recipe below)
Mash the berries and bring it to a boil.
Lower heat and simmer for 10 minutes.
Remove from heat and stir in honey and chia seeds and let cool.
Spoon into jars and refrigerate until ready to serve.
This easy four ingredient chia seed jam is absolutely delicious slathered on homemade biscuits or Skillet Cornbread. It's also amazing served on top of vanilla yogurt or swirled in Chia Seed Pudding Parfaits.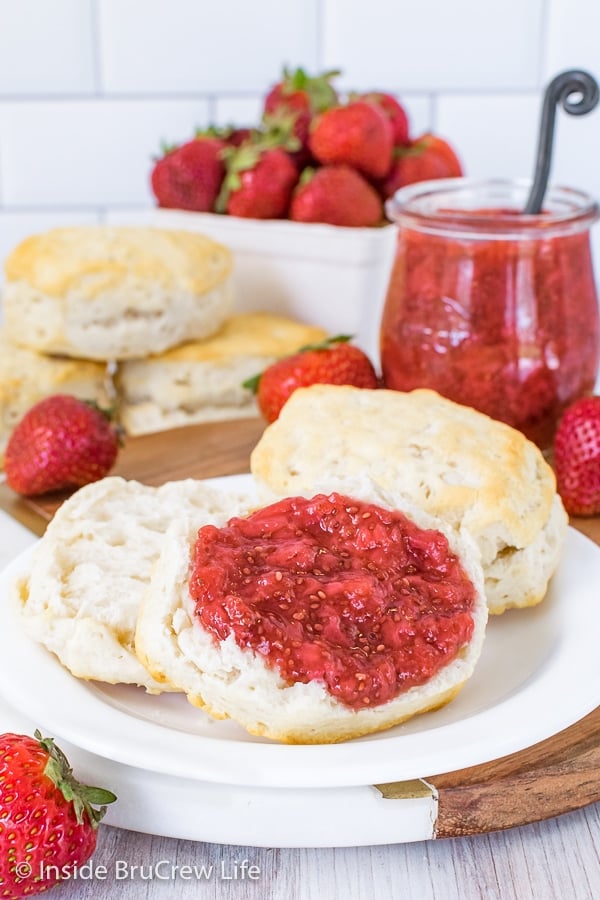 Other jelly or strawberry recipes you may like: