These Blueberry Jelly Donut Holes are a fun and easy recipe to make at home. The hidden jelly center and cinnamon sugar coating will make them disappear in a hurry.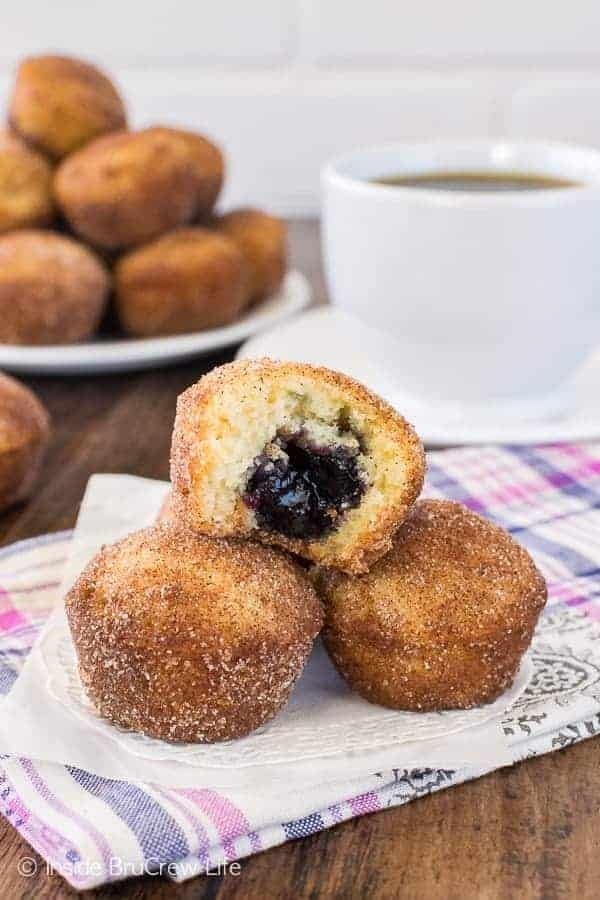 Some weeks the treats I make are a hit or miss. Some times my crazy dessert ideas work the first time, and then others need a few tweaks before they turn out.
Every once in a while an idea totally doesn't work, so it gets thrown out. We won't talk about those ones.
Let's talk about the hungry teenagers that live in the house with us. As little kids they usually ate whatever we bought or made. Thankfully we never had to deal with picky eaters.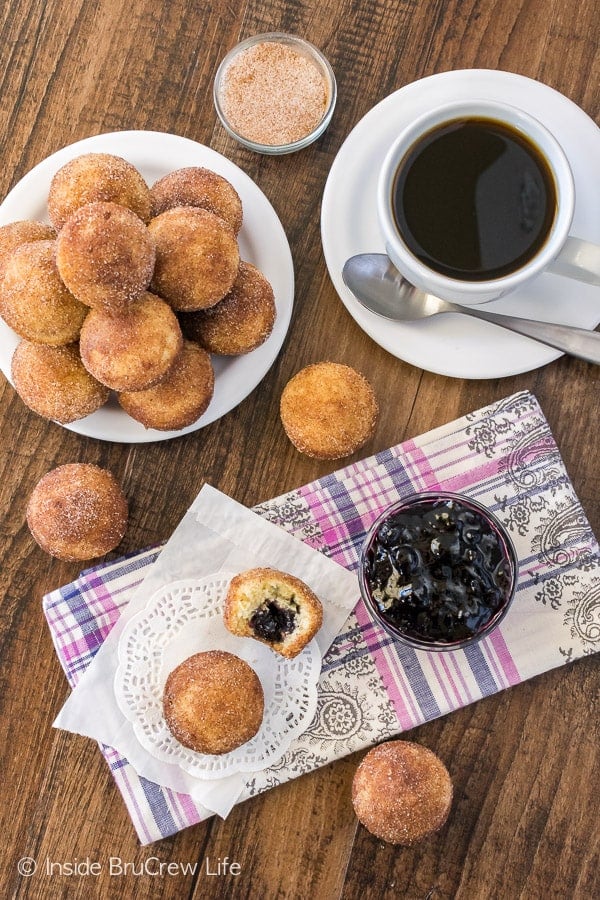 Then they grew up and decided they wanted to have an opinion on what they ate. Our youngest would seriously live on ramen if we let him.
They are my biggest fans AND my biggest critics when it comes to the recipes I create. They tell me how it is right away.
There is no sugar coating it when they share their opinion. Recipes are always a hit or miss with them too.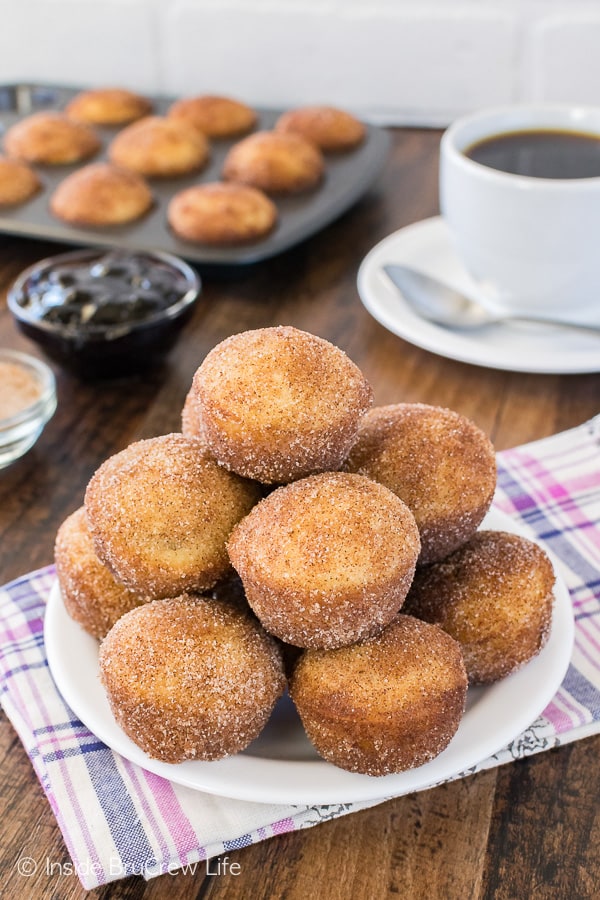 When I made these Cinnamon Sugar Apple Donut Holes and these traditional donut sticks the kids went crazy over them. That plate of donuts disappeared almost as soon as they walked in the door from school.
This week I decided to make another version of those mini donuts because I love surprising our kids with snacks.
I had a jar of blueberry preserves that needed used up, so I decided to make a donut hole with a surprise filling. Of course, a coating of Cinnamon Sugar is always a must.
How to make Blueberry Jelly Donut Holes:
Stir the dry ingredients together in a bowl. Create a hole in the center. (full recipe at bottom)
Pour the egg, sour cream, oil, and vanilla into the center and mix gently.
Spoon a teaspoon of batter into greased mini muffin tins.
Place a small spoonful of blueberry jelly on top and cover with the remaining batter.
Bake and cool the homemade donut holes.
Dip the donuts in melted butter and roll in cinnamon sugar.
One bite and I was in love. The soft donut, the blueberry pocket, and the cinnamon sugar crunch worked together so well.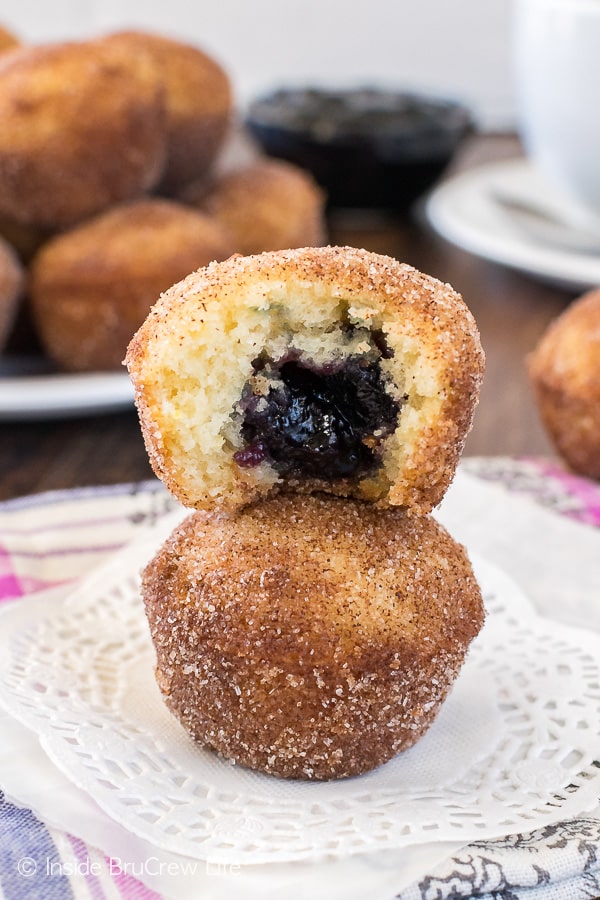 If you can't find the blueberry preserves in your stores, you could also make this homemade Honey Blueberry Sauce using frozen wild blueberries.
Although, our daughter wanted to know why I would fill them with fruit. She said next time to just use chocolate. Ok, so she is definitely on to something there.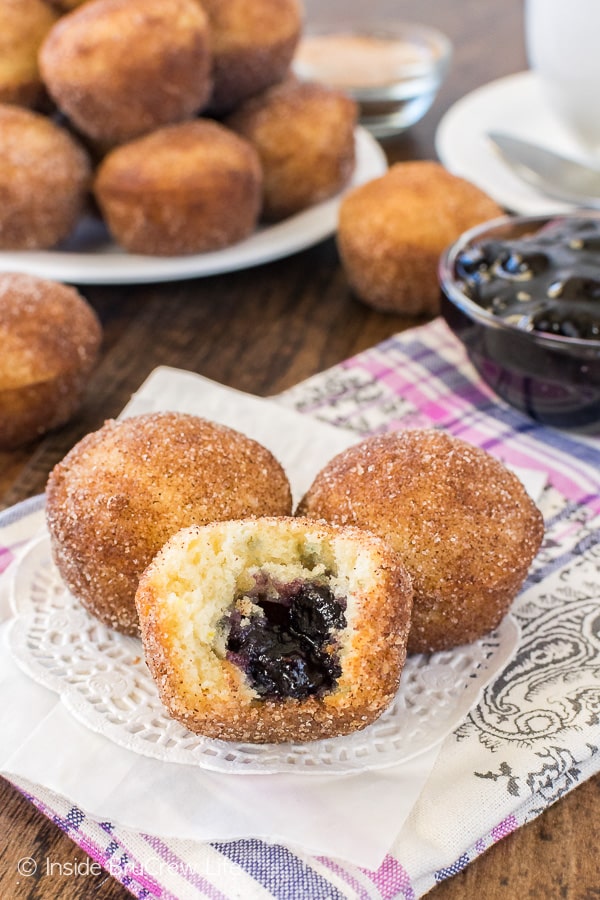 Other easy donut recipes you may like:

*The post for Blueberry Jelly Donut Holes was first published on March 16, 2017. The post was updated and republished on March 21, 2020.