These homemade Take 5 Bars have layers of sweet and salty goodness. Adding peanuts, caramel, and chocolate covered pretzels to a peanut butter blonde brownie recipe is a very delicious idea.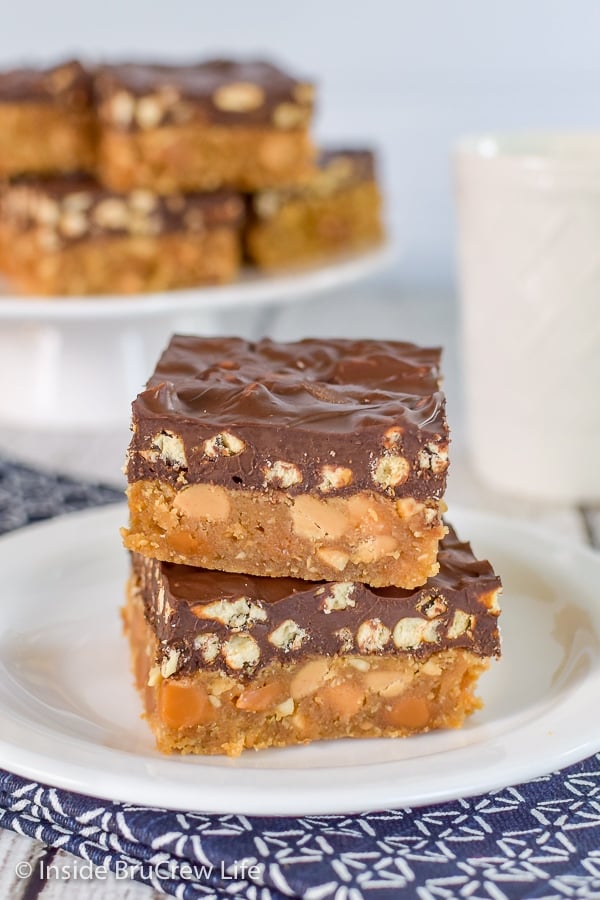 My favorite type of dessert is one loaded with sweet and salty flavors. There is something about that combo that just gets me every single time. And now I'm craving Salted Caramel Brownie Bites...
I think my love for sweet and salty is why I love the Reese's Take 5 candy bars. They have the sweet goodness of milk chocolate and caramel with salty nuts and pretzels in every bite.
It's definitely a candy bar that I cannot buy bigs bags of because I would hide them and then eat every.single.one!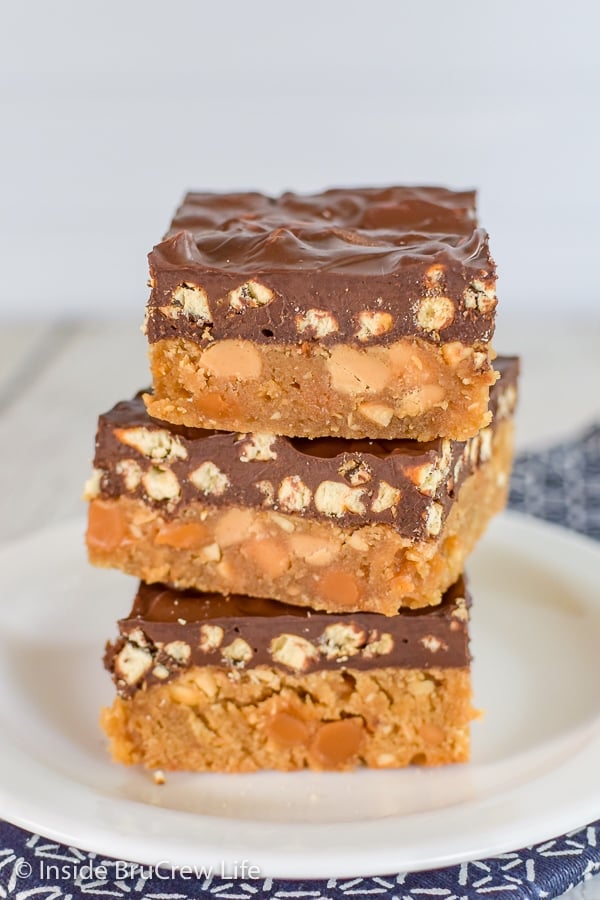 What is a Take 5 candy bar?
The Take 5 Bar has five layers of sweet and salty goodness. It has crunchy pretzels, smooth peanut butter, salty peanuts, and creamy caramel wrapped up in a coating of milk chocolate.
The Hershey Company released this awesome candy bar in December 2004. Recently, they added more peanut butter goodness to the bars and added the words Reese's to the candy bar name.
Blonde Brownies
One of the desserts that I make for group events or bake sales are these M&M Blonde Brownies. Not only are they extremely easy to make, but everyone loves them.
Over the years I have given the blondie dessert different looks and tastes with different ingredients. One of my top favorites are these Marshmallow Reese's Blonde Brownies.
This time I decided to make a batch of Take 5 cookie bars using the peanut butter blonde brownies as the base.
Take 5 Bar ingredients:
Unsalted Butter - As always using unsalted butter allows you control on how much salt to add. If all you have is salted butter, reduce the amount of salt in the recipe to just a pinch. softened butter
Peanut Butter - The recipe calls for creamy, but you can also use crunchy peanut butter. Just use less chopped nuts later.
Brown Sugar - Using all brown sugar keeps these bars soft and delicious with a chewy, caramel flavor
Eggs - Two large eggs provide moisture to the batter and make the cookie bars chewy.
Vanilla and Salt - Adds flavor to the butter and ingredients.
Baking Powder - A little bit gives a little bit of lift to these blonde brownies.
Flour - Use the spoon and level method when measuring flour, so the bars bake dense and not cakey.
Mix-Ins - Peanuts, caramel bits, and peanut butter chips add the sweet and salty to the dough.
Topping - A coating of chocolate chips and pretzels pieces makes these look just like the candy bars.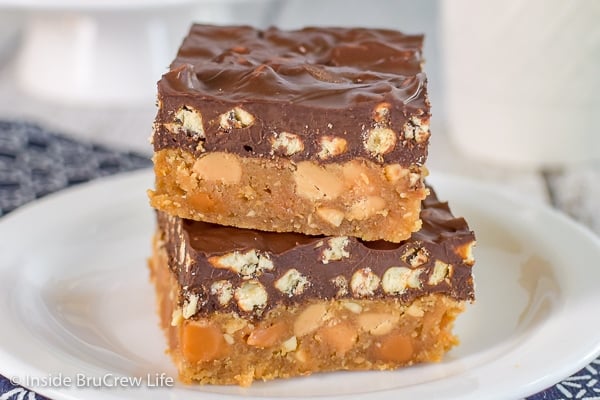 These homemade blonde brownies have all the flavors of a Take 5 candy bar. They are such an easy bar cookie to make for dessert or for bake sales.
How to make Take 5 Bars:
Beat the softened butter and brown sugar until creamy. (full recipe at bottom)
Add the eggs, peanut butter, and vanilla and beat again.
Stir together the salt, flour, and baking soda and mix in until a soft dough forms.
Add the peanut butter chips, caramel bits, and chopped peanuts and stir gently.
Spread in a pan and bake. Let cool completely.
Top with melted chocolate chips and pretzel pieces.
The sweet and salty combo and different textures make these one of the best blonde brownies I have ever made!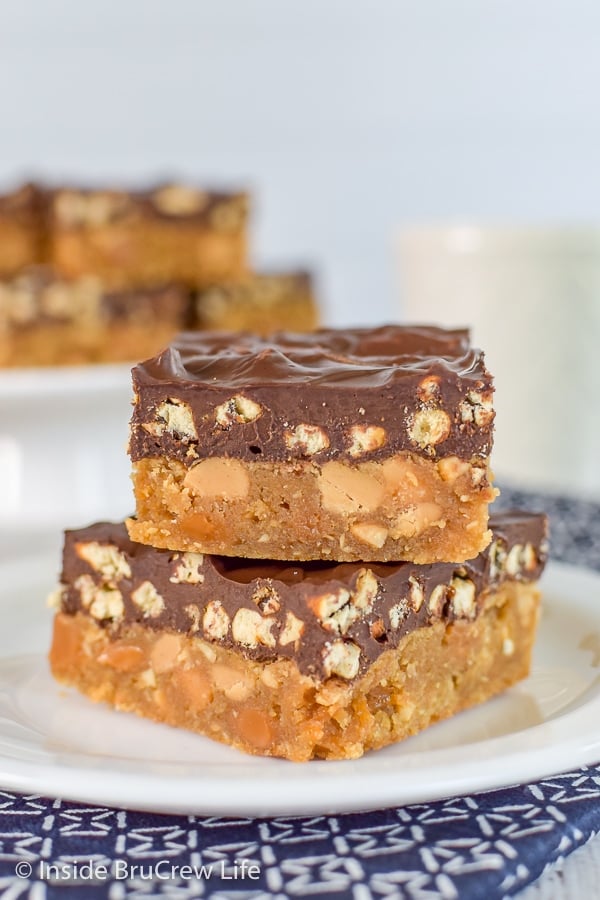 More blonde brownie recipes: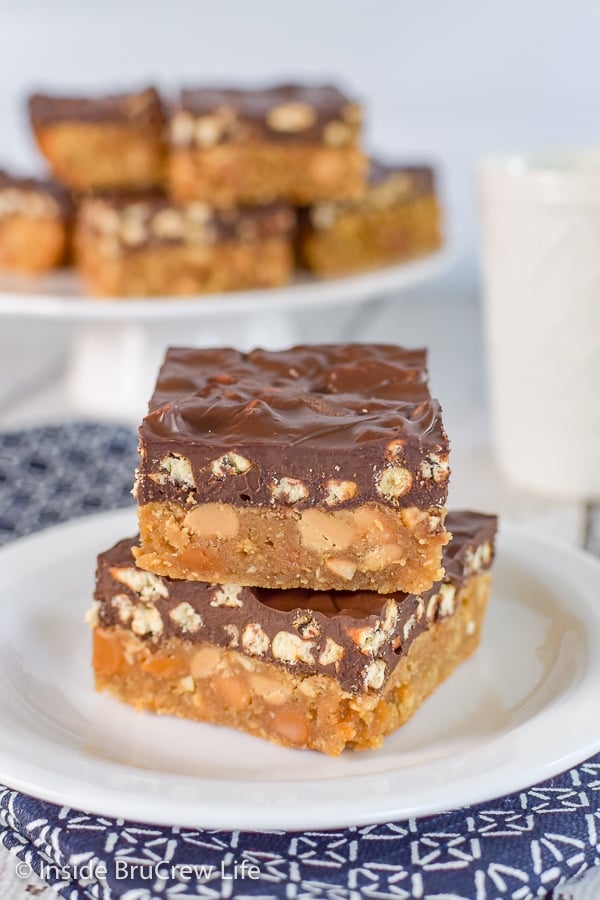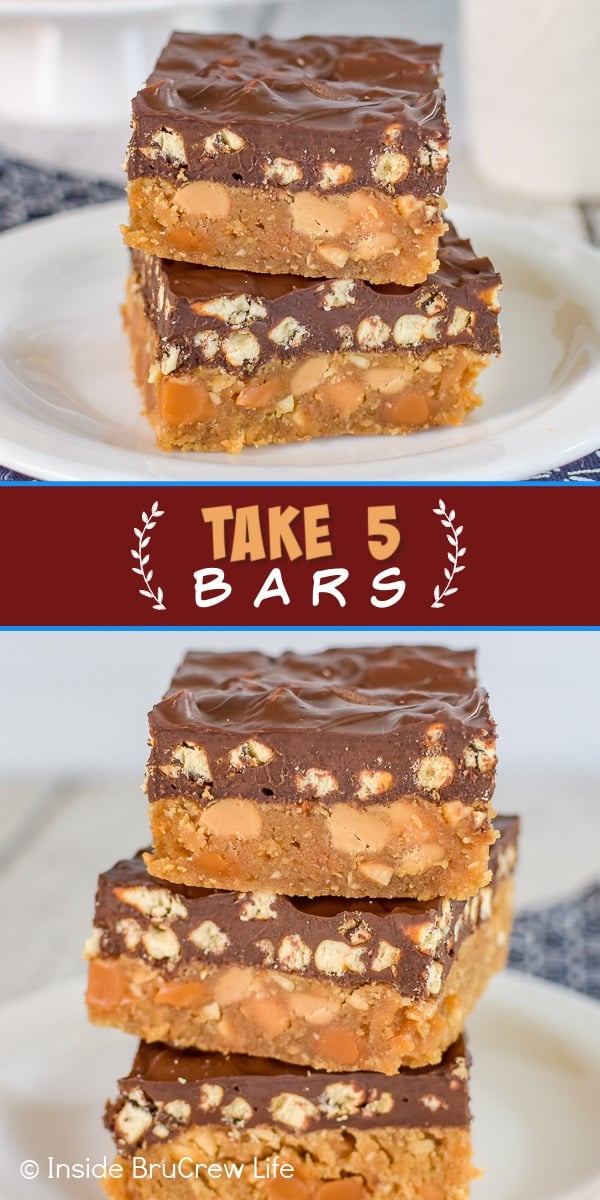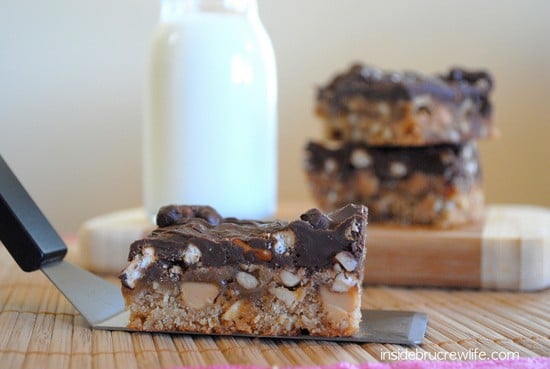 (original photo from 2011)
*The post for Take 5 Bars was first published September 27, 2011, and the photos were redone June 2015. Post and photos were updated and republished January 12, 2021.