This sweet White Chocolate Cranberry Cheesecake is an amazing dessert to make for the holidays. Swirls of whipped cream, candied cranberries, and sprigs of thyme add the perfect touch to this delicious Christmas cheesecake.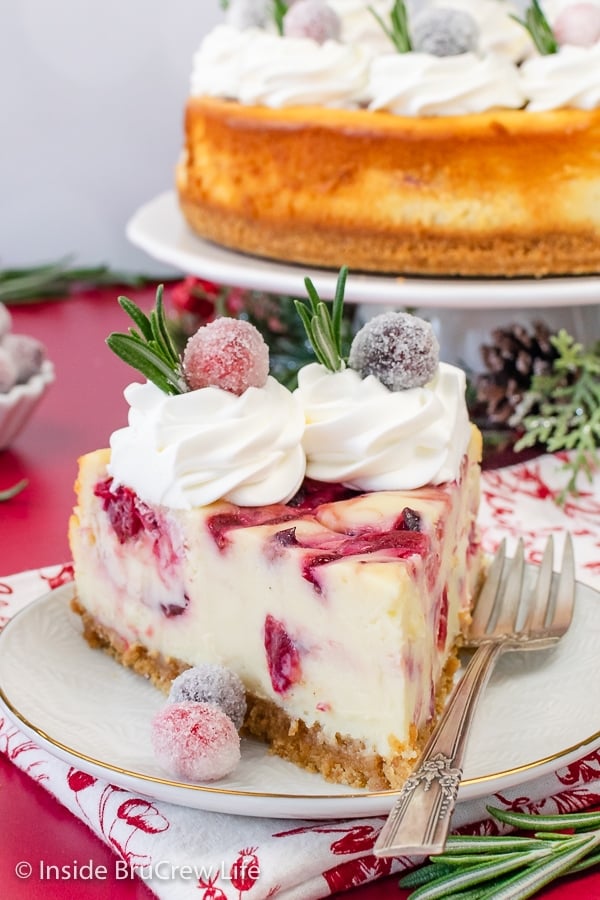 We love making cheesecake for every event or occasion. So, of course we couldn't wait to make a cranberry cheesecake for Christmas with our own little twist.
This white chocolate cranberry cheesecake is a great combination of two classic desserts. The creamy, smooth New York style cheesecake has a delicious and tangy swirl of cranberry sauce.
It is the perfect cheesecake recipe to make for the holidays.
Why You Will Love This Recipe
This white chocolate cranberry cheesecake is the perfect combination of creamy and tart. The homemade cranberry sauce swirls gives it a beautiful presentation.
Make your family and friends happy with this delicious holiday cheesecake. They will love how pretty it looks with candied cranberries on top.
Have a busy holiday schedule? This cheesecake is easy to make ahead of time, so you have one less thing to worry about. Plus, it looks beautiful on any table setting.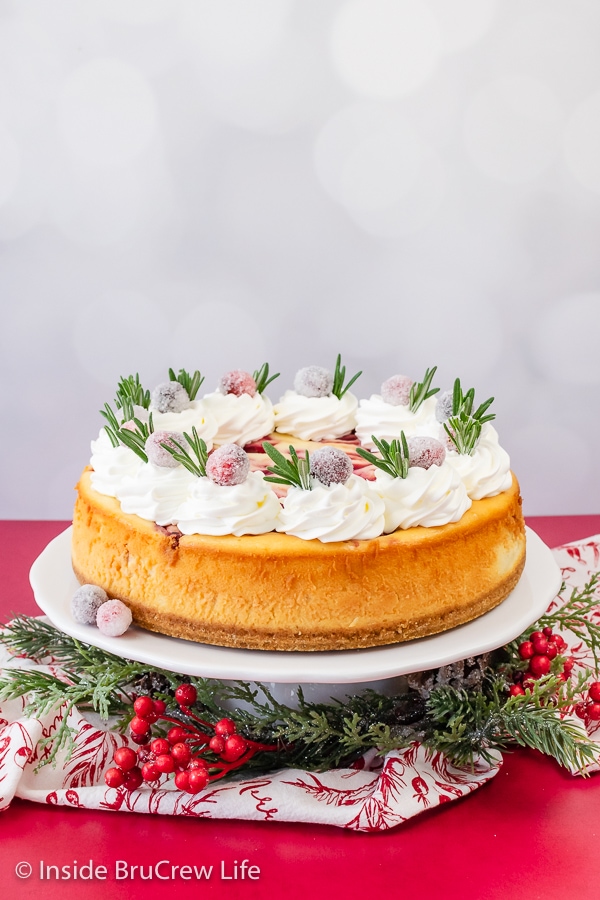 Main Ingredients Needed
It's easy to make an amazing Christmas cheesecake with a few simple pantry ingredients. The tangy cranberry sauce is perfectly balanced by the smooth sweetness of the white chocolate cheesecake.
Graham Cracker Crust - Graham cracker crumbs, sugar, and melted butter makes the easiest cheesecake crust. We like using this graham cracker crust recipe for cheesecake.
Cream Cheese - We like to use full fat cream cheese. Make sure to set it out ahead of time.
Granulated Sugar - Sweetens the cheesecake filling.
White Chocolate - For best results use bakers white chocolate bars that you melt in the microwave.
Whole Berry Cranberry Sauce - You can use a 15 ounce can of cranberry sauce or this whole berry cranberry sauce.
How to Melt Chocolate
Break the white chocolate bars into smaller pieces and place in a microwave safe bowl.
Microwave for 30-45 seconds at 50% power. Repeat as needed.
Stir after each interval because chocolate can melt on the inside and still hold its shape.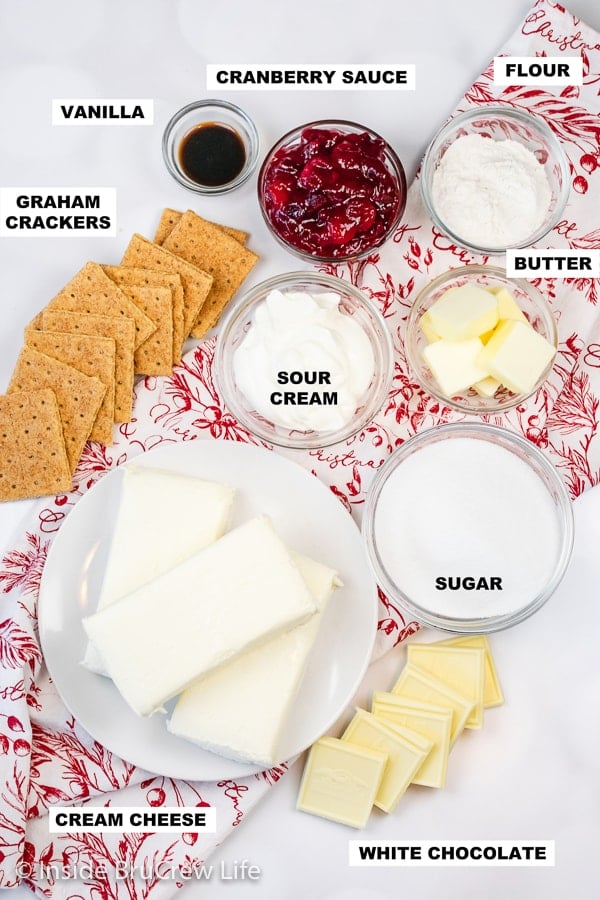 How to Make a Cranberry Cheesecake
This white chocolate cheesecake is incredible easy to make, is impressive looking, and tastes amazing. We have broken down the recipe into easy steps, so anyone can make it.
Graham Cracker Crust
Stir together graham cracker crumbs, sugar, and melted butter.
Press the mixture evenly into the bottom of a 9 inch springform pan.
BRUCREW TIP: Line the springform pan with parchment paper before adding the crust for easier removal after baking.
Cheesecake Filling
Beat the softened cream cheese and granulated sugar in a large bowl until light and creamy.
Add the sour cream, flour, and vanilla and mix again.
Melt the white chocolate bars in a microwave safe bowl. Spoon into the filling and mix again.
Add the eggs one at a time and mix until everything is combined. Do not over mix the batter!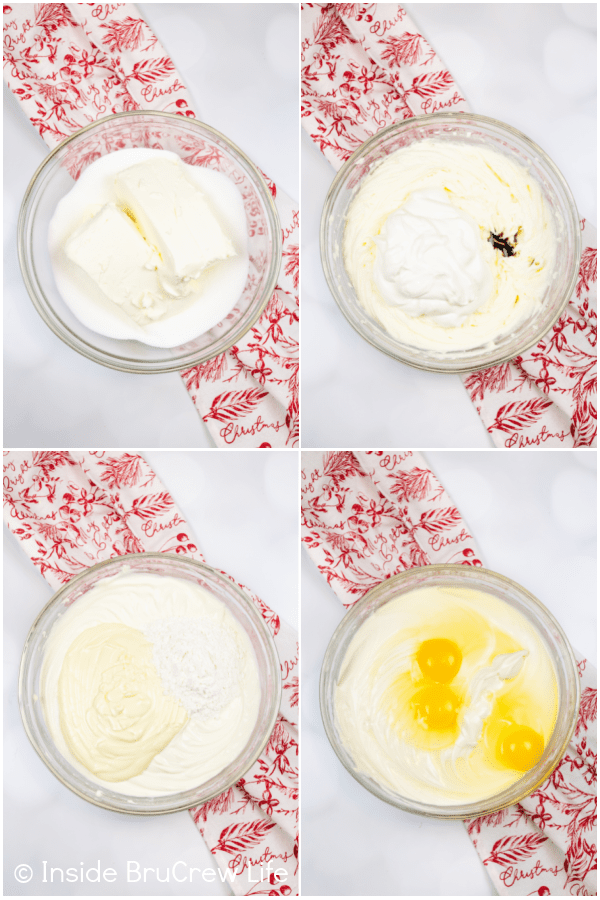 Assemble
Spoon half of the white chocolate cheesecake filling onto the prepared graham cracker crust.
Drop spoonfuls of cranberry sauce on top of the filling. Use a knife to gently swirl it in.
Spoon the rest of the filling on top very gently. Spread out carefully.
Add the rest of the cranberry mixture and swirl again.
Bake and Cool
Place the cheesecake on the oven rack above the steam bath. Bake until the center of the cheesecake jiggles like Jello.
Remove and place on a wire rack. Run a knife around the edge of the cheesecake and pan to release it from the pan.
Cool for 1-2 hours, then refrigerate 4-5 hours or until completely chilled.
Serve slices with whipped cream and fresh cranberries rolled in sugar.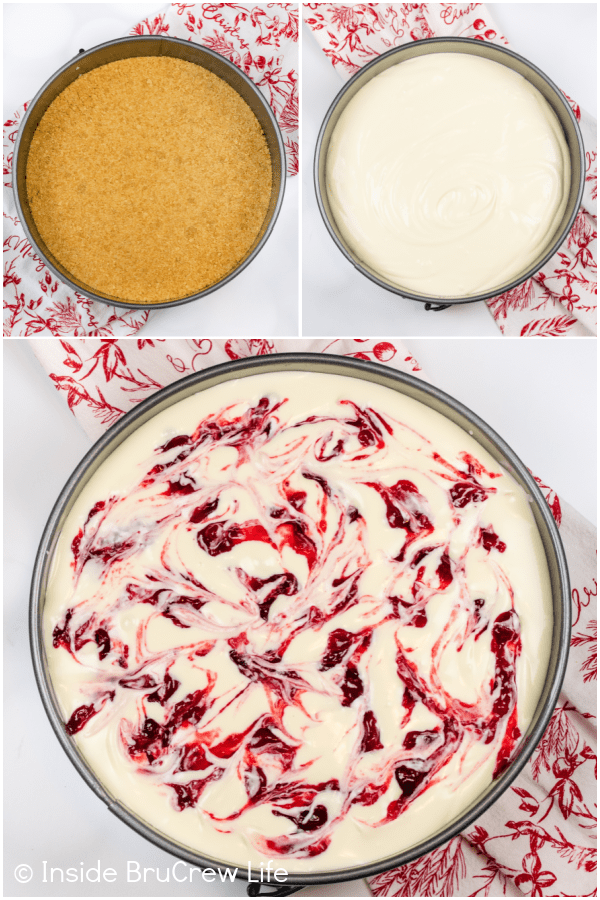 How to Store
Refrigerator - Keep the cheesecake in an airtight container in the refrigerator for 4-5 days.
Freezer - You can freeze it whole or you can cut it up and freeze individual slices. Make sure the cheesecake has been refrigerated for at least 4 hours before freezing. Thaw in the fridge overnight before serving.
Recipe Tips
Use room temperature ingredients for best results when mixing the batter.
Homemade cranberry sauce gives the best flavor to this holiday dessert. Canned works in a pinch, but once you try homemade you will never go back.
Add orange zest to the cheesecake batter for a great flavor combo.
Bake the cranberry cheesecake over a steam bath to help prevent cracks.
Let the cheesecake cool on the counter for at least 1-2 hours before refrigerating it.
Serve cheesecake slices with swirls of homemade whipped cream, candied cranberries, and thyme.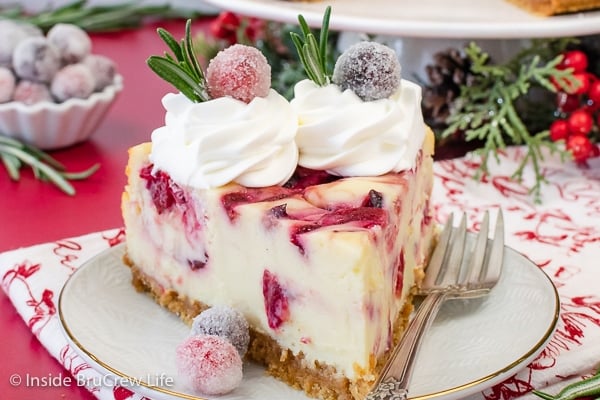 FAQ'S
Is a water bath required to bake cheesecake?
No, it is not necessary to place the cheesecake into water. In fact, I recommend using a steam bath instead. It also adds moisture to the oven as the cheesecake bakes keeping it moist which prevents cracking.
Why did my cheesecake crack?
There are so many different reasons that a cheesecake may crack. One of the main reasons is over mixing the batter. This adds excess air that causes the cheesecake to puff as it bakes, and then deflate as it cools. The second reason for cracks is moving the cheesecake from a hot oven to a cold room. Allow the cheesecake to cool in the oven for 10 minutes with the door cracked if your house temperature is below 75°.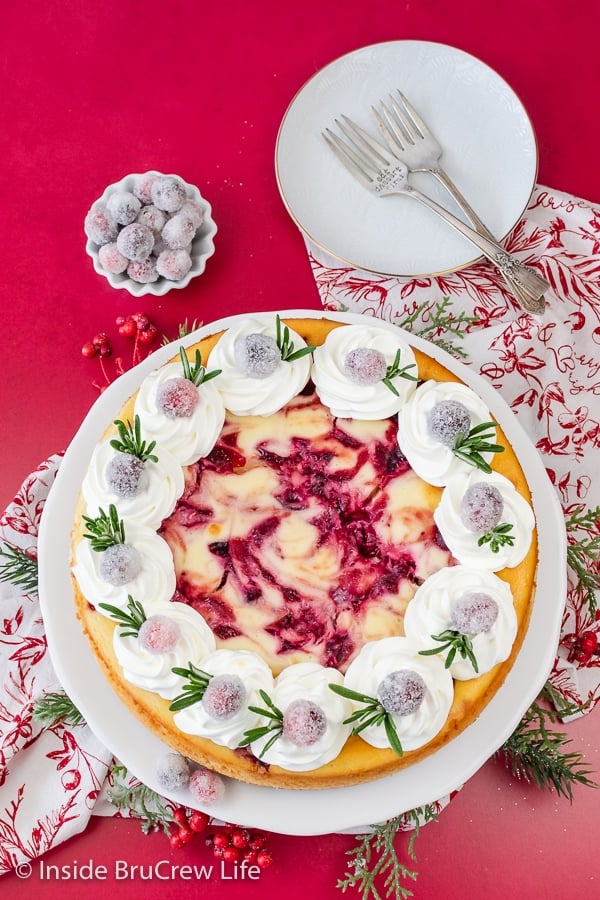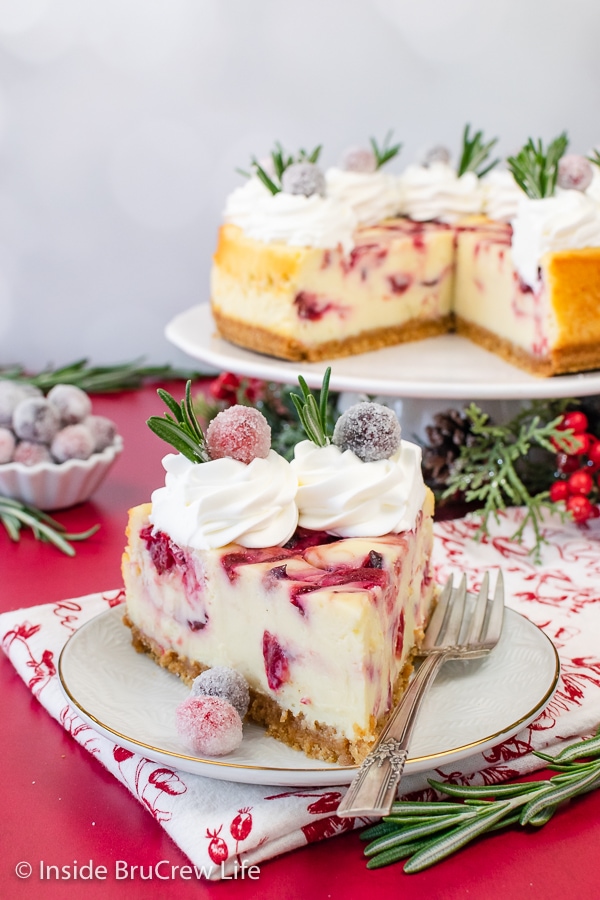 Do you love a recipe you tried from Inside BruCrew Life?
Please leave a 5-star ⭐️ rating and a review in the comments section below.