These glazed Cranberry Orange Scones are soft and buttery and bursting with flavor in every bite. It's a delightful way to start out the morning.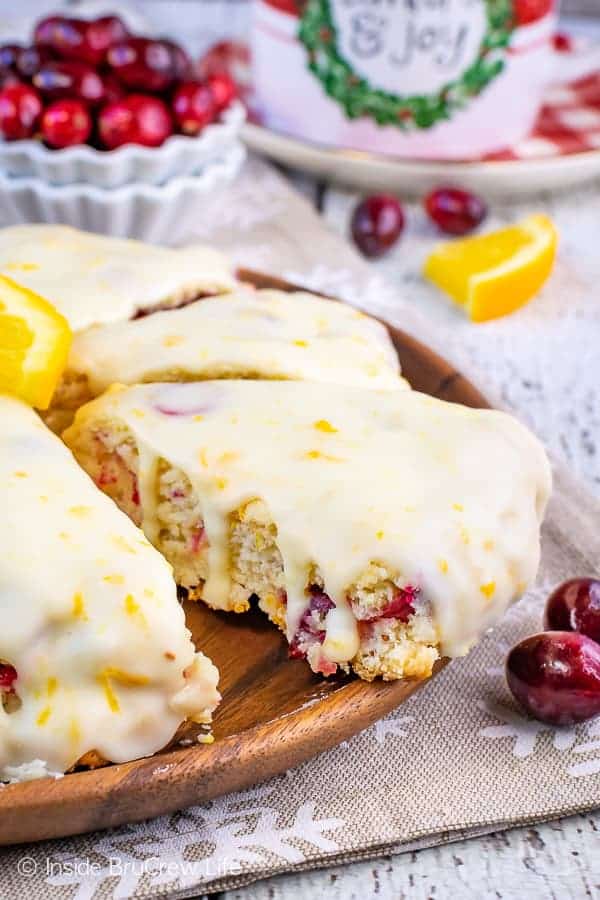 A few weeks ago, when we were planning our meals for the week, my husband asked if I could make a batch of scones for Thanksgiving morning.
Of course, any time I am given an opportunity to bake I take it.
Now I know what you are thinking. "Jocelyn, have you read your own blog before? You bake ALL.THE.TIME. How is this any different." And yes, you would be correct.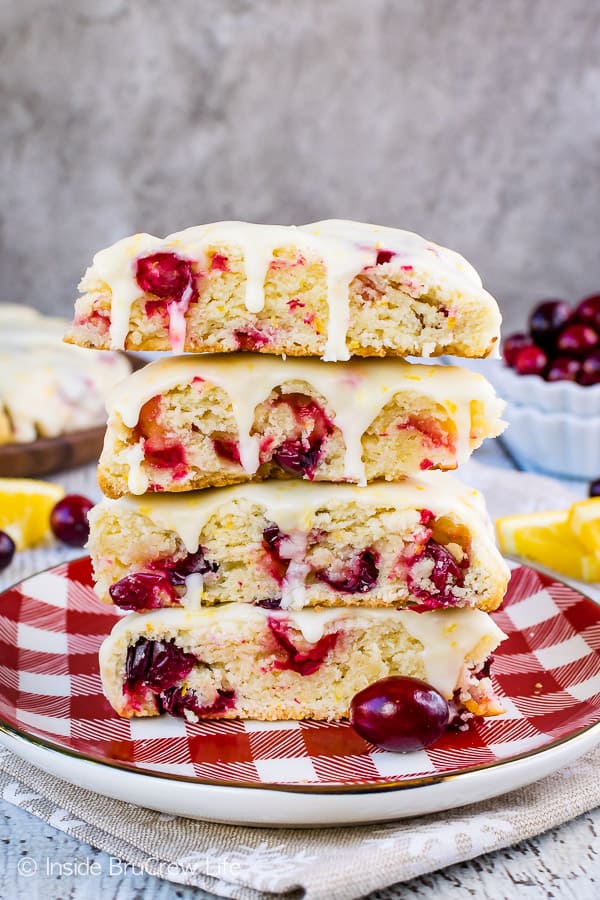 What I meant was I take any chance I get to bake for my husband because he doesn't ask for baked goods often. He would much rather have a bag of crunchy, salty chips to snack on.
Which works out well for me when there are things like peanut butter pudding cookies or chocolate chip brownies on the kitchen counter. Or does it? My skinny jeans beg to differ with me on that point.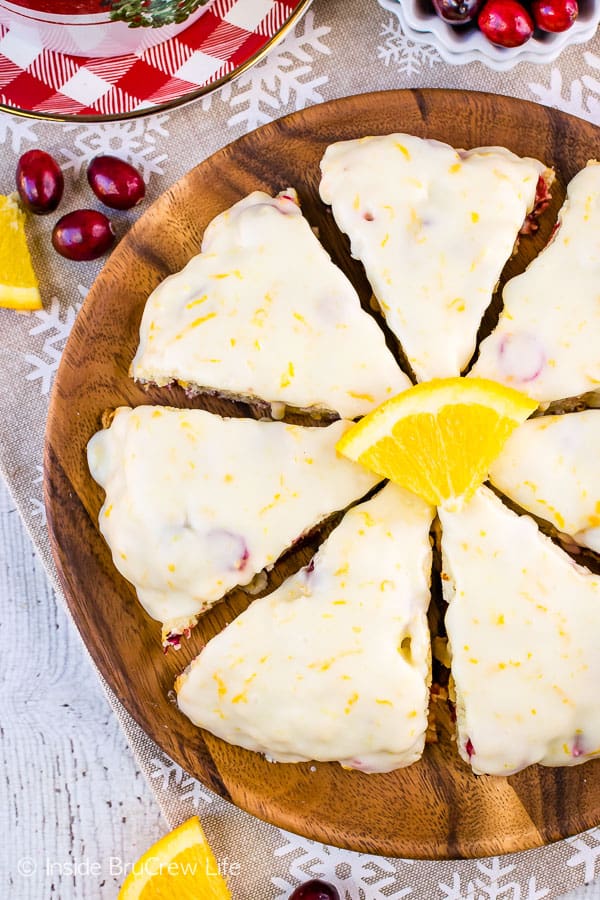 Scones are my husband's biggest weakness when it comes to sweet treats. He absolutely loves them and can't resist them, so he never asks me to make them.
Cranberry orange is one of my favorite winter combos, so I was pretty excited to make a new scone using those ingredients. A little bit of cinnamon and ginger adds a wonderful cozy flavor that just makes these scones pop.
I used the recipe for these coconut scones and just changed up the ingredients slightly to get a new breakfast scone that we fell in love with.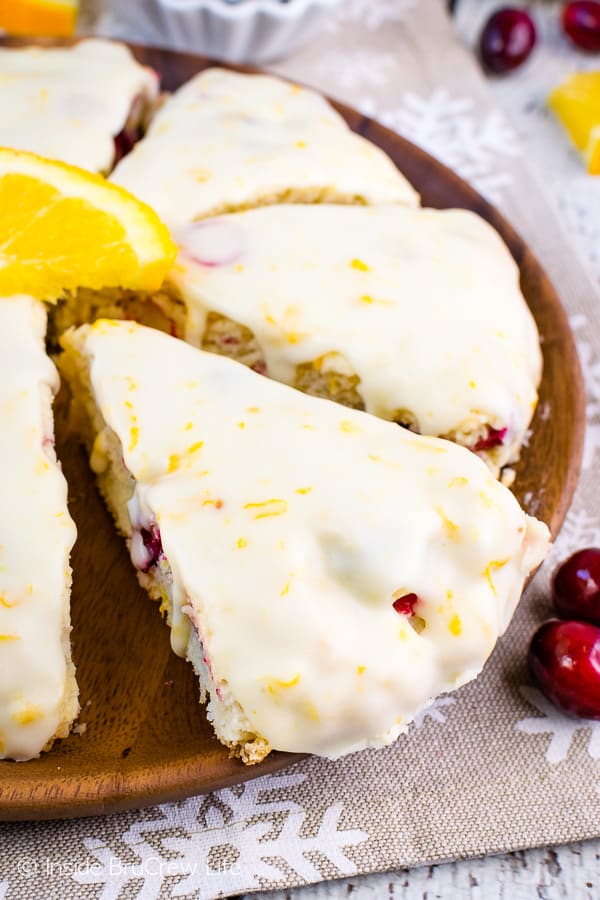 The Perfect Scone
Cold butter is the most important thing to a scone. As the butter flakes bake in the scone dough it creates the flakey texture we all love.
Heavy cream gives the scones a sweet taste with a rich texture.
Make sure you don't over mix your dough or let it get warm. You can still bake warm dough, but it will spread more and not be as tall and flakey.
The key is to work quickly and to refrigerate the dough multiple times.
If you love fresh orange flavor, then you have to try out these orange muffins.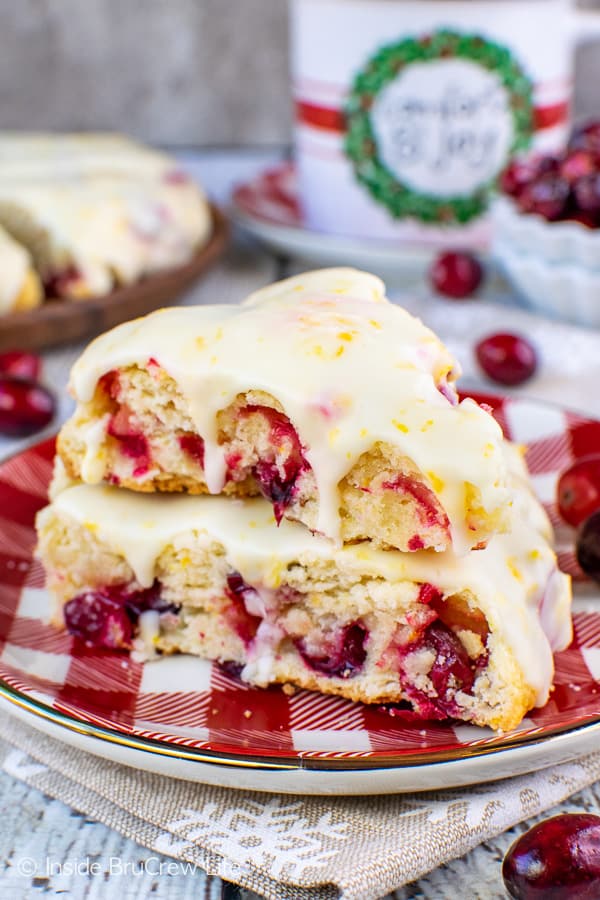 How to Make Orange Cranberry Scones
Make the Dough
Whisk the dry ingredients in the bowl. Cut the butter into the flour mixture quickly using a pastry blender or fork. Stir in the cranberry halves gently. Refrigerate the mixture for at least 10 minutes.
Orange zest is what gives these scones a great flavor. Use the zest from a whole navel orange to really give the dough some flavor. Save your other orange for the glaze.
Stir together the egg, cream, and orange zest. Stir it into the dry ingredients until it creates a soft dough. It may not seem like enough, but keep turning the dough over gently with the fork until it is all mixed in. Just be careful to not overwork the dough.
Refrigerate the mixture for another 30 minutes to chill the dough.
Bake the Scones
Working quickly divide the dough into two balls and press each one into a 6-inch round disc on a baking sheet lined with a Silpat. Brush with a little bit of heavy cream and bake for 22 minutes.
Take the pan out of the oven and cut each circle into 8 wedges. Pull them apart slightly and bake for another 3 minutes. Do not over bake.
Remove the pan from the oven and place the cranberry scones on a wire rack to cool completely.
Add a Glaze
Whisk together the orange glaze ingredients and spread it on top of the cooled scones. Don't skip the orange zest and freshly squeezed orange juice. It really makes the glaze amazing.
These Glazed Cranberry Orange Scones are easy, simple, but perfectly fabulous to serve with coffee or tea for a fancy holiday brunch or as a quick treat on busy mornings.
More Breakfast Recipes