Pumpkin, spice, and everything nice is combined into this Pumpkin Cheesecake. A smooth and creamy spice filling baked onto a gingersnap crust will have you coming back for more. This pumpkin cheesecake recipe will be a hit every time.
If you are looking for other fall desserts, check out our apple crisp pie and this pumpkin cobbler recipe.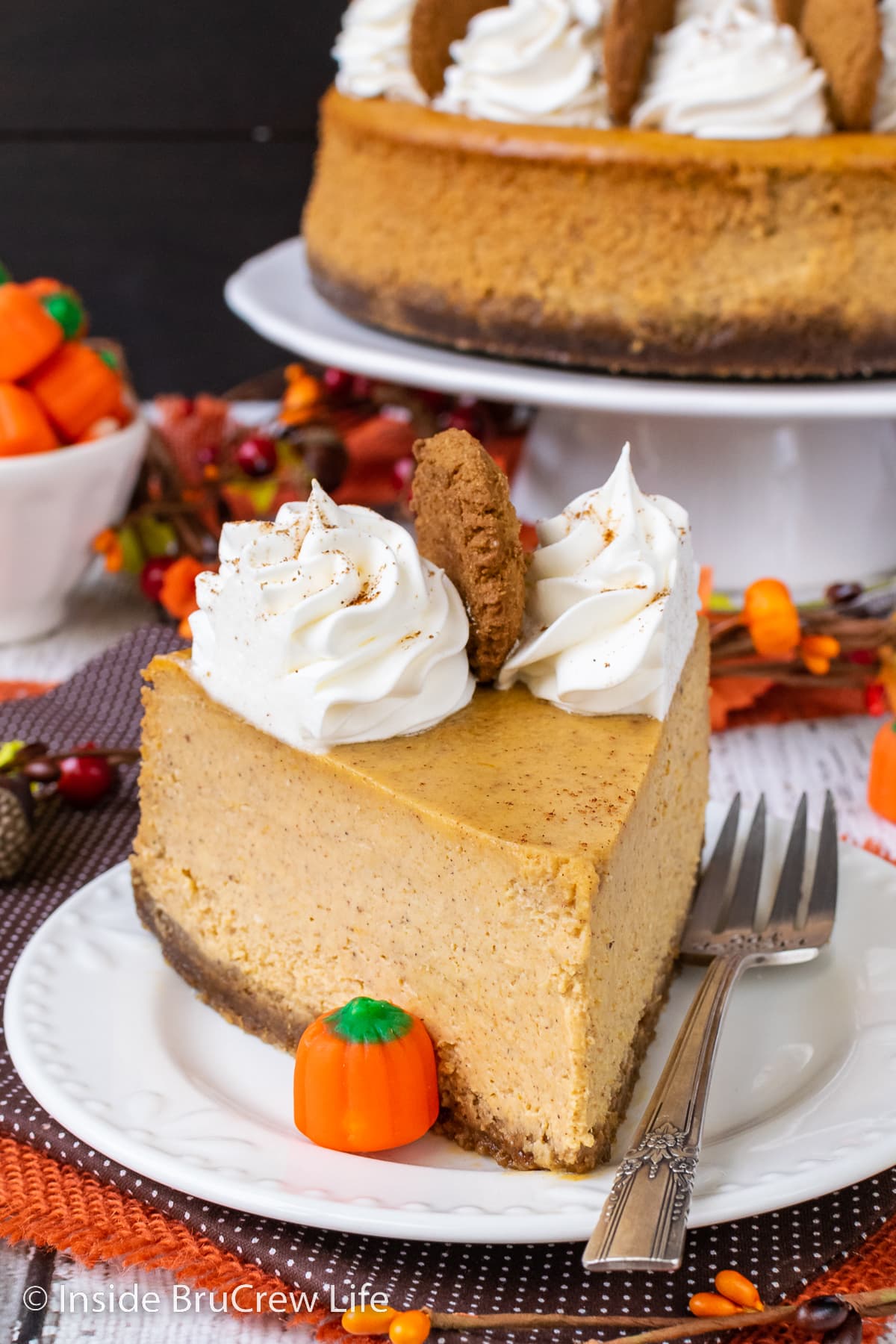 Jump to:
Every year for Thanksgiving we used to make pumpkin pie because that's the tradition dessert you are supposed to have in the fall.
A few years ago my husband and I started making more cheesecake, and we decided that a pumpkin cheesecake recipe needed to be on our fall holiday dessert list.
I realize that most people think that cheesecake recipes are difficult to make, but I'm here to convince you that they are actually easier to make than you probably think.
Why
Make This Pumpkin Cheesecake

Recipe

If you are looking for the perfect Thanksgiving day dessert, this pumpkin cheesecake or a Biscoff cheesecake is what you are looking for.

A creamy pumpkin spice filling is baked on a thick gingersnap cookie crust which gives the cheesecake a delicious texture and flavor. Feel free to use any type of crust you like though.

This dessert literally tastes like pumpkin pie and cheesecake all in one glorious bite. Don't forget to add the swirl of Cool Whip for the best look.

When your friends and family taste how creamy and delicious this pumpkin cheesecake is, they will think you bought it from a bakery.
Key
Ingredients Needed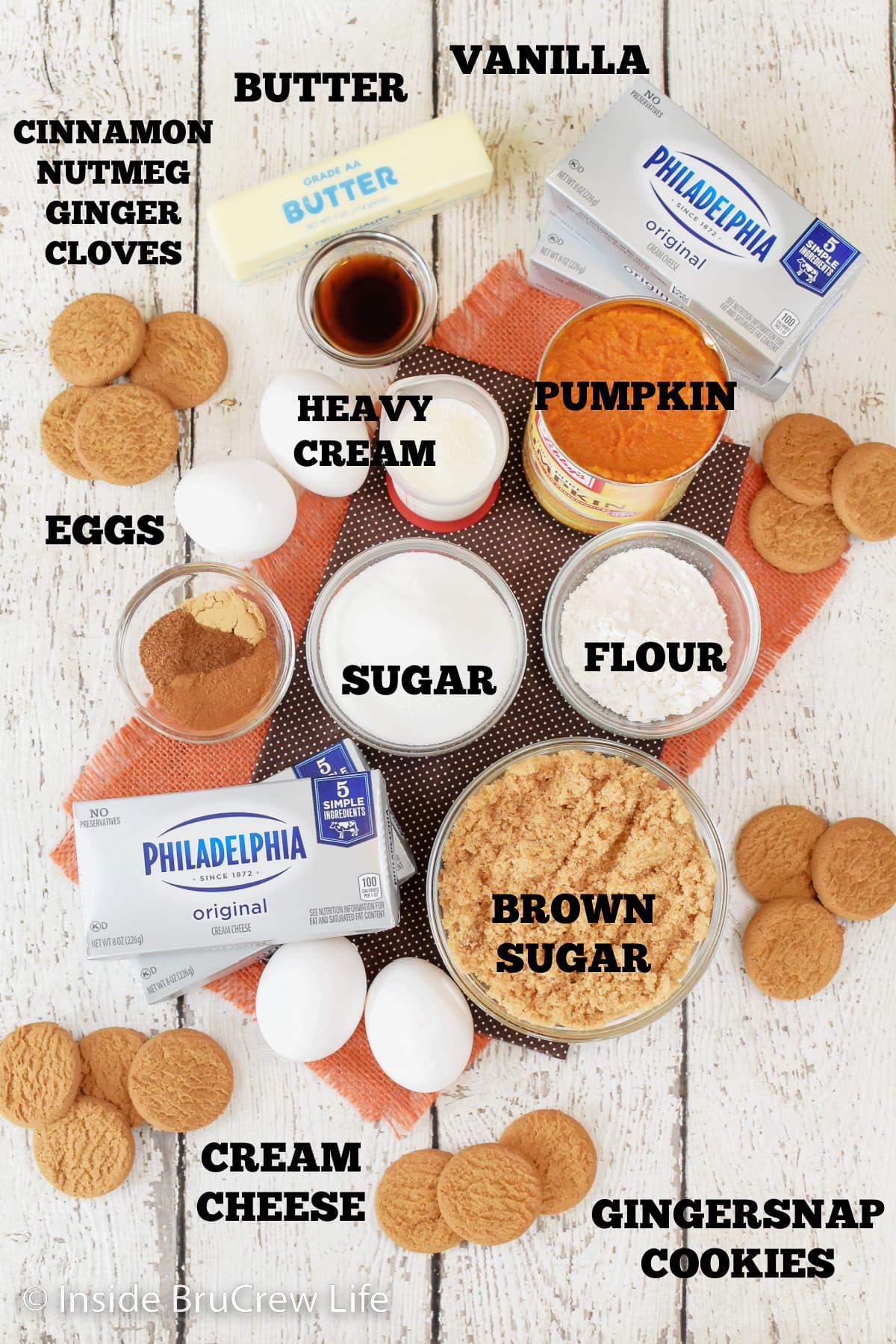 The best pumpkin cheesecake is made with pumpkin puree and fall spices, so it tastes just like Thanksgiving.
For the crust in this pumpkin cheesecake recipe, I used a box of gingersnap cookies. Feel free to change it up and make a graham cracker crust, a brownie crust, or an Oreo crust. Any of those would be amazing!
For the Cookie Crust
Gingersnap Cookies - Gives the cheesecake crust a great spicy flavor. You can also use graham cracker crumbs, if you prefer that instead.
Sugar - Sweetens the crust and also helps to hold it together.
Butter - Unsalted, melted, and mixed with the sugar and cookie crumbs.
For the Creamy Filling
Cream Cheese - Use 4 blocks of full fat cream cheese that has been set out ahead of time.
Sugar - A mix of brown and granulated sugar sweetens the filling.
Heavy Cream - Adds moisture to the filling.
Pumpkin Puree - Adds a great pumpkin flavor. Make sure you do NOT buy pumpkin pie filling!
All Purpose Flour - Stabilizes the filling a little bit, so it doesn't crack.
Vanilla and Spices - Adds flavor and compliments the pumpkin.
Eggs - Binds the ingredients together and gives it a smooth and rich texture.
Looking for a smaller pumpkin cheesecake to serve at dinner? These Oreo pumpkin cheesecake and this pumpkin spice cheesecake always get rave reviews.
How
to Make A Pumpkin Cheesecake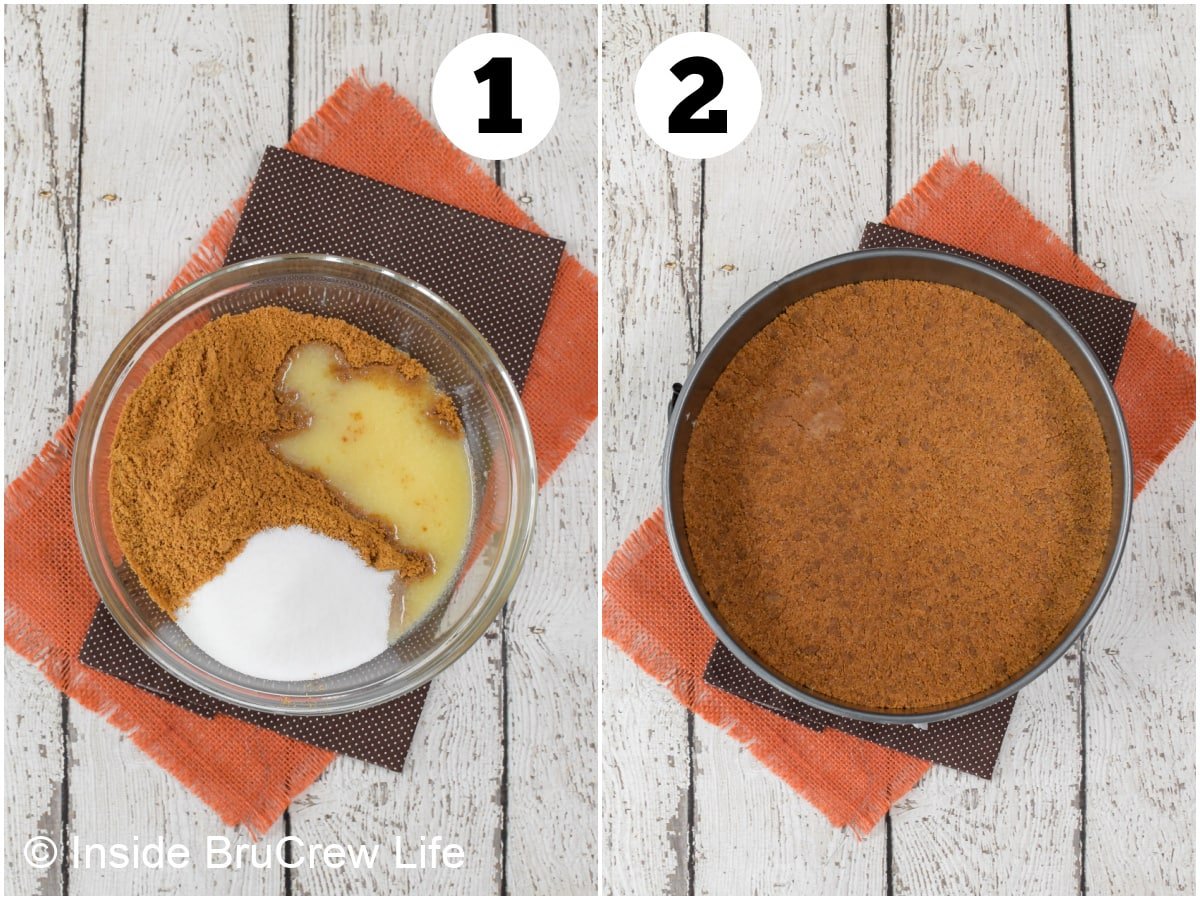 Follow these steps to make this easy pumpkin cheesecake recipe. The hardest part is waiting for the cheesecake to cool before you can dive in.
Make a Cookie Crust
Crush the gingersnap cookies in a food processor. Mix the crumbs and sugar with melted butter.
Press the cookie crust evenly into the bottom of a parchment lined springform pan.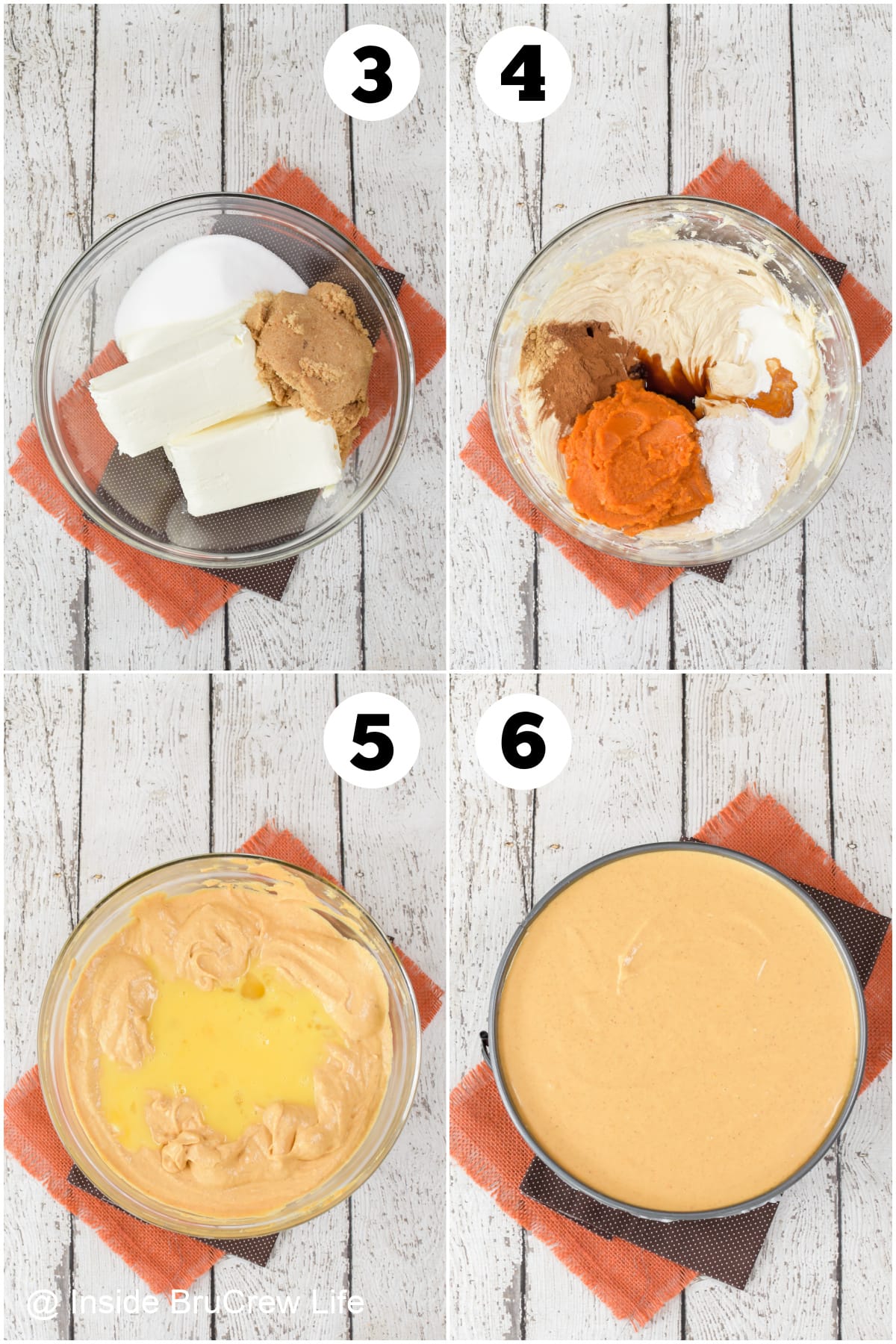 Make the Pumpkin Cheesecake Filling
Beat the softened cream cheese with the granulated and brown sugar until creamy.
Add the heavy cream, pumpkin puree, vanilla extract, flour, and spices and mix again.
Whisk the eggs in a separate bowl, then add to the batter. Do not over mix!
Bake the cheesecake in preheated oven. Once it is done baking, open the oven door slightly and turn the oven off.
After 5 minutes, remove the cheesecake and place it on a wire rack. Run a knife around the edges, and continue cooling for an hour at room temperature before refrigerating overnight.
BRUCREW TIP: Do NOT over mix the batter because that can cause the cheesecake to puff up as it bakes and then crack as it deflates and cools.
Chill and Decorate
Refrigerate the pumpkin cheesecake for at least 6-8 hours or until chilled all the way through.
Decorate the top of the cheesecake with Cool Whip swirls, gingersnap cookies, and a dusting of pumpkin pie spice right before serving. Or use this homemade whipped cream, if you prefer.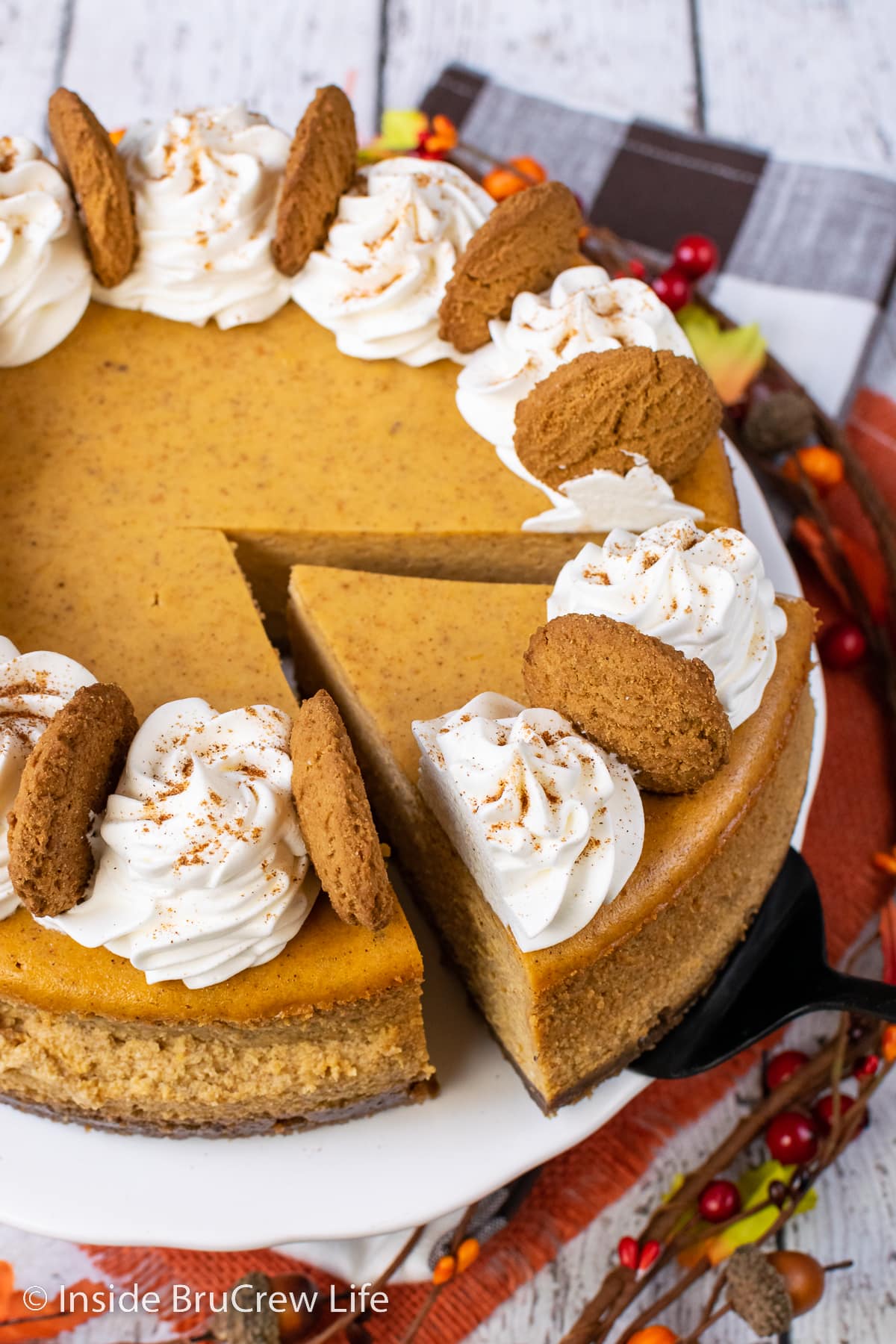 Steam Bath
vs Water Bath

Baking

One of the biggest controversies when baking cheesecake is whether you should use a water bath or not. My personal opinion, experience, and preference is NO water bath.

A water bath is when you wrap the bottom of your pan with foil and place it directly into a pan of water. The temperature of the water helps the cheesecake bake evenly. I prefer to not mess with this method.

I place a pan of water on the rack UNDER a cheesecake as it bakes...aka a steam bath. The water heats up and begins to steam creating a humid environment in the oven. This extra moisture will give you a creamy cheesecake texture.
Tips and Tricks
Beat the cream cheese and sugars until light and creamy. It should be fluffy and pale in color.
Make sure to use a rubber spatula to scrape down the sides of the bowl and blade. This will ensure that your final cheesecake will be creamy and lump free.
Make sure you use a 12 cup 9-inch springform pan with 3 inch sides. Anything smaller will be overfilled and cause a mess.
Not every 9 inch pan is the same! Please make sure your pan can hold 12 cups! If it cannot, please use a 10 inch pan.
Use a mixture of granulated and brown sugar in the cheesecake batter. The addition of brown sugar deepens the flavor and adds subtle hints of molasses to your final product.
Line your pan with parchment paper before pressing the cookie crust into the pan. You will be able to remove this easily after the cheesecake cools.
Bake with a steam bath to yield a smooth, creamy consistency.
Once the cheesecake is done baking, let it cool in the oven for 5-10 minutes with the door cracked slightly.
Use a knife to loosen the sides from the pan. As cheesecakes cool, they shrink. If it is still attached to the pan, it will pull and cause cracks in the center.
Make this ahead of time because it needs time to chill completely. The flavors in the cheesecake will blend and meld better if they have time to chill long enough.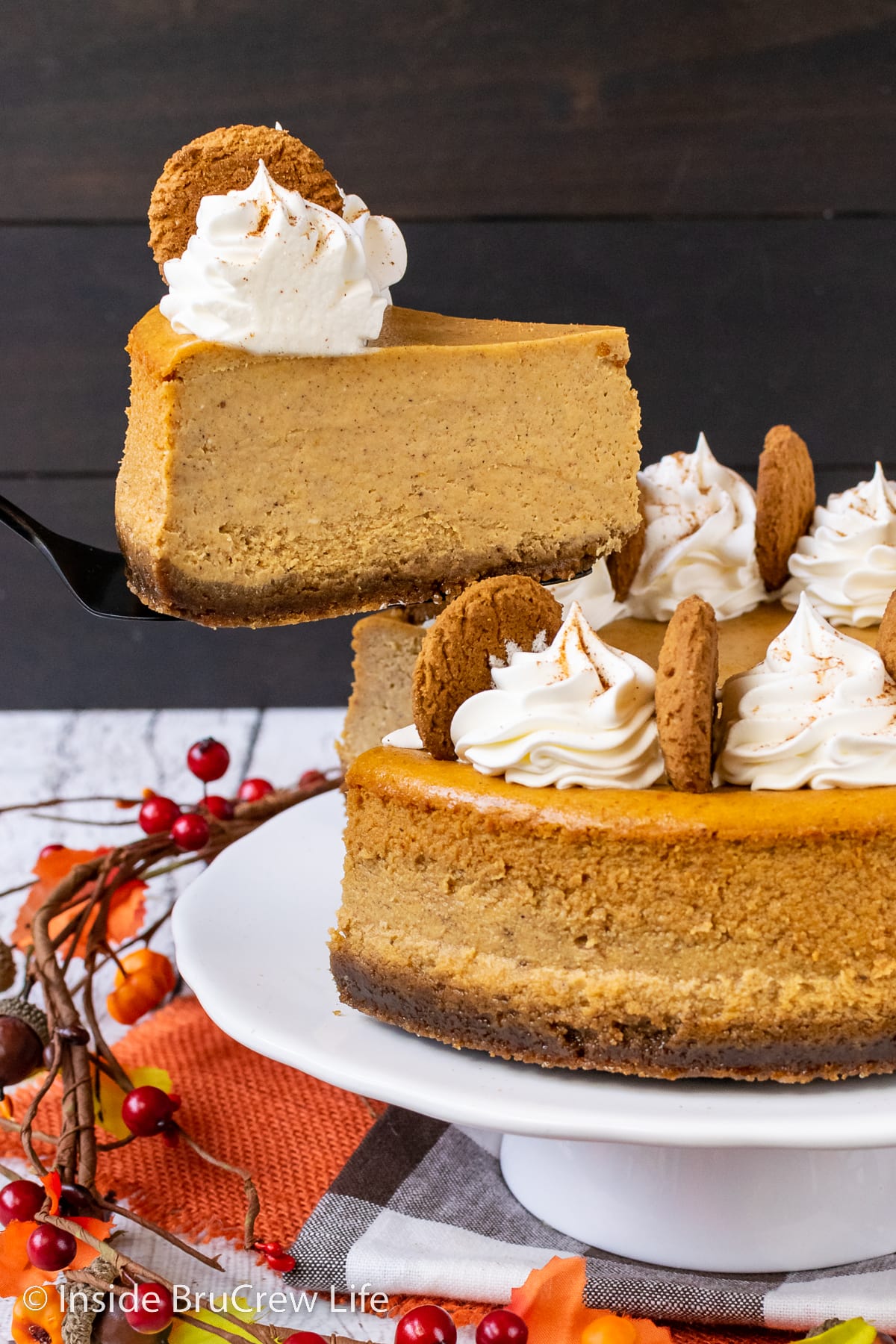 Recipe
FAQ's
How do you know when pumpkin cheesecake is done?
The center of the cheesecake should jiggle (like Jello) when you gently shake the pan. The top will jiggle as a whole and the center two inches will look soft. The center of the cheesecake will continue to cook and firm up as it cools.
Can you freeze pumpkin cheesecake?
Yes you can. Freeze individual slices, then wrap each one in foil or plastic wrap and place in a freezer-safe bag for up to 1 month. You can also freeze a whole pumpkin cheesecake wrapped this way, and it will keep for 4-6 weeks.
Can I make cheesecake ahead of time?
Yes, cheesecake is an excellent dessert to make a few days ahead of time because it needs time to chill completely.
Other
Pumpkin Desserts
Do you love a recipe you tried from Inside BruCrew Life?
Please leave a 5-star ⭐️ rating and a review in the comments section below.
*The post for the Best Pumpkin Cheesecake was first published November 2019. It was updated and republished November 2022.