Enjoy the taste of fall with these Apple Praline Donuts. Easy homemade donuts loaded with apples and pecans are a delicious way to start off any morning or afternoon.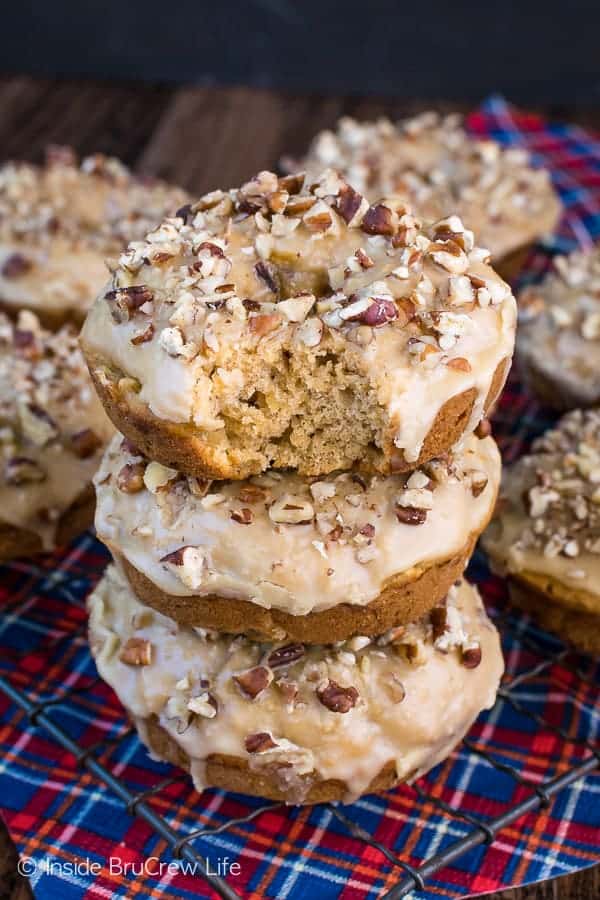 Fall has finally arrived, at least on the calendar anyway. Here in Florida, fall is pretty much just summer with less humidity. I'm trying to trick myself into thinking it's fall by keeping my air conditioner set low and fall treats in my oven.
I have to admit that I'm totally missing all the fall traditions that we did with the kids when they were younger. Every fall we would go to a pumpkin patch and an apple orchard for a fun family day.
Even as the kids got older, they would humor me and go, even though they could care less about picking apples. They thought I was crazy to go to an orchard just so I could take pictures and bake another Apple Crisp Pie. One day when they have their own kids, they will get it.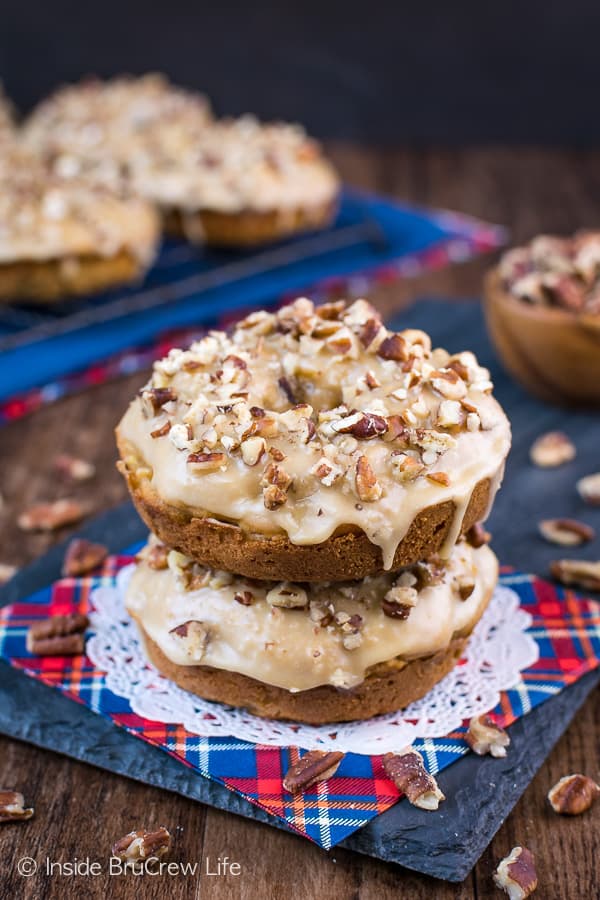 This is our second fall in the sunshine state, and I'm officially over hot fall. I really want that chilly cool air and the pretty colorful leaves.
Last week I had the opportunity to head north for a work trip, so I got a tiny taste of cooler weather. The leaves were just starting to change, and it made me miss fall even more.
Don't get me wrong, in a few months when the Midwest is covered in a foot of snow and it is 20 degrees outside, I will be extremely thankful that we live in the south. I do not miss the snow season at all.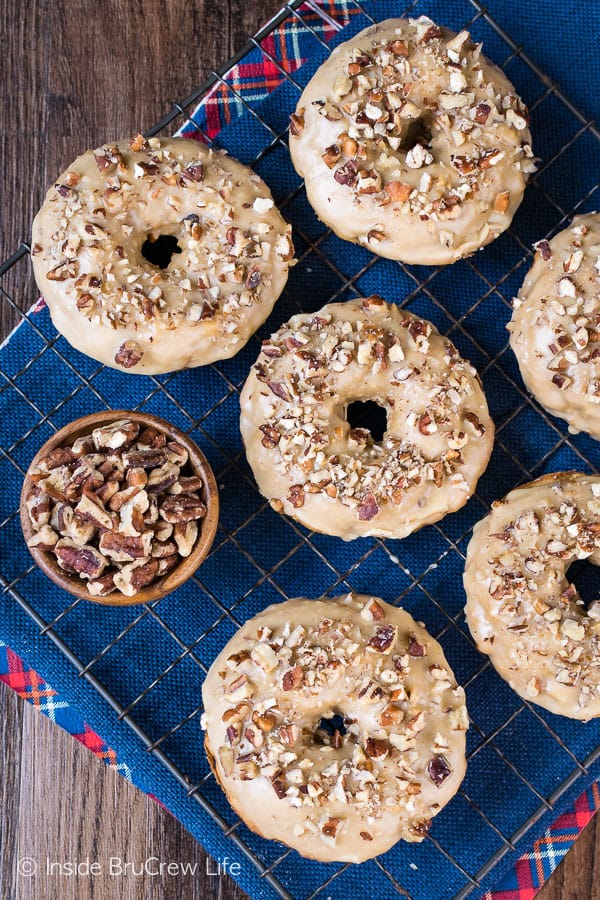 In order to keep tricking myself into at least tasting fall, I have been baking up an apple storm. Muffins, toppings, pancakes, cake, and bread have all been given the apple treatment in the past few weeks.
One thing I miss about the apple orchards are the apple cider donuts that are always sold there.
Homemade baked apple donuts are not quite the same, but at least it satisfied my desire for an easy apple donut at the moment.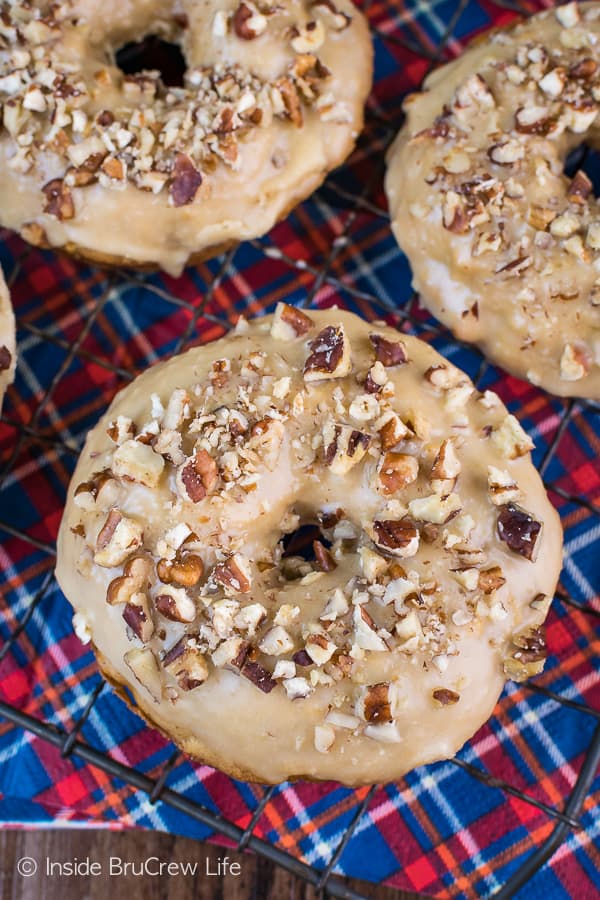 I also cannot get enough of the praline flavor right now, so decided to mash up a few recipes. I made these Glazed Cinnamon Apple Donuts with the topping from this Pumpkin Pecan Bread.
After one bite, I knew it was a match made in heaven. Something about that sweet glaze and the apple donut just totally works!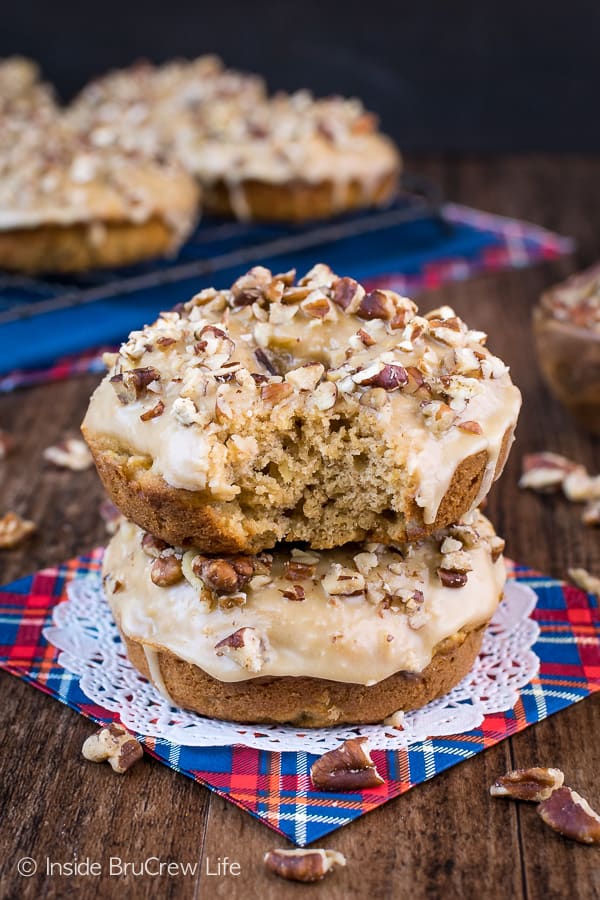 Tips for making Apple Praline Donuts
Beat the butter and sugar until creamy. Then add in the yogurt, egg, and vanilla.
Stir together the dry ingredients and add them alternately with buttermilk.
Pulse your apples in a food processor until they are shredded. Feel free to leave the peels on when you do this. Gently stir the apples into the donut batter.
Spoon the batter into a large Ziploc bag and cut one tip off. Pipe the batter into a greased donut pan, filling each cavity halfway.
Wipe the donut pan out with a paper towel and repeat the process with the rest of the donut batter.
Bake for 12 minutes, remove and cool in the pan for 2 minutes before gently removing them and placing them on a wire rack.
Dip the tops of the cooled donuts in the praline glaze and sprinkle with chopped pecans. The glaze will set up pretty quickly so do this one at a time.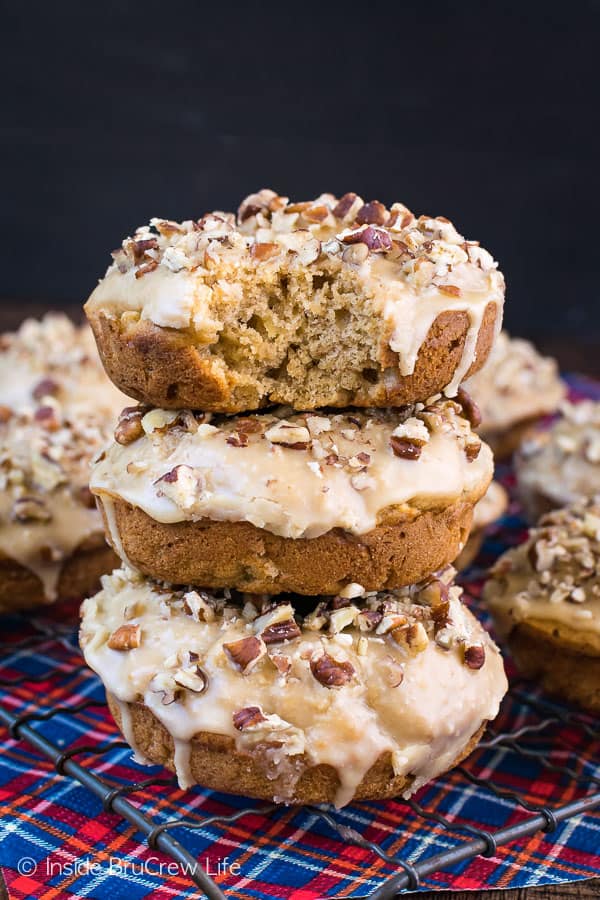 More Apple Recipes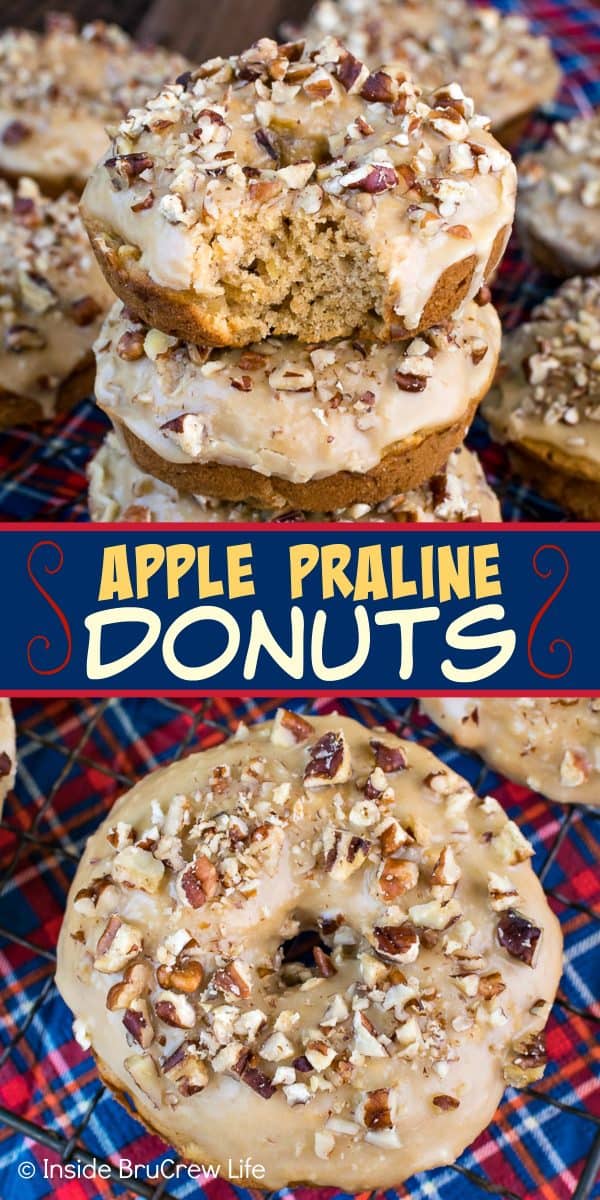 *This post contains affiliate links. Inside BruCrew Life may receive a small percentage from sales made through these free links. As always, these do not cost you any extra. Thank you for letting us share products we use and love this way.