Chocolate chips and marshmallows add a fun twist to these No Bake Nutella S'mores Granola Bars. S'mores for breakfast will have everyone smiling as they start the day.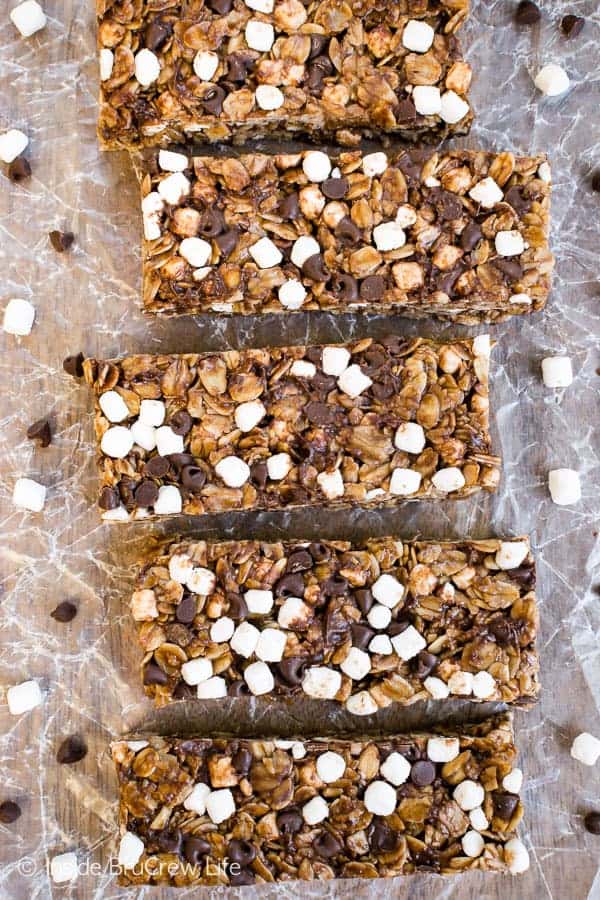 Lately we have become obsessed with making all things granola. Homemade granola and granola bites have been happening every single week for the past month because we love them so much.
I'm trying to space them out sharing them here because I'm sure you are not as obsessed as we are. But, seriously, skip the store bought snacks and make your own chewy granola bars.
Our granola obsession all started with these Peanut Butter Granola Bites a few years ago and has just spiraled out of control with this Chocolate Covered Strawberry Granola.
Let's just say that the big container of rolled oats in the cupboard is down to the last few oats. Mental note: add more old fashioned oats to this week's grocery list.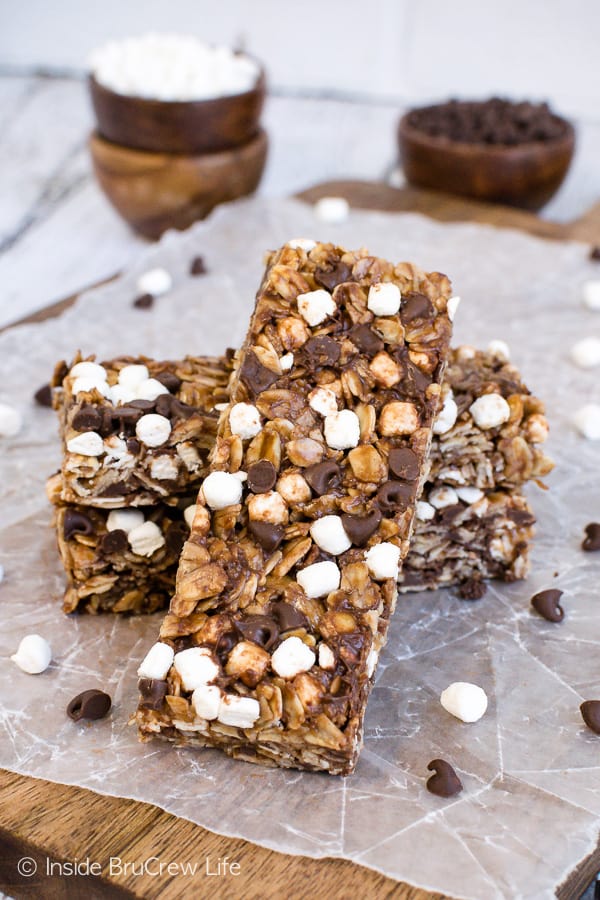 Today I thought I would share my "at the moment" favorite no bake granola bar recipe. Nutella and s'mores is my go to combo right now. But you know that's subject to change at any moment.
The creamy hazelnut spread, the chewy rolled oats, the chocolate and the marshmallow bits spread throughout is enough to make anyone swoon.
Definitely don't picture me eating all the bars. No, I would never do that. Never.
Ok, ok, so I may have eaten a few while sipping on a Coconut Nutella Latte. What can I say? I love me some Nutella.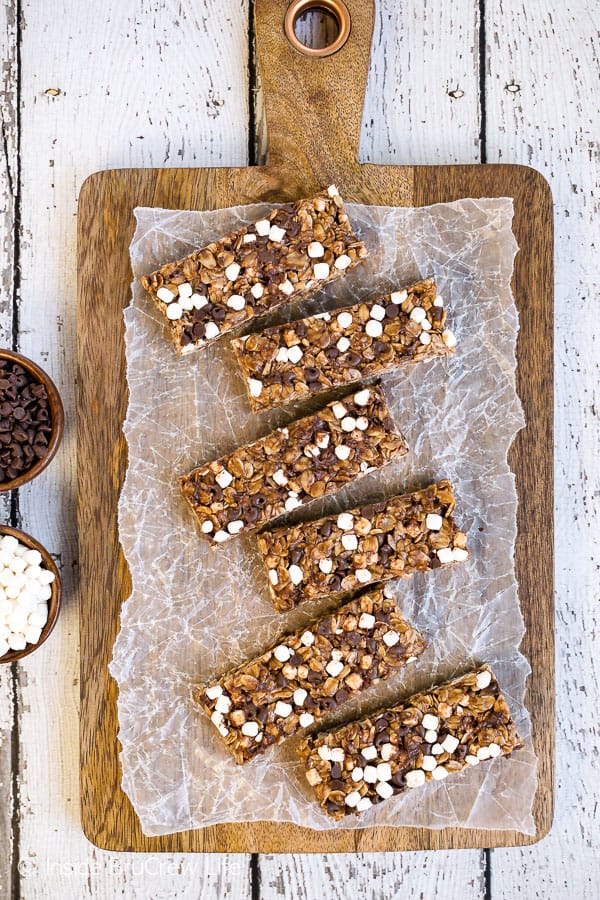 Thank goodness this recipe makes a small batch, and thank goodness that our kids love them as much as I do. They helped me finish off the bars in record time.
Are you convinced that you need no bake granola bars today? I'm convincing myself that we need another batch too.
See you in 15 minutes with Nutella smears on your face. I know you eat spoonfuls whenever you get the jar out too.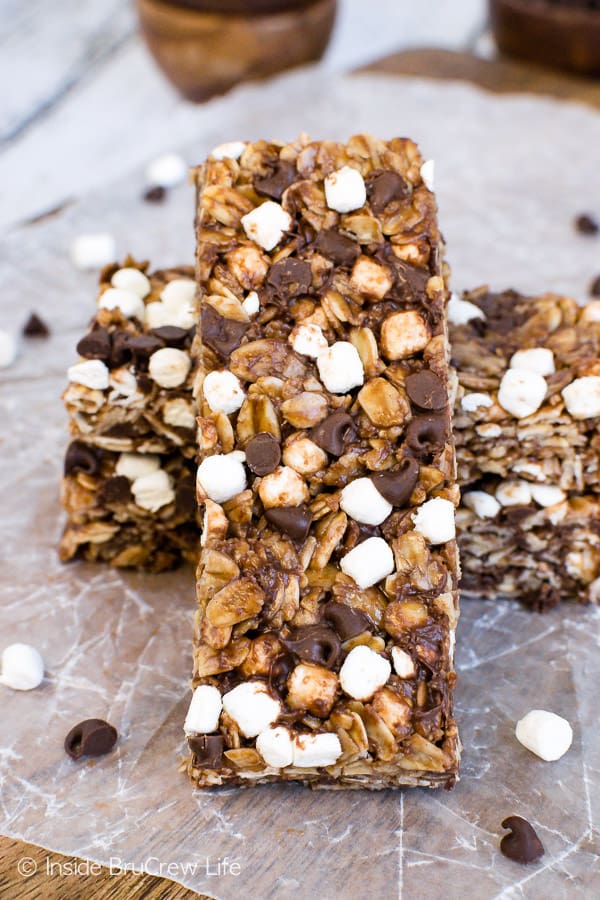 How to make No Bake Nutella S'mores Granola Bars:
Place the butter and honey in a saucepan and heat over low heat until melted. Add the Nutella and stir until melted.
Pour the oats into the pan and stir until everything is completely coated. Let it cool for 5 minutes.
Line an 8x8 pan with foil or you can just butter the pan. Either way works and will keep your bars from sticking.
Stir in the mini marshmallow and chocolate chips quickly. The mixture will still be warm, so you want to work fast, so the chocolate chips do not melt too much.
Pour the mixture into the pan and top with a few more chocolate chips and marshmallows.l This is totally optional, but I think it adds a pretty touch to the finished bars.
How do homemade granola bars keep their shape?
Use a piece of wax paper and press down on the mixture very firmly. The harder you press them into the pan will help them stay firm later.
Let the mixture cool completely before cutting it into ten even bars. Store in a tightly sealed container.
Just for the record. These are not like the hard granola bars you buy in the grocery store. These are a softer granola bar, but if you press them into the pan firmly they will keep their shape just fine.
CLICK HERE TO PIN THIS RECIPE FOR LATER!
More Nutella breakfast recipes you may like: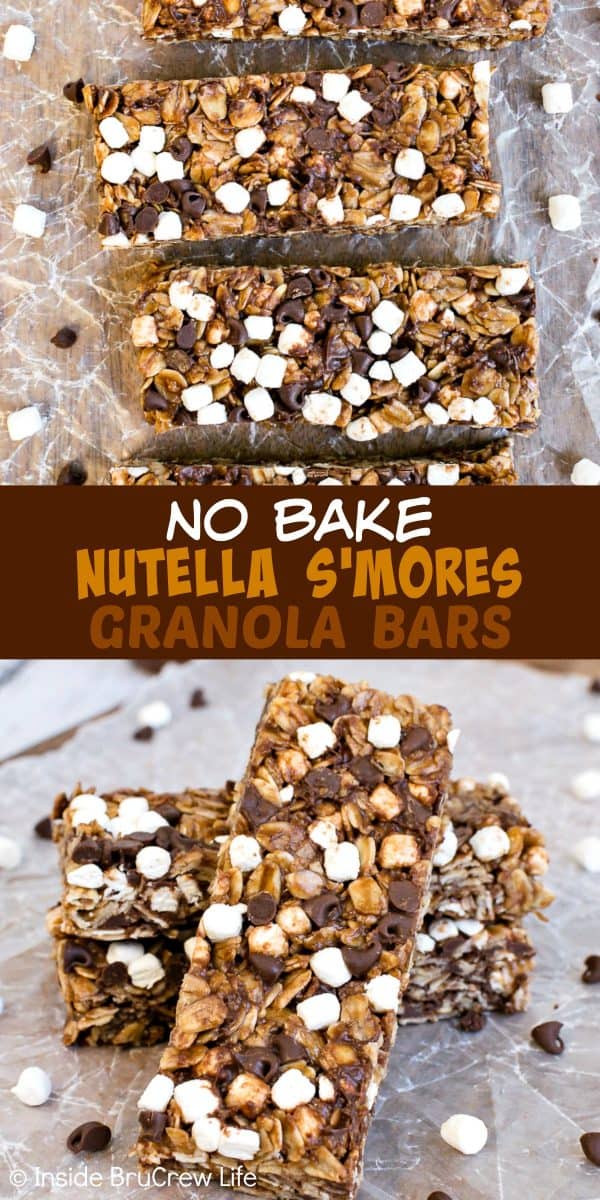 *The recipe and post for these No Bake Nutella S'mores Granola Bars was originally published February 20, 2014. The photos and post were updated and republished July 13, 2018.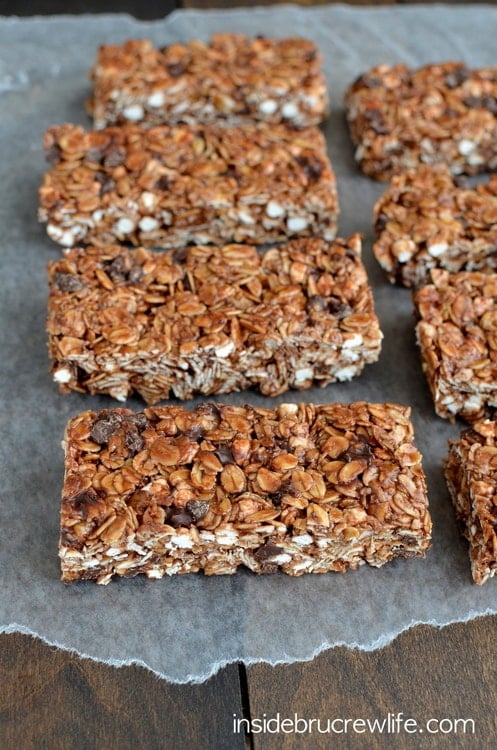 (original photo from February 2014)