These Banana Nutella Quesadillas are filled with a delicious combination of creamy chocolate and banana slices. A buttery cinnamon sugar crust adds a satisfying crunch to the sweet tortilla.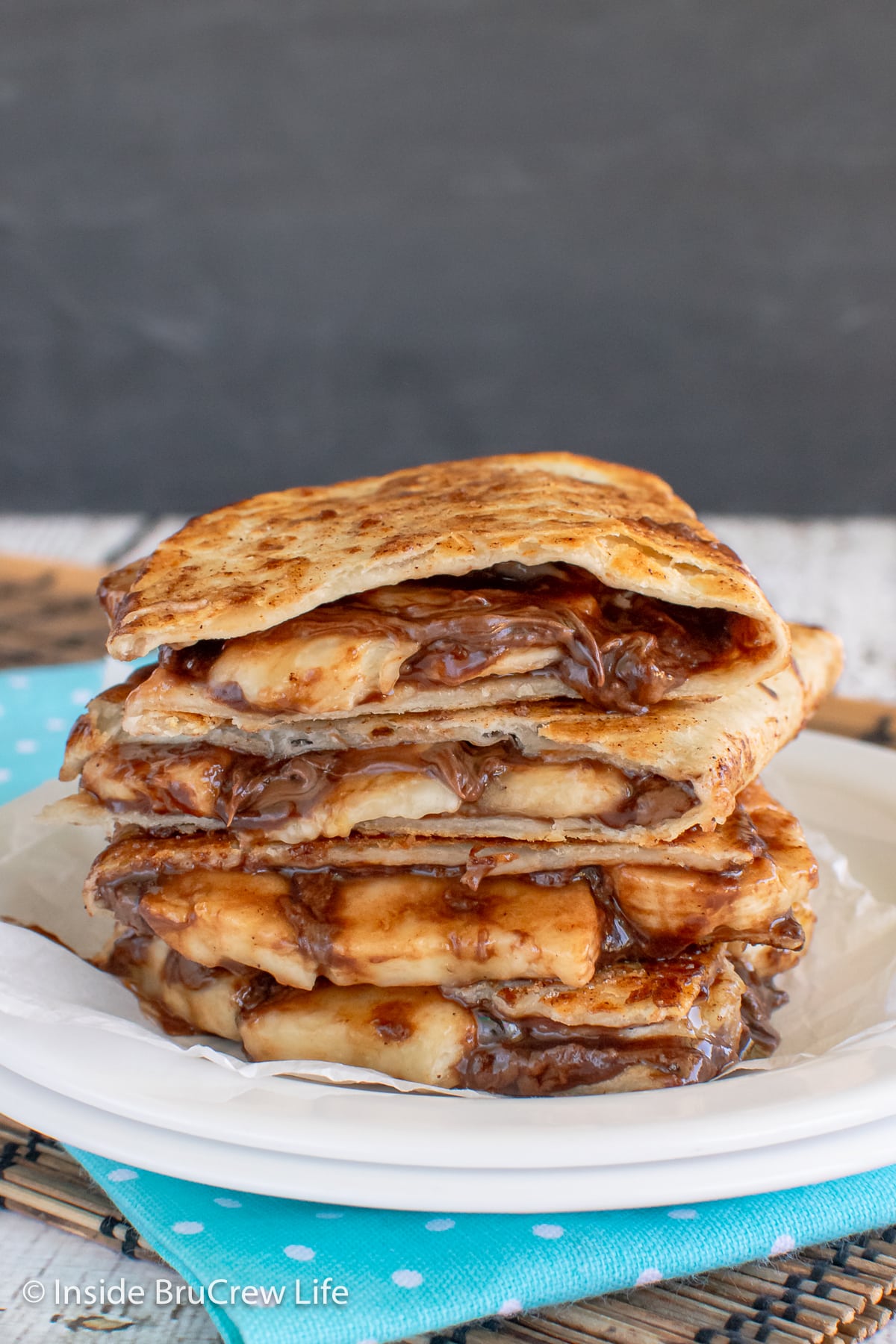 Jump to:
Years ago, my husband and I took a trip to St. Maarten, where I ate Nutella crepes for breakfast every morning. It was a fabulous way to start out each day.
That simple breakfast inspired me to create these easy pan-fried Nutella tortillas. Crepes are delicious, but sometimes you don't want to spend the time making batter and cooking each one. That's when leftover tortillas are your best friend!
A bit of butter, cinnamon sugar, and a ripe banana inside a tortilla becomes an ooey, gooey treat that the whole family will love.
Why You Will Love this
Banana Nutella

Recipe

Dessert quesadillas are a fun and easy twist on Nutella crepes. A layer of fresh fruit gives it a delicious flavor.

This easy treat will bring a smile to your face. We start with sweet cinnamon sugar tortillas, fill them up with the popular hazelnut spread and ripe bananas, and then pan fry them until they're perfectly golden brown.
Quick and easy. Using store-bought tortillas makes it so simple to have a Nutella banana quesadilla ready in under 10 minutes.
Delicious and gooey. The combination of chocolate, banana, and a crunchy cinnamon sugar crust makes these sweet tortillas a delightful treat. The melted chocolate spread will have everyone licking their fingers.
Great snack. This gooey tortilla is perfect for breakfast, brunch, after-school snacks, a quick dessert, or a late-night chocolate craving. Trust me. No one will complain when you serve them.
Key Ingredients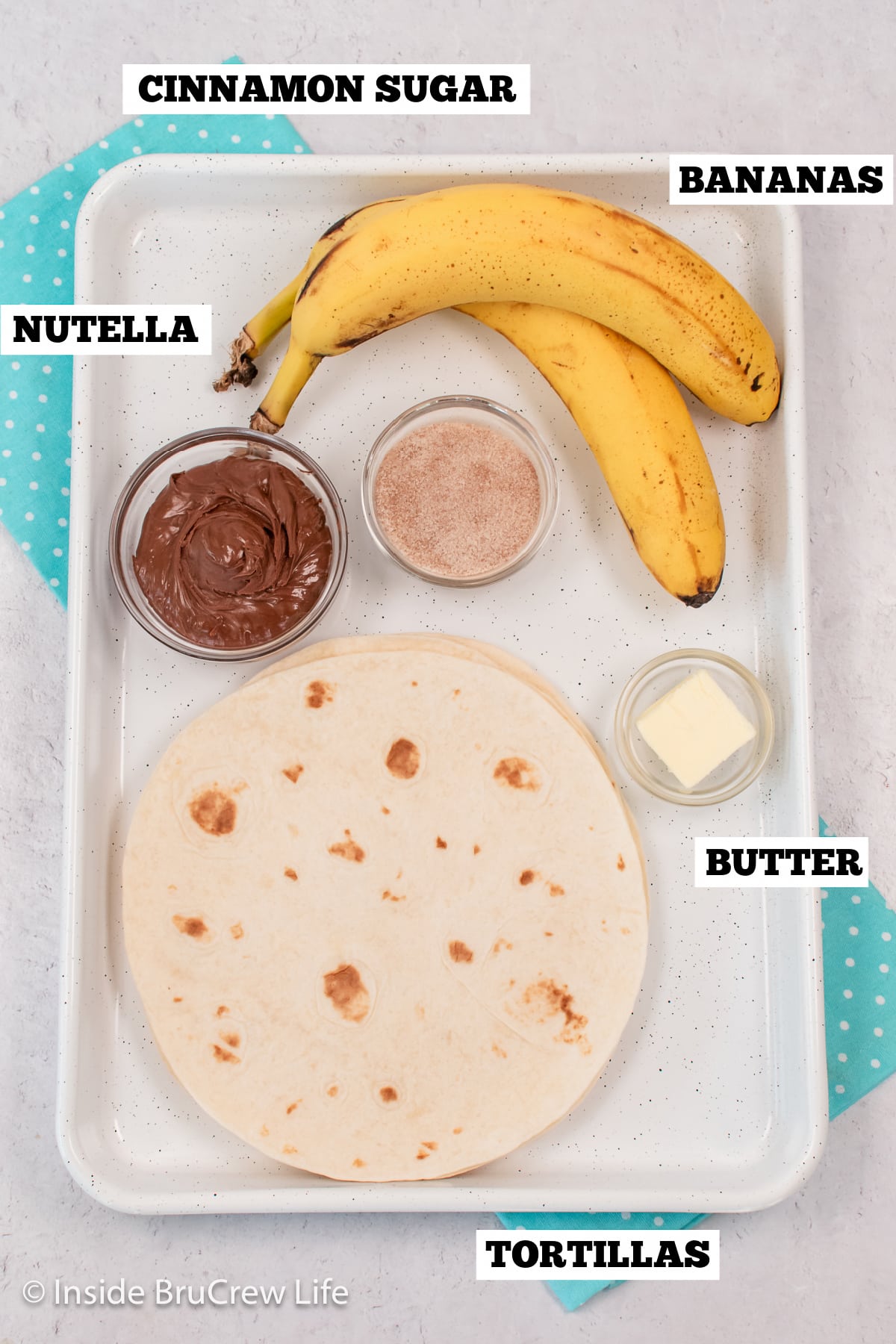 These warm and gooey quesadillas are so yummy you won't be able to resist taking one bite after another. Plus, the sweet tortilla recipe is easy to make at home with just five simple ingredients.
Flour Tortillas - We have found that an 8-inch shell works best for folding and eating. Feel free to use your favorite tortillas in any size you like.
Real Butter - This will give a much better flavor to the tortillas and keep them from sticking. Set it out beforehand or microwave for a few seconds to soften it.
Cinnamon Sugar - A mixture of granulated sugar and ground cinnamon creates a mix that adds sweetness and spice.
Nutella - This creamy chocolate hazelnut spread can be found in the same grocery aisle as peanut butter. If you do not like Nutella, try peanut butter or cookie butter.
Bananas - Use firm, slightly ripe bananas for this dessert. If the bananas are too ripe, they will be mushy in your fried quesadilla.
BruCrew Tip: Use the rest of the hazelnut spread to make a batch of Nutella no bake cookies or Nutella poptarts.
How to make Nutella

Quesadillas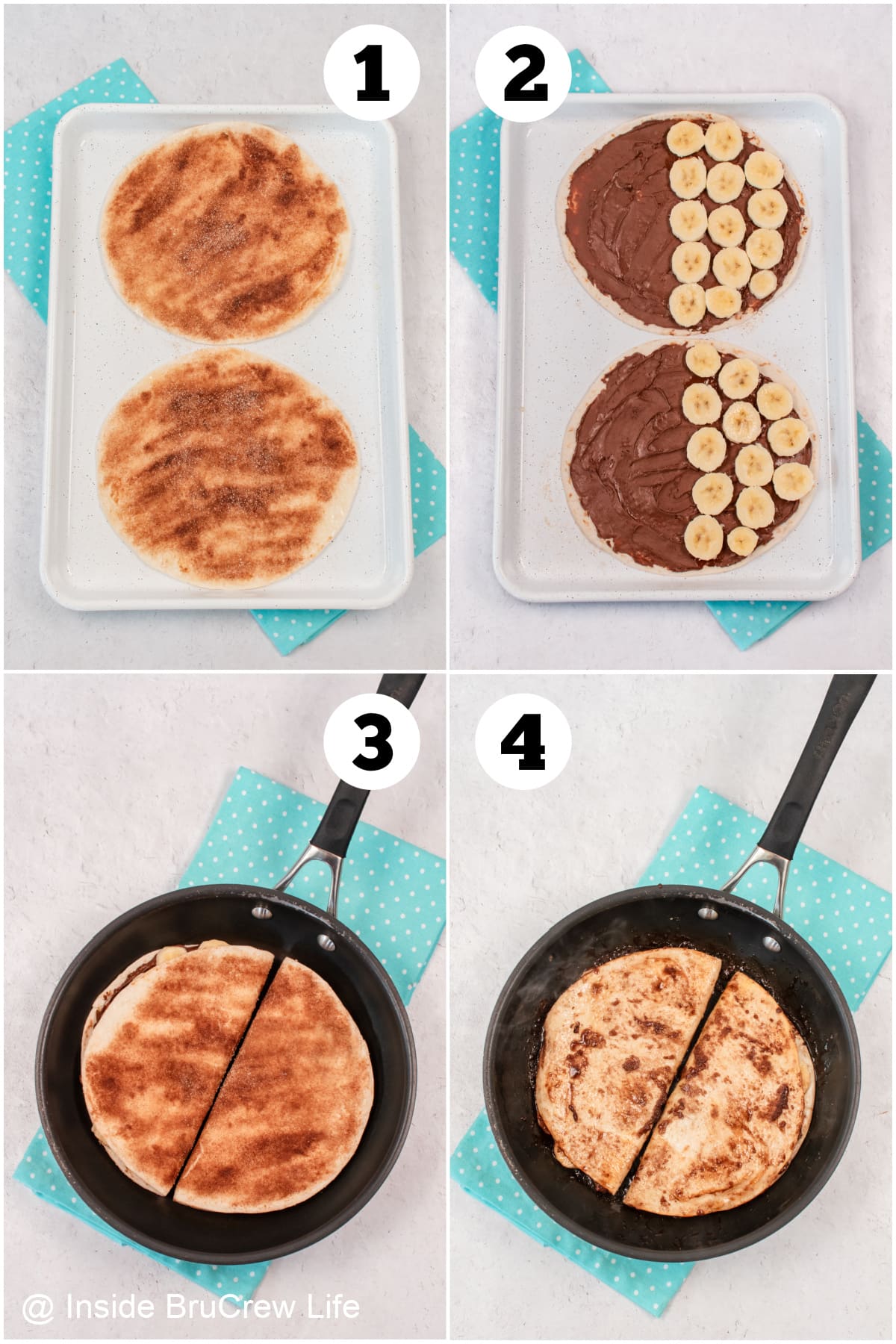 Get ready to make this Nutella banana dessert in just minutes with easy steps that anyone can follow! The delicious sweet quesadillas will be a hit with everyone.
Butter one side of the tortillas and sprinkle them with cinnamon sugar. Flip over and place on a parchment-lined baking tray.
Spread the chocolate to the edge of each tortilla. Place banana slices on top of the Nutella on half of the tortilla.
Fold the tortillas in half and place in a warm skillet over medium heat. Fry each side until golden brown.
Cut each tortilla in half and serve right away. These are the best hot out of the pan.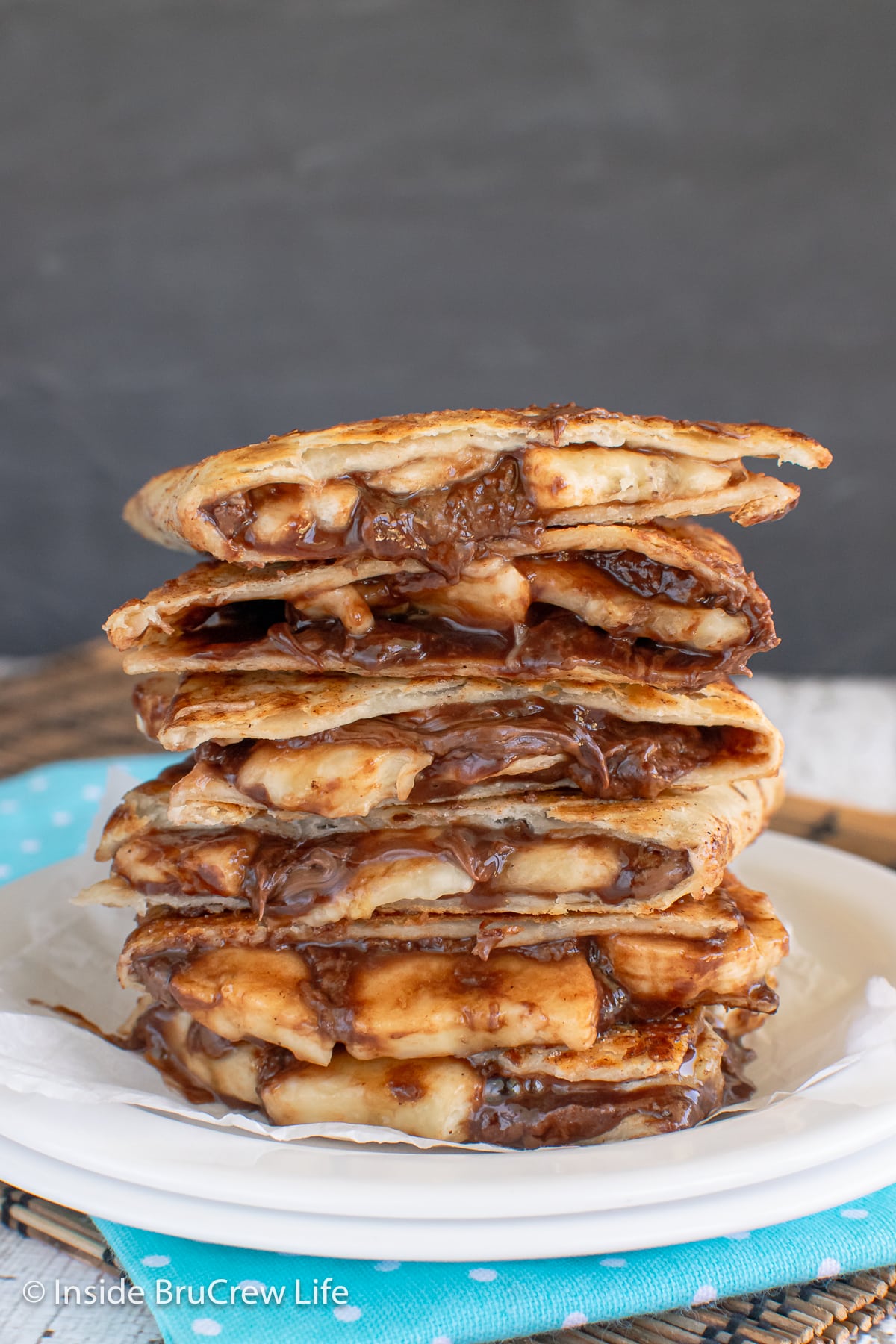 Tips and Tricks
Customize the chocolate quesadilla. Add strawberry slices, raspberries, shredded coconut, chopped nuts, or mini marshmallows to the Nutella tortillas for a unique and delicious dessert.
Use a non-stick pan. This will keep the dessert from sticking to the pan, and the caramelized sugar mixture will wash off much easier.
Bake or Air fry. You can also bake or air fry the quesadillas instead of pan-frying them. Bake at 350° for 8 minutes or air fry for 4-5 minutes.
Use peanut butter. Change things up and make peanut butter quesadillas with your favorite fruit.
Skip the butter and sugar coating. Just roll the filled tortillas into a spiral and eat cold.
Add cinnamon sugar after frying. To avoid a crispy caramelized coating on the tortillas, fry them with just butter. Sprinkle the sugar coating on while they are warm.
Go over the top. Serve with vanilla bean ice cream, homemade whipped topping, or a dusting of icing sugar.
FAQs
What fruit is good with Nutella?
Any fruit that pairs well with chocolate is good. We love strawberries, raspberries, bananas, pears, apples, cherries, oranges, and pineapple dipped in chocolate or Nutella.
What tortilla is best for dessert quesadillas?
You can use any size of flour or whole wheat tortillas to make this sweet dessert.
Can these be made ahead of time?
These dessert tortillas taste the best if you serve them as soon as you make them. I do not recommend making them ahead of time.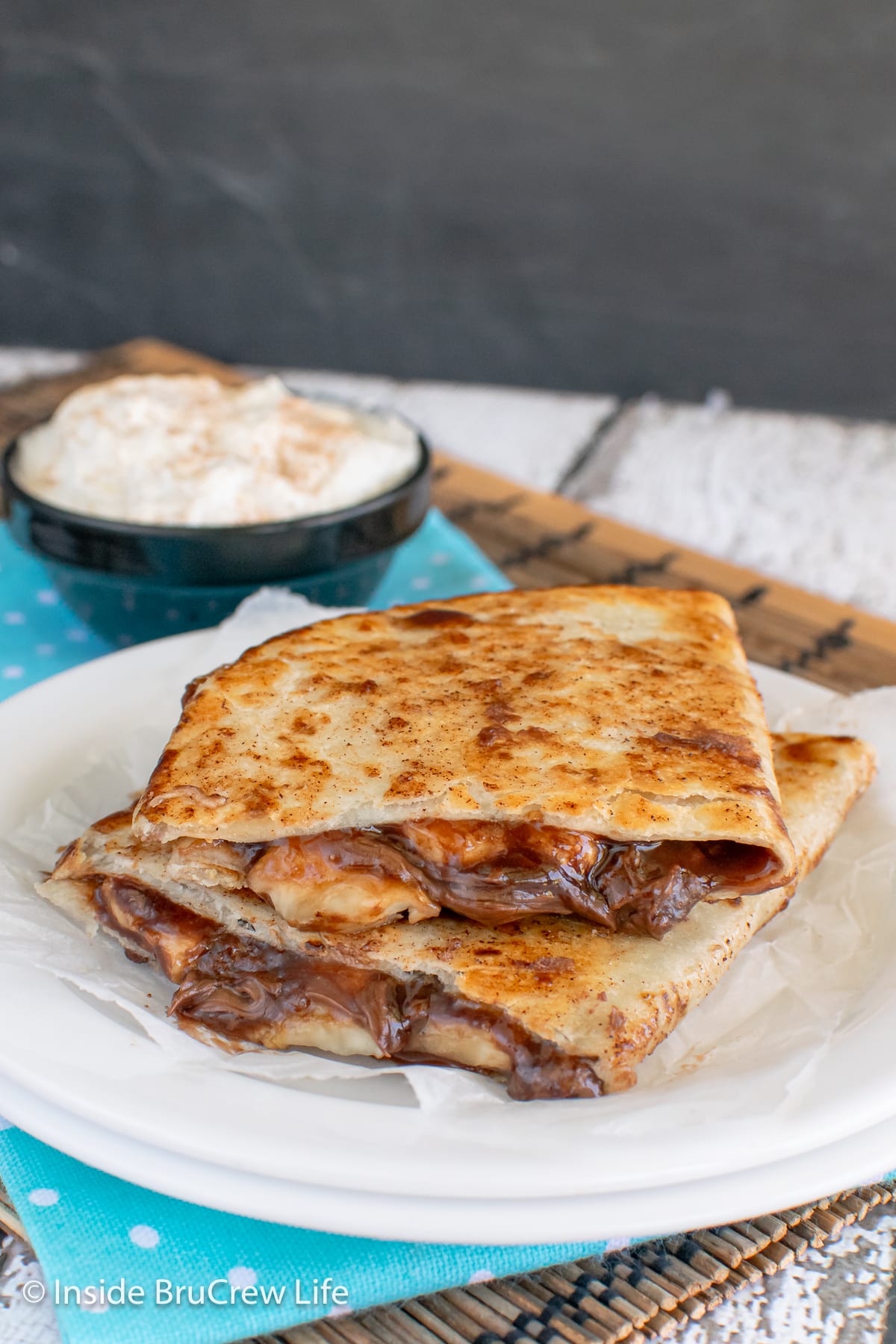 Other Nutella Desserts
Do you love a recipe you tried from Inside BruCrew Life?
Please leave a 5-star ⭐️ rating and a review in the comments section below.
*This post was first published in January 2011. The pictures were updated in May 2016, and it was republished in August 2023.