You are only 30 minutes away from a bowl of the best creamy Broccoli Cheese Soup. This delicious soup recipe is comfort food at its best and is sure to hit the spot on a cool fall day.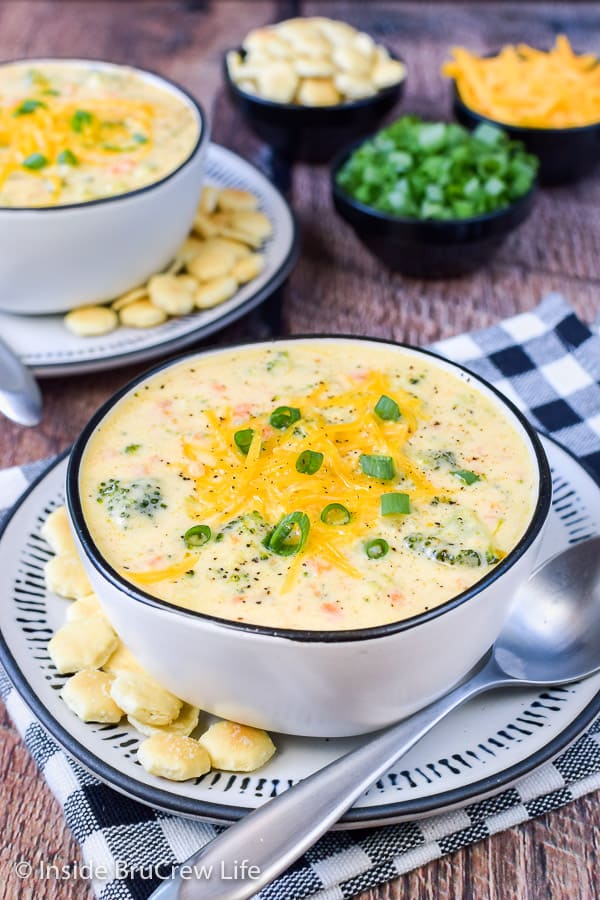 Broccoli Cheddar Soup Copycat
One of our favorite things to do while the kids are in school is to go out to lunch every once in a while. Now most of the time we like to try out new restaurants, but other times we go for our tried and true favorites.
I could eat Panera's broccoli cheddar soup every single week. That creamy broccoli soup in the soft bread bowl gets me every time, so of course, that soup is in our lunch rotation.
Since it really isn't practical to go out to eat every single week, I couldn't wait to make a copycat of the broccoli cheddar soup from Panera. It was actually quite easy to make and so creamy and delicious.
And now that I know how easy it is to make, I'm planning on making it every week with these Chicken Parmesan Roll Ups.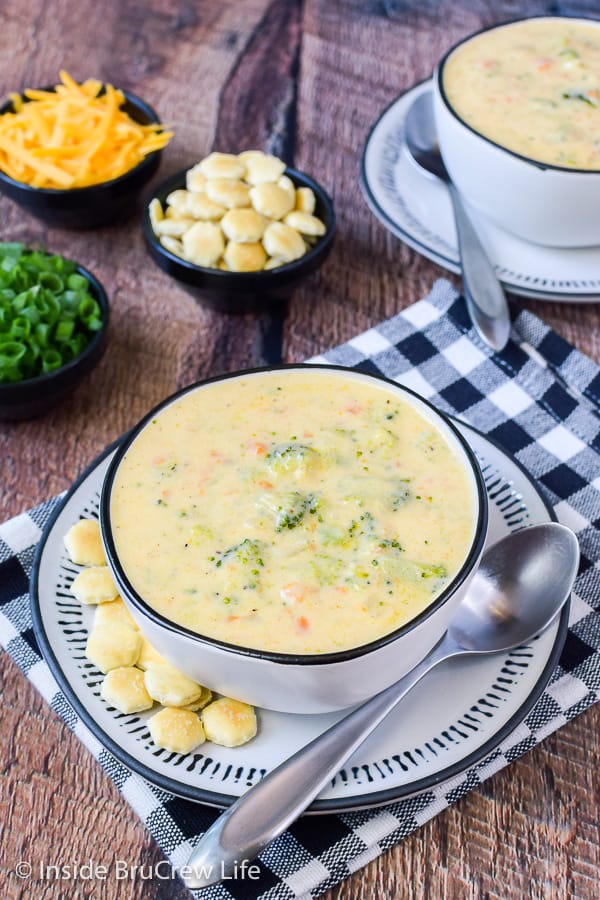 Now I do have to recommend that you grate a block of cheese instead of buying the pre-shredded cheese. The already shredded cheese has a slight coating on it that keeps it from melting as well as freshly grated cheese.
The bagged stuff will work in a pinch, but do yourself a favor and shred your own. It makes soups like this Chicken Cheese Soup so much better.
Ingredients for Broccoli Cheese Soup Recipe
Butter
Flour
Half and Half
Chicken Broth
Veggies - Onion, Garlic, Broccoli, & Carrots
Cheese - freshly shredded cheddar cheese makes a big difference.
Spices - Salt, Pepper, Smoked Paprika, Nutmeg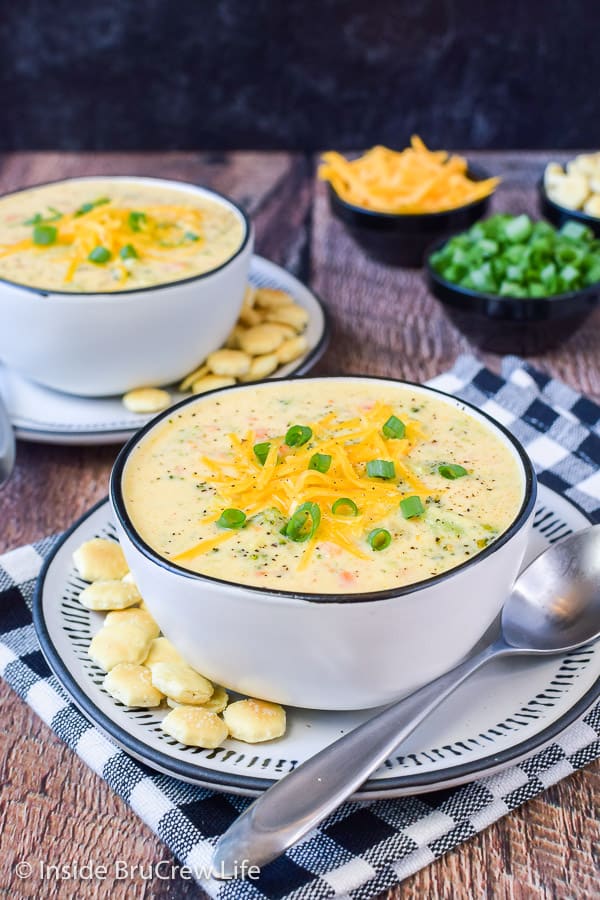 How to make Broccoli Cheese Soup
This broccoli and cheese soup is seriously so easy to make. A couple minutes chopping veggies and then the rest of the prep is stirring and simmering. Gotta love an easy dinner recipe that tastes amazing!
Chop the broccoli into bite sized pieces and shred the carrots into small pieces.
Sauce the butter and onions until soft. Add the garlic and flour and cook for another minute.
Whisk in the half and half, then stir in the chicken broth. Bring the mixture to a low boil.
Add the broccoli and carrots and simmer for 10-12 minutes or until the veggies are soft and the soup has thickened.
Remove from the heat and stir in the cheese, salt and pepper, and spices until everything is melted. (full recipe below)
I love adding toppings to a bowl of soup, so I usually have bowls of different things on the table. Then everyone can top their soup with whatever they like.
Soup Toppers
Shredded Cheese
Diced Green Onions
Oyster Crackers
Croutons
Crispy Cooked Bacon
If you want to save some time making this soup, buy frozen broccoli and the matchstick carrots from the grocery store. You can also use vegetable broth to make this a vegetarian soup recipe.
If you prefer a creamier soup, remove half the soup and puree it in a blender. Stir the pureed soup back into the remaining soup and serve.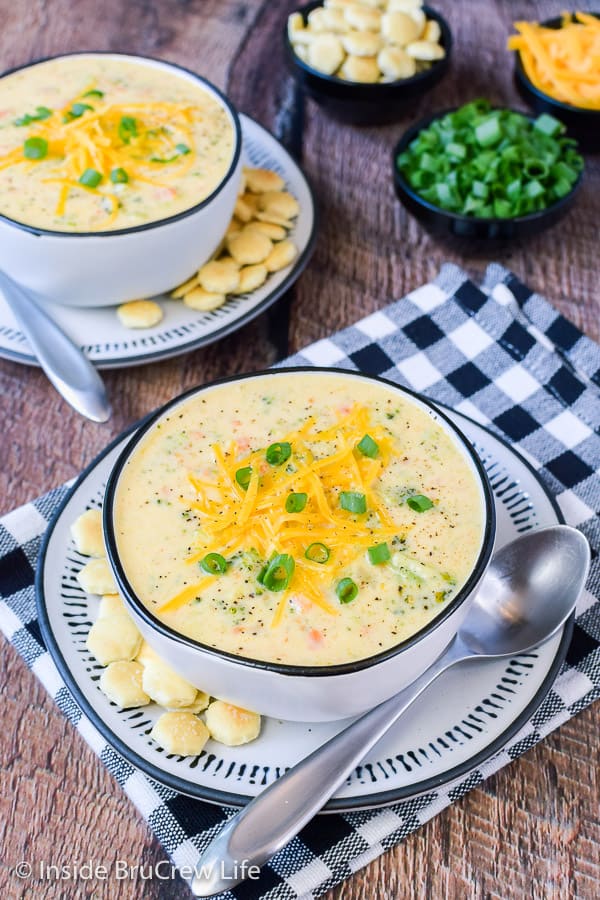 Frequently Asked Questions
Can Broccoli Cheese Soup be frozen?
Yes, it can. Let it cool, then spoon it into freezer safe containers or resealable plastic bags and freeze. Thaw and reheat on the stove top or microwave when you are ready to enjoy broccoli cheddar soup.
What goes well with Broccoli Cheese Soup?
A fresh salad with a light vinaigrette dressing
Fresh coleslaw or this Spicy Coleslaw
Crusty bread or rolls
A bread bowl is a delicious way to serve this broccoli soup.
How long will cheese soup last?
This cheese soup is best served immediately. Leftovers will keep for 3 days in the refrigerator.
Can you reheat broccoli cheddar soup?
Place the cheese soup in a large pot on the stove top or in a microwave safe bowl. Heat until it reaches your desired temperature.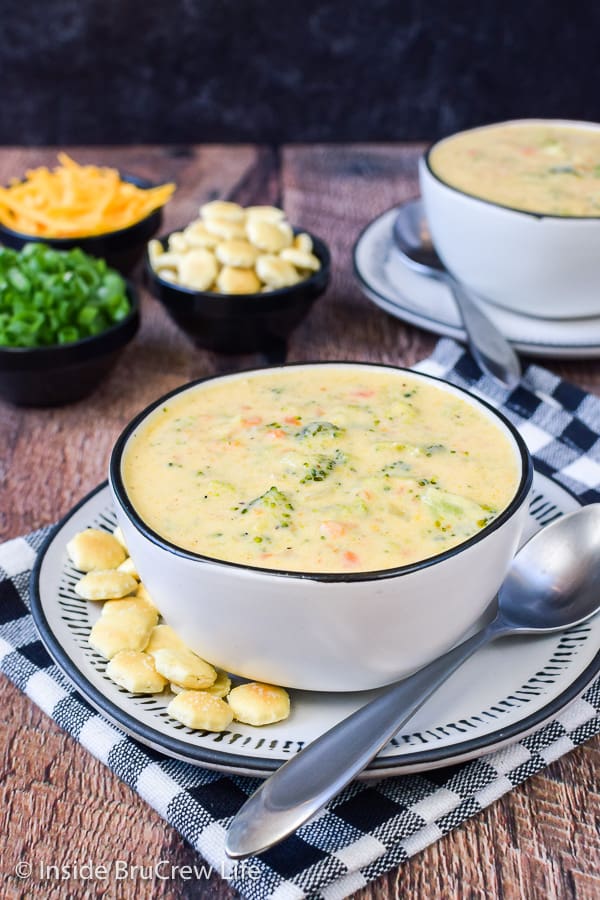 CLICK HERE TO PIN THIS RECIPE FOR LATER!
Other Easy Soup Recipes
A pot of this homemade Easy Chicken Corn Chowder is the perfect comfort food to warm you up on a cold day.
This easy White Chicken Chili is a great way to warm up on a cold, snowy day. It is full of flavor and reheats well.
Make a pot of this Italian Tomato Soup this fall to feed your hungry family. Ready in just under 30 minutes.
This smokey Slow Cooker Chipotle Chicken Soup comes together in just minutes. Such an easy and delicious meal.
This easy Pizza Minestrone is loaded with noodles and pizza toppings. Perfect dinner for cold fall days.
This Creamy Tomato Soup recipe will take you back to childhood. Serve it with grilled cheese croutons for a delicious dinner.
A pot of this Fast Chicken Noodle Soup comes together in minutes. Perfect dinner when you are under the weather.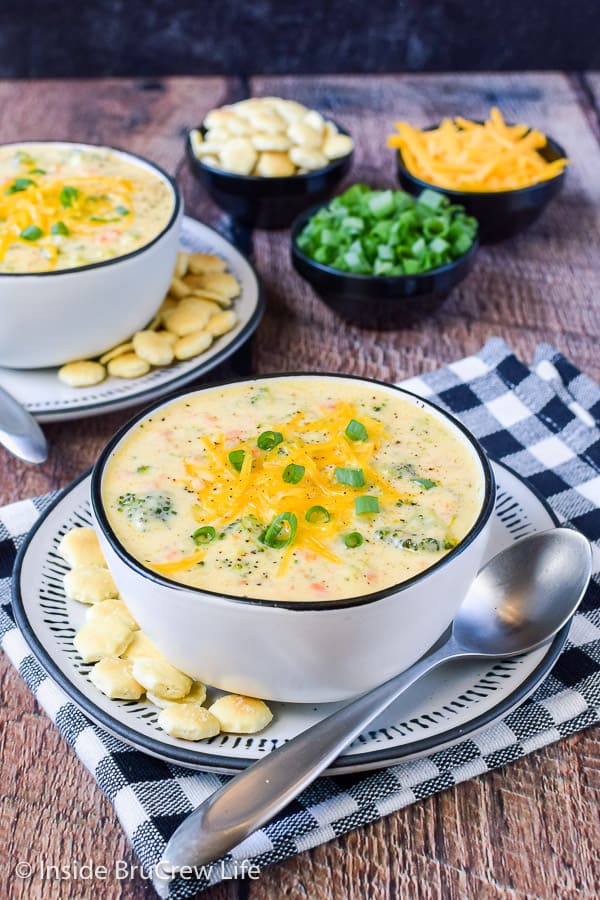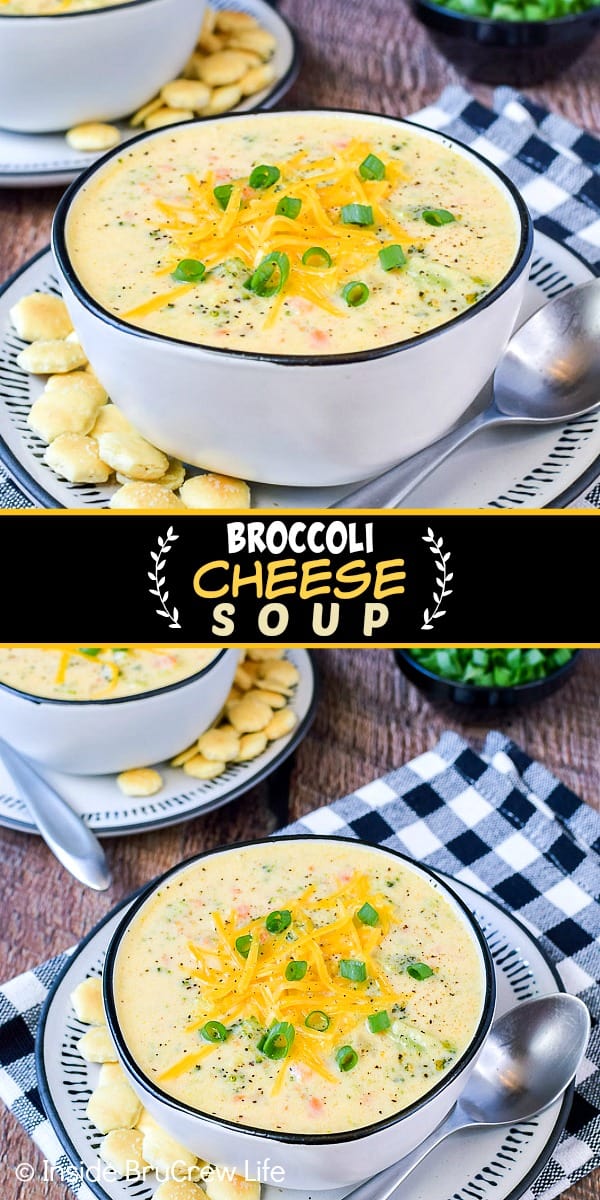 *The post for Broccoli Cheese Soup was first published on November 2, 2013. The pictures and recipe has been updated and republished on September 30, 2019.