Enjoy the fall flavors of a caramel apple in a cupcake form. These easy-to-make Caramel Apple Cupcakes have a creamy caramel frosting, caramel drizzles, and candy bars. They are the perfect fall treat for any party.
*I am partnering with Dixie Crystals to bring you this cupcake recipe. Click HERE to see the full recipe.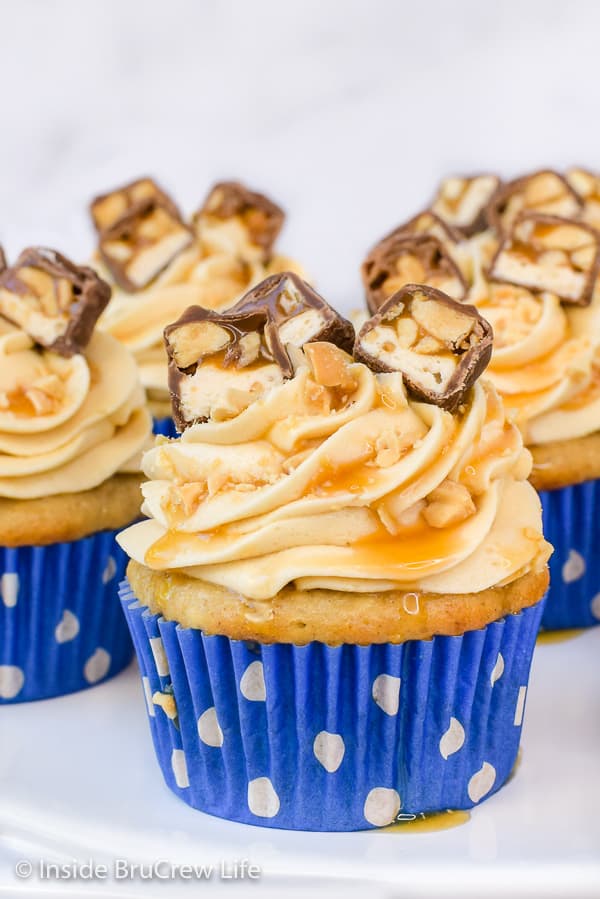 I have found my favorite way to eat "an apple a day". Adding apples to cupcakes is my new favorite way to enjoy the red fall fruit.
Yes, I realize that adding an apple to a cupcake and then topping it with the best caramel frosting you will ever find kind of cancels out the fruit factor. But you guys!!!
These easy apple spice cupcakes have all the fall flavor you love, and they taste amazing! Plus, have I mentioned how easy they are to make?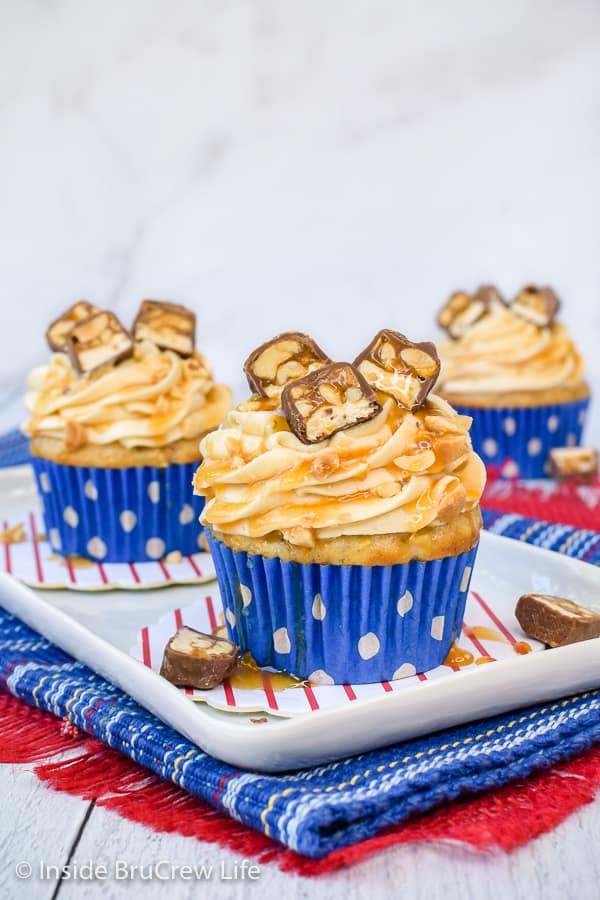 As I was deciding on what kind of fall dessert I wanted to make this month for Dixie Crystals, I kept coming back to caramel apples.
Of course, when I think of caramel apples, I remember the mishap my ladies group had making them one year. Who knew you could mess up apples that bad?!?!?!
Let's just say that caramel dipped apples should not be kept in a refrigerator that has a lot of moisture in it. We came in the next morning to find all the caramel in wet puddles around the bottoms of the apples. It was an apple fail for sure.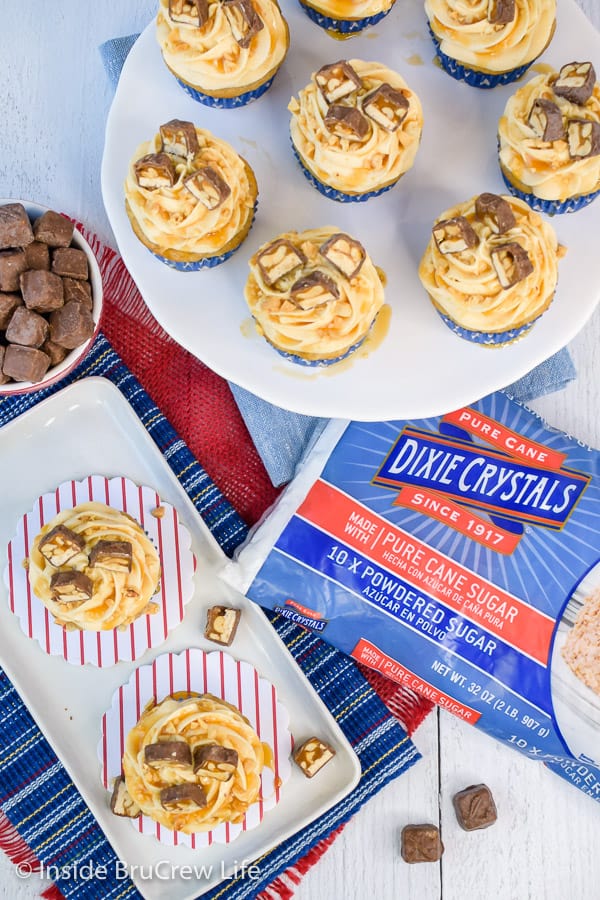 Needless to say, I have not dipped apples in caramel since then, and I'm not planning on doing it any time soon. I prefer to enjoy caramel apples in cupcake form.
Although, if I'm being completely honest with you, it's the caramel buttercream that I love the most. I may or may not have eaten a few spoonfuls before adding it to the apple cupcakes.
How to make Caramel Apple Cupcakes:
Mix together a white cake mix, pudding mix, oil, eggs, and spices in a large mixing bowl.
Stir together shredded apples with a little bit of flour. Add this to the cake mix and stir in gently.
Spoon the batter evenly into 24 cupcake liners and bake for 22 minutes. Remove and cool.
Beat softened butter, vanilla, and salt until creamy.
Add caramel ice cream topping and heavy cream and beat again.
Slowly add the powdered sugar 1 cup at a time until completely mixed in.
Beat the frosting on high for a few minutes or until light and fluffy.
Use a piping bag to swirl the frosting on the cooled cupcakes.
Drizzle with caramel sauce and top with chopped peanuts and Snickers® bites.
You are going to love these easy apple cupcakes topped with caramel icing!!! They are a fun treat to make and share at fall parties.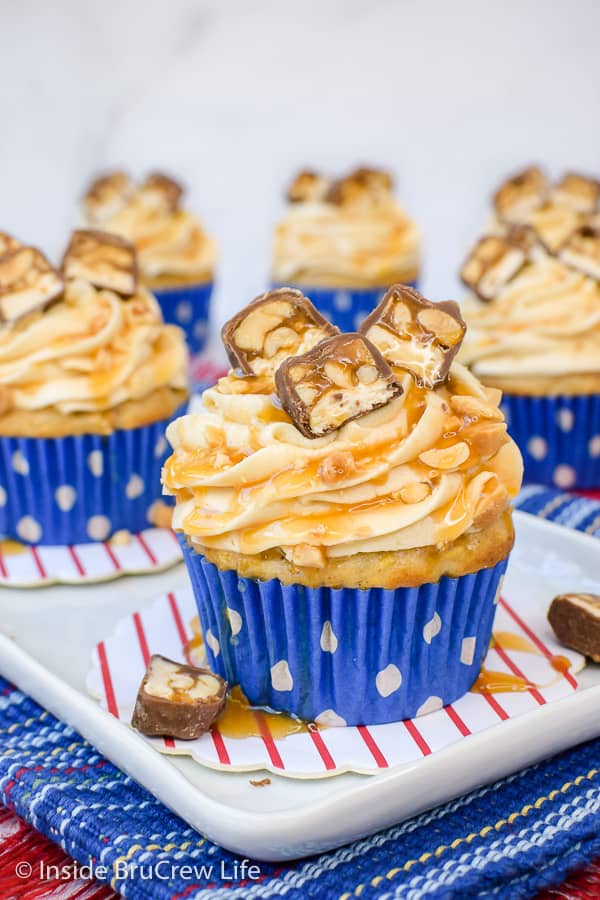 More of the easy apple desserts for fall:
Enjoy these quick and easy fall desserts: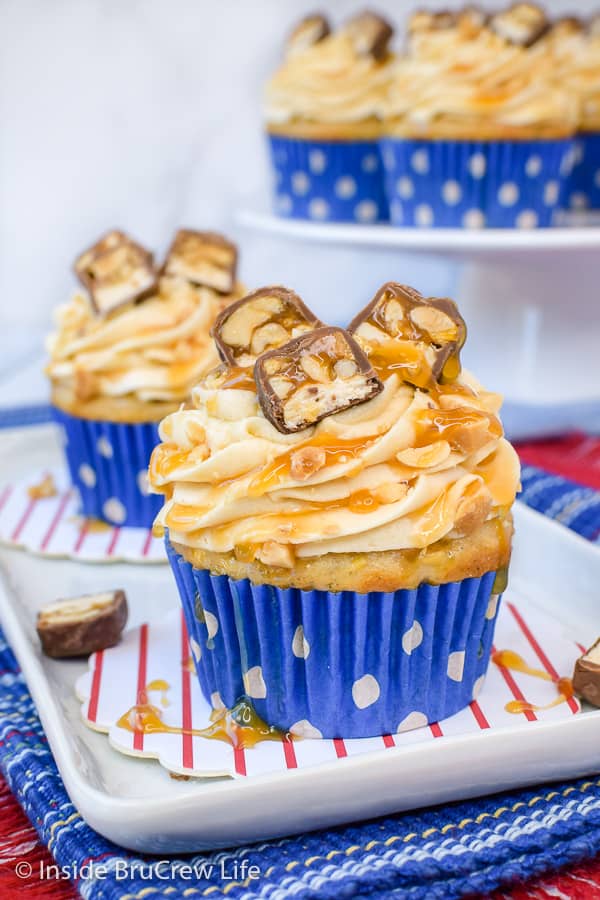 *I am sharing this recipe over at Dixie Crystals today.

Click on

Caramel Apple Cupcakes to see the full recipe!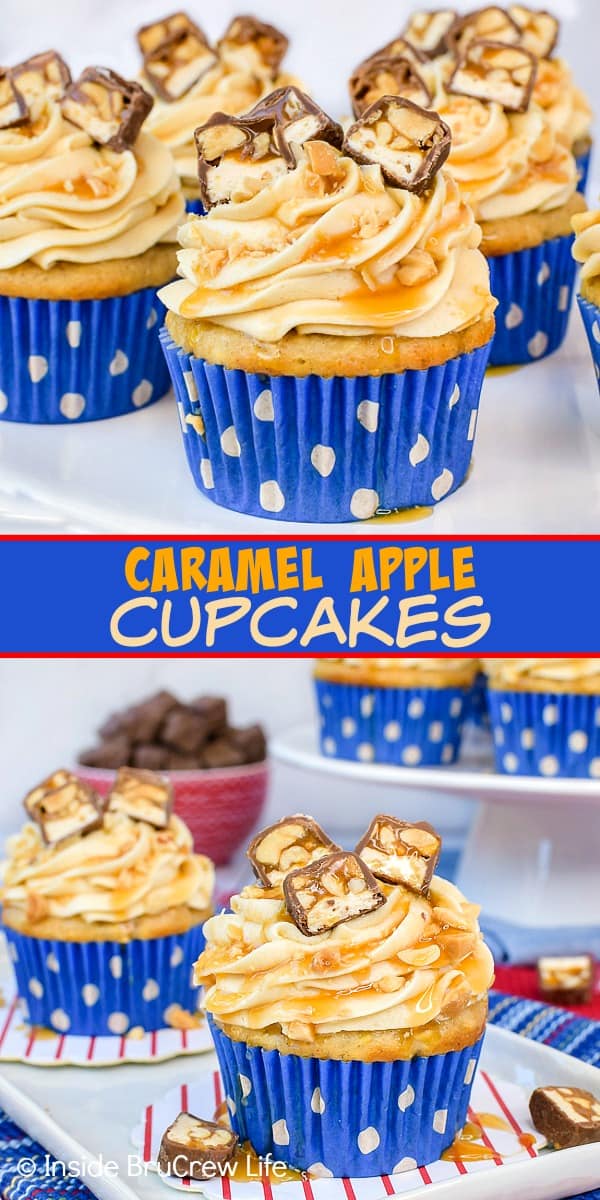 *This recipe was sponsored by Dixie Crystals. All opinions expressed are 100% my own. Thank you for letting me share products and brands I use and love. See my disclosure policy for more information.*