A loaf of the Best Chocolate Chip Zucchini Bread is a delicious way to use up the extra zucchinis that are growing in your gardens. Loading this sweet bread with extra toppings truly makes it the best.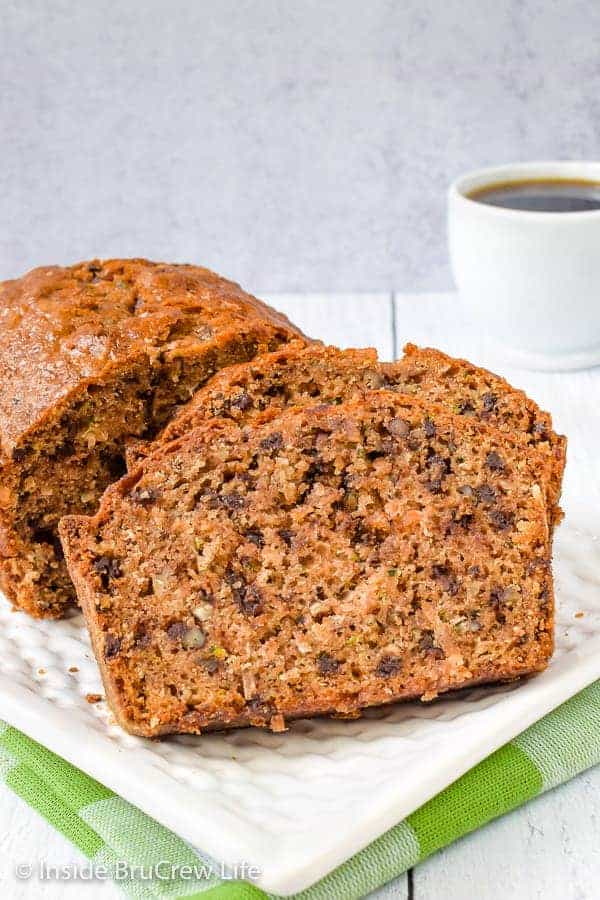 Did you plant a zucchini plant in your garden this year? If so, you are probably wondering what you will ever do with all those zucchinis that keep coming.
A few years ago when we lived in Indiana, I tried to plant a garden. Or should I say tried to grow a garden because the planting was the easy part. I seriously have a black thumb when it comes to growing things, so our garden never really took off.
We got a few zucchinis and some tomatoes, but everything else was pretty weak. Thankfully we had friends that were much better at gardening and would regularly share their excess produce with us.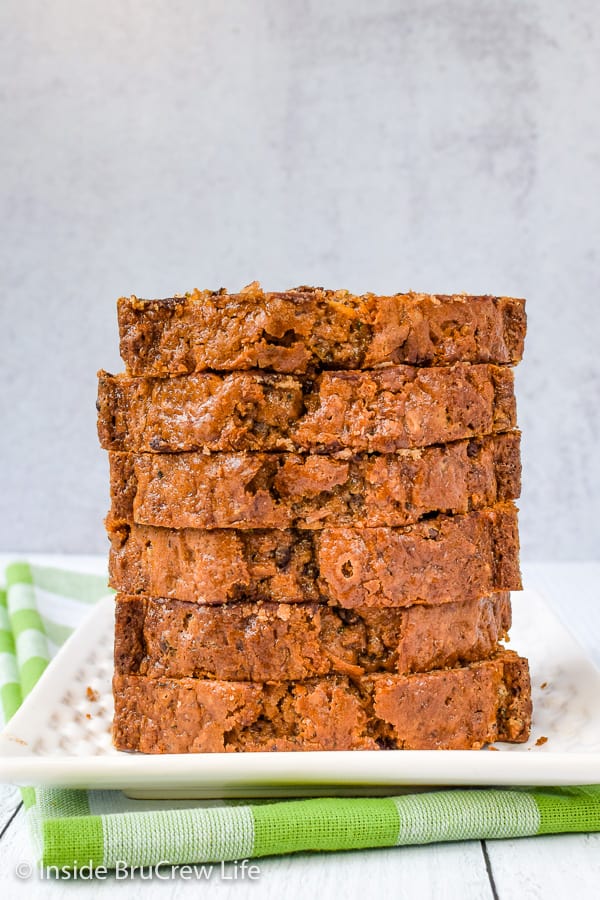 Over the past few years, zucchini has become one of my favorite things to eat. These Bacon Cheeseburger Stuffed Zucchini and this Low Carb Chicken Alfredo Zoodle Soup always get two thumbs up when we make them for dinner.
But if I'm being totally honest, my favorite ways to use up extra zucchini is to bake something sweet with it.
Every time I bake this Dark Chocolate Zucchini Cake or this Banana Zucchini Bread it disappears in a hurry. Mostly because I can't stop snacking on it. But everyone else in our family loves it too, so we usually end up making 2 or 3 at a time!!!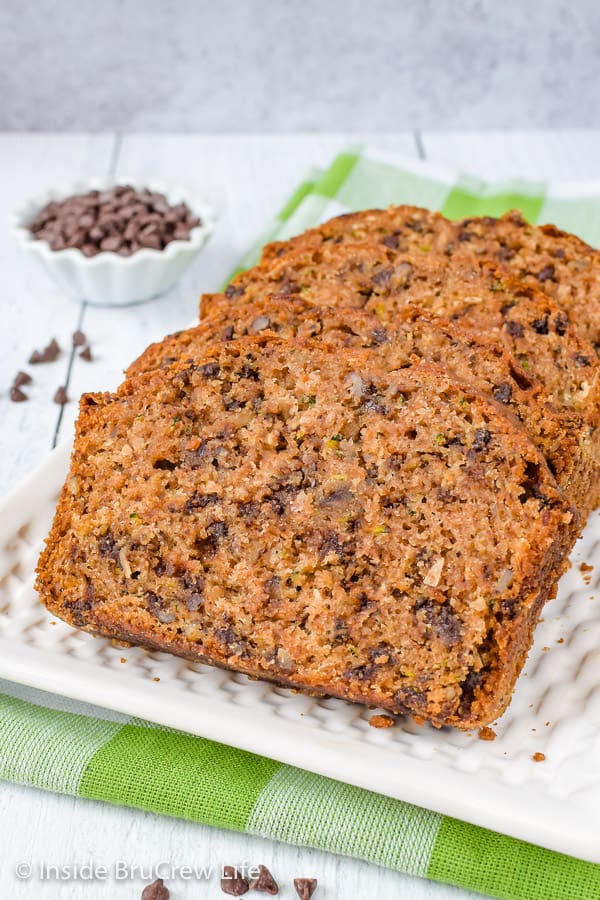 Every time we get a few extra zucchinis, I love making zucchini bread. There is something so amazing about a slice of warm zucchini bread with butter on it.
I'm seriously drooling thinking about it right now.
So when I had extra shredded zucchini this week, I knew a loaf of sweet bread was about to happen.
Our daughter's only request was that it had to have chocolate chips in it. She is definitely my daughter. LOL!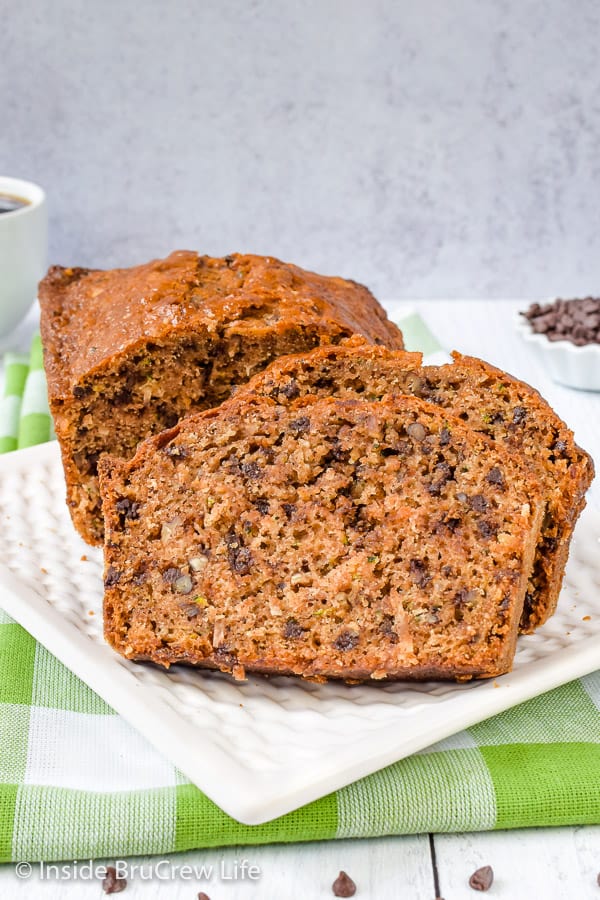 How to make the Best Chocolate Chip Zucchini Bread:
Mix together the dry ingredients and make a "hole" in the center of the bowl.
Add the buttermilk, oil, egg, and vanilla to the center and gently mix it all in until everything is combined.
Grate the zucchini. Squeeze out the extra moisture if necessary. Stir the zucchini, coconut, pecans, and mini chocolate chips into the batter. The coconut and pecans are optional, so you can leave them out if you do not like either.
Spoon the batter into a bread pan and bake for at least 65 minutes. If your zucchini had more moisture it may need to bake longer. Test it by inserting a knife or toothpick into the center of the bread. It should come out with just a few crumbs on it.
Once the bread is done, let it sit in the pan for 10-15 minutes before flipping it out onto a cooling rack.
Serve warm with butter, or let it cool and add a glaze on top.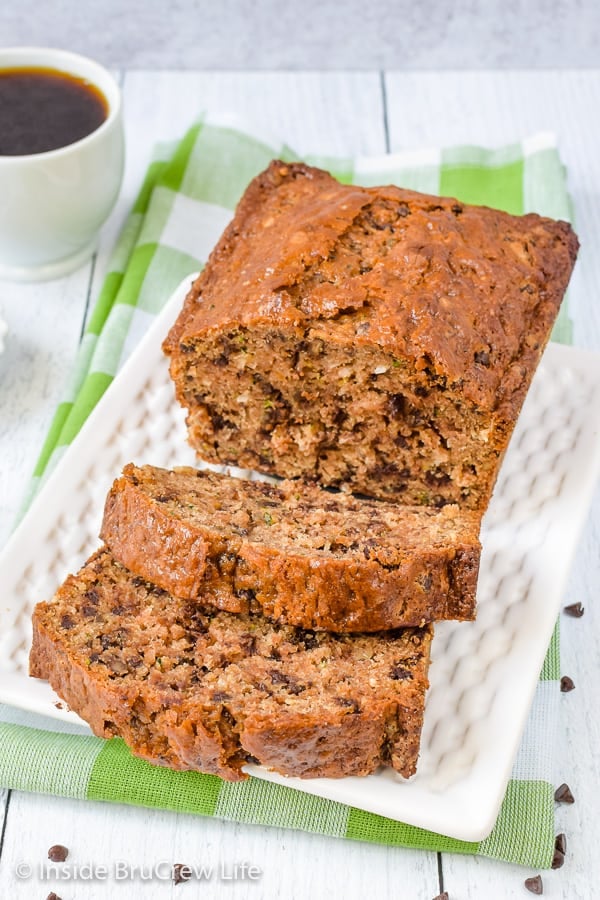 Tips to remember for Chocolate Chip Zucchini Bread:
Do not peel the zucchini. You want to leave the skins on so you can see the little green flecks in your bread. If you have picky eaters, you could peel it first.
Grate the zucchini on the medium or small holes of a box grater. I like to use the smallest hole on my box grater, but either one works for this bread.
Make sure to squeeze some of the excess water out of the grated zucchini if it seems really watery or moist. Too much extra moisture in the batter will make it bake extra long. I always start checking the zucchini bread around 65 minutes. If you do not squeeze the extra water out, it could take up to 75 minutes.
Sprinkle sugar on your bread pan after you spray it with nonstick spray. This adds a little extra crunch to the outside of the bread. It's totally optional, but oh, so good!
Once the bread is cool, you can also add a glaze on top. Sometimes I do this and sometimes I don't. It all depends on the day and how I'm feeling about the zucchini bread.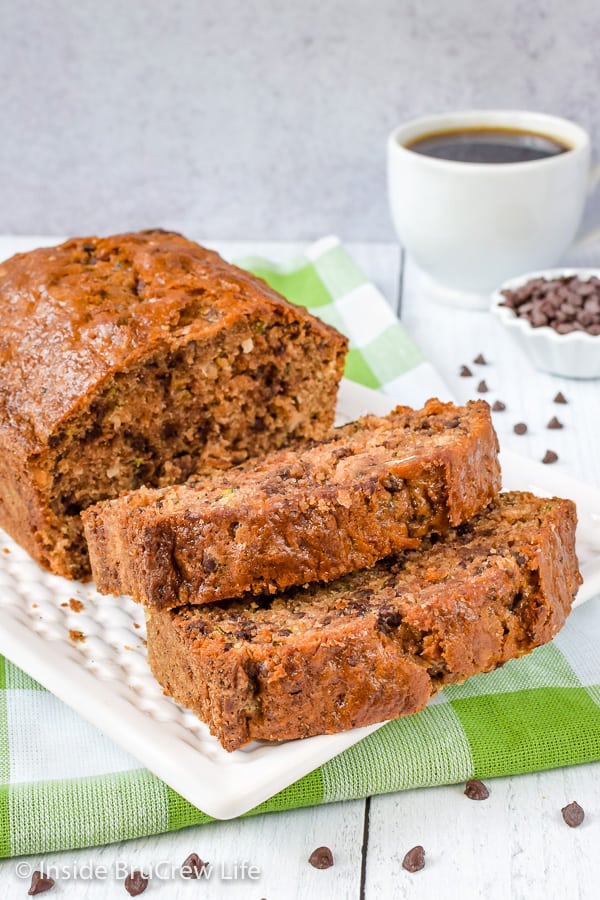 Other easy zucchini recipes:
Two times the chocolate makes this Dark Chocolate Zucchini Bread disappear in a hurry.
These Frosted Butterscotch Zucchini Bars never last long when we make them. The glaze and sweet chips make these bars so good.
This Pineapple Zucchini Bread has a delicious tropical twist. Great way to use up all those green veggies from the garden.
Three times the chocolate makes this Ultimate Chocolate Zucchini Bundt Cake a decadent and fun way to eat your greens.
This Zucchini Banana Cake is loaded with fruits and veggies. A layer of caramel frosting makes it an awesome way to eat green veggies.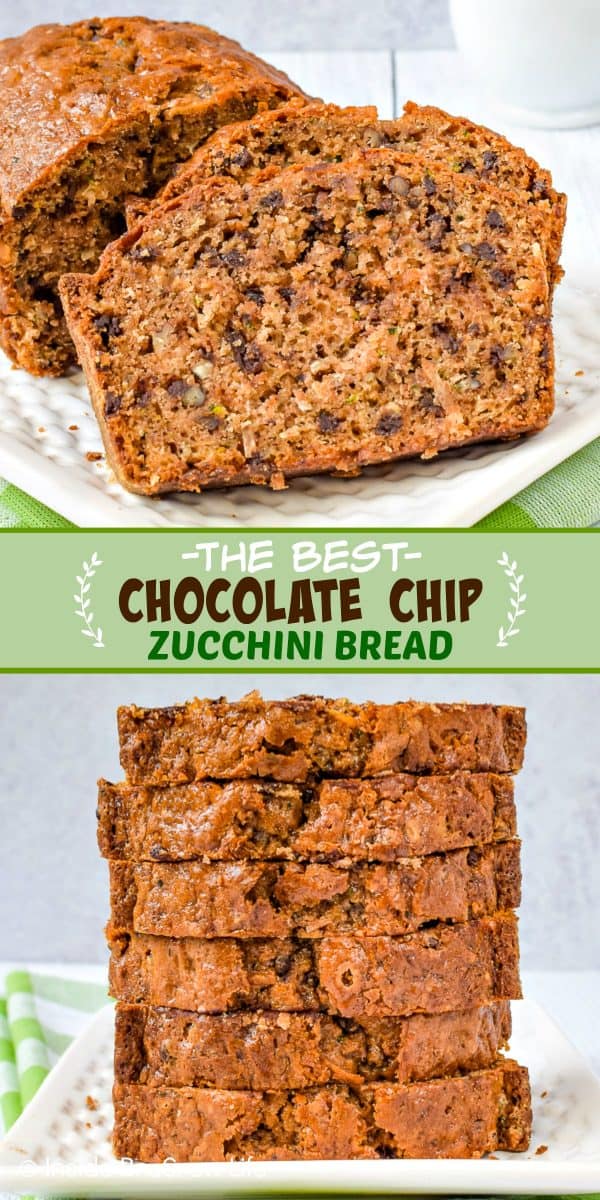 *The post for the Best Chocolate Chip Zucchini Bread was first published on August 9, 2014. The photos have been redone, and the post was republished on July 23, 2019.