Add this Chocolate Pecan Pie to your holiday dessert table this year. The gooey hot fudge layer and the toasted nuts will make this fudge pie with pecans a new favorite at Thanksgiving dinner.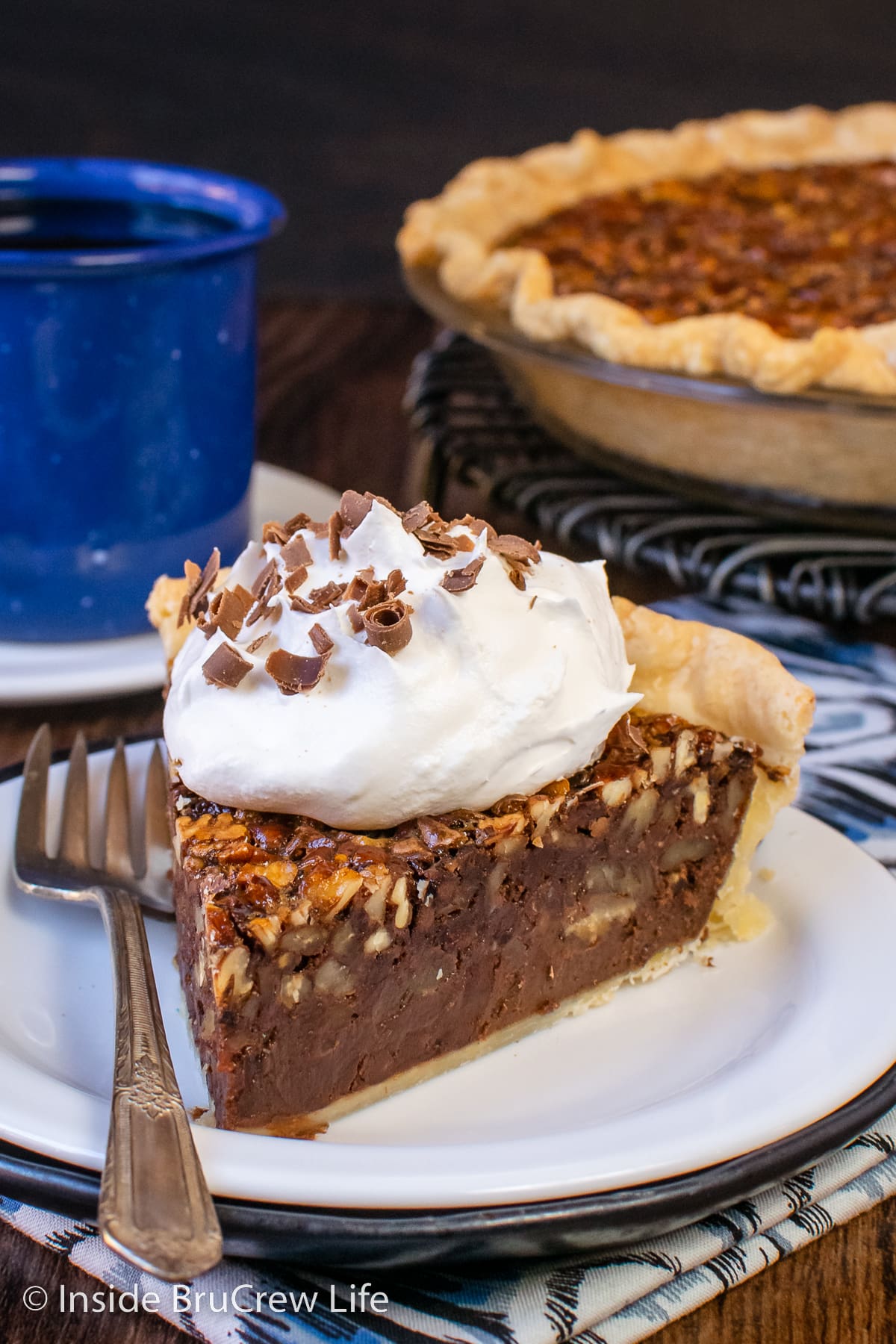 Jump to:
Pecan pie used to be one of those pies that I would pass right over. It always seemed plain and boring to me. Little did I know that the gooey layer under the nuts was downright amazing.
It's hard to beat a traditional pecan pie, but I like to add flair to my recipes. The cheesecake layer in this pecan cheesecake pie and the pumpkin layer in this pumpkin pecan cheesecake pie are two of our favorite additions.
But my favorite change was to add hot fudge to the filling. Not only do you get the gooey texture and nuts, but it has an epic chocolate flavor.
Why You Will Love this Pie
This chocolate pecan pie is not just any chocolate pie. It has a fudge filling that is loaded with toasted nuts. Think of it as a cross between a classic pecan pie and a rich brownie pie.
It is simple to make in minutes with just a few ingredients.
The chocolate center has an incredible soft brownie texture.
Perfect dessert for chocolate lovers.
Great recipe to make ahead of time for Thanksgiving dinner.
With its nutty flavor and rich chocolate center, this fudge pecan pie will quickly become a new holiday tradition.
Key Ingredients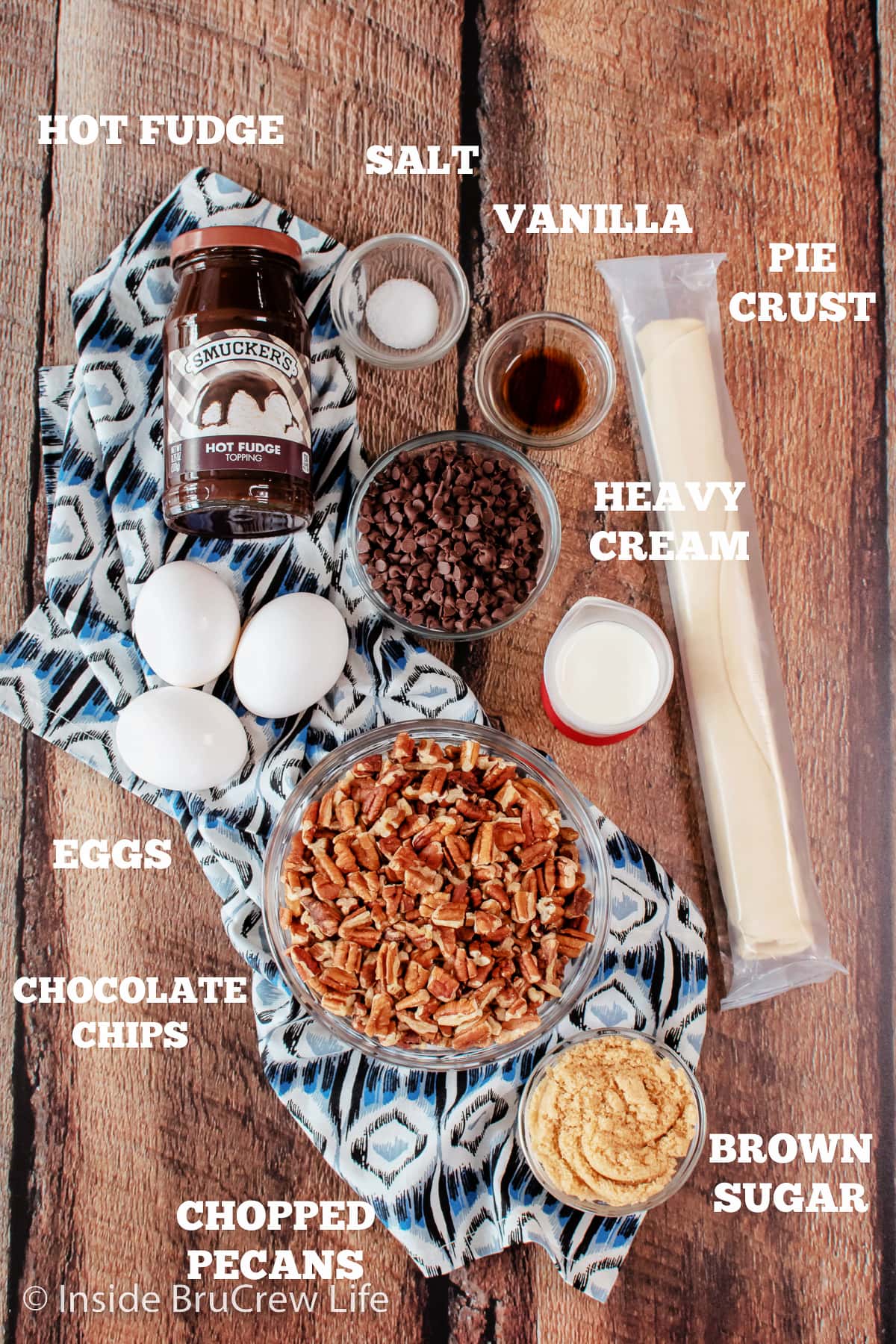 The ingredients for this chocolate pecan pie recipe are simple. The basic ingredients can be found at your local store.
Pie Crust - Save time and use one store bought pie crust or make your own homemade crust.
Pecans - Use chopped pecans in the filling, so you get plenty of nuts in each bite.
Hot Fudge - A jar of hot fudge ice cream topping is the secret ingredient that gives the filling a silky smooth chocolate flavor.
Eggs - Adds a rich flavor and holds the ingredients together.
Heavy Cream - Gives it a creamier rich taste and thins out the fudge topping.
Brown Sugar - Provides more sweetness with a hint of molasses.
Mini Chocolate Chips - Because you can never have too much chocolate!
How To Make a Chocolate Pecan Pie
The toasted pecans and gooey chocolate filling in this chocolate fudge pecan pie are a match made in heaven.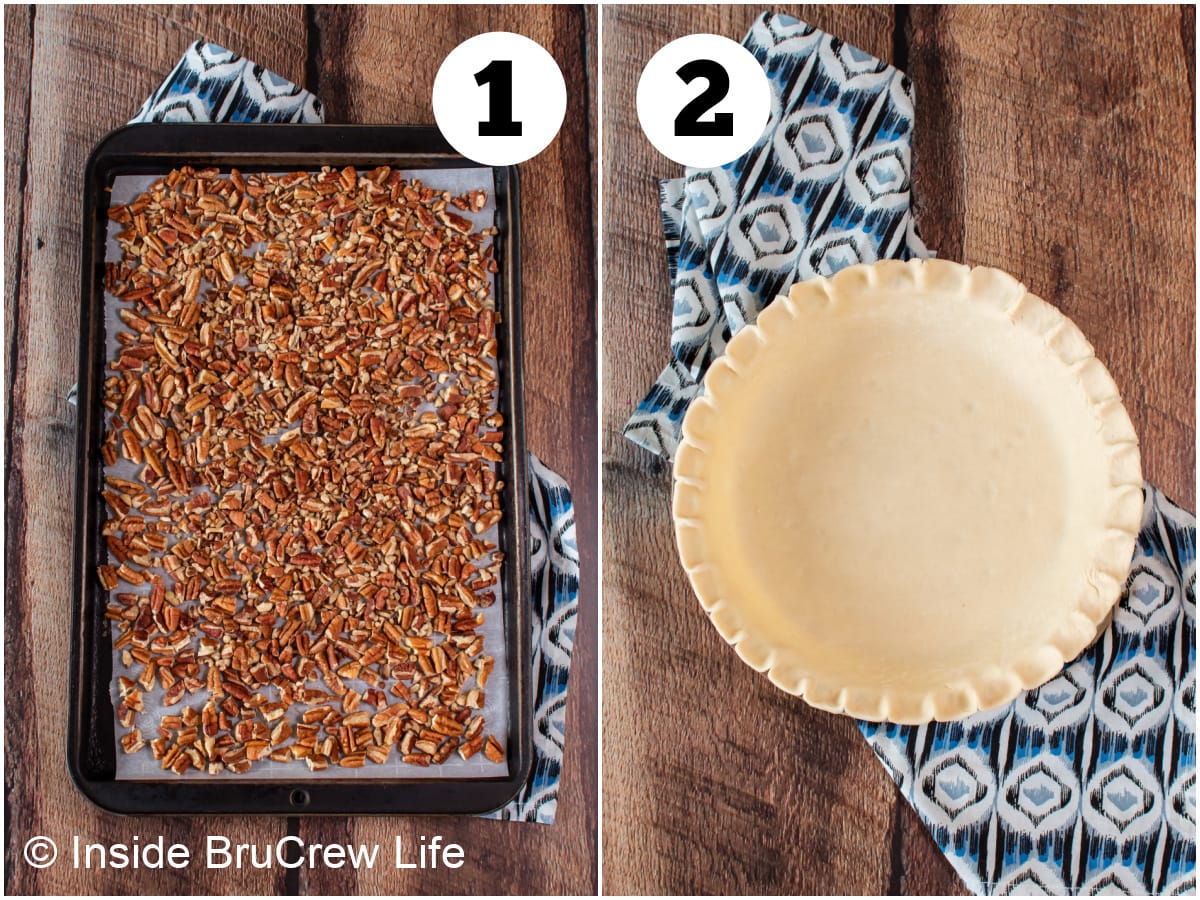 Toast the Pecans
Spread the nuts on a parchment lined baking sheet. Bake for 5-7 minutes in a preheated oven, stirring 1-2 times. Remove and let cool.
Place the pie crust in a 9-inch pie plate and crimp the edges of the crust.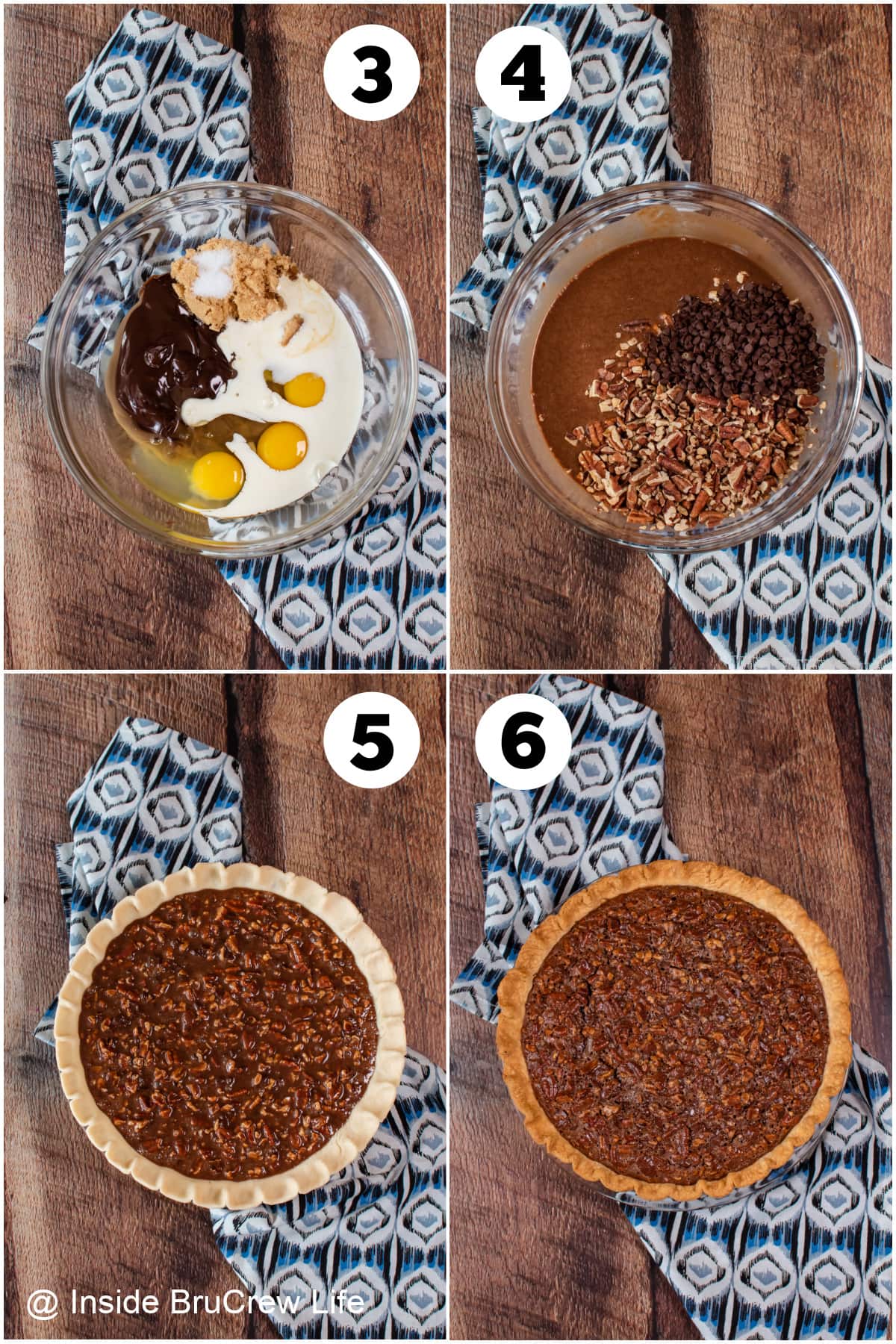 Make the Filling
Remove the lid from the jar of hot fudge and place it in the microwave for 30-40 seconds. Pour the fudge in a large bowl and whisk in the eggs, brown sugar, whipping cream, vanilla, and salt.
Gently stir the cooled toasted pecans and chocolate chips into the mixture.
Bake the Pie
Pour the filling into the prepared pie crust, cover the edges with a pie shield or foil, and bake.
Remove it from the oven and place on a wire rack to cool completely.
BruCrew Tip: The hardest part of making this pecan pie is letting it cool at least 2 hours before slicing into it.
Storage Recommendations
To Serve - You can serve this fudge pecan pie warm or cold. If it has been refrigerated, let the chilled pie come to room temperature before serving. You can also place the pie in a warm oven for 15-20 minutes.
In the Refrigerator - Let the pie cool completely on the counter, then cover it with foil. Refrigerate until you are ready to serve.
In the Freezer - The chocolate pecan pie freezes well. Wrap the entire pie or slices in plastic wrap, then place in a freezer safe storage bag or container. Freeze for 1-2 months. Thaw overnight in the refrigerator.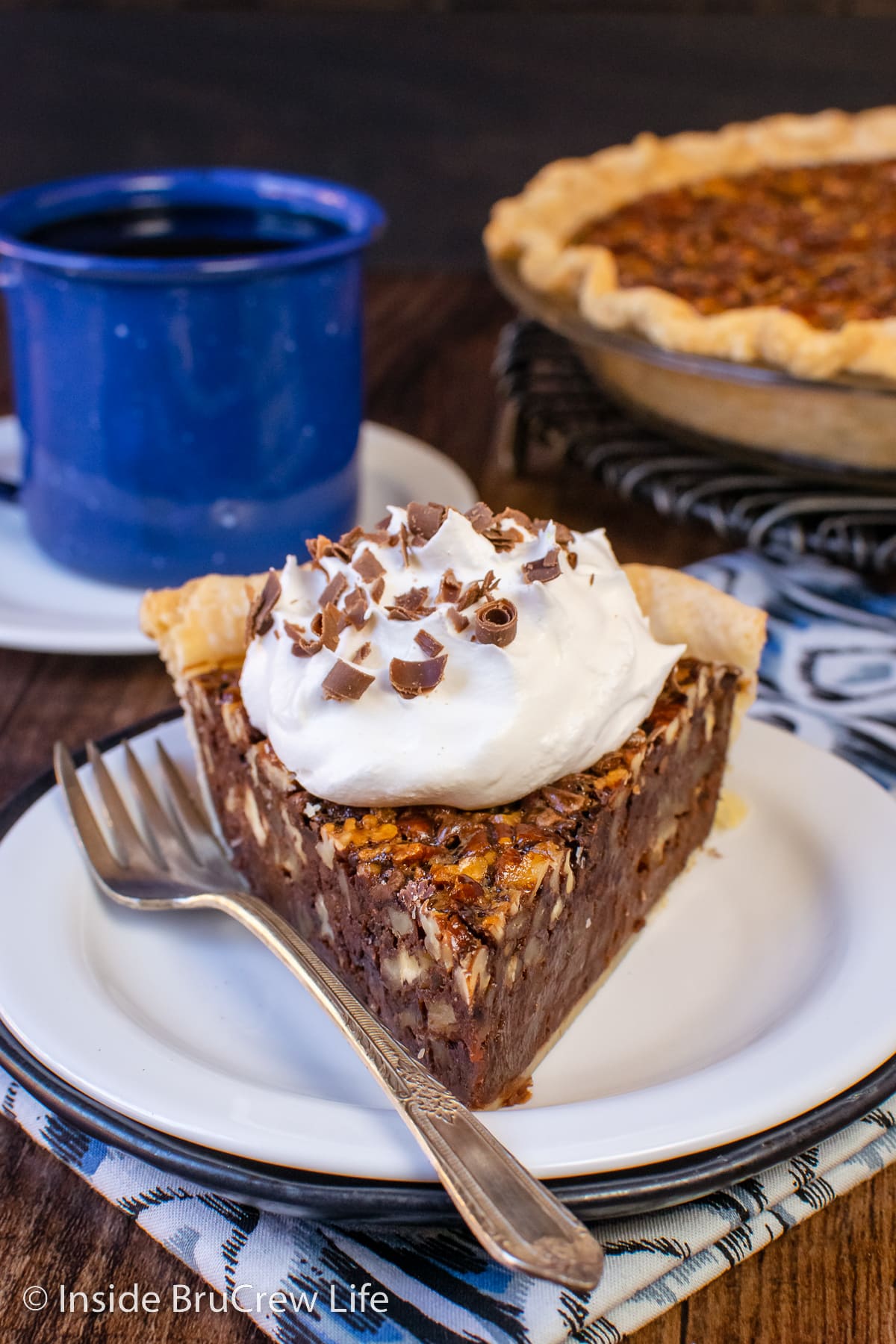 Baking Tips & Tricks
Here are a few baking tips as you get ready to make this chocolate fudge pecan pie this year.
For best flavor, toast the pecans on the stove top or oven. Add them in small batches to a hot skillet and stir often for 1-2 minutes. Or spread them out on a sheet pan and bake at 350° for 5-7 minutes.
Want to make a chocolate bourbon pecan pie? Add 1-2 tablespoons bourbon to the filling to deepen the flavor of the pie.
Top the pie with extra pecan halves. Press them into the filling making a circular pattern before baking the pie. It is optional, but makes the pie look extra pretty.
I like to use a pie shield to prevent the edges of the crust from browning too much. You can also use strips of foil.
Do NOT over bake the pie because then the center will be dry and crumbly. You want it set but still fudgy.
Make mini pecan pies by baking the filling in a muffin tin that has been filled with pie crust rounds. Adjust the baking time to around 15-20 minutes.
This chocolate fudge pecan pie is absolutely delicious on its own, but feel free to serve slices with vanilla ice cream or whipped cream.
Recipe FAQs
Can I make this pie ahead of time?
Yes, this is a great pie to make a few days before you want to serve it. Let it cool completely, then wrap with foil and refrigerate 2-3 days. You can serve it cold or let it come to room temperature before serving.
Do I have to toast the nuts?
No, you can add regular pecans to the filling and the pie will still taste great. We like to toast the pecans because it deepens the flavor of the nuts which adds more flavor to the pie filling.
Do I need to refrigerate a chocolate pecan pie?
This pie has an egg based filling, so it should be refrigerated within a few hours of baking and cooling.
Why is my pecan pie runny?
You should be able to slice the pie and it will hold its shape. If the filling is runny, then it was not baked long enough.

The top should be puffed up and slightly wiggly in the center when you take it out of the oven. It will set up as it cools.
Should my pie still be jiggly before I remove it from the oven?
The center of this pie should have a slight wiggle. However, the edges should be more firm. It the entire pecan fudge pie moves, then the pie is not done and needs to be baked longer.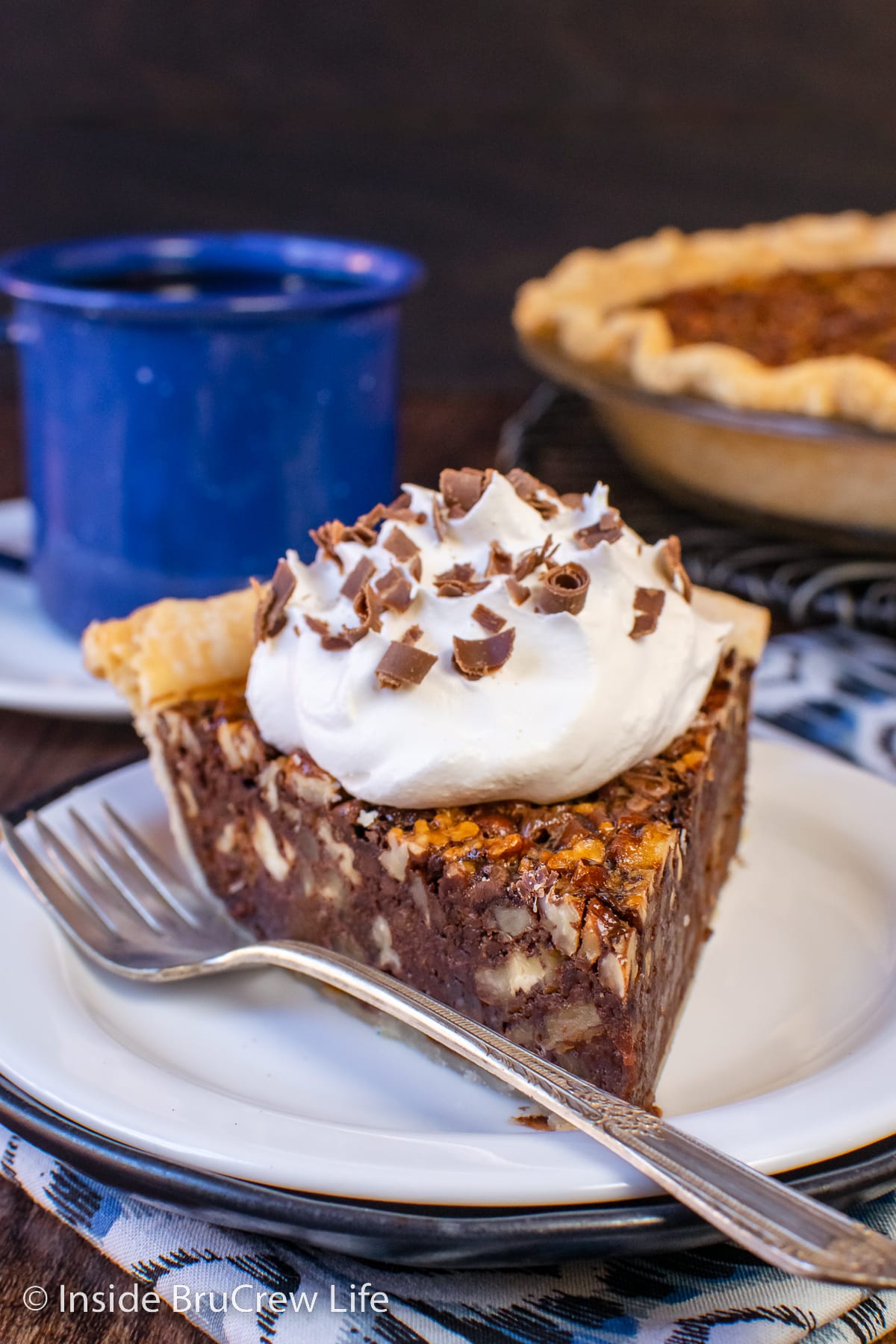 More Chocolate Pies
Other Holiday Pies
Do you love a recipe you tried from Inside BruCrew Life?
Please leave a 5-star ⭐️ rating and a review in the comments section below.
*The post for Chocolate Fudge Pecan Pie was first published November 2017. It has was updated and republished November 2022.
**We participate in the Amazon Services LLC Program, an affiliate program designed to provide a means for us to earn fees by linking to Amazon.com .