Add this Chocolate Fudge Pecan Pie to your Thanksgiving day dessert table this year. The gooey hot fudge layer and the toasted nuts will make this sweet treat a new favorite at Thanksgiving dinner.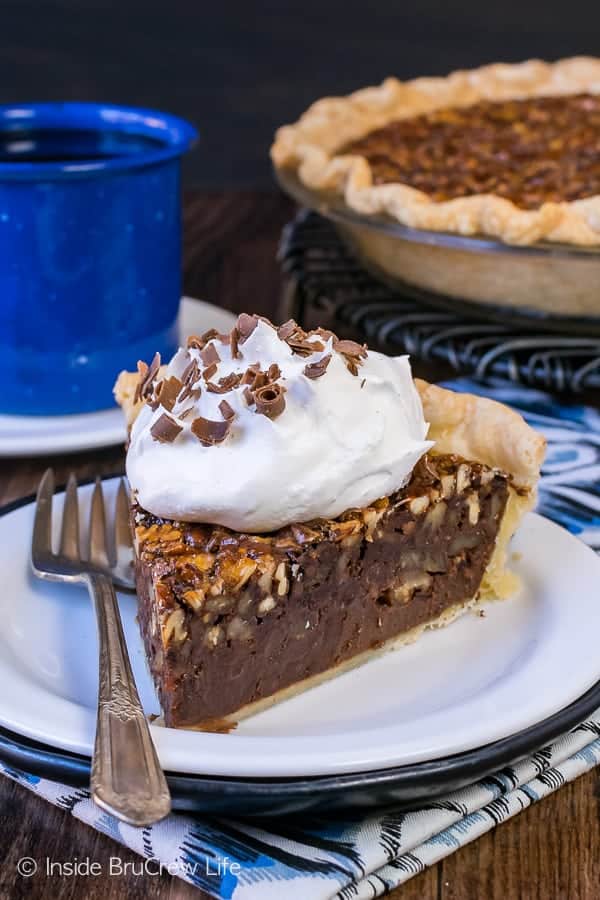 A few weeks ago I was going through some old magazines while we were driving. If we are going to be in the car for more than an hour at a time, I usually bring some magazines to read through. I like to call it "research" because you never know when or where you will find a recipe that you need to make.
Of course, this time of the year I am in pie mode. What is it about November that just makes you want to bake pies all the time? Ok, so maybe it's just me. The food blogger in me knows that November equals Thanksgiving. And what kind of Thanksgiving would it be without a table full of pie goodness. Am I right?
So, as I was flipping through the magazines I was specifically looking for a few pie ideas to work on. Now I have a list of pies that I want to try, but there are only two weeks until Thanksgiving. I probably waited a little too long to start doing my pie research. But that's ok because pie is really good any time of the year, so I'm planning on making them all at some point.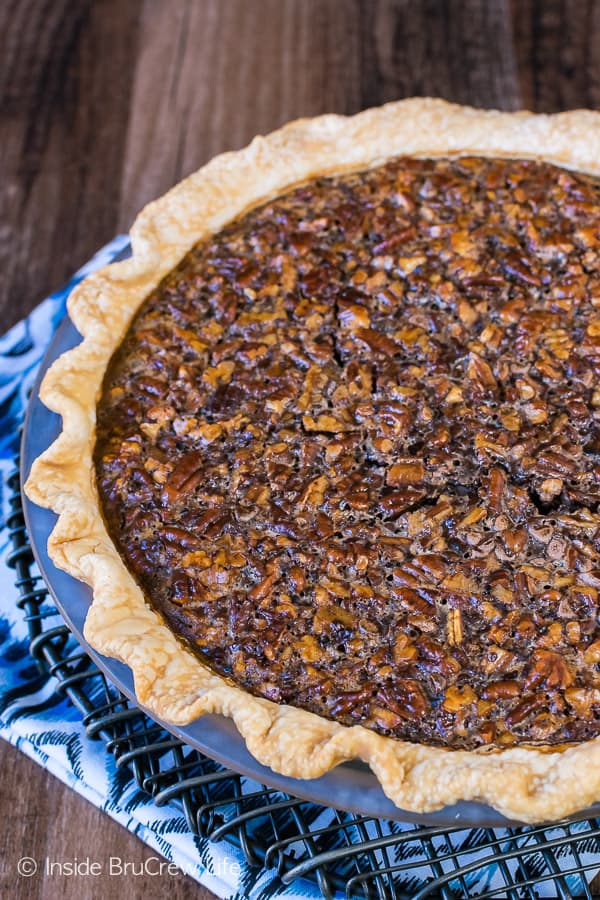 Pecan pie used to be one of those pies that I would just pass right over. It always seemed plain and boring to me. Little did I know that the gooey layer under the nuts was downright amazing. Now it's one of my favorites.
A few years ago, my husband and I decided to change up that plain pecan pie and we created this pecan cheesecake pie. It quickly became one of our favorites, and it gets made every year. In fact, it was so popular online too that I included it in my cookbook Cheesecake Love.
Then a few years later we tweaked it again and added some pumpkin to the mix. This pecan pumpkin cheesecake pie was so good that our friends who took it home with them were devouring it in the car. A pie that is so good you can't wait to get home and sit at the table needs to happen in your kitchen. Just saying.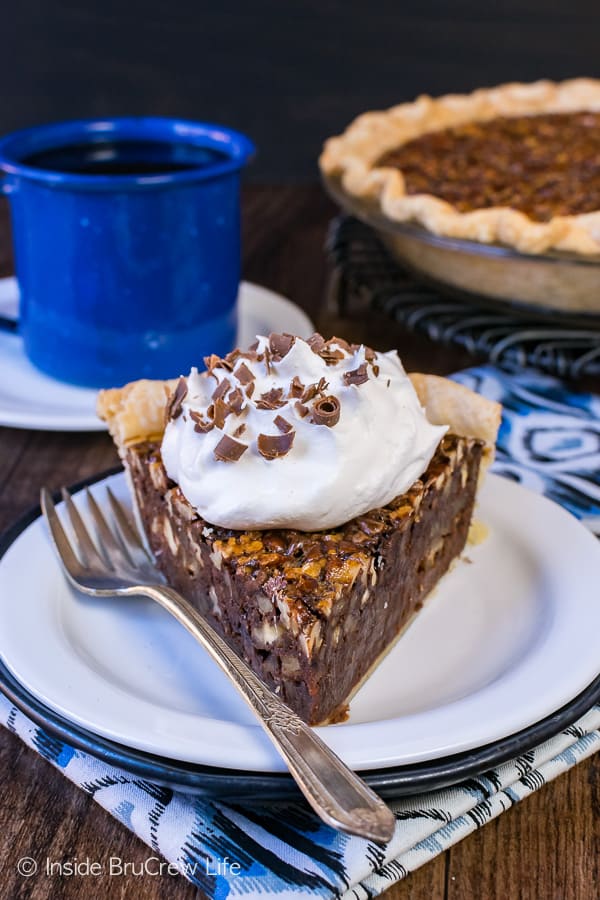 This year I'm changing things up again. As I was flipping through the old magazines, I saw a pecan pie that used a jar of caramel ice cream topping in place of the corn syrup. Immediately, my mind wondered if you could use hot fudge instead of caramel.
When I get these things into my head, I can't get them out until I get into the kitchen. I already had a few pie crusts in the fridge just waiting for me to get some pie inspiration, and there was a big bag of pecans and a few jars of hot fudge in the pantry. This pie was meant to be. I couldn't wait any long to test it out.
The toasted pecans and gooey fudge layer in this chocolate fudge pecan pie are a match made in heaven.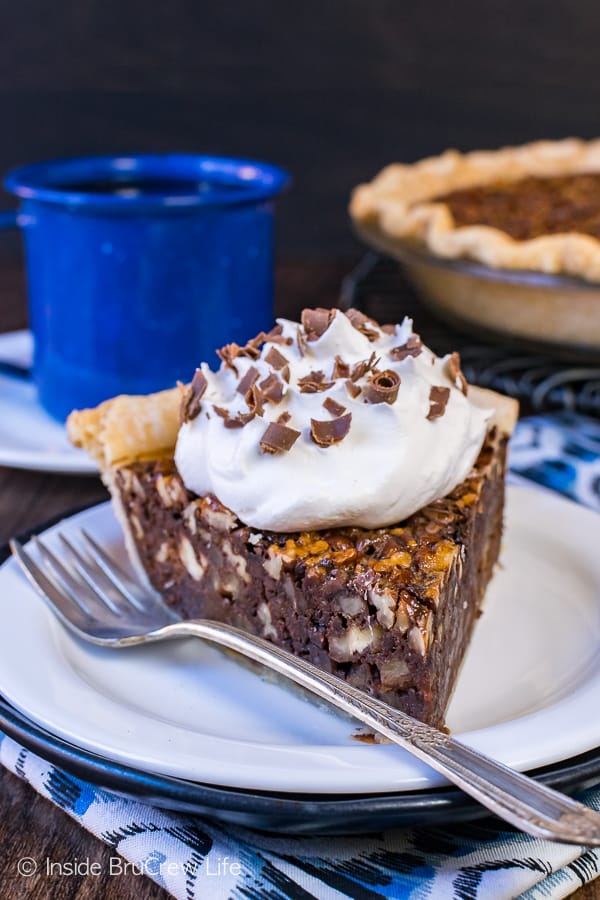 Here are a few baking tips as you get ready to make this chocolate fudge pecan pie this year:
Toast your pecans before you add them to your mixture. This allows the oils to come out of the nuts and deepens their flavor. Plus, your kitchen will smell so good as they toast. You can toast them in a skillet on top of the stove. Be sure to watch them carefully and move them around. This should only take 1-2 minutes for each batch of nuts. Or you can place them on a sheet pan and toast them in the oven for 5-10 minutes.
Place your pie crust in your pie plate and crimp the edges using your favorite method.
Heat the jar of hot fudge for about 30 seconds so that you can pour it out easily.
Whisk together the filling ingredients. Add the nuts and chocolate chips and stir again.
Pour into your prepared crust and bake. You can use a pie crust shield if you are worried about the crust burning.
Let the pie cool completely on the counter, then cover it tightly with foil. If you are making it a few days ahead of time, refrigerate until needed. Let the pie come to room temperature before serving.
Cool Whip and chocolate curls are optional. But not in our house.
If you are looking for a few more pies to add to your dessert table, make sure you check out a few must makes I found. I love the gingersnap crust on this cranberry pie. It looks and sounds amazing! This cinnamon pie looks like a simple but amazing dessert. And this white chocolate macadamia pie definitely needs to happen. Creamy cheesecake goodness with nuts and chocolate...I'm there!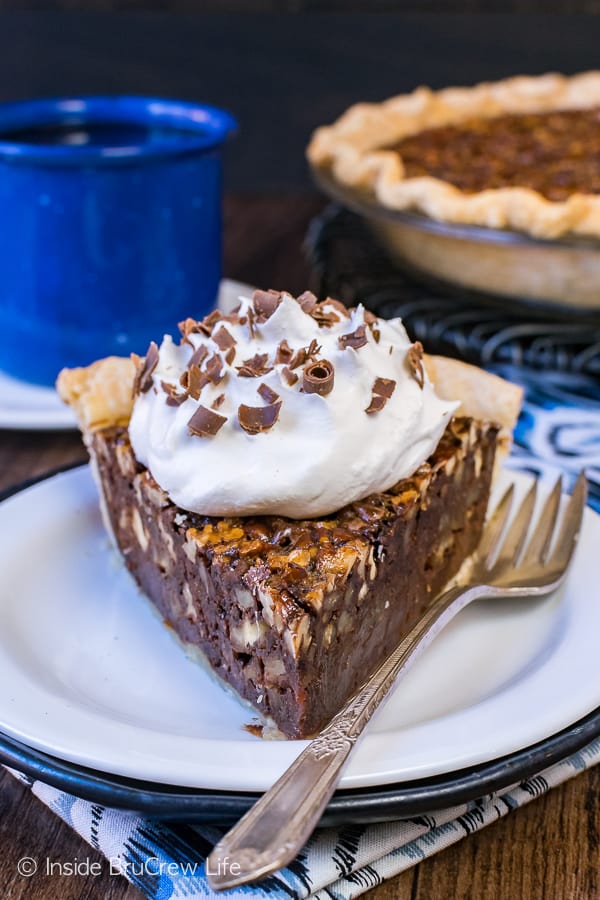 *This post contains affiliate links. Inside BruCrew Life may receive a small percentage from sales made through these free links. As always, these do not cost you any extra. Thank you for letting us share products we use and love.