A batch of these Raspberry Filled Chocolate Cupcakes will get smiles from everyone when they find the hidden pocket of pie filling. Spread love this Valentine's Day by making this easy cupcake recipe for your favorite people.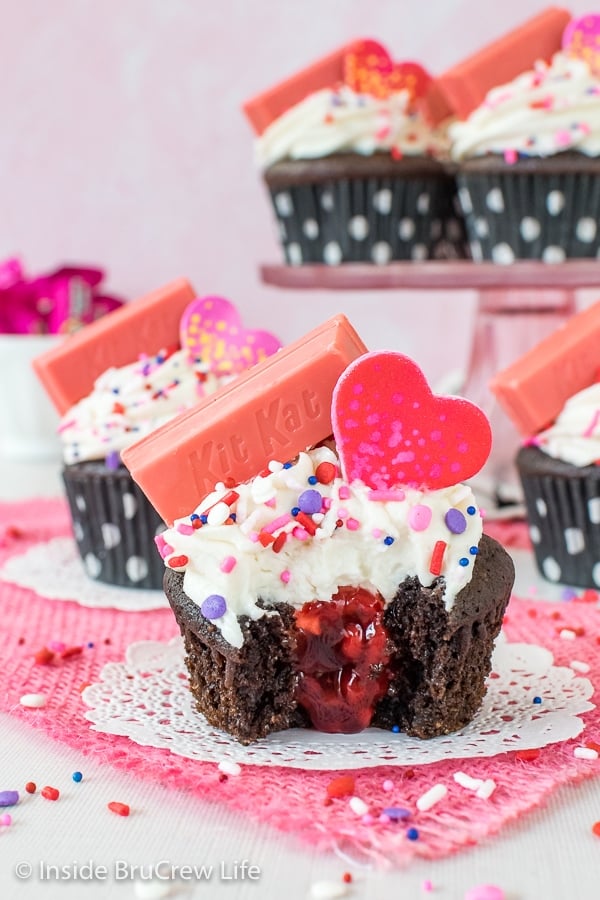 Why This Recipe Works
The combination of chocolate and raspberry is such a classic and delicious combination. The hidden pie filling inside soft chocolate cupcake reminded me of a decadent and dreamy truffle.
Of course, baking and frosting cupcakes is much easier and less time consuming than melting chocolate and dipping truffles one at a time. Give me cupcakes every time!
We had a small life group meeting this past weekend, and I realized that it has been nine months since I last baked cupcakes. So, guess what I made for dessert? You got it. Chocolate cupcakes!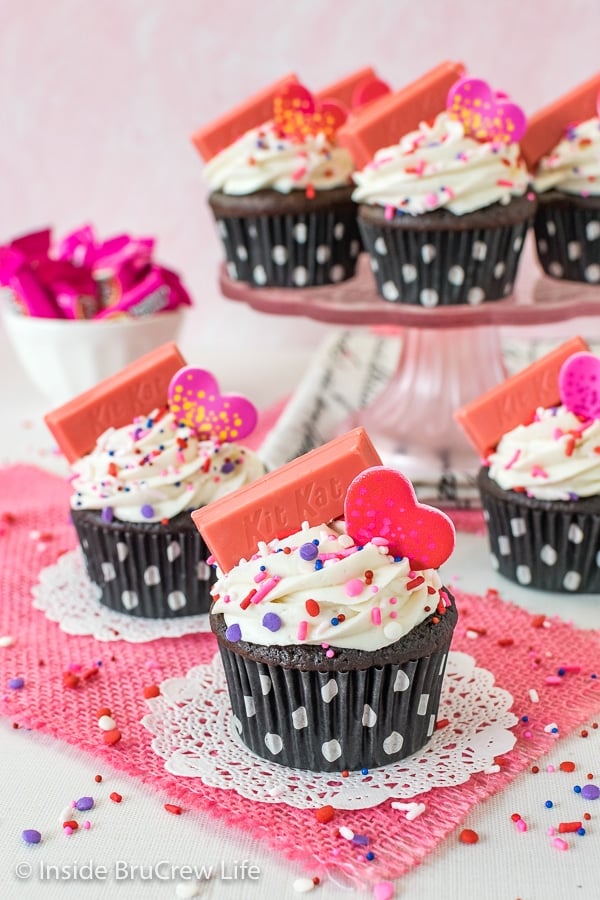 For the record, I do know how to make a cake from scratch. Every once in a while I get the urge to make something fancy and homemade like this dark chocolate layer cake.
But 9 times out of 10, I usually reach for a cake mix when I want to make a cake, cupcakes, or even cookies. Doctored up cake mixes are my specialty.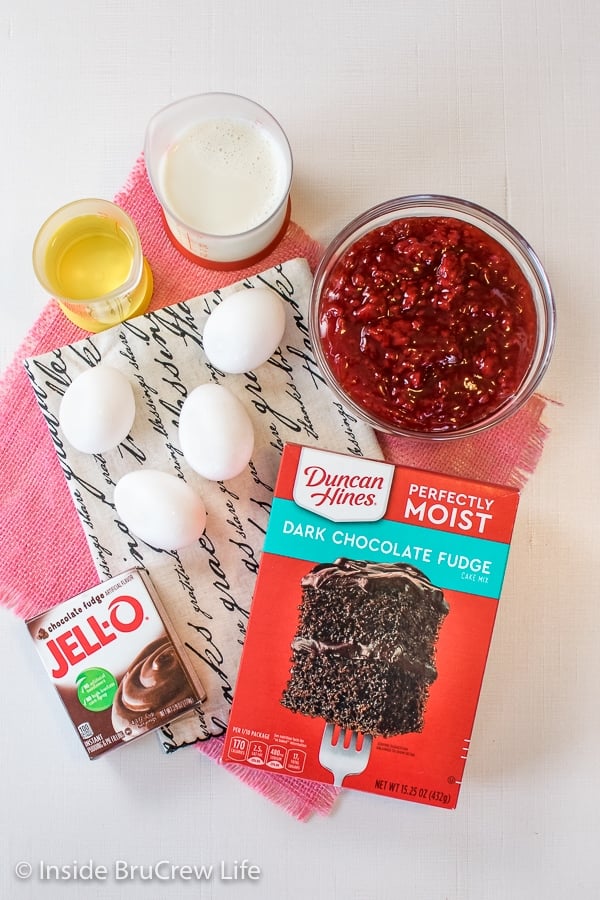 What You Need
Want to know how to make a box cake mix taste homemade? All you need are a few extra ingredients to give a dry cake mix a little bit of homemade flair.
A bowl, mixer, muffin tin, cupcake liners, and a few basic ingredients transform a cake mix into decadent bakery style cupcakes.
For the Cupcakes
Cake Mix - Feel free to use your favorite brand or flavor.
Instant Pudding - This adds a good texture and moisture to the cake crumb. Make sure the box says instant! Cook & serve pudding will not work.
Milk - Using milk, buttermilk, or even coconut milk gives cakes a more rich and homemade taste. Feel free to use water instead.
Eggs - Add an extra egg to the cake mix because of the additional ingredients and to add a richer flavor.
Oil - Cakes baked with oil tend to have a better even crumb texture and stay moist longer.
For the Filling and Frosting
A can of raspberry pie filling and vanilla buttercream frosting give these dark chocolate cupcakes a beautiful and tasty transformation.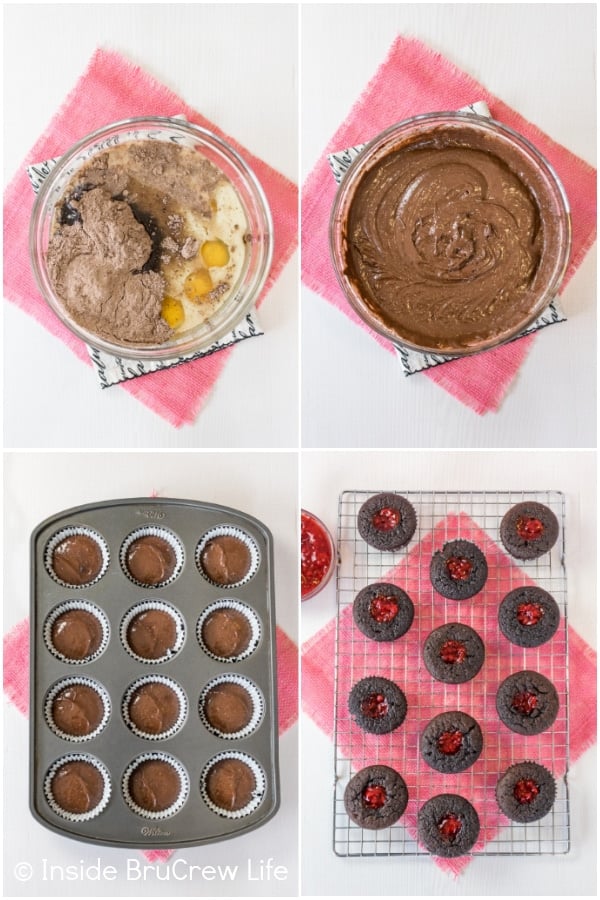 Chocolate Cupcake Filling Ideas
One of my absolute favorite things about cupcakes is biting into one and finding a surprise hidden filling. There are so many different things that you can add to the center of a cupcake.
Hot Fudge
No Bake Cheesecake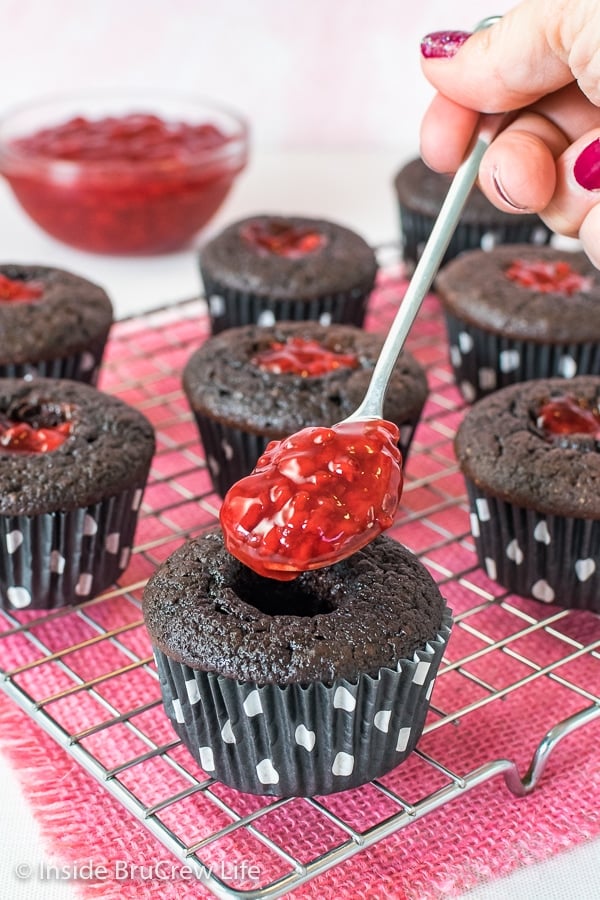 Filling Cupcakes
Make sure the cupcakes are completely cool before removing the center.
To remove the center of the cupcake, there are a few different tools you can use. Just make sure you do not go all the way to the bottom of the cupcake. Leave some cupcake on the bottom, so the filling does not leak out when the liner is removed.
Cupcake Corer - Press it into the center of the cupcake, twist, and remove.
Melon Baller - Insert in the center and twist it around to remove the center.
Small Paring Knife - insert it at a 45 degree angle and cut out a cone shape.
Large Pastry or Icing Tip - Press the large end into the center, twist, and remove.
Once you have filled the center with the filling of your choice using a spoon or piping bag, place a piece of the center you removed back on top before adding frosting.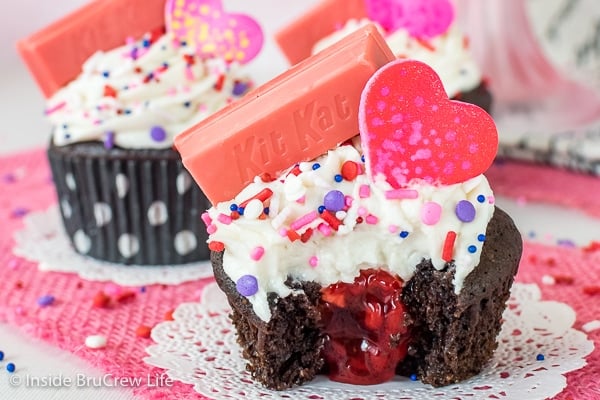 How to make Raspberry Filled Chocolate Cupcakes
Preheat your oven and line muffin tins with cupcake liners.
Mix together the cake mix, pudding mix, milk, eggs, and oil.
Spoon evenly into the cupcake liners and bake.
Once the cupcakes are cool, use a cupcake corer to remove the center of each one. Do not eat or throw away the center.
Fill with a spoonful of raspberry pie filling and place the center core back on top.
Spoon vanilla buttercream frosting into a piping bag with icing tip 1M on it. Swirl on top of filled cupcakes and add sprinkles.
Add candy bars and hearts right before serving.
Fun Variations
Use a different flavor pie filling for the hidden centers. Cherry or triple berry are also great in a chocolate cupcake.
Add a berry flavor to the homemade vanilla frosting with jams, preserves, or fruit purees. You may need to add additional powdered sugar in order to keep it pipeable.
Change up the sprinkles and decorations according to the season or holiday. Chocolate candy bars and fresh fruit are always a good option.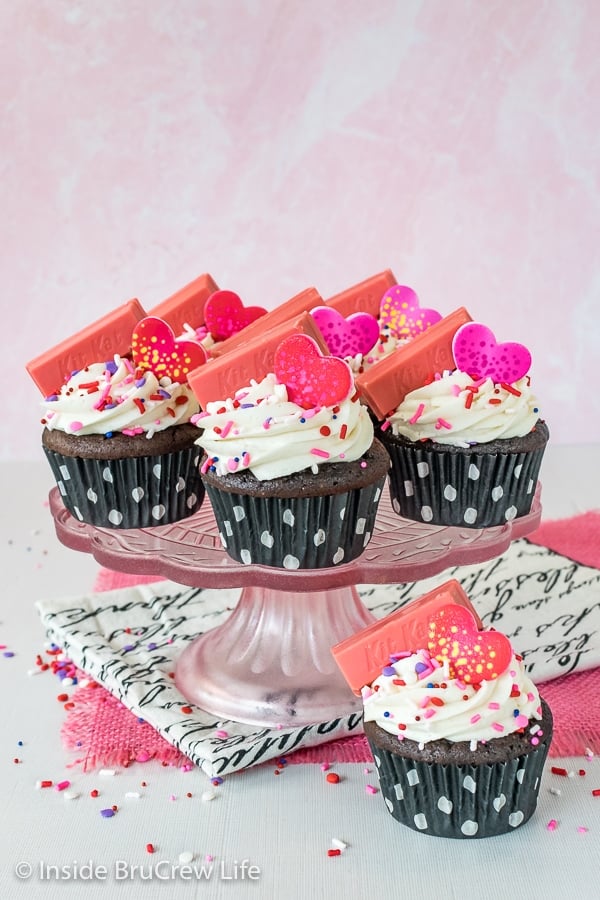 More Filled Cupcake Recipes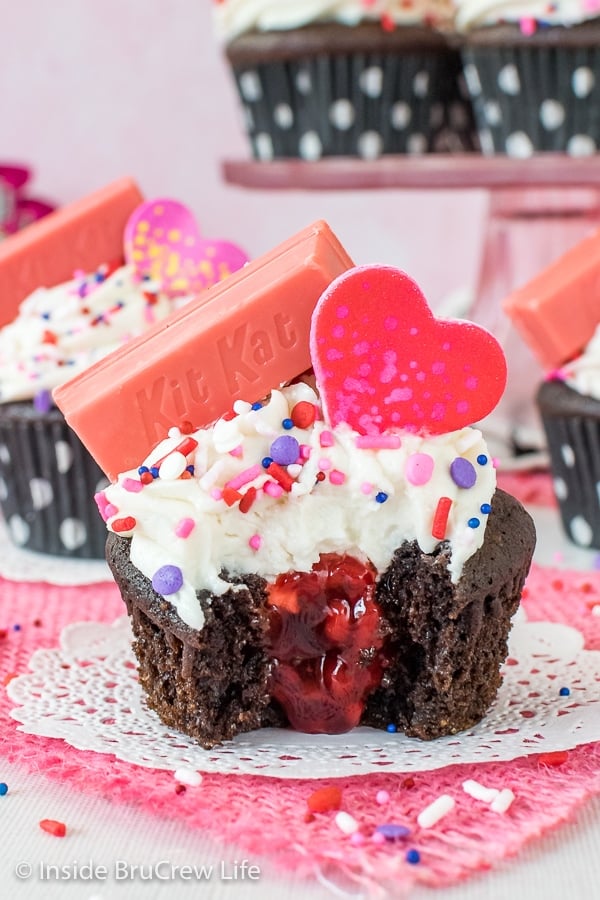 Do you love a recipe you tried from Inside BruCrew Life?
Please leave a 5-star ⭐️ rating and a review in the comments section below.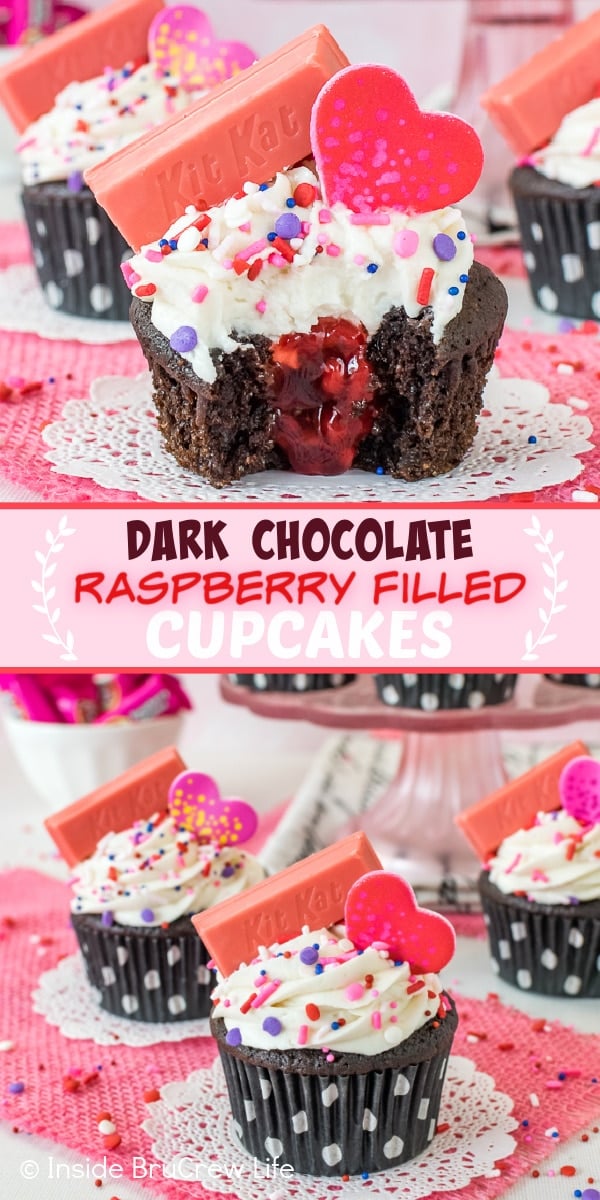 *There are affiliate links in this post. We receive a small percentage from sales made through these links. As always, we only share products we use and love. Thank you for your support.