These baked Apple Cider Donuts are cakey, flavorful, and coated in a delicious butter and cinnamon sugar coating. This is such an amazing apple donut recipe to make for breakfast this fall. Just be careful or you might eat the entire batch.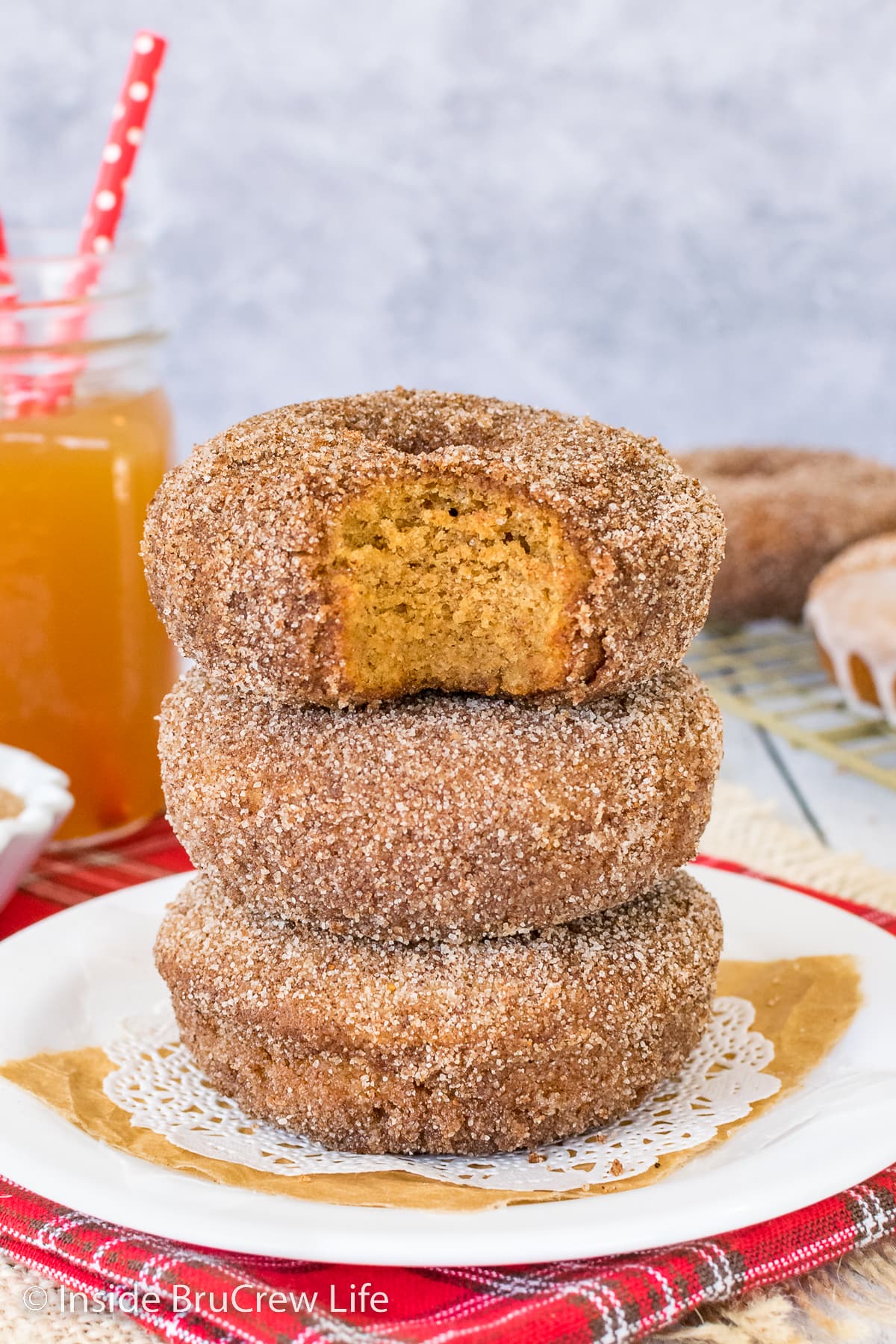 Jump to:
One of my favorite things about fall is picking apples to bake an apple cake and eating a few cider donuts. There is just something about those donuts that I can't resist.
I knew that I had to find a way to replicate those amazing farm donuts, so we could have them any time of year.
Why These Baked Apple Cider Donuts Work
The flavor and texture of these apple cider donuts is what makes them so good. They are dense, moist, and have a really good crumb texture.
A coating of butter and cinnamon sugar takes them over the top and makes them taste just like the ones from a bakery or apple orchard. You will love how they are crunchy on the outside and soft on the inside.
In less than an hour, you can have a batch of homemade apple cider donuts sitting in your kitchen waiting to be devoured.
Key Ingredients Needed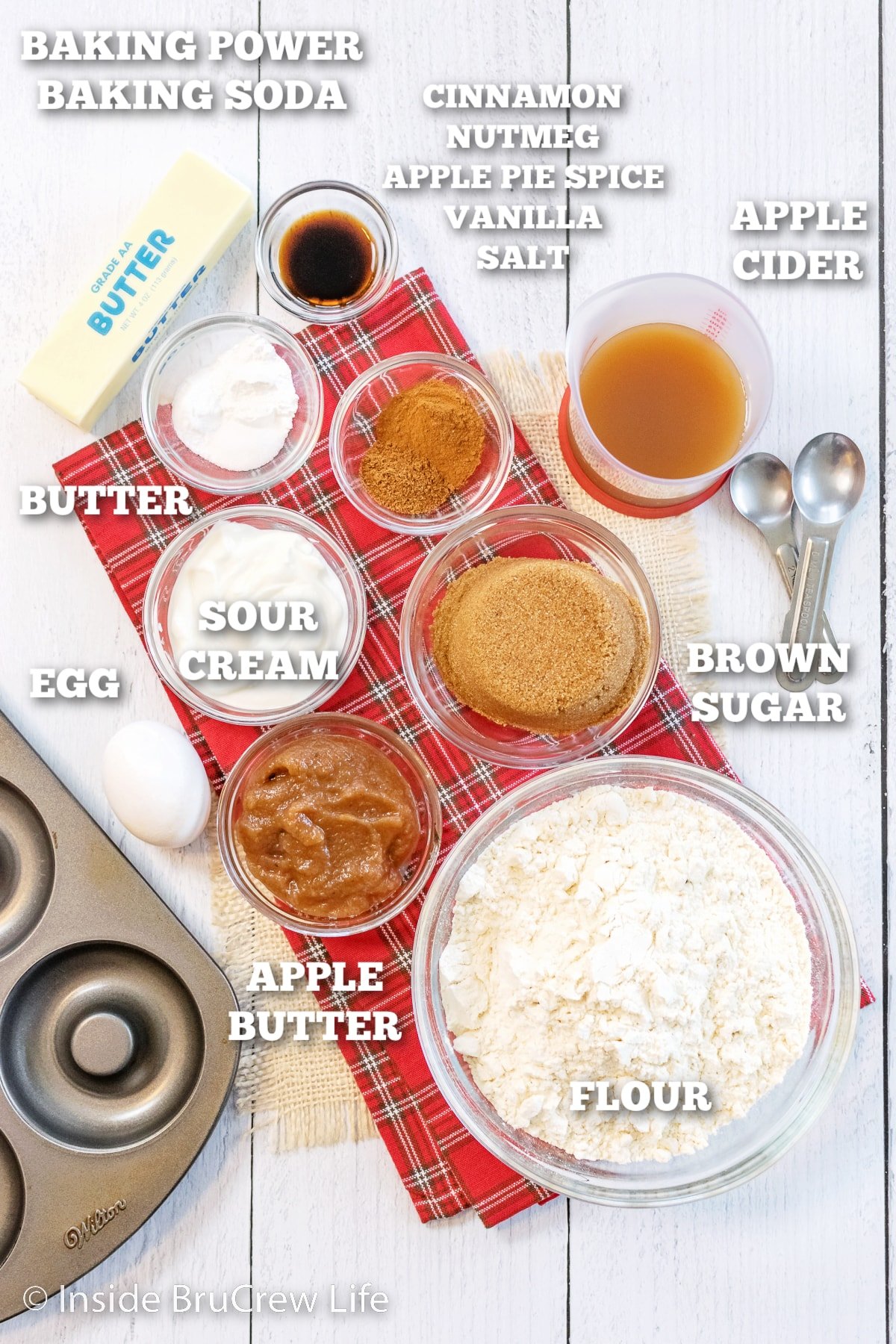 Use a few simple ingredients from your pantry and the grocery store to make this easy apple cider donut recipe.
Butter - Use unsalted butter to control the amount of salt in the recipe.
Brown Sugar - Sweetens the donuts and keeps them moist.
Apple Cider - Adds a delicious cider flavor.
Sour Cream - Gives the donuts moisture and a soft texture. You can also use plain Greek yogurt.
Apple Butter - Find this delicious spread in the peanut butter and jelly aisle of grocery stores. Our homemade apple butter is also a great choice.
Apple Pie Spice - This blend of cinnamon, nutmeg, and all spice adds such a delicious flavor to the coating on these baked donuts.
Baking
with Apple Cider
Regular apple cider is best for drinking cold or warm, but it will not add much flavor if you bake with it. There is a trick to getting a good apple cider flavor in baked goods.
The flavor comes from concentrated apple cider. Simmering apple cider over low heat until it is reduced down and thick gives it a stronger flavor that stands out when you bake with it.
Reducing apple cider intensifies the flavors in the cider. Taking the time to do this step will give your baked goods so much extra flavor.
Make sure to let it cool before adding it to your batter. I like to do this step the night before, so it is ready to go the next day.
How to make Apple Cider Donuts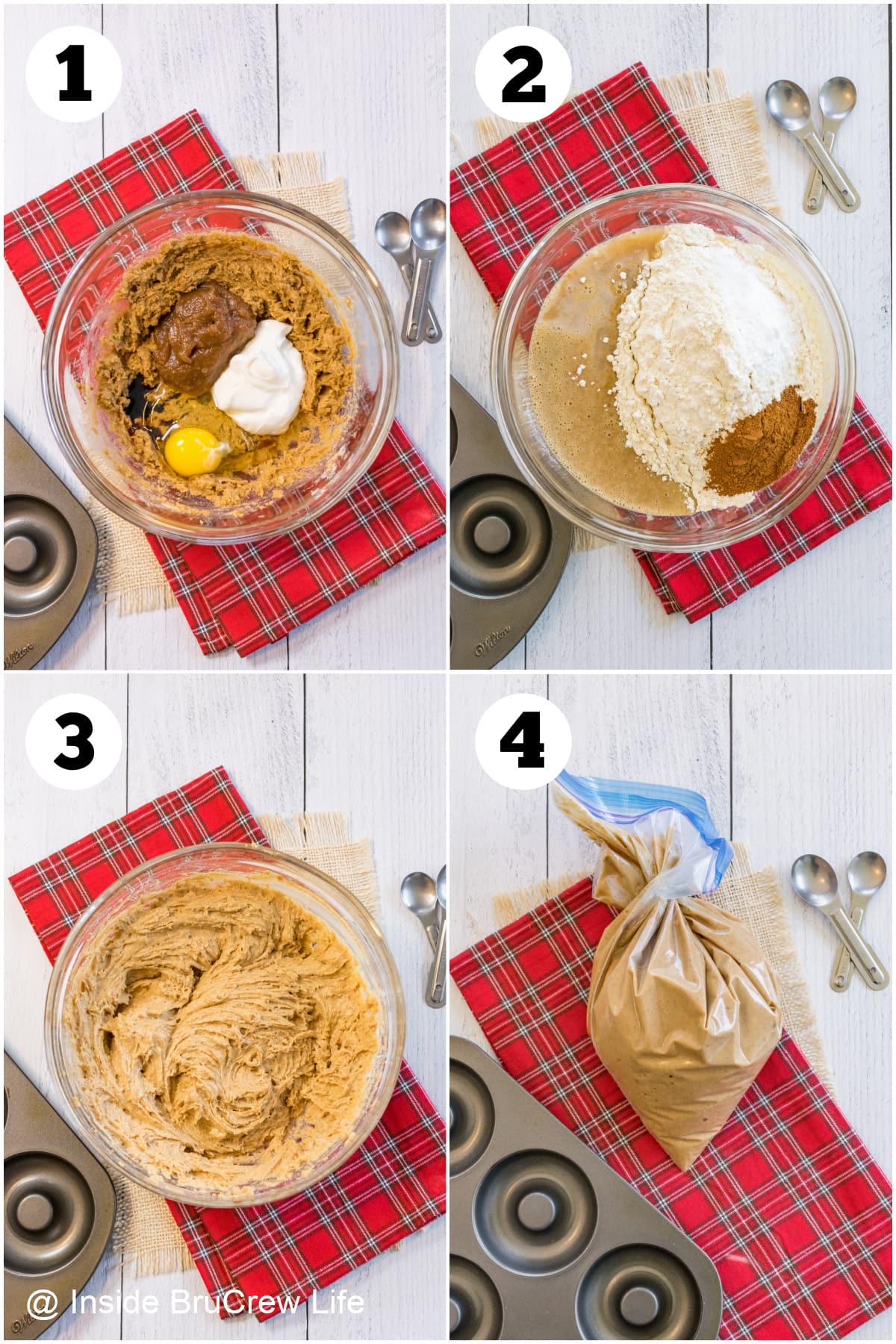 This apple cider donuts recipe comes together in minutes. Just leave yourself enough time to dip and coat each donut. You are going to love the crunch and flavor that it gives these donuts.
Make the Donut Batter
Beat the butter and sugar in a large bowl until creamy. Add the apple butter, vanilla extract, egg, and sour cream and mix again.
Add the dry ingredients and cooled reduced apple cider and mix it until it forms a soft batter.
Spoon the batter into a large ziplock bag and cut one corner off.
Squeeze the donut butter into a greased donut pan, filling each cavity ½-3/4 full.
Bake and Cool the Donuts
Place the donut pan in the oven and bake. Test to see if the donuts are done by pressing the top of a donut with your finger. It should spring or bounce back if they are done.
Let the donuts cool in the pan 2 minutes, then gently remove the donuts and place on a cooling rack.
Wipe the pan out with a paper towel, re-grease, and bake the remaining batter.
Once the apple cider donuts are warm but cool enough to handle, dip them one a time into melted butter. Roll them in a sugar mix right away.
BruCrew Tip: You can also dip the cooled donuts in a glaze and sprinkle the granulated sugar coating on top, if you like. We tried it both ways, but I have to admit the donuts dipped in butter are way better!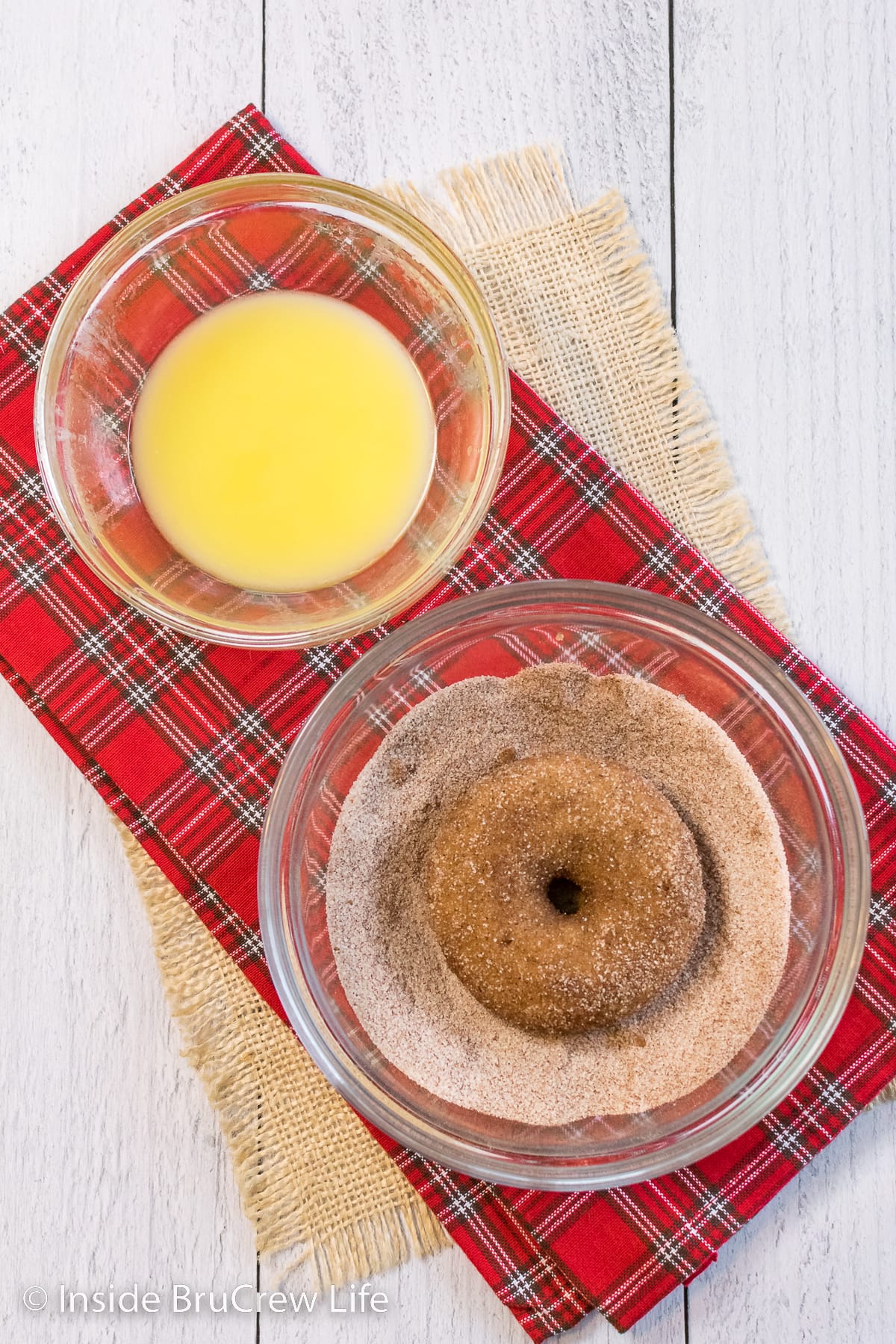 Storage Recommendations
These apple cider donuts really are best on the day that they are made. You can keep leftover donuts in a tightly sealed container. They will keep for 2-3 days on the counter. Pop one in the microwave for a few seconds before eating.
You can also freeze the donuts by placing them in a freezer safe bag with parchment paper between each donut. Freeze for 1-2 months. Remove from the bag and thaw on the counter for at least 30 minutes before serving.
Tips and Tricks
Use reduced apple cider for best flavor. Place 1 ½ cups apple cider in a pan and bring to a very low boil. Turn the heat down and simmer until it is reduced to ½ cup.
Make sure to dip the donuts while they are still warm. This allows the butter to really soak in and make them extra delicious.
Use a large Ziplock bag to fill the donut pan without a mess. Do not squeeze too hard or the batter will over flow the pan or pop the bag.
Do not over bake these apple cider doughnuts. The tops should spring back if you press on them lightly.
Want a traditional fried donut? These donut sticks will not disappoint.
FAQs
What is apple cider?
Apple cider is the raw and unsweetened juice from apples. It is not filtered or processed, so there may be pulp in the juice.
Can I use apple juice for these donuts?
You can use apple juice, but your donuts will not have a very strong apple flavor. Apple cider really does give the best flavor.
Why are apple cider donuts so special?
Adding fresh apple cider that has been reduced down to a concentrated form gives these donuts a delicious flavor that tastes so good.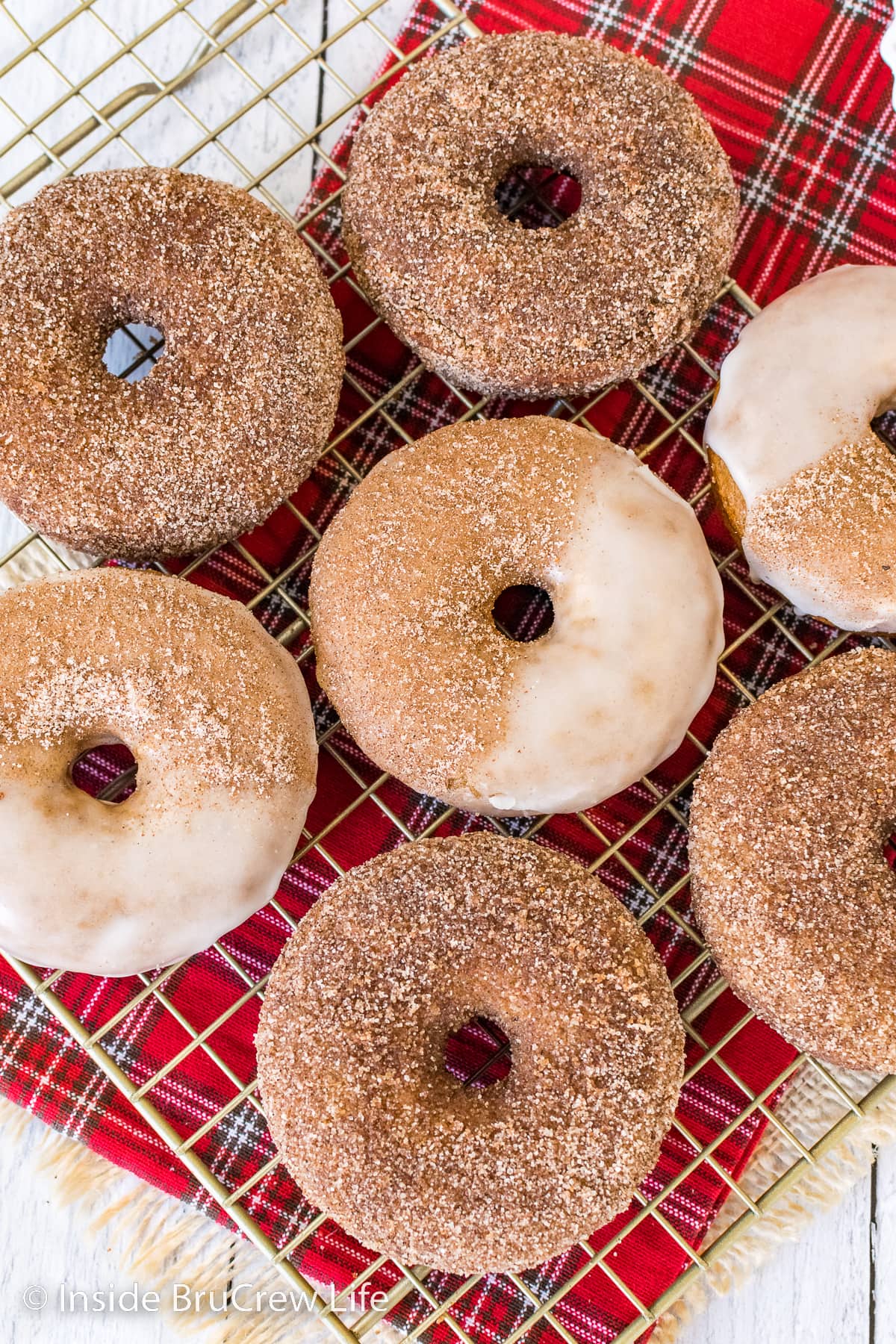 More
Apple Cider

Recipes

Do you love a recipe you tried from Inside BruCrew Life?

Please leave a 5-star ⭐️ rating and a review in the comments section below.

*This post was first published October 2010. The pictures were updated November 2020, and the post was republished September 2022.