These baked Apple Cider Donuts are cakey, full of flavor, and coated in butter and cinnamon sugar, and taste amazing. Such a fun and delicious donut recipe to make for breakfast.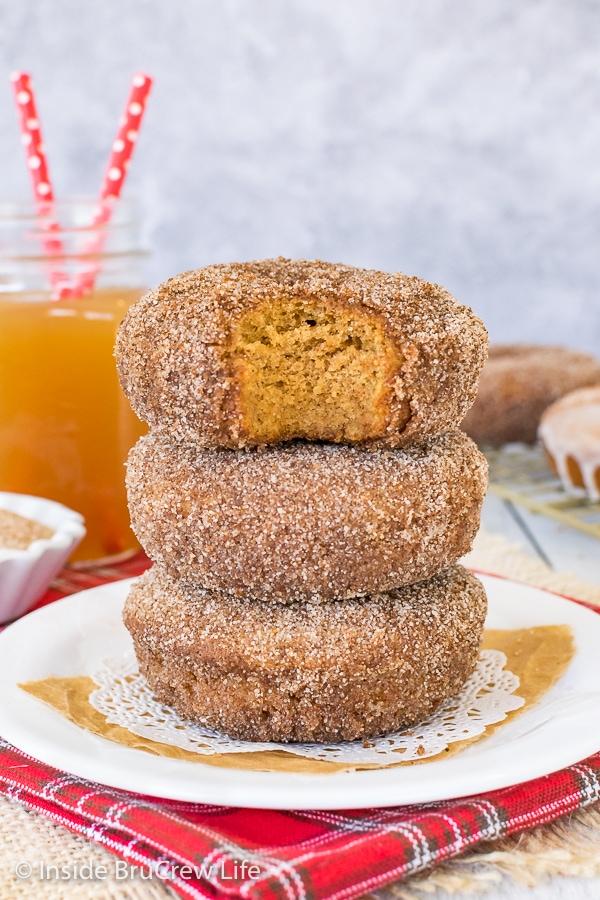 One of the things I miss about living in the Midwest is going to apple orchards to pick apples. I'm pretty sure my husband and kids just humored me each year when I would make them go with me.
Every year we would head out to orchard for a day of apple picking. Ok, ok! To be honest, these trips were more about the cute fall pictures of the kiddos picking the apples. And then baking with the apples was the next best thing.
I used to be on team pumpkin when it came to fall treats, but the last few years I have found myself on team apple all the way. I just can't get enough of things like this Apple Cinnamon Pull Apart Bread or this Snickerdoodle Apple Cake.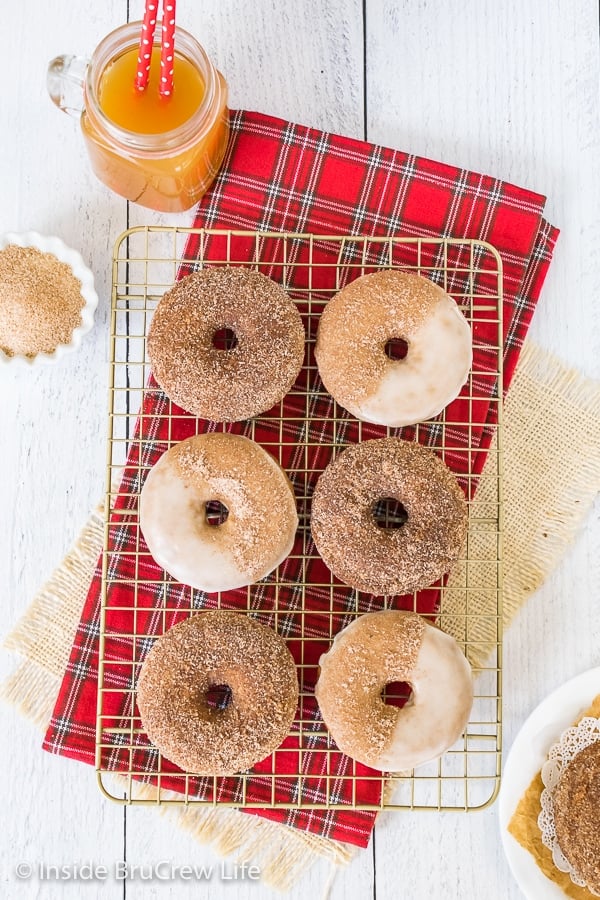 Apple Cider Donuts
The flavor and texture of these baked apple cider donuts is what makes them so good. They are dense and muffin-like, but they also have a really good crumb texture.
Adding the buttery, cinnamon sugar coating takes them over the top and makes them taste just like the ones from a bakery or apple orchard.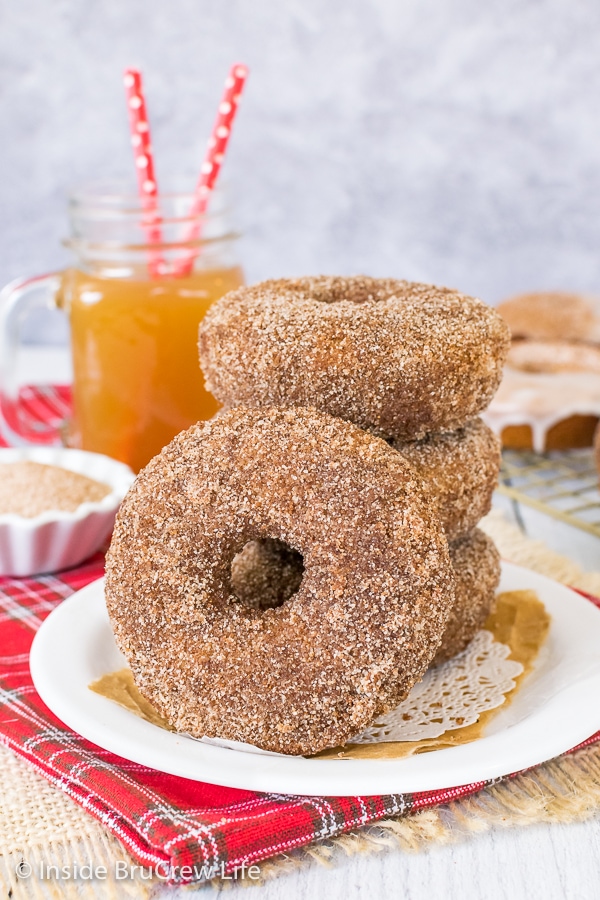 How to get Apple Cider Flavor
Regular apple cider is best for drinking cold or warm, but it will not add much flavor if you bake with it. There is a trick to getting a good apple cider flavor in baked goods.
The flavor comes from concentrated apple cider. Simmering apple cider over low heat until it is reduced down and thick gives it a stronger flavor that stands out when you bake with it.
Reducing apple cider intensifies the flavors in the cider. Taking the time to do this step will give your baked goods so much extra flavor.
Make sure to let it cool before adding it to your batter. I like to do this step the night before, so it is ready to go when I want to bake.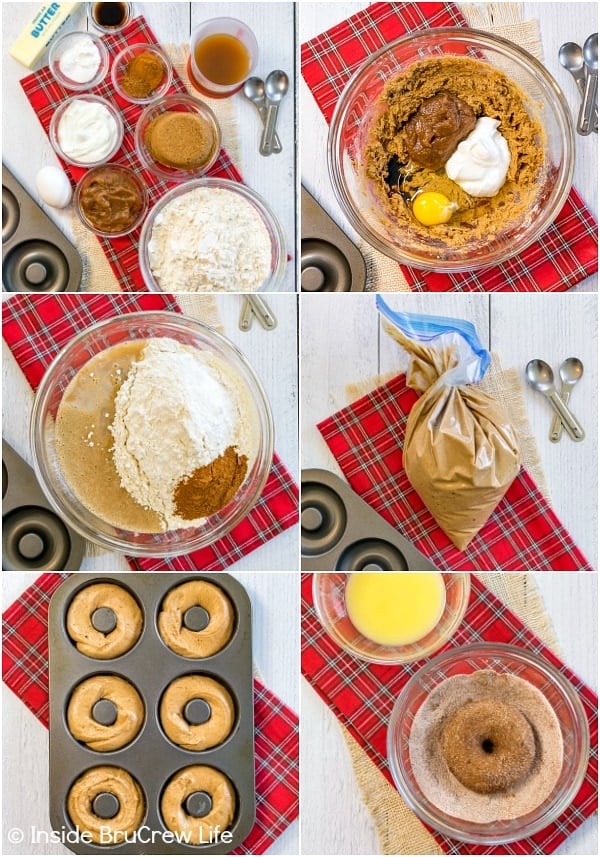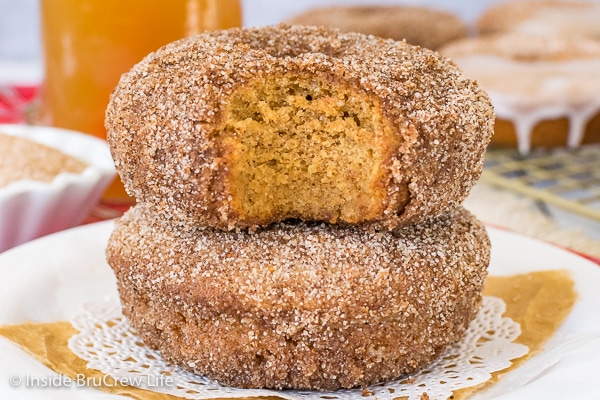 How to make Apple Cider Donuts
My favorite part about these apple cider donuts recipe is the coating. I like to use a mixture of granulated sugar mixed with apple pie spice.
Apple pie spice has a blend of cinnamon, nutmeg, and all spice. There is something about the all spice that adds such a delicious flavor to the coating on these baked donuts. You can also use this Cinnamon Sugar if you prefer less spice.
Reduce the apple cider. Place 1 ½ cups apple cider in a pan and bring to a very low boil. Turn the heat down and simmer until it is reduced to ½ cup.
Beat the butter and sugar until creamy. Then add the apple butter, vanilla, egg, and yogurt and mix again.
Add the dry ingredients and cooled reduced apple cider and mix until it forms a soft batter.
Spoon the batter into a large ziplock bag and cut one tip off.
Squeeze the donut butter into a greased donut pan, filling each cavity half full.
Bake. Test to see if the donuts are done by pressing the top of a donut with your finger. It should spring or bounce back if they are done.
Let the donuts cool in the pan 2 minutes, then gently remove the donuts and place on a cooling rack.
Wipe the pan out with a paper towel, re-grease, and bake the remaining batter.
Once the apple cider donuts are cool enough to handle, dip them one a time into melted butter and roll in sugar mix.
You can also dip the cooled donuts in a glaze and sprinkle the coating on top, if you like. We tried it both ways, but I have to admit the donuts dipped in butter are way better!!!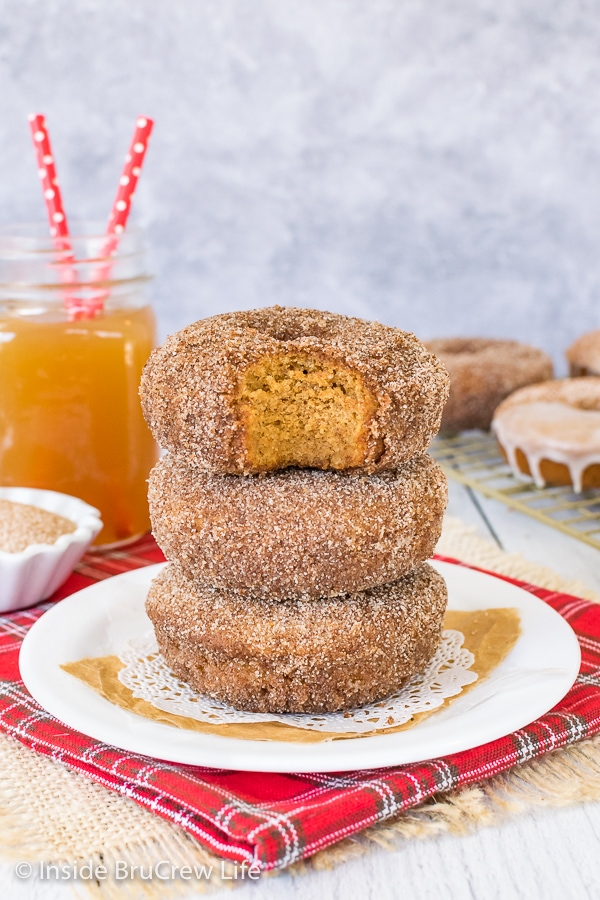 Uses for Apple Cider
Apple Recipes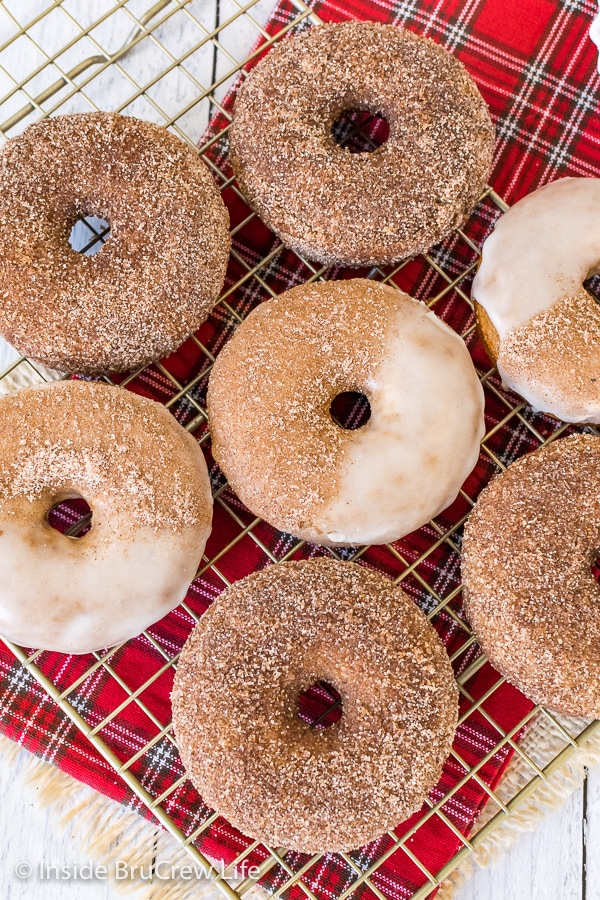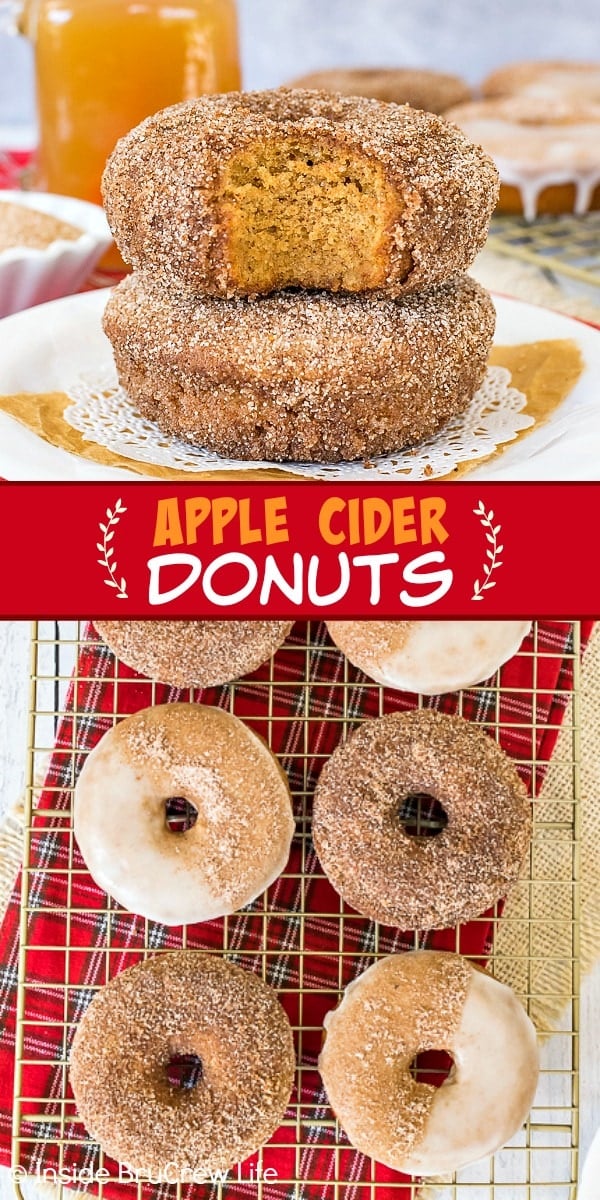 *The post for Apple Cider Donuts was first published October 15, 2010. The pictures and post were updated and republished November 10, 2020.