Enjoy a delicious lunch or dinner with this Chicken Salad with Grapes. Loaded with savory dill, crunchy nuts, and juicy fruit, this chicken salad recipe is a winner of a chicken dinner. Serve it on bread, wrap it up, or add it to a salad - you can't go wrong.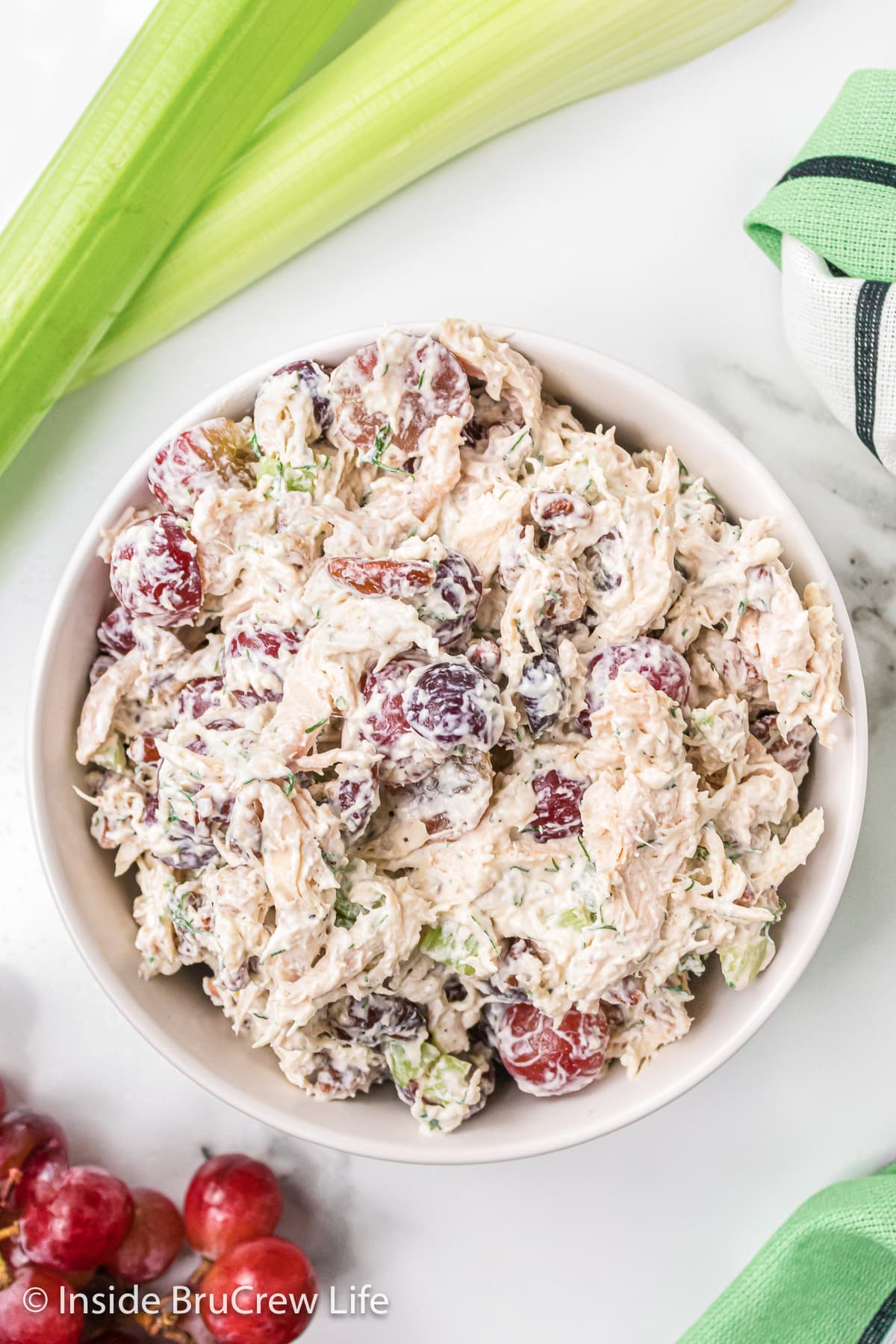 Jump to:
Chicken salad is a classic dish that our family has been enjoying for years. It is versatile, delicious, and can be served in a variety of ways. A few of our favorites are this spicy chicken salad recipe and this Hawaiian chicken salad.
Have you had the pecan chicken salad from Arby's? I love that they include fruit and nuts in their chicken salad recipe.
Unfortunately, it is only available for a limited time each year. So, I was inspired to make my own version of their chicken salad recipe, so we can enjoy it all year long.
Why Make this Chicken Salad
This chicken salad recipe with grapes is the perfect meal to make on busy nights. Your whole family will enjoy this fresh and delicious salad for dinner.
Comes together quickly. Using a store-bought rotisserie chicken saves time in the kitchen.
Sweet and savory flavor. The sweetness and juiciness of the grapes complement the savory flavor of the chicken salad. It creates a perfect balance of flavors that is both refreshing and satisfying.
Incredibly versatile. You can serve it on a bed of lettuce, as a sandwich, or as a dip with crackers or vegetables. It makes for a great meal prep option that can be stored in the fridge for several days and eaten on the go.
Great for picnics or potlucks. It's easy to make ahead of time and travels well, so it is the perfect recipe for any occasion.
Whether you enjoy this as a full meal or a light snack, the flavor, texture, and colors make it perfect for showers and special gatherings.
Ingredients Needed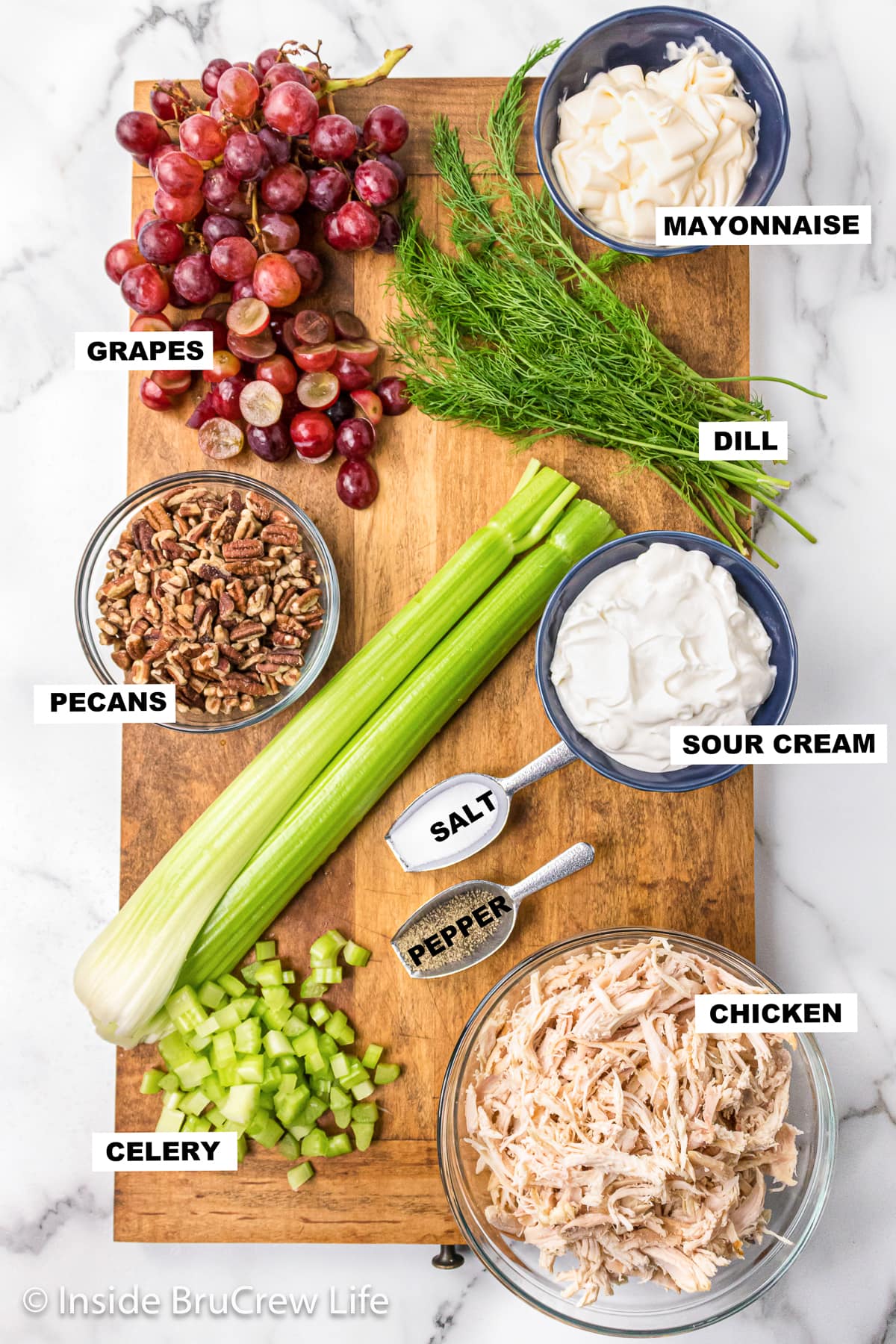 Chicken salad is one of those recipes that you can change up to include your favorite ingredients. We feel that the combination of these ingredients makes this grape pecan chicken salad the best.
Chicken - We like to use a shredded rotisserie chicken from Sam's Club to save time. You can also roast your own chicken, use grilled chicken breast, or canned chicken.
Seedless Grapes - Gives the chicken salad a delicious sweet taste. Feel free to use red or green grapes, depending on your preference. Red grapes tend to be sweeter, while green grapes are a little more tart.
Celery - Adds a delicious crunch and fresh flavor. Leave it out if you don't have any or don't like it. You can also use green onions or green peppers in place of it.
Pecans - Dice the nuts into small bite sized pieces. Toast the nuts ahead of time to give the chicken salad a unique and delicious taste.
Mayonnaise & Sour Cream - A combination of these creates a creamy base for the other ingredients. You can also use Greek yogurt if you want to lighten the recipe up.
Fresh Dill - Gives a fresh flavor.
Salt & Pepper - Use to season the pecan chicken salad to taste.
How to make Chicken Salad

with Grapes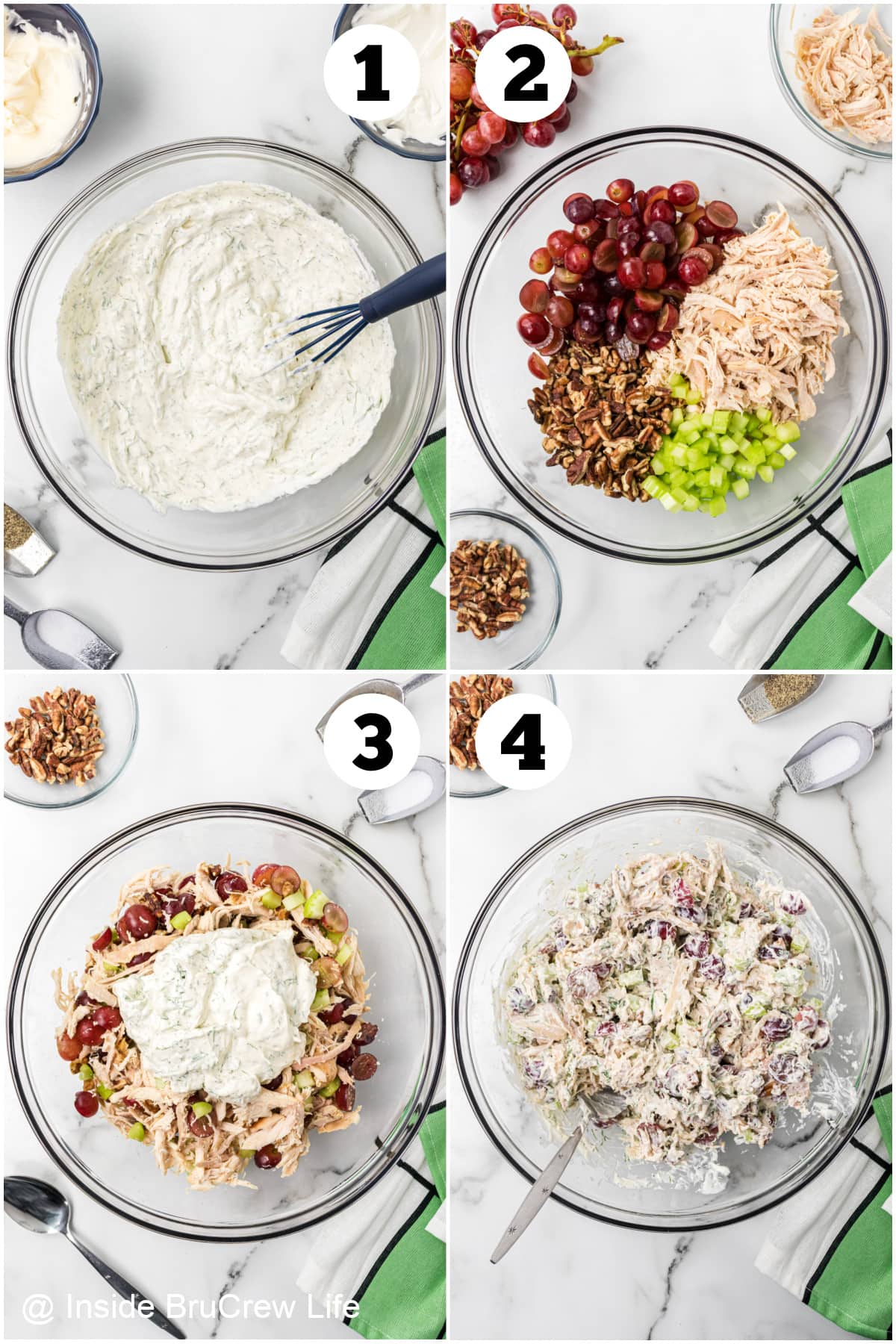 This chicken salad recipe is so easy to make in under 30 minutes when you use a rotisserie chicken. It's perfect for eating on bread or on greens all week long.
Make the dill sauce. Mix together sour cream and mayonnaise in a small bowl. Chop the fresh dill into small pieces, removing the stems. Stir into the creamy mixture.
Prep the ingredients. Debone and shred the cooked chicken. Dice the celery and pecans; cut the grapes in half.
Assemble the chicken salad. Stir the chicken, celery, pecans, and grapes in a large bowl. Pour the dill sauce on top and stir everything together.
Season and refrigerate. Add salt and pepper to taste. Refrigerate 1 hour to allow the flavors to meld together.
Variations
Different fruits. Try using dried cranberries, chopped apples, fresh cherries, and pineapple in this chicken salad recipe.
Change up the herbs. Parsley and cilantro are great choices.
Make it mayo-free. Use a mixture of sour cream and Greek yogurt. You can also use ranch, avocado lime dressing, or a mixture of any of these.
Use different nuts or seeds. Walnuts and almonds are delicious in this too.
Storage Recommendations
Store the chicken salad in an air tight bowl in the refrigerator for up to 4 days. Give it a stir before serving.
I do not recommend freezing chicken salad because it will be a watery mess when it thaws out. If you like, freeze the chicken alone, then defrost and make the chicken salad when you need it.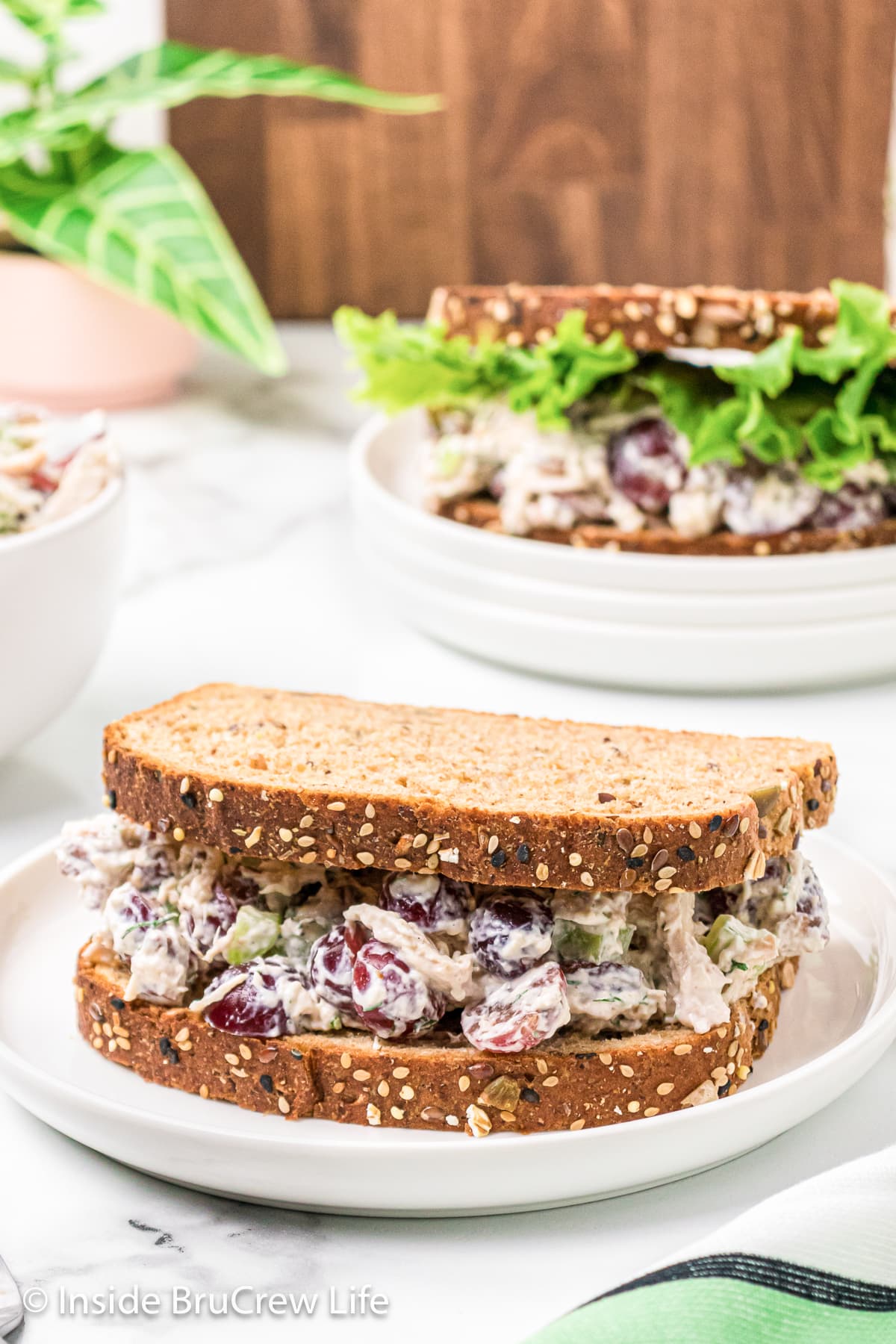 Tips

and Tricks
Save time by using a store-bought rotisserie chicken. We usually keep bags of shredded chicken in our freezer for chicken salad, or easy meals like this chicken pasta bake or this chicken avocado quesadilla.
Fresh dill gives this grape chicken salad its unique flavor. You may think that it seems like a lot of dill, but when you use fresh herbs you use more. Do not pack the chopped dill in your measuring cup.
If you are using dried dill for this recipe, please use about ⅓ of the amount. Dried herbs have a much more concentrated flavor, so you need to use less.
If you want yours to taste just like the Arby's pecan chicken salad, leave the dill out.
Make sure to chop all your ingredients into bite sized pieces. Not only is it easier to eat, the salad can blend and meld together better when the ingredients are smaller.
Refrigerate at least one hour before serving. This gives the ingredients time to chill and blend together.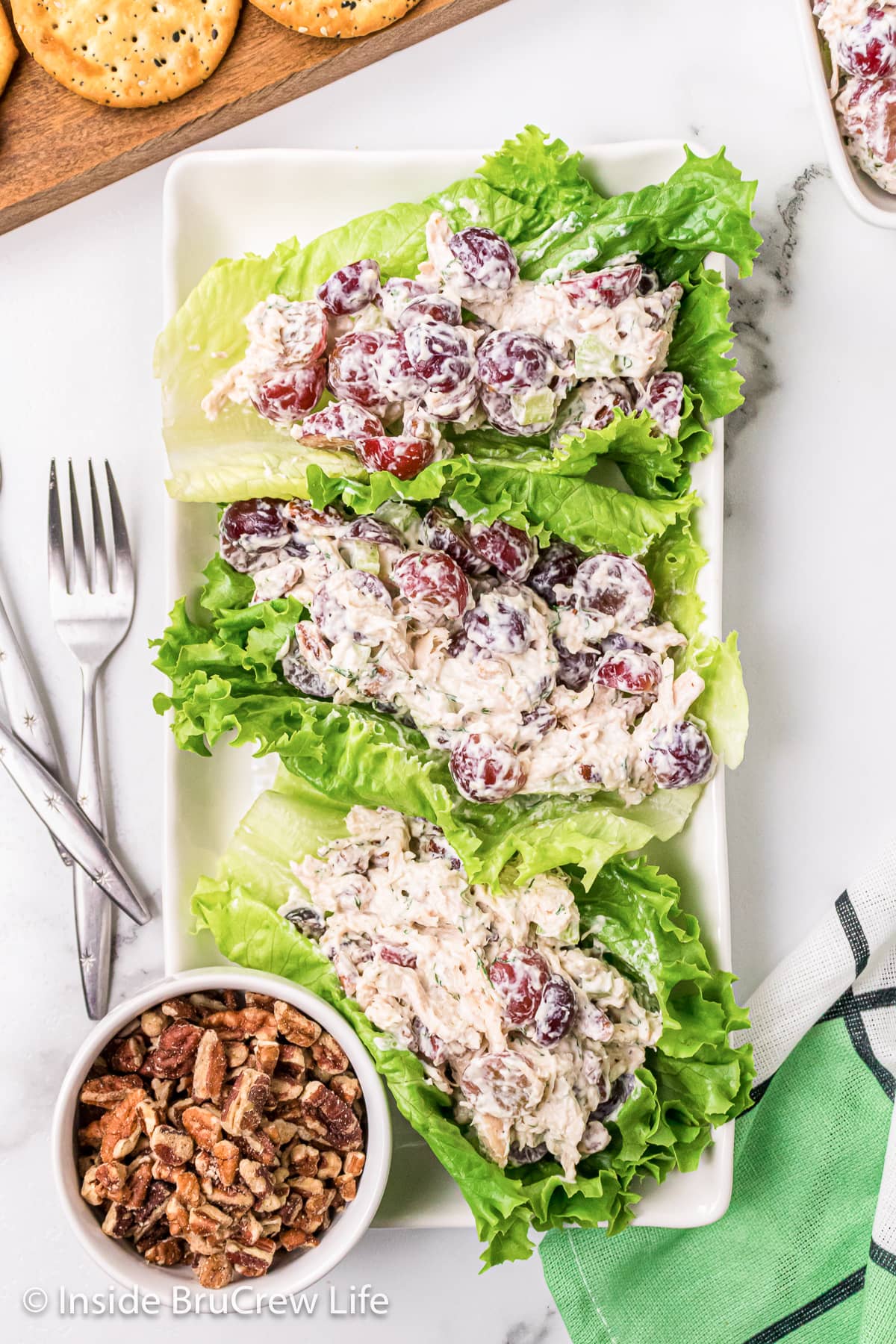 Ways to Eat Grape Pecan Chicken Salad
There is no wrong way to eat this easy chicken salad. It all depends on what you are in the mood for.
As a Sandwich - Use your favorite sliced bread, croissants, or Hawaiian rolls to make chicken salad sandwiches.
On a Salad - For a low carb option, serve the chicken on a green salad or in lettuce cups.
In Wraps - Fill tortilla shells or low carb wraps with the salad.
As a Dip - Serve it with pretzels and crackers for a light snack on a charcuterie board.
FAQ
Can you make chicken salad with canned chicken?
You sure can. If you are making this exact recipe, you will need 5-6 cups of chicken.
How long does chicken salad last?
The grape pecan chicken salad will keep for 3-4 days in the refrigerator if kept in container.
Can you freeze chicken salad?
I don't recommend freezing chicken salad because of the dairy in it. As it thaws, it will become watery and will not taste as great.
What if my chicken salad has too much dill?
If you make it and feel like the flavor of dill is overwhelming, here are a few things you can do to salvage the salad.

1. Give it time. Dill is actually an herb that looses strength over time. Refrigerate the chicken salad overnight, and the flavor of the dill may be toned down enough for it to be palatable for you.

2. Add more of the other ingredients to tone down the flavor or use vinegar to neutralize the flavor of dill. Stir in 1 tablespoon of vinegar at a time to the chicken salad until you like the taste.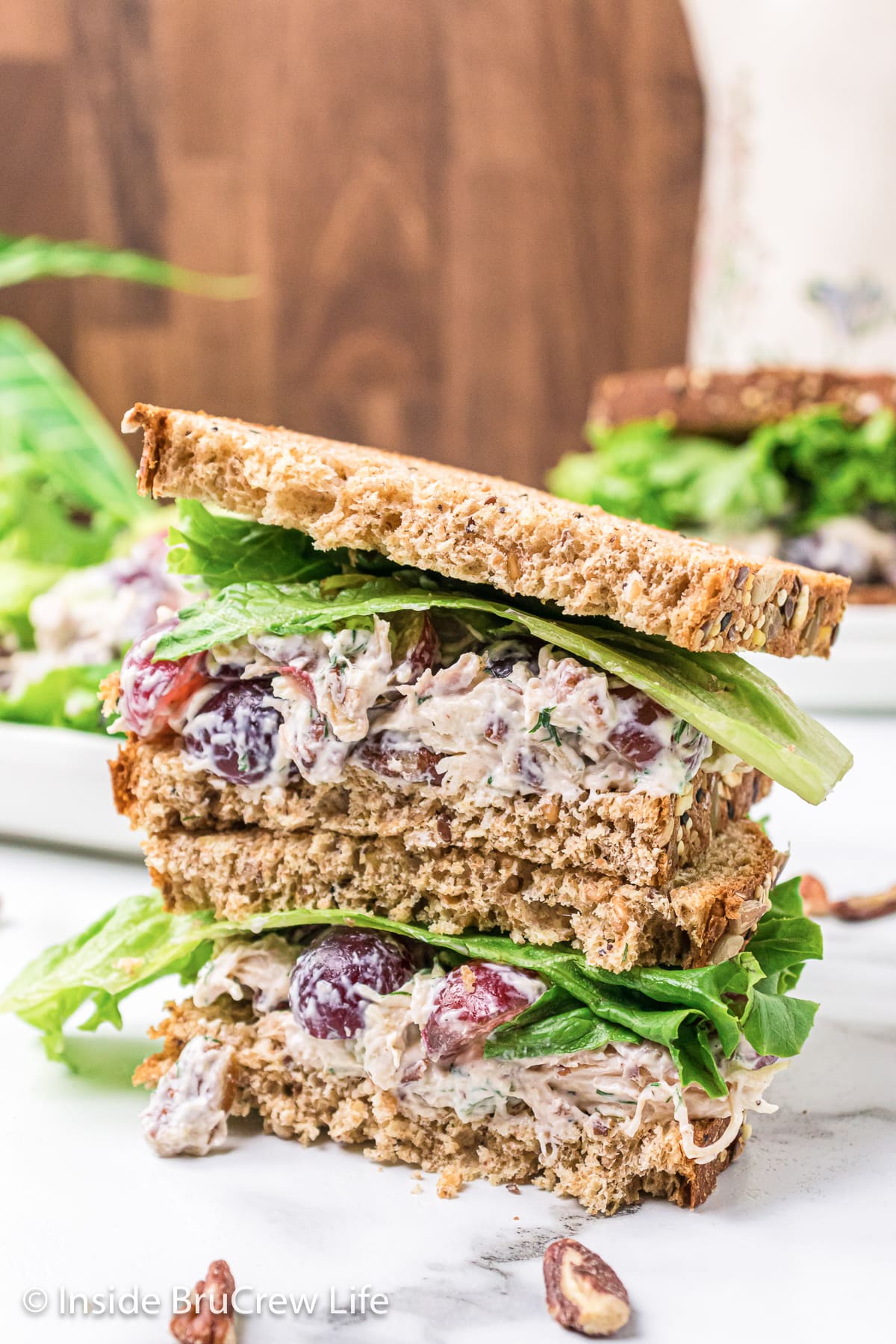 Other Chicken Salad Recipes
Love a recipe you tried from Inside BruCrew Life?
Please leave a 5 star ⭐️ rating and/or a review in the comments section further below.
*The post for Grape Pecan Chicken Salad was first published June 2010. The pictures were updated August 2021 and the post was republished April 2023.