This Pretzel Pie Crust is easy to make in minutes with just three simple ingredients. It is a great option for no bake pies or cheesecake and adds a sweet and salty taste that everyone will love.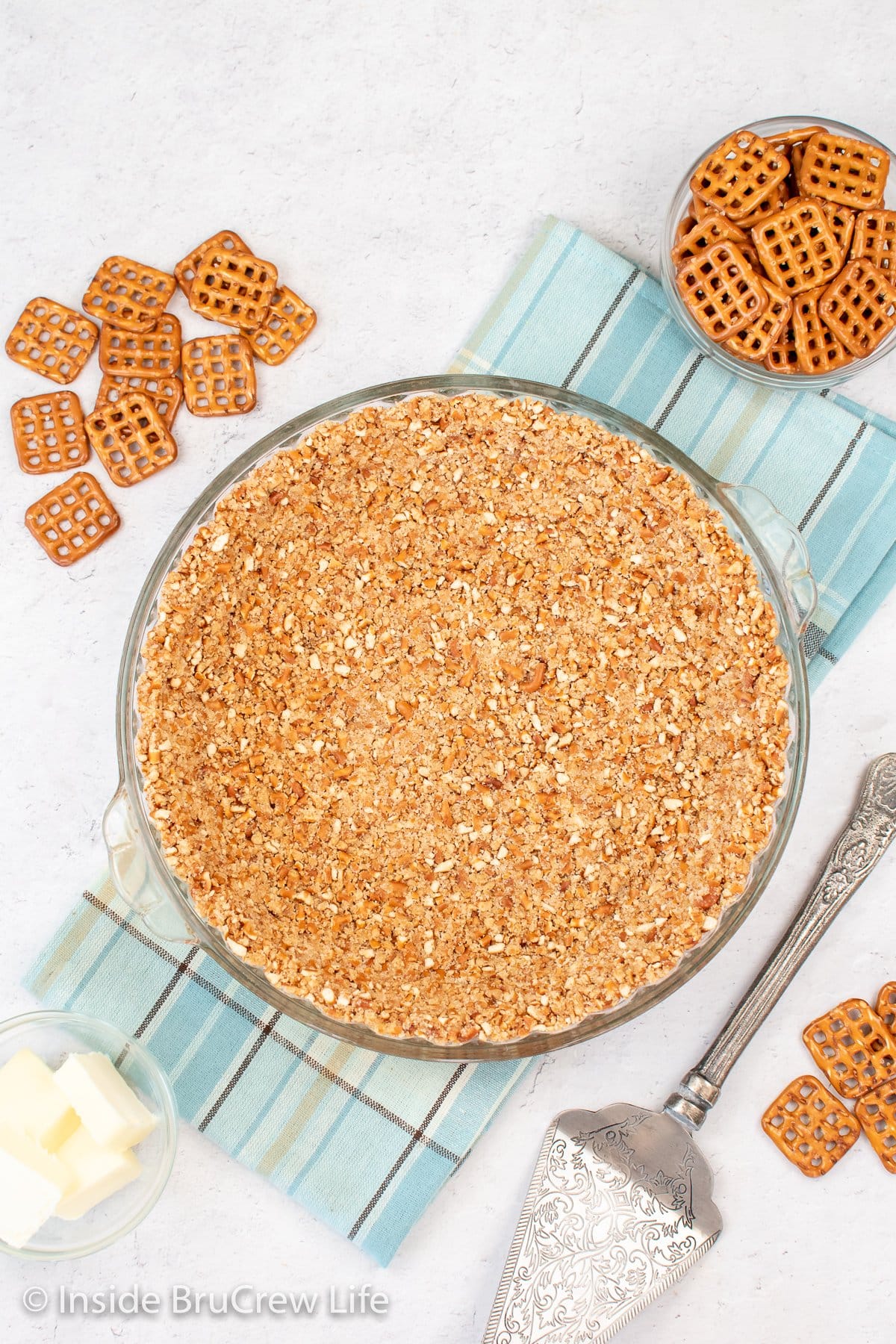 One of our favorite summer desserts is this creamy strawberry pretzel pie with a crunchy pretzel crust. The crust and filling has the perfect sweet and salty blend.
If you have never had a pretzel crust, it is exactly what it sounds like. A pie crust that is made with crushed pretzels. And oh, boy is it delicious!
Why It Works
Craving something sweet and salty? Make a pretzel pie crust for dessert and satisfy that craving.
It is easy to make and can be used for so many different types of pies. Try it with recipes where you would normally use an easy graham cracker crust or an Oreo cookie crust.
This no bake pie crust comes together in minutes. All you need are three simple ingredients.
The sweet and salty flavor of this crust is amazing. The crunchy salty pie adds such a good taste to sweet creamy fillings.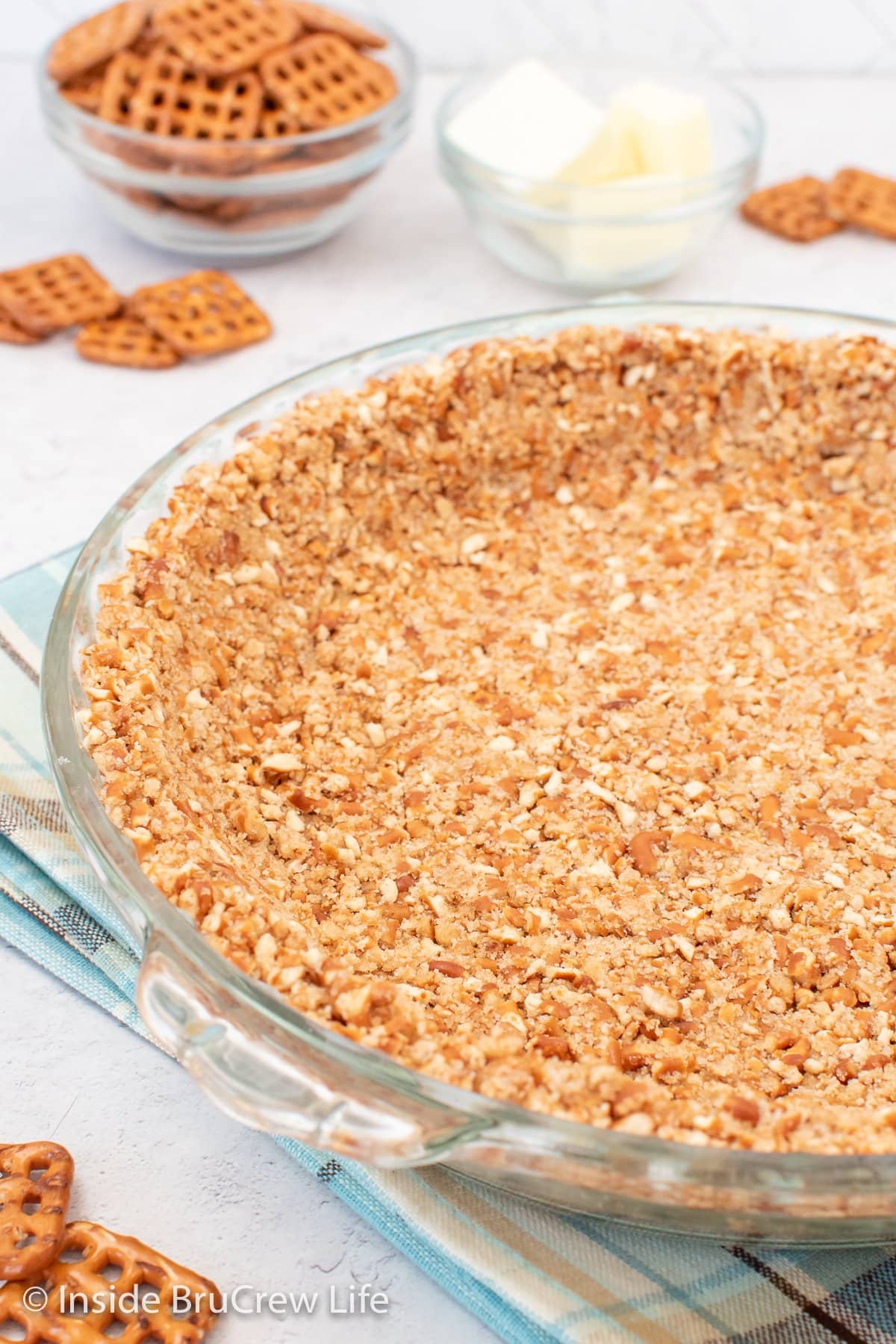 Ingredients Needed
All you need are three basic ingredients to make this pretzel pie crust recipe. It's perfect for pies and cheesecake.
Pretzels - You can use regular pretzels or gluten free pretzels to make this crust. Minis and snaps work the best because they are smaller and easier to crush.
Granulated Sugar - Sweetens the crust and also helps to hold the crumbs together.
Unsalted Butter - Melted butter holds the crumbs and sugar together in the pie plate. Make sure to buy unsalted because of the salt on the pretzels.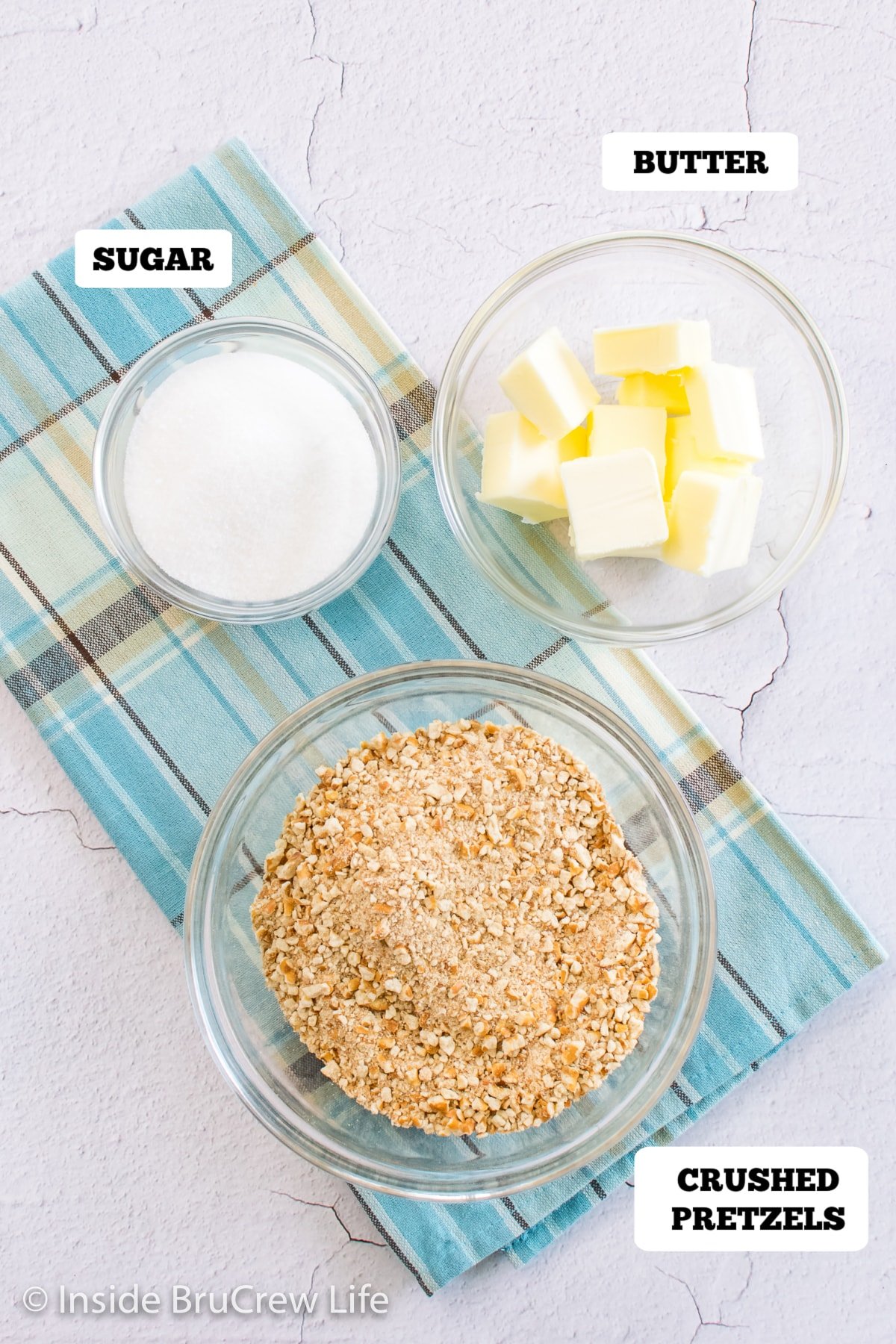 How to Make
Making a pretzel pie crust is much faster than making a traditional pie crust from scratch. In minutes, you can have a crunchy and salty crust that will compliment your favorite sweet filling.
Place the pretzels in a food processor and pulse a few times until you have coarse crumbs. You want some smaller sized chunks still left.
Stir together the sugar and crushed pretzels.
Add the melted butter and mix until everything has been coated.
Dump the mixture into a pie plate and use a spoon, a measuring cup, or your fingers to press it evenly in the pan, starting with the sides.
Refrigerate until you are ready to fill.
Uses
You can use this sweet and salty crust with a variety of desserts. The no bake version really works best with a refrigerated pie. It does not work well for room temperature or wet and juicy pies. Here are a few ways we love using it.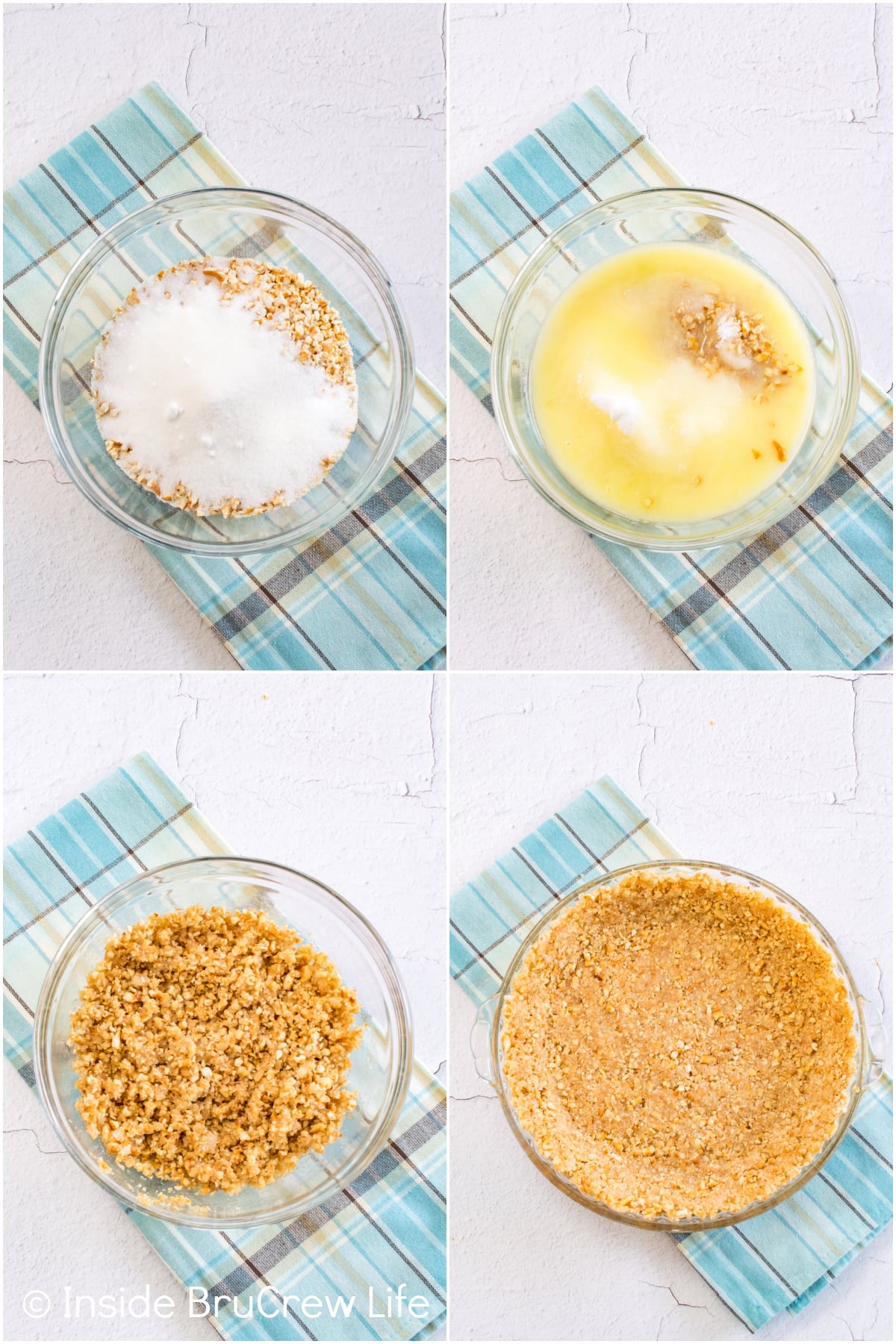 Storage
Cover the pie crust tightly and place it in the refrigerator. It will keep for 2-3 days, so this can be made ahead of time.
You can also freeze the crust for future pies. Wrap it tightly in 2 layers of plastic wrap, then place in a freezer bag or container. Freeze for 1-2 months. Thaw overnight in the refrigerator before filling.
Helpful Tips
Make sure you buy salted pretzels. This is what gives the crust the sweet and salty flavor.
Mini or snap pretzels are the easiest pretzels to use. They are smaller and easier to crush quickly.
This pie crust works well in a 9 inch pie plate, a 9 ½ inch deep dish pie plate, an 8x8 square pan, a 9x9 square pan, an 8 inch round springform, and a 9 inch springform pan.
Always press the crumb mixture onto the sides of a pie plate first, then press the bottom down.
Bake the crust if you want a firmer crust that does not fall apart as easily.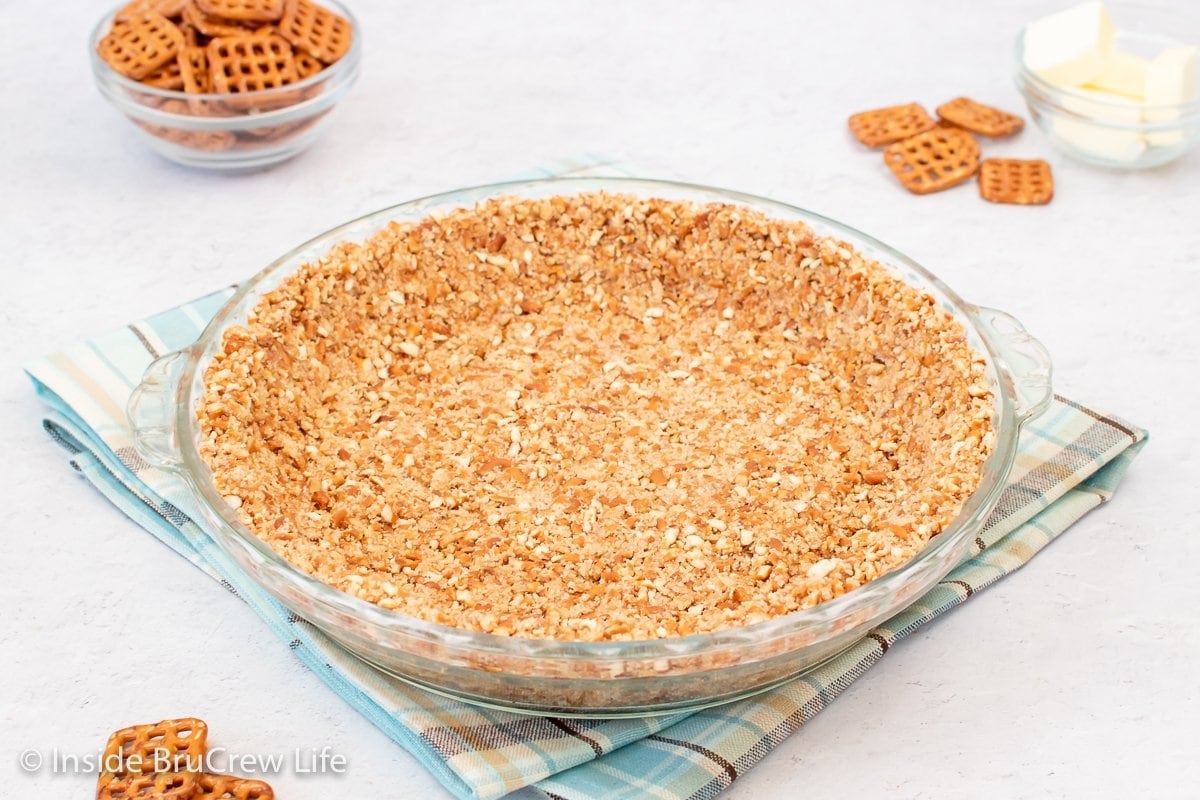 FAQ'S
How do you crush pretzels?
A food processor is a great tool to use for crushing pretzels. Add the pretzels, then pulse a few times until you have coarse crumbs.
If you do not have a food processor, place the pretzels in a plastic bag. Cover with a towel and use a rolling pin or wooden mallet to crush them into crumbs.
Why did my pretzel crust fall apart?
Usually a pretzel pie crust falls apart because there was not enough butter to hold the pretzel crumbs together or the pretzels were not crushed enough.
Does a pretzel crust need to be baked?
That is totally up to you. The unbaked pie crust is softer and will crumble much easier.
No Bake Pretzel Pie Crust - Make the pie crust as directed. Refrigerate or freeze 15-20 minutes before filling it. The crust will soften in the pie pan as it sits out, so keep that in mind for serving purposes.
Baked Pretzel Pie Crust - Bake the crust at 350° for 7-8 minutes. Remove and cool completely before filling it.
Can this pretzel crust be used in a 9x13 pan?
Yes it can. If you are using for the bottom of brownies, use this recipe. If you are using it for a no bake filling, I would recommend making a double batch. This way you have enough to cover the bottom.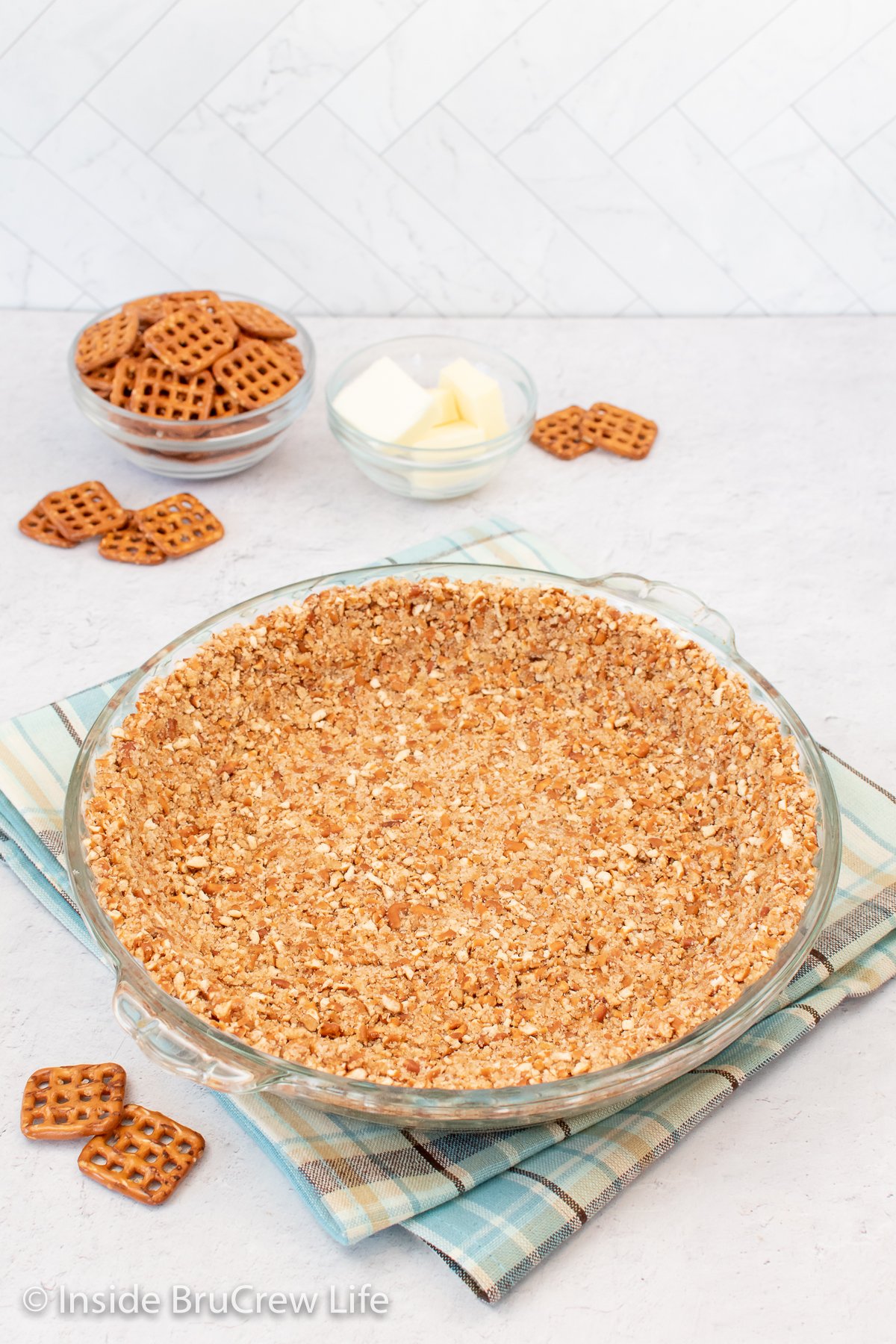 Other Baking Basics
Do you love a recipe you tried from Inside BruCrew Life?
Please leave a 5-star ⭐️ rating and a review in the comments section below.