Add some color to your morning routine with this Lemon Danish topped with berries. The breakfast pastry is simple to make at home and tastes as fresh as it looks. Perfect for summer brunch or holiday breakfast.
This Blueberry Lemon Danish is another easy and delicious pastry that would go great with these. Or do you love cherry? Then this cherry danish braid made with a puff pastry will be sure to please!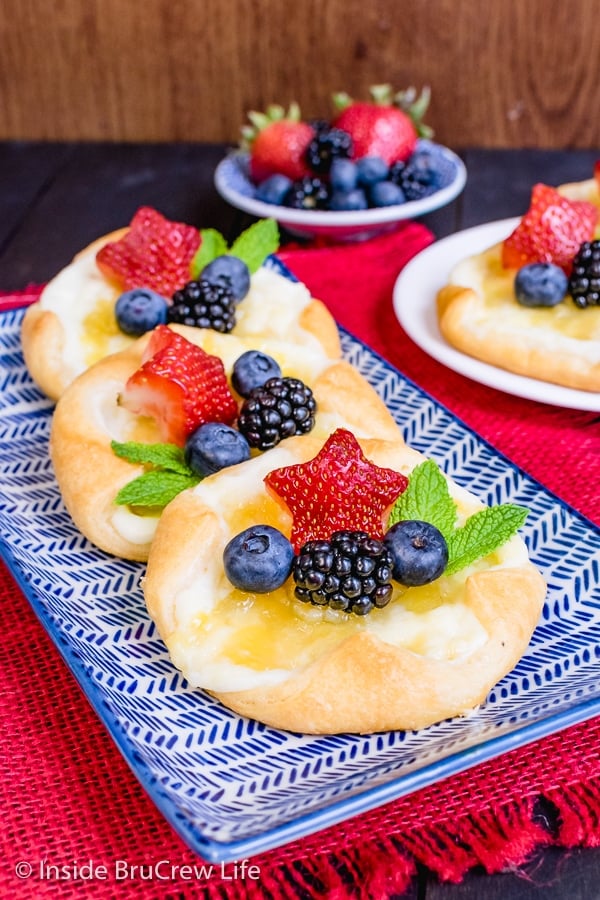 Lemon Danish
Cheese danishes are a delicious treat that are usually enjoyed at coffee shops or bakeries. Did you know they are very easy to make at home too? With just a few ingredients you can enjoy a fresh breakfast pastry with your morning coffee.
I used this blueberry cheese danish recipe to make a batch of pastries for breakfast the other day. This time I added lemon curd to the top instead of blueberry sauce. This lemon danish may be my new favorite.
While the pastries are cooling, cut mini stars out of strawberry slices with a tiny cookie cutter. That's totally optional and really not necessary if you are short on time.
You can also just add a whole strawberry or a half a strawberry on the cheesecake pastry before serving them. But seriously, the stars made this lemon cheese danish really cute and perfect for 4th of July morning.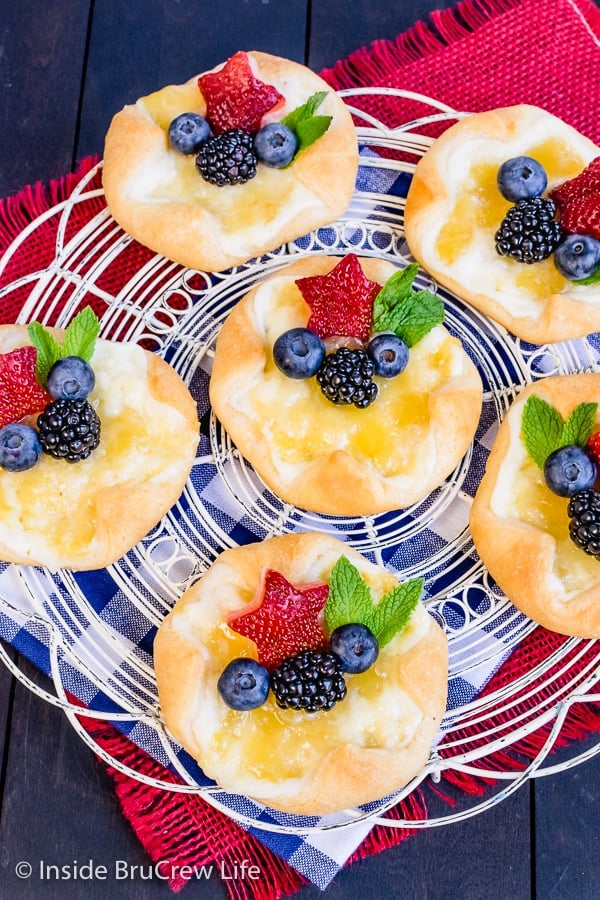 Ingredients for Cheese Danish Recipe
This danish recipe is very easy to put together. Here are the 5 ingredients you will need.
Cream Cheese - make sure to set it out ahead of time to soften
Sugar - sweetens the cheese filling
Lemon Curd - store bought or make this Easy Lemon Curd.
Crescent Rolls - 1 can of refrigerated crescents will yield 8 danishes. You can also cut squares out of puff pastry.
Fruit - a mix of strawberries, blueberries, blackberries adds a pretty pop of color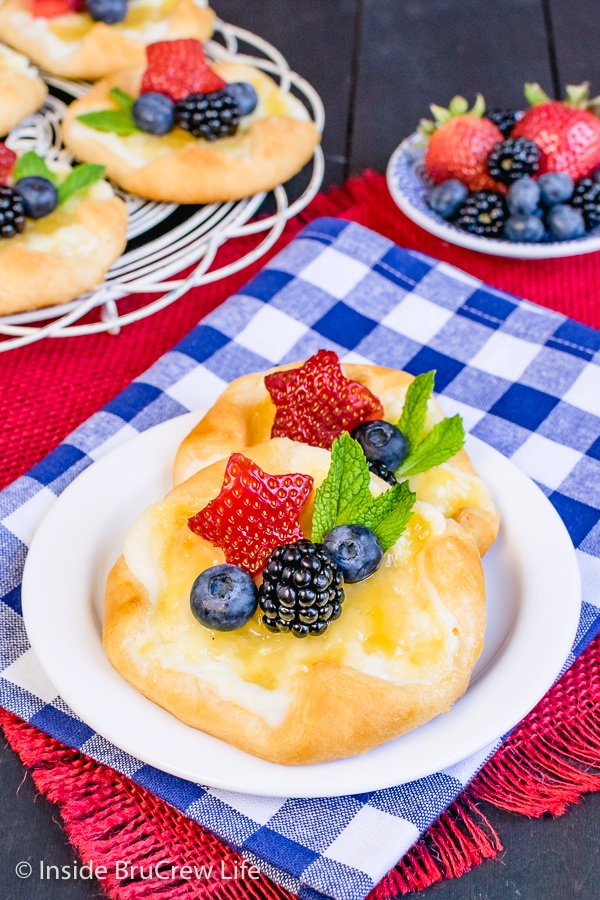 How to make Lemon Cheese Danish
Get ready to look like a pro baker in minutes. Follow these easy directions to make a cheese danish with lemon that will wow everyone. The full directions for this cheese danish recipe can be found at the bottom of the post.
Preheat oven. Line a sheet pan with parchment paper.
Beat the cream cheese and sugar in a small bowl until creamy. Set aside
Unroll the crescent roll dough and separate the dough into four rectangles. Press the seams together and cut each rectangle into two squares.
Place the 8 squares on the prepared baking sheet.
Spoon the cream cheese mixture evenly into the centers of the squares and smooth it out. Make sure to leave a ¼ inch border around the outside of the square.
Top the cheese filling with a small spoonful of homemade lemon curd.
Swirl the lemon curd and cream cheese together a little bit being careful not to go over your border.
Fold the corners of the square into the middle. Roll the edges of the crescent rolls up to keep the filling in.
Bake for 12 minutes or until the crescent dough is golden. Remove and let cool on a wire rack to room temperature before refrigerating.
Add a variety of fresh berries and mint leaves to the tops of the lemon cheese danish right before serving.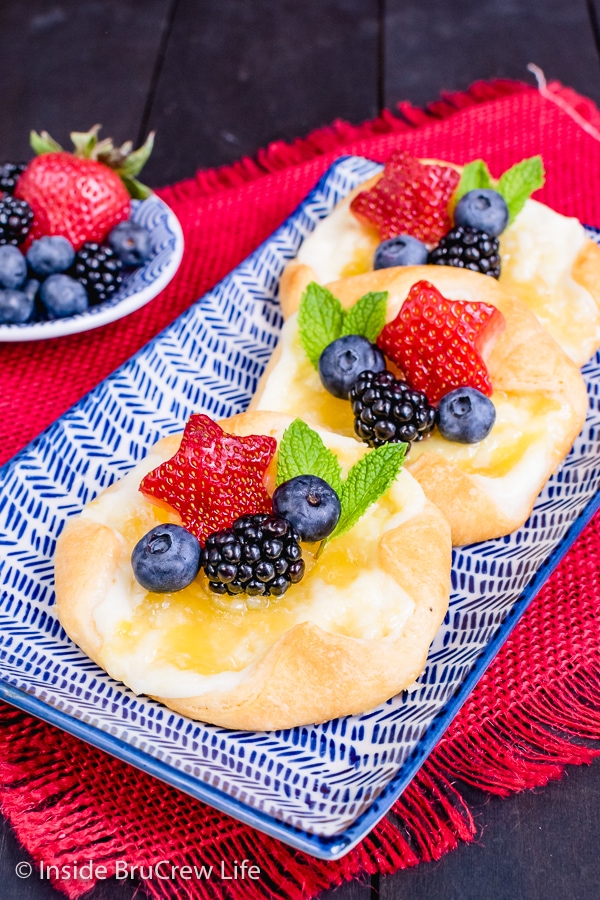 Frequently Asked Questions
How do you store a cheese danish?
Danishes are best the day they are made, but you can store the leftover cheese danish in a sealed container and refrigerate for 3-4 days.
Can you make this cream cheese danish recipe ahead of time?
Yes, it is easy to make this cheese danish ahead of time. It's a great way to save some time in the morning or to have a fancy breakfast pastry ready for breakfast.
You can also prepare the danish recipe ahead of time, but stop before baking. Cover the unbaked pastries tightly and refrigerate. When you are ready to bake the cheese danish, let them sit out for 30 minutes, then bake as directed.
CLICK HERE TO PIN THIS RECIPE FOR LATER!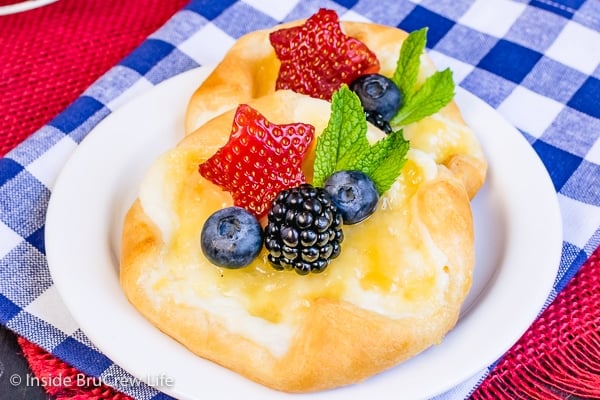 Cheese Danish Variations
More Easy Breakfast Recipes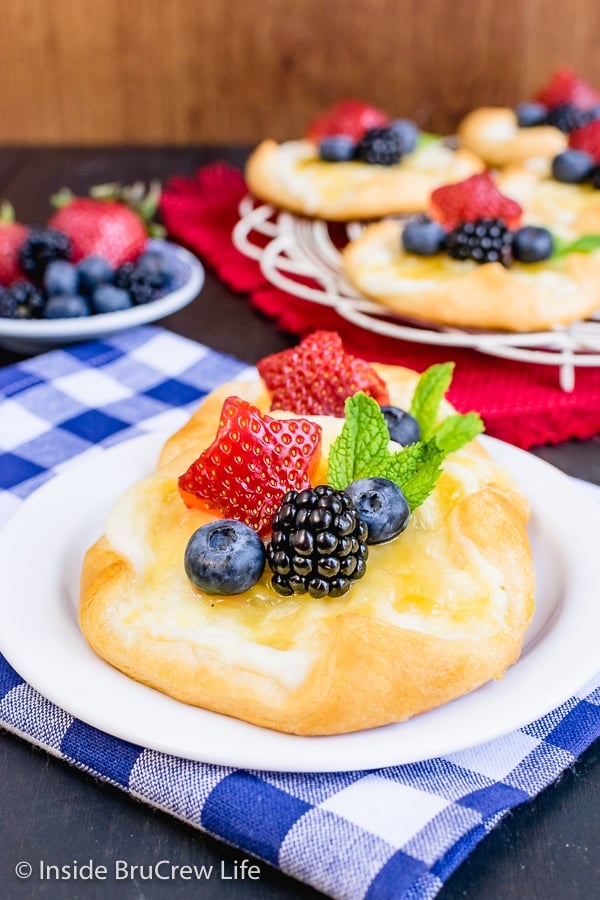 Do you love a recipe you tried from Inside BruCrew Life?
Please leave a 5-star ⭐️ rating and a review in the comments section below.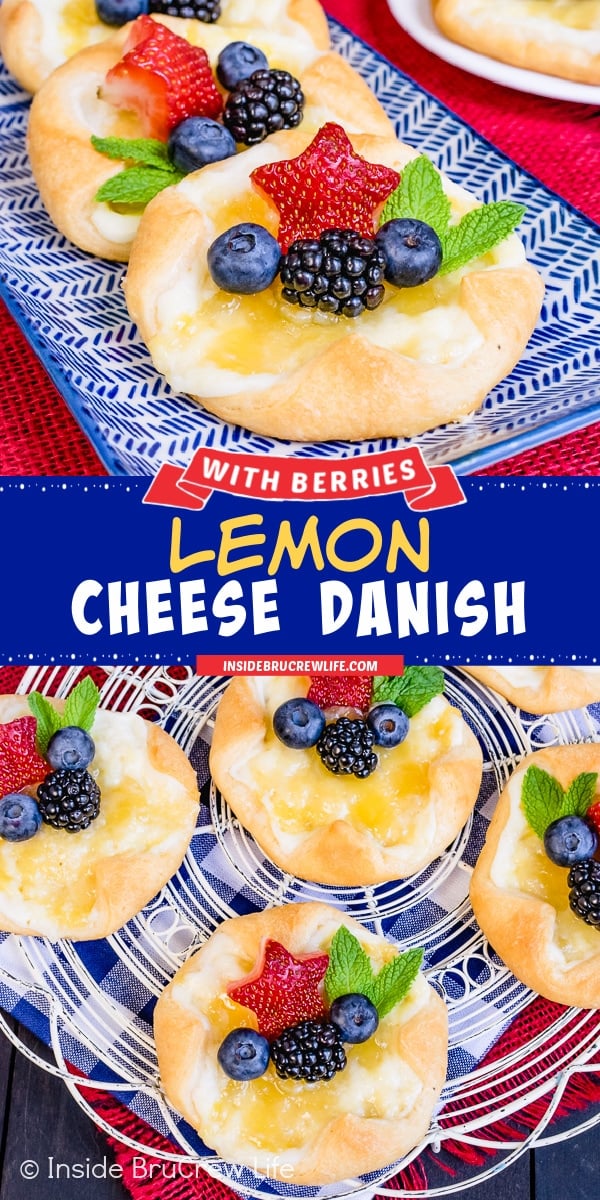 *The post for Lemon Cheesecake Danish was first published July 3, 2018. The photos and post have been updated and republished July 3, 2021.