Get going in the morning with a cup of coffee and a few of these Mocha Chocolate Chip Donuts. Coffee and chocolate is a delicious way to start off the day with a smile.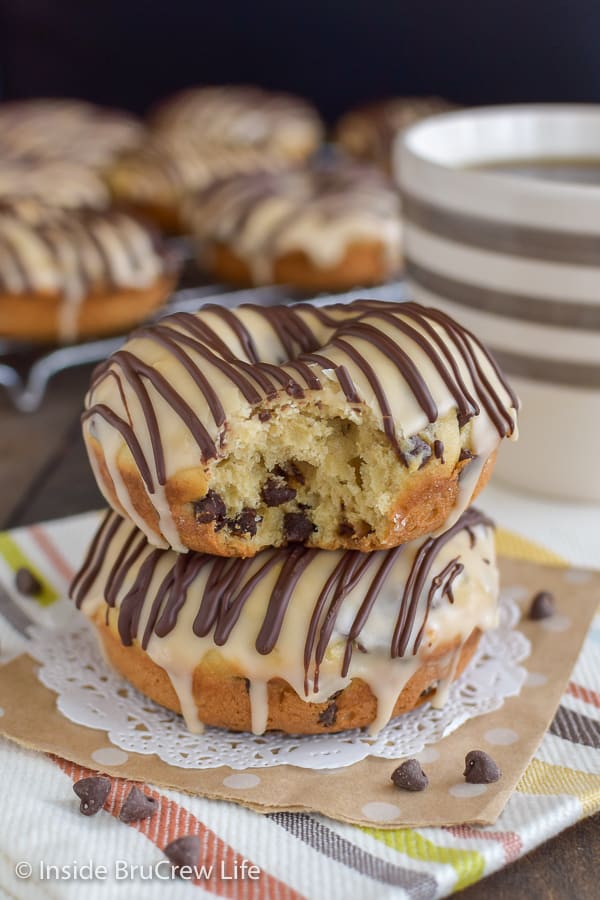 I realized this week that I haven't used my donut pan in a while, so I dug it out of the box in the garage. No wonder I do not use it very often. When it is out of sight, it is out of mind.
That's how the veggies in our refrigerator must feel too. Yeah, I should probably be eating more of those healthy veggies instead of making homemade donuts, but what fun would that be?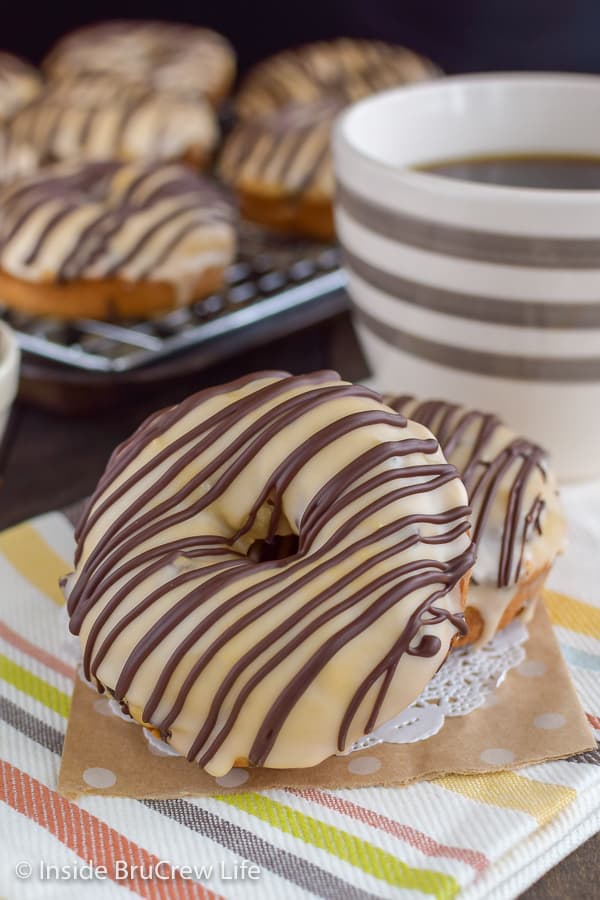 When I asked our daughter what kind of donuts I should make for this week, she replied chocolate chip.
Honestly, I knew that's what she was going to say because she always asks for these Chocolate Chip Cinnamon Rolls and this Cherry Chocolate Chip Banana Bread. So, I asked her what other ingredient she wanted me to use with the chocolate chips.
She is also my coffee loving child, so it didn't surprise me at all when she said coffee.
Chocolate and coffee go together so well in baked treats!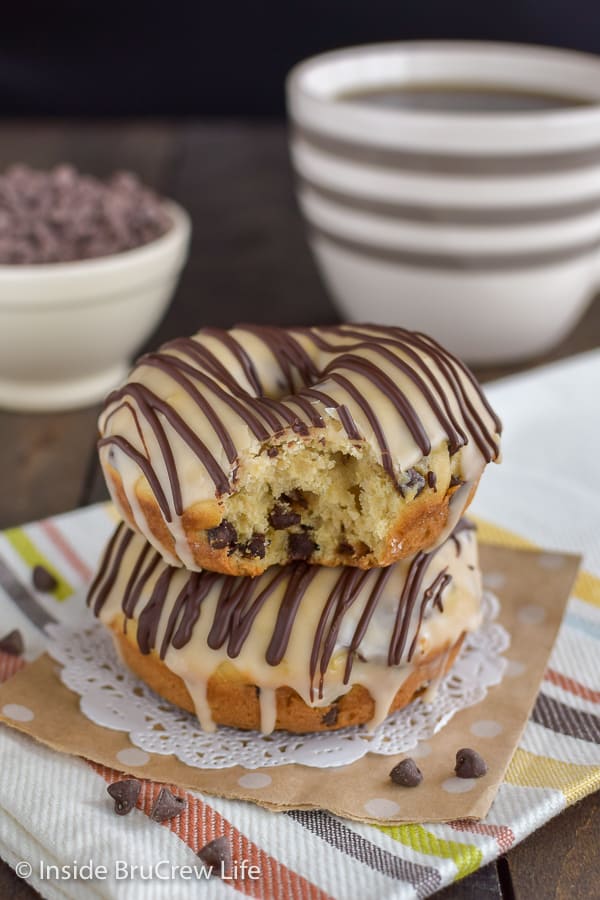 Now she isn't as patient about getting in the kitchen and helping me bake these treats, but that girl of ours has some good ideas of what to pair together. I couldn't wait to get a pan of these chocolate chip donuts in the oven.
I used these Orange Julius Donuts as my starting point for these homemade baked donuts. Coffee instead of orange juice gives it that mocha flavor.
How to make Mocha Chocolate Chip Donuts
Spray the donut pan with nonstick spray and set aside.
Beat the butter and sugars until creamy. Add the egg, vanilla, and yogurt and mix again.
Stir together the dry ingredients and slowly mix them and the coffee into the butter mixture until a thick batter forms.
Add the mini chocolate chips and stir gently.
Fill the prepared donut pan ¾ full and bake.
Cool completely before dipping in a coffee glaze and adding drizzles of melted chocolate. (full recipe below)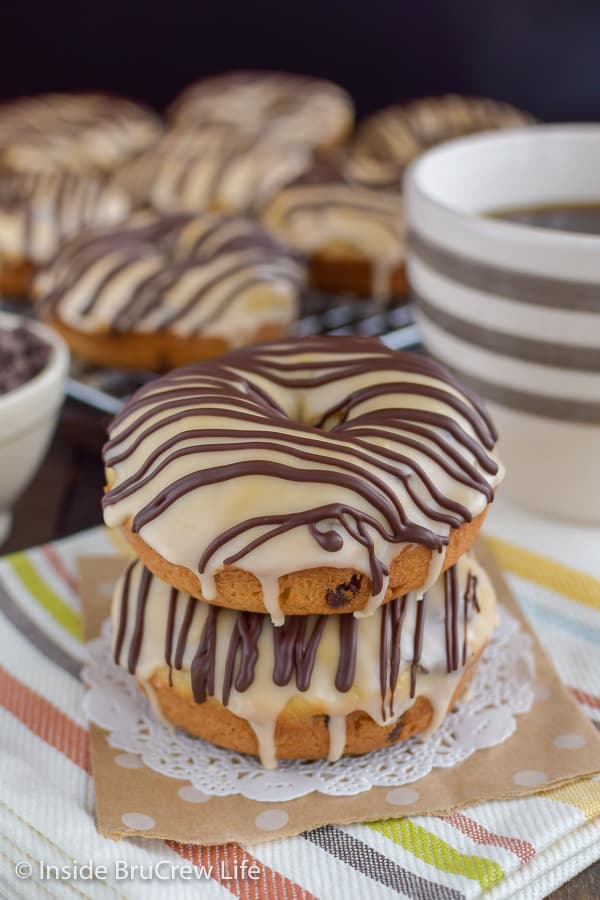 Tips and Tricks
Make sure you spray your donut pan with nonstick spray before filling it each time. I love using Baker's Joy for all my baked goods.
Spoon the donut batter into a large Ziplock and cut one tip off. Make sure to cut off a big enough tip to allow the chocolate chips to come out. Using a bag makes it easier to fill the donut pan with less mess.
Let the donuts cool in the pan for 2-3 minutes, then remove them and place on a wire rack to cool completely.
Our kiddos devoured these chocolate chips donuts in no time at all. I guess I should leave that pan out because I see more homemade donuts in our future.
I am one of the breakfast contributors for Food Fanatic. Head over there to print this Mocha Chocolate Chip Donut recipe for later.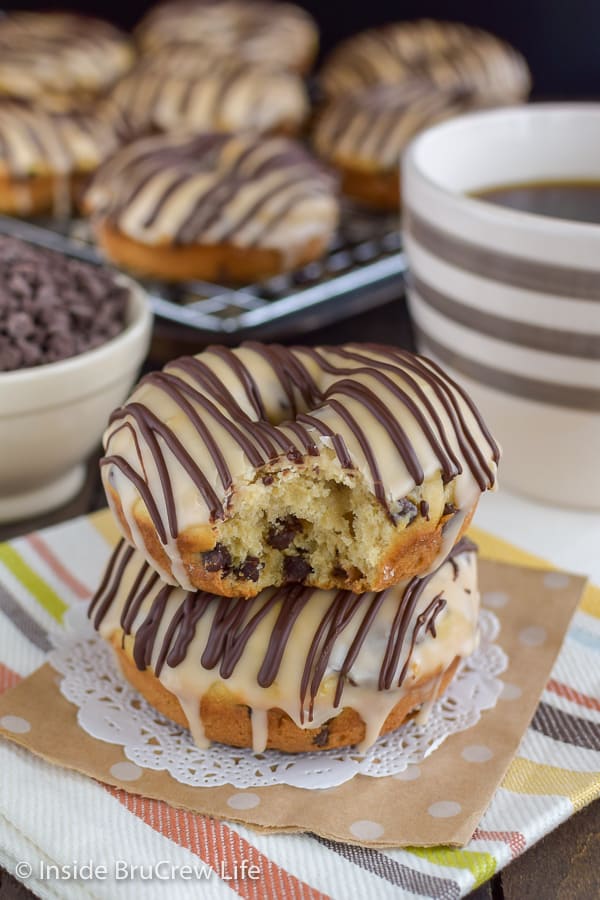 More homemade baked donuts recipes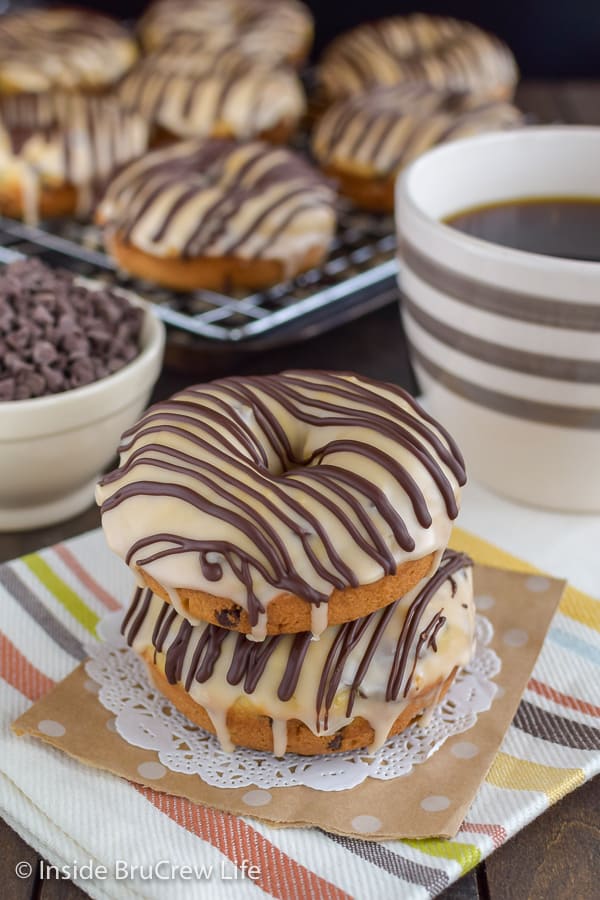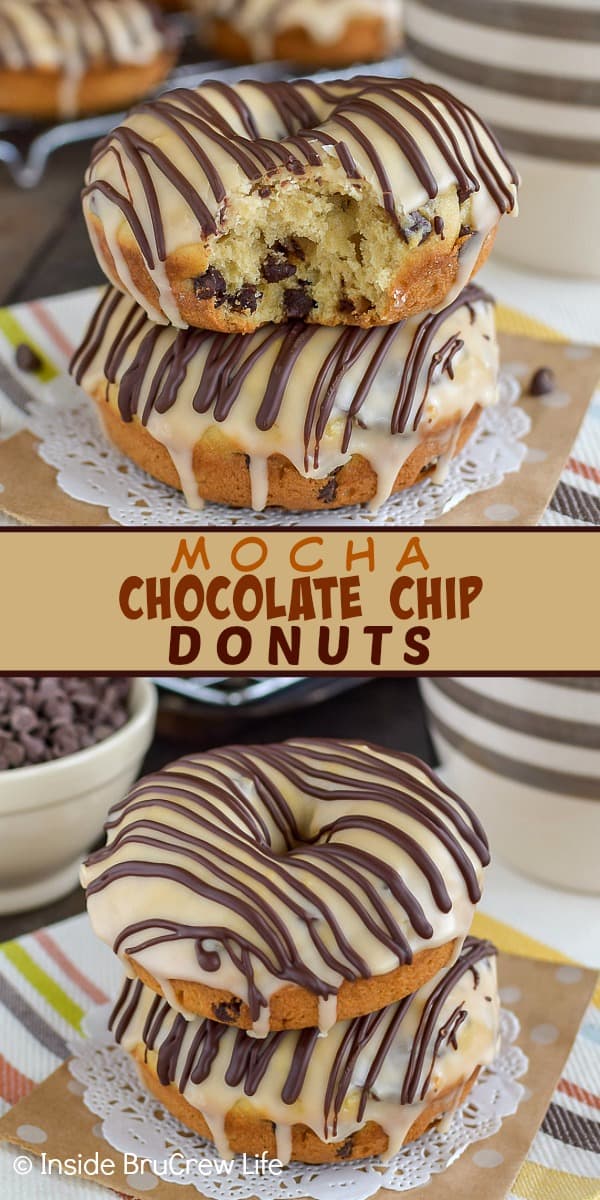 *The post for Mocha Chocolate Chip Donuts was first published on March 11, 2015. The photos and post were updated, and it was republished on November 5, 2019.