Got a chocolate craving that needs satisfying? This Twix Fudge is an easy treat to make for when that sweet tooth starts calling out. Creamy chocolate fudge on top of a sweet, crumbly crust and lots of chopped up Twix candy bars...yes, please.
*Make sure you sign up for the BruCrew email…enjoy these recipes each morning in your inbox.*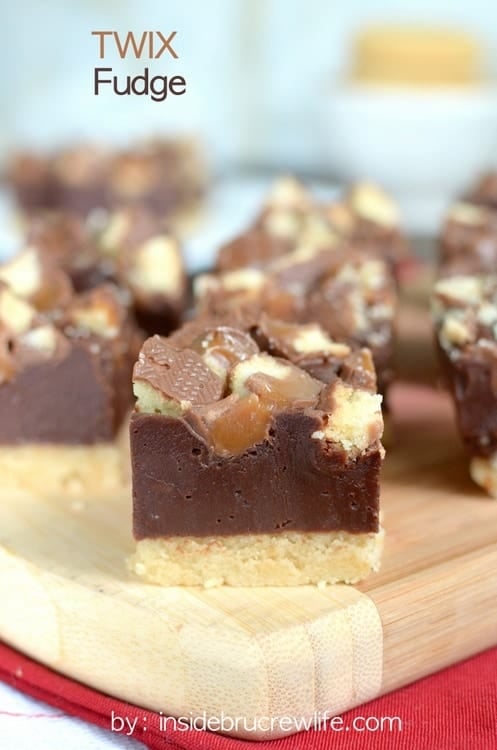 My house is an absolute disaster right now. No, not because I have given up completely on cleaning...although that has crossed my mind a time or two before.
We decided to paint our kid's bedrooms. It was really supposed to be one room that quickly spiraled out of control into all 3 bedrooms. You know how it goes if you have more than one child. I mean how could we even possibly think about only doing one.
Children tend to warp your brain with their logic. Of course painting is fairly easy, so they won us over to their dark way of thinking. It has been over 4 years since we painted those rooms. Time for a refresh and a redo.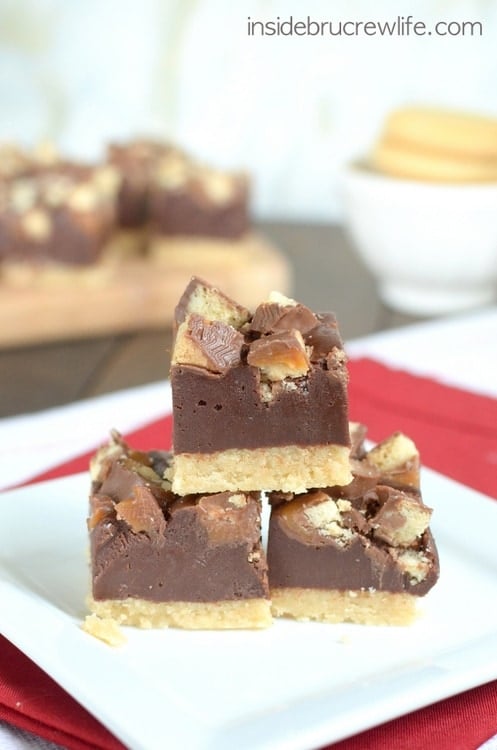 So all three rooms have been completely stripped down to make painting easier. That means piles of "stuff" is all over our dining room, and the entire basement looks like we are moving or destroying something. Take your pick!
Can I admit that I don't even like to paint? Oh, not because it is hard or anything. I am just terrible at it. Drips and drops and paint splatters...and that's just on me 🙂 The walls end up looking streaky and splotchy. Hey, I may get an F for painting but at least I get an A+ for being in there helping, right?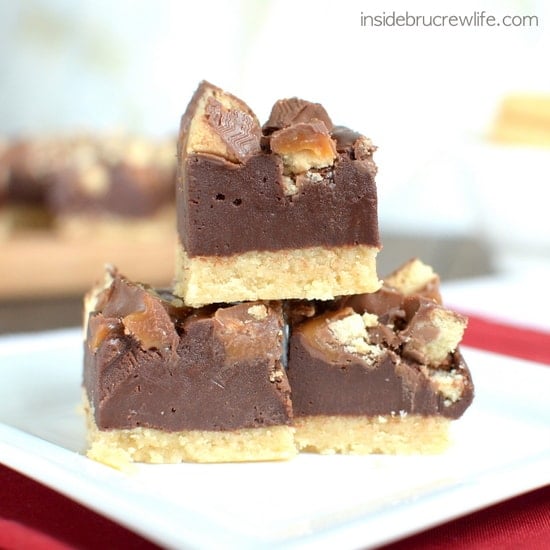 I would definitely pick being in the kitchen making a mess over painting any day. Even if it is just making something simple like this Twix Fudge.
Have you noticed yet that I am quite smitten with adding a crust to my fudge? It all started with this Mocha Mallow Fudge, and I haven't stopped. Strawberry Shortcake Fudge, Coconut Oreo Fudge, Banana Cream Fudge, and this prize winning Neapolitan Fudge. Ok, I'll say it. I am addicted to making fudge with crust.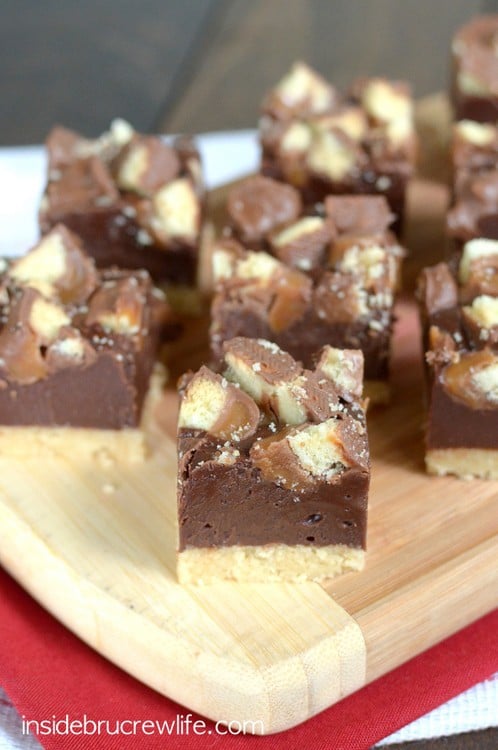 This chocolate fudge is seriously so easy. No boiling, no thermometers, and no fail...sounds easy enough right?
Start by prepping your candy bars. Take all wrappers off, chop up the bars, and smack all the children who try to reach in and steal chunks of caramel candy bar goodness. Go ahead and smack yourself because you will want to steal chunks too! Set the candy bars aside. I do recommend setting them aside where you can't see them. Out of sight, out of mind!
Now crush your cookies and mix with some butter and press it into a pan. If you want to leave the crust like this, just pop it into the refrigerator to set the butter. The crust will be crumbly and fall apart as you eat the fudge...not a bad thing at all, but I just want to warn you. If you have some time, throw the pan in the oven for about 7 minutes and then let it cool. The crust will be harden up and stay together better this way.
And no, do not literally throw the pan in the oven. My kids are always correcting me on these phases. I say I'm running to the store all the time...and every. single. time. they ask me why I don't want to drive there.
Melt the chocolate chips with the butter in a small saucepan over low heat. (You can also melt them in the microwave for a minute.) Give it a stir until it is creamy. Then take the lid off the can of frosting and heat that in the microwave for one minute. It will melt down, and you can pour the entire can over the melted chocolate chips. It will become an ooey gooey pan of goodness. Work quickly to spread it over the crust. Then take those hidden candy bars and sprinkle them all over the top. Make sure to press them into the fudge slightly.

Give it some time to set up and then cut into small squares. I suggest finding someone to share with. This Twix Fudge is so good. You will find yourself walking through the kitchen multiple times a day just so you can grab another square. True story!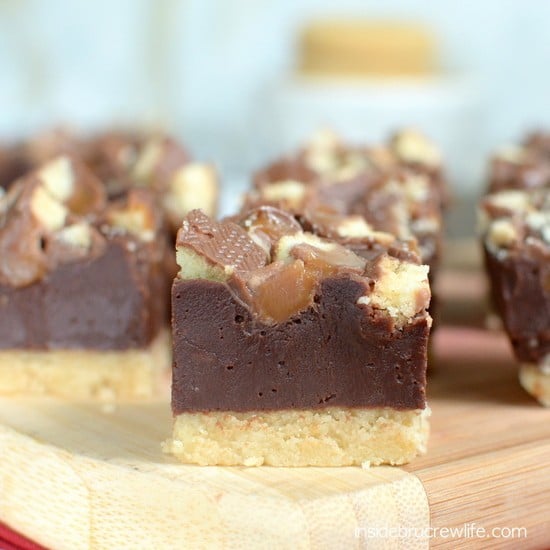 Stay up to date on all the BruCrew baking here:
FACEBOOK | PINTEREST | GOOGLE+ | TWITTER | INSTAGRAM | BLOGLOVIN
Sign up to receive an email in your inbox for each new recipe:
EMAIL SUBSCRIPTION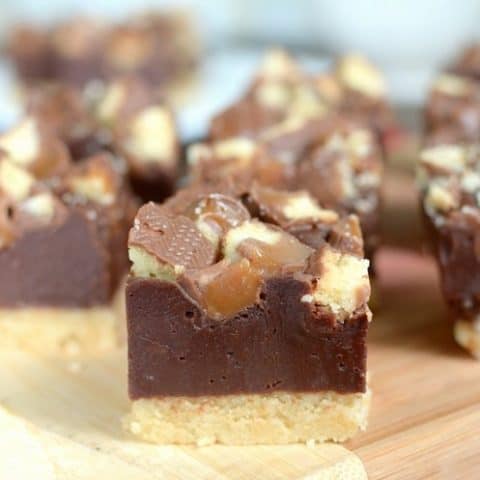 Twix Fudge
This easy Twix Fudge has a fun shortbread cookie crust and chopped candy bars on top. It's perfect for an over the top dessert.
Ingredients
For the Crust
2 cups shortbread cookie crumbs
6 Tablespoons butter, melted
For the Fudge
2 cups milk chocolate chips
2 Tablespoons butter
1 - 16 ounce can chocolate frosting
2 cups chopped Twix bars
Instructions
Preheat the oven to 350 degrees. Line an 8x8 baking dish with foil.
Combine the cookie crumbs and melted butter. Press into the bottom of the prepared pan. Bake for 7 minutes. Let cool.
Heat the milk chocolate chips and butter over low-medium heat until melted. Turn heat to low.
Remove the metal liner from the canned frosting. Heat for 1 minute in the microwave. Pour over the melted chocolate chips and stir until creamy.
Pour the melted chocolate mixture over the cooled crust. Sprinkle the chopped Twix bars on top. Gently press into the fudge.
Let set completely. Cut into 36 squares. Store in a sealed container in the refrigerator or on the counter.
Recommended Products
As an Amazon Associate and member of other affiliate programs, I earn from qualifying purchases.
Nutrition Information:
Yield:

36
Serving Size:

1
Amount Per Serving:
Calories:

251
Total Fat:

14g
Saturated Fat:

7g
Trans Fat:

0g
Unsaturated Fat:

5g
Cholesterol:

10mg
Sodium:

120mg
Carbohydrates:

30g
Fiber:

1g
Sugar:

21g
Protein:

2g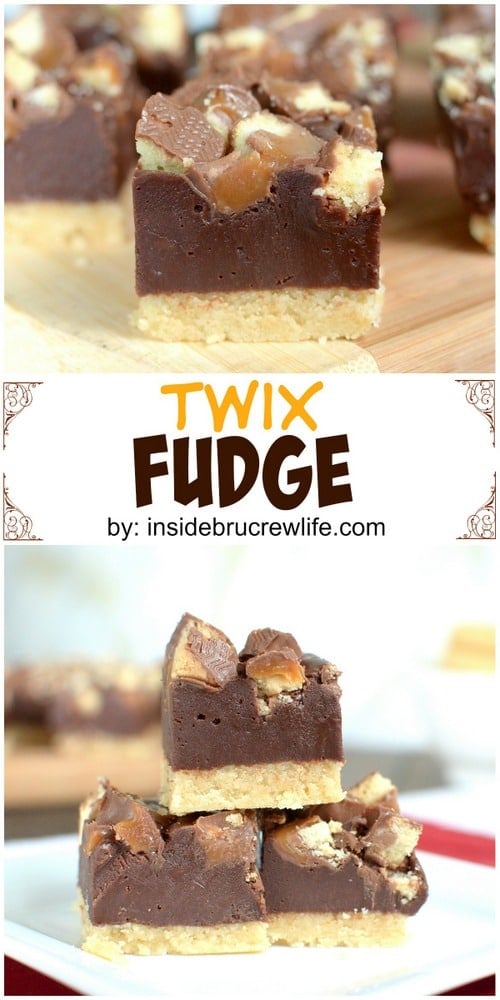 More fun and easy fudge recipes: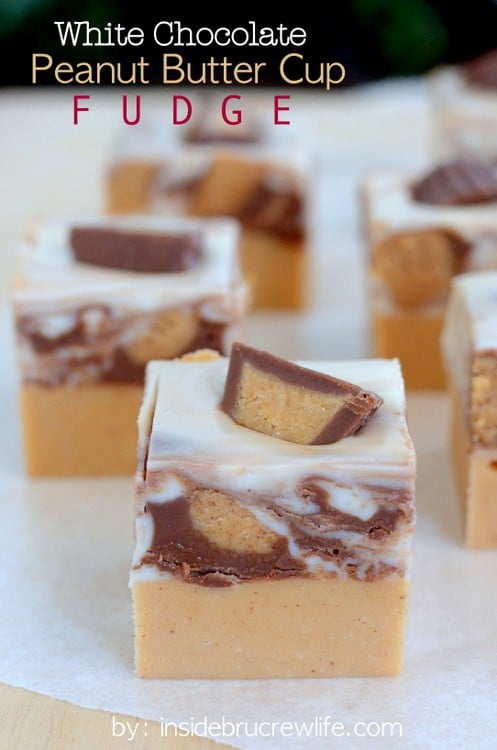 White Chocolate Peanut Butter Cup Fudge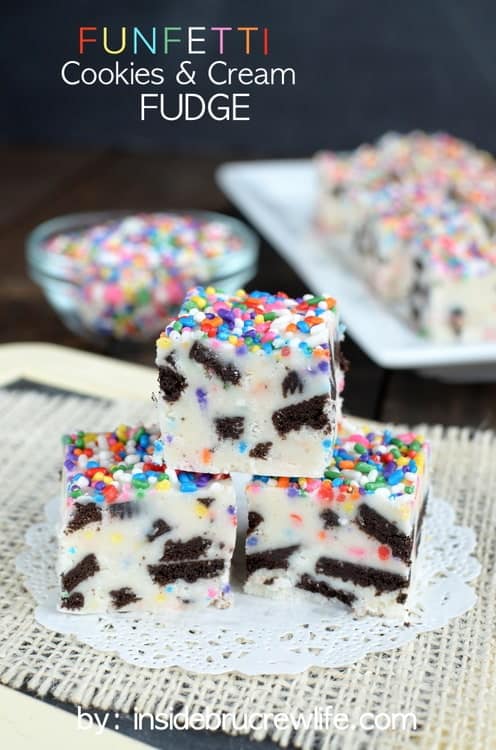 Funfetti Cookies and Cream Fudge