Layers of cookies, lemon cream, and fresh fruit makes this No Bake Strawberry Lemon Cream Pie a must make for these hot summer days.
*Love these recipes? Be sure to sign up for the BruCrew email to have each new recipe delivered to your inbox.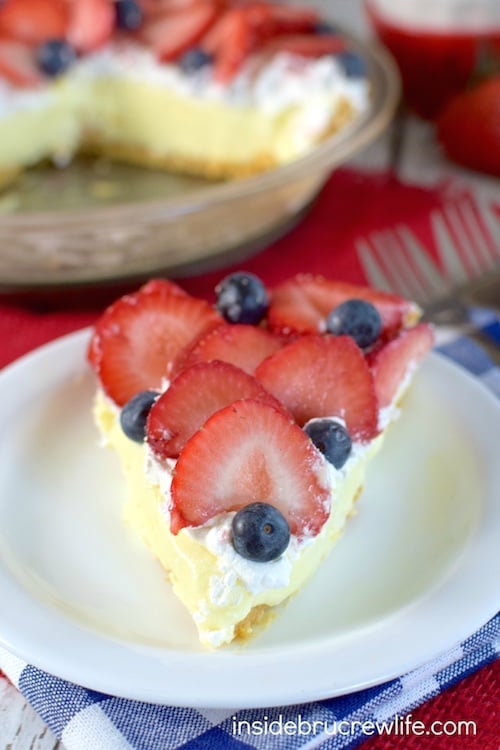 Most of the time when crazy dessert ideas go through my head they are full of chocolate and peanut butter.  My husband just shakes his head and asks why everything has to be this combo.  Yes, he is kind of sort of crazy because isn't that the best combo ever?!?!?!
But because I love that man, I let crazy fruit desserts enter my mind every once in a while.  He is one heck of a dad to our three kids, takes care of us no matter what, and works hard to provide for our family!  We are blessed to have him in our lives for sure!  So if he wants fruity desserts, I'm there for him!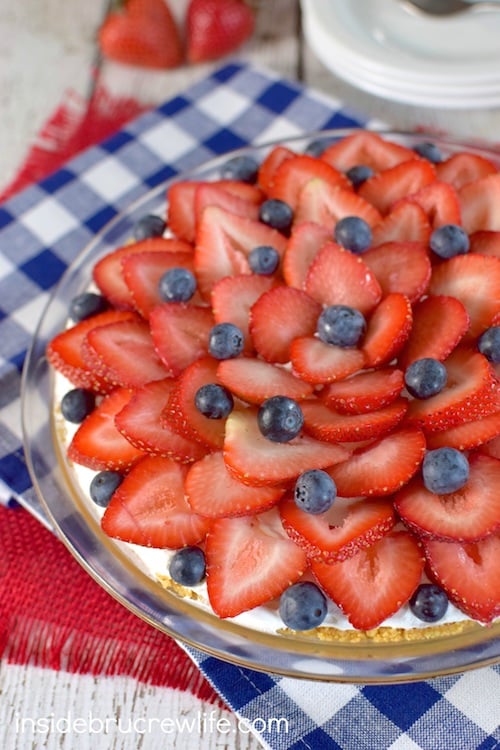 Last summer this Lemon Cream Berry Pie happened in our kitchen.  No, it hasn't been a whole year since I made a berry treat by the way.  Lately I have been all about strawberries in everything.  Anyway, I used that pie as inspiration to create a new no-bake version. When the temperature outside is climbing, I love creating a dessert that doesn't use the oven.
Cookie crumbs and butter mixed together and pressed into a pie plate makes an awesome crust for any pie.  And no, you do not have to remove the cream centers.  That filling helps everything stick together with a little less butter.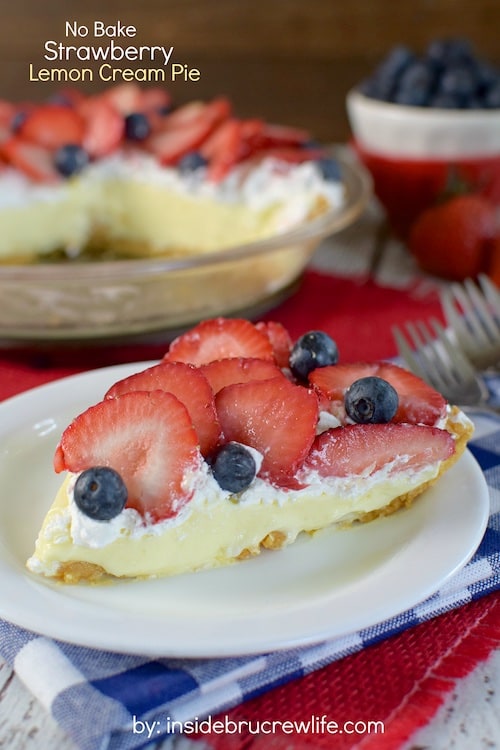 After one bite of the creamy lemon filling, I almost took the bowl and hid in the closet with it.  But that just wouldn't do good things for my thighs, so into the crust it went.
You can arrange the sliced berries on top any way you like.  I decided to go with a flower pattern with blueberries added here and there for a pop of color.
Now make sure you refrigerate it long enough for everything to set back up.  You want nice slices of pie to come out of your pie plate with no struggles.  I was a little too excited to slice into this gorgeous lemon pie, so my pie slice didn't exactly look the greatest.  I think I only let it sit in the fridge for about an hour…4-6 hours is probably a better time frame.
But holy cow! This pie tasted so doggone good, so who needs pretty pieces anyway!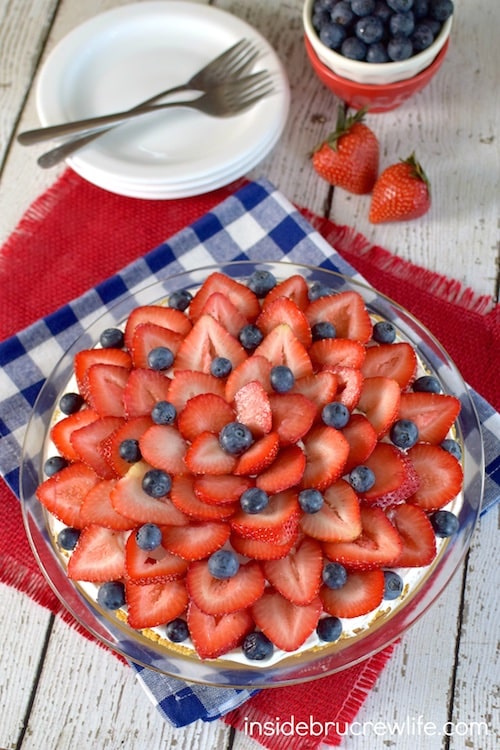 Stay up to date on all the BruCrew baking here:
FACEBOOK | PINTEREST | GOOGLE+ | TWITTER | INSTAGRAM | BLOGLOVIN
 Sign up to receive an email in your inbox for each new recipe:
EMAIL SUBSCRIPTION
A cookie crust and layers of lemon cream and berries makes this a delicious and easy pie to bring to any summer picnic.
Ingredients
2 cups Lemon Oreo cookie crumbs (16 cookies)
4 Tablespoons melted butter
1 - 8 ounce package cream cheese, softened
1 1/2 cups lemon curd/filling
2 cups Cool Whip, divided
sliced strawberries
blueberries
Instructions
Mix together the crumbs and melted butter. Press evenly into the bottom and sides of a 9 inch pie plate. Refrigerate.
Beat the cream cheese until creamy. Add the lemon curd/filling and beat again. Fold in 1 cup Cool Whip. Spread in the prepared crust.
Top the pie with the remaining Cool Whip. Arrange the sliced strawberries and blueberries on top. Refrigerate 4-6 hours or overnight. Cut into 8-10 slices.
Notes
*You can also use 18-20 Golden Oreo cookie crumbs and 5 Tablespoons butter if you cannot find the Lemon Oreos.
https://insidebrucrewlife.com/no-bake-strawberry-lemon-cream-pie/
Copyright Inside BruCrew Life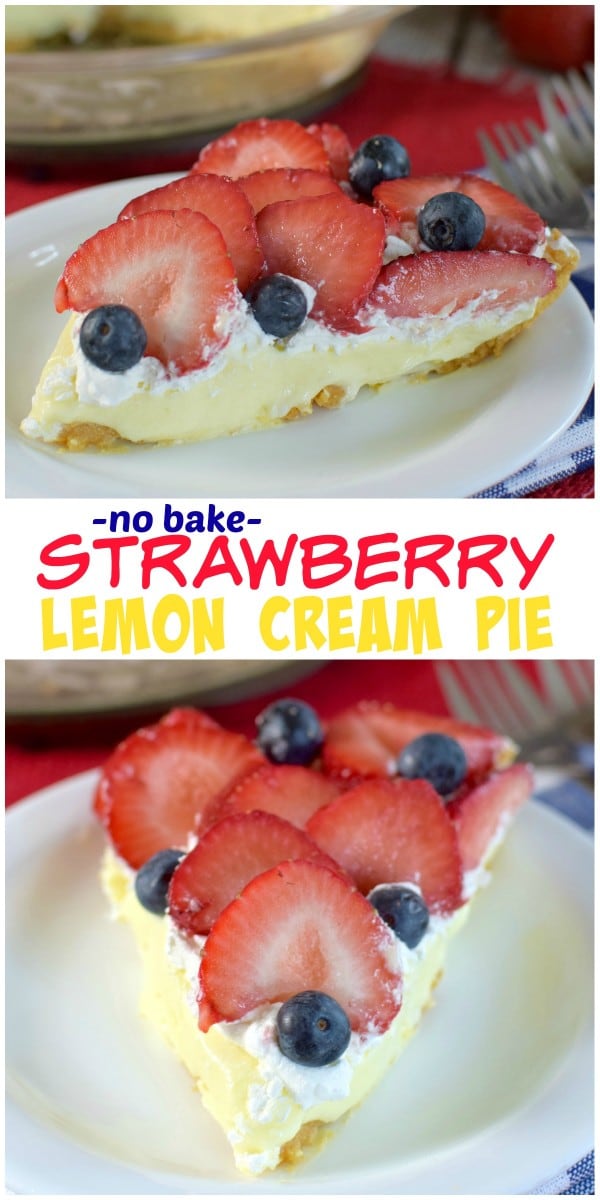 More lemon treats to celebrate summer with: