This easy No Bake Halloween Oreo Cream Pie has layers of cookies and creamy pudding. It's a fun and colorful dessert to share at Halloween parties next week.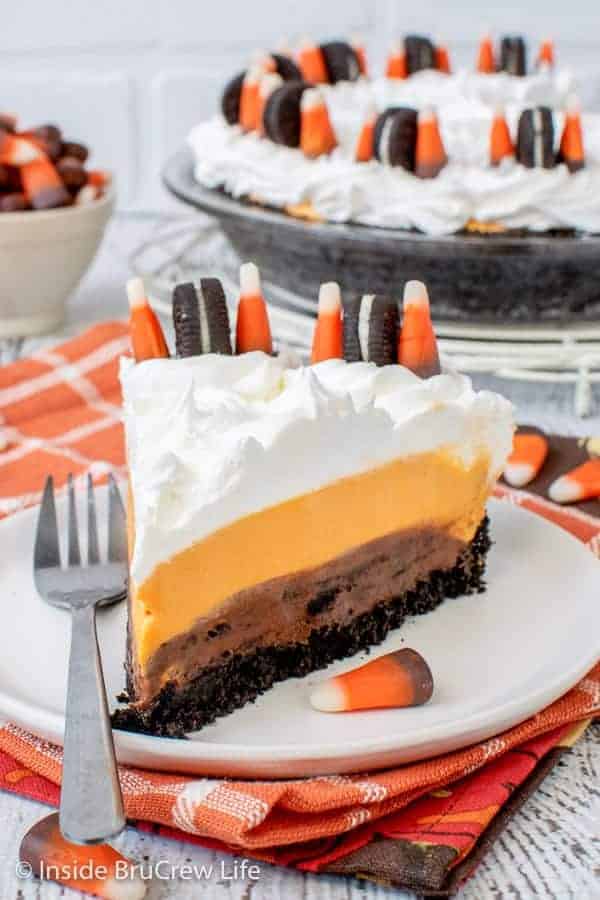 One of my favorite things to do is make fun and colorful desserts for the holidays. Ok, ok. So, maybe I just like making dessert.
This time of year treats are just a little more fun. There are so many holidays to use candies and colors in. Layered or striped desserts tend to be one of my favorite things to make.
There is something so satisfying about cutting into a dessert and seeing all the layers staring back at you. I mean look at these Chocolate Cookies and Cream Cheesecake Bars. So pretty!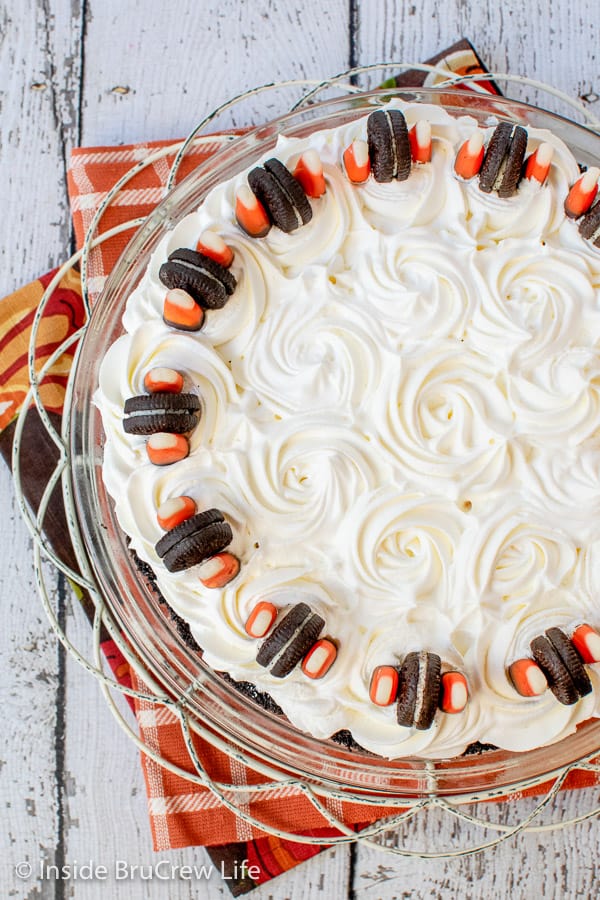 This Halloween pudding pie was inspired by this easy Cookies and Cream Chocolate Pie that I made a few years ago. I changed it up by making a no bake chocolate cheesecake layer with cookie chunks and an orange tinted vanilla pudding layer.
It's the perfect Halloween dessert for parties. The brown, orange, and white colors make it look just like the Indian candy corn.
Although, I didn't add that much orange to the pudding because I didn't want people to have an orange mouth after eating it. LOL! If you want it brighter, go ahead and add more orange gel coloring to it. Just beware.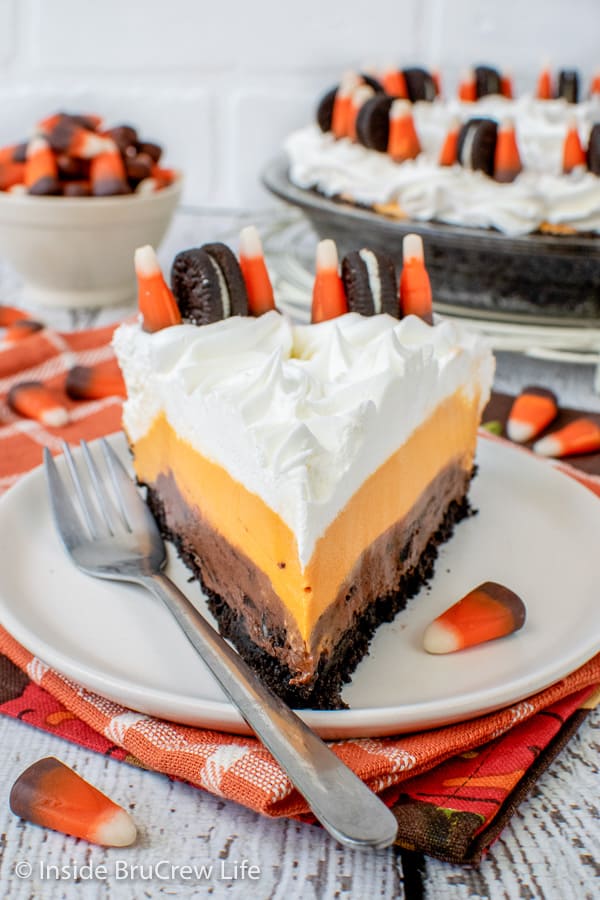 How to make a No Bake Halloween Oreo Cream Pie:
Crush the Oreo cookies and mix the crumbs with melted butter. Press the cookie mixture into the bottom and sides of a 9-inch pie plate.
Beat the cream cheese and sugar until creamy. Add some melted chocolate and beat again.
Stir in a little bit of Cool Whip to make it fluffy, then stir in some Oreo cookie chunks. Spread the no bake cheesecake in the bottom of the crust.
Whisk together the milk and pudding mix. Gently stir in some Cool Whip.
Add a little bit of orange gel coloring until you get your desired color. Spread the pudding on top of the cheesecake layer.
Swirl or spread the remaining Cool Whip on top of the pie and refrigerate for a few hours.
Add candy corn and mini Oreos to the top right before serving.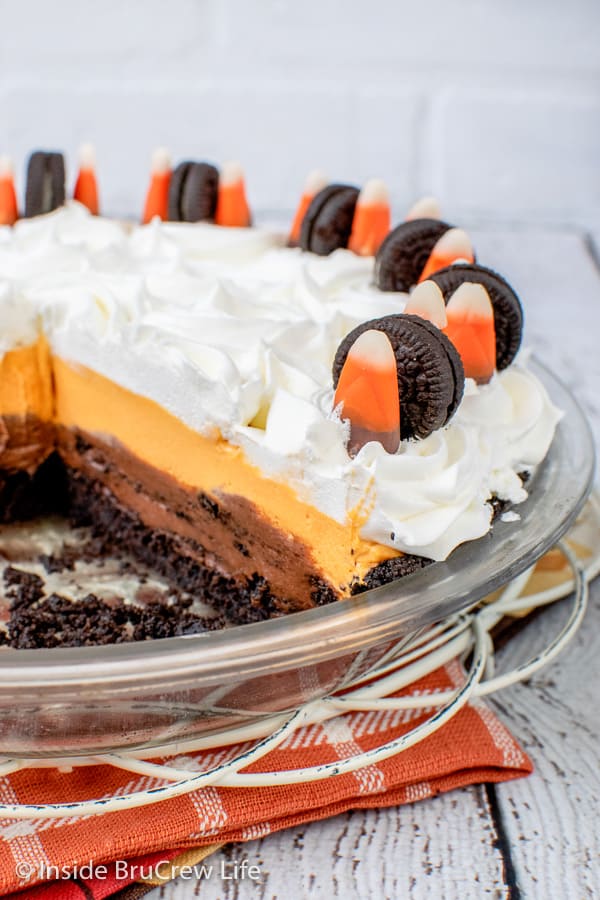 Tips for making a Halloween Cream Pie:
You can use regular or Halloween Oreos in this pie. Go ahead and leave the cream filling in the centers when you crush them. A food processor makes it easier to make cookie crumbs.
Make sure to set your cream cheese out ahead of time. It's easier to beat it and make the no bake cheesecake creamier if it is room temperature. If you forget, remove the foil wrapper and microwave it for 20 seconds.
If you want to make the bottom layer cookies and cream, use white chocolate in place of the dark chocolate.
Tint the vanilla pudding layer with orange gel coloring. You can do as light or as dark as you want.
Refrigerate the pie for at least 4-6 hours, so that you can slice it into nice pieces. You can serve it earlier, but the pie will be very soft.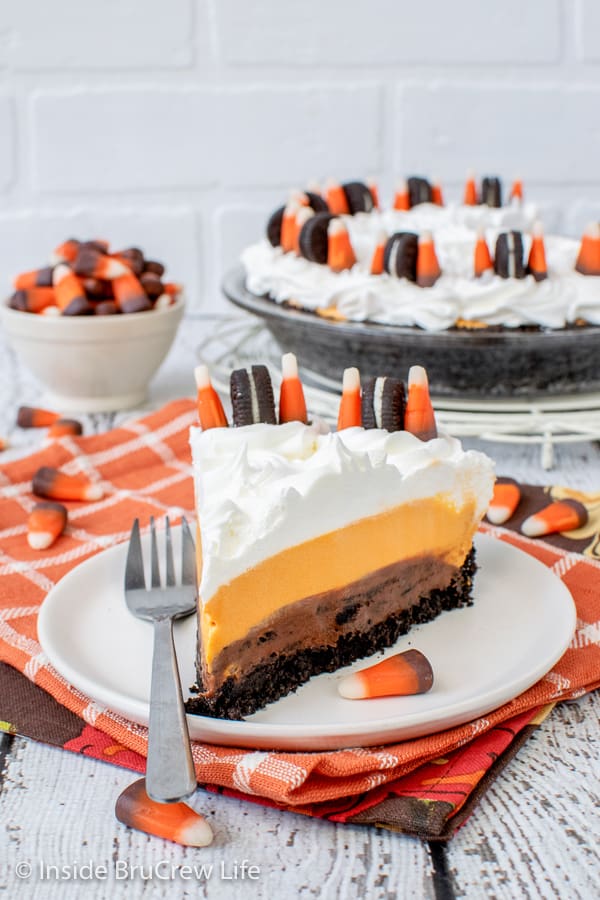 More fun and easy Halloween desserts you may like:
These easy Homemade Butterfingers are a great way to use up extra bags of candy corn this Halloween season.
Candy eyes and purple sprinkles make these easy Peanut Butter Monsters a fun no bake treat to share at Halloween parties.
These easy little spooky Ghost Cookies are perfect for adding to cupcakes this Halloween.
No Bake Halloween Cheesecake Parfaits are a fun treat for Halloween. Layers of vanilla cheesecake and cookies will have everyone licking their cup clean.
Make a batch of this easy Candy Corn Popcorn Mix to munch on during your next family movie night!