These easy to make Peppermint Shortbread Bar Cookies are a fun holiday treat. Sprinkles and candy cane chunks make them stand out on the cookie trays.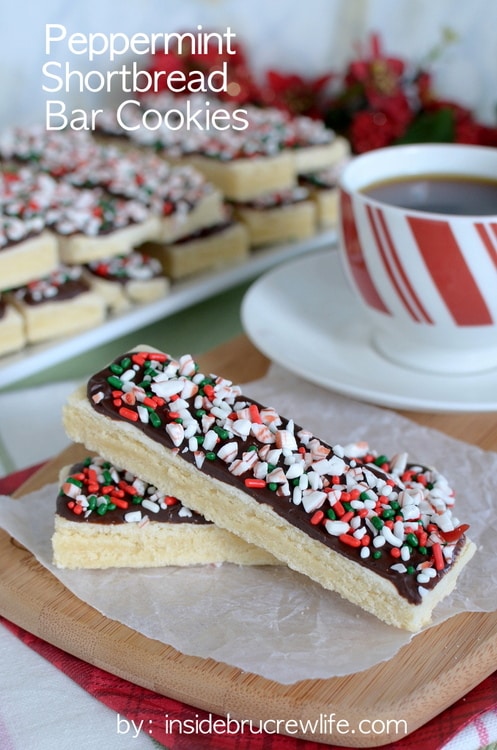 Holiday baking is just around the corner. I look forward to spending time with my family as we bake around 10 different kinds of cookies to share with our friends and families. Our three children enjoy helping us make and decorate all the varieties that we bake.
They are really good at taking wrappers off candy, stirring in ingredients, and sampling all the dough and cookies.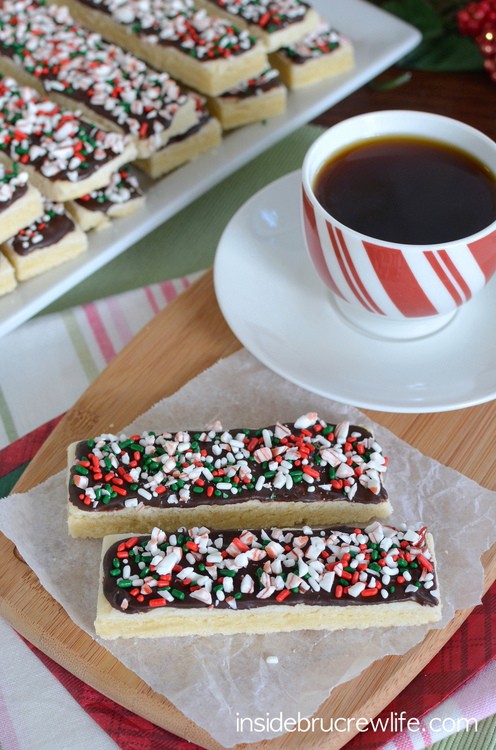 Cookie baking takes a little bit of preparation ahead of time. I usually have quite an assortment of candy in my baking cupboard, but we always need to stock up on more staples like butter and flour. Here are a few holiday baking tips that I try to remember as I get ready for holiday baking.
1. Get organized. I start by making a list of what cookies we will be making. Then I make another list of all the ingredients we will need before we can start baking. There is nothing more frustrating, then to be in the middle of a recipe and realize that you are out of something.
2. Remember to take your ingredients out of the refrigerator about 60 minutes before you start baking. The softened butter should leave a slight mark when you touch it.
3. Always let your oven come to the full temperature before placing cake or cookies in it. If it is not hot enough, your baked goods will not rise or bake properly.
4. Line your baking sheets with foil for quick and easy clean up. This way you are not in the kitchen doing dishes when you could be enjoying time with your family.
5. Cool the cookies completely before storing in containers. Keep soft cookies and hard cookies in different containers, otherwise the moisture from the soft cookies will make everything soft.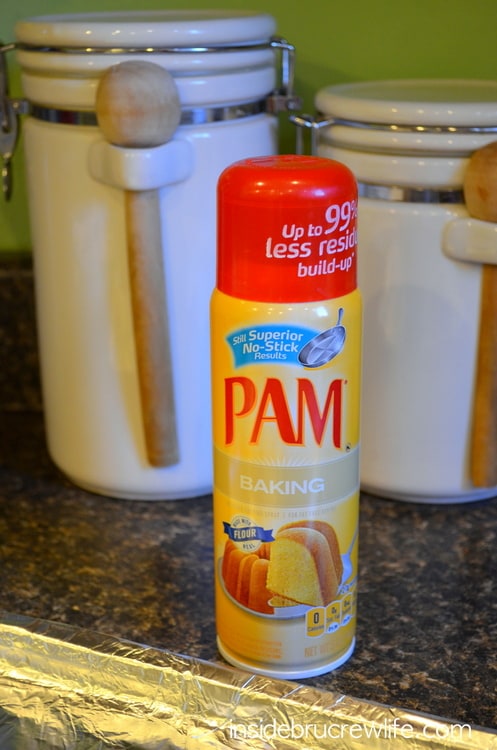 One kitchen staple that I like to keep on hand whenever I am baking is PAM Cooking Spray. This non-stick, no residue spray gives me the reassurance that my cookies are going to come off the pan the first time I bake them. The one I use the most is the PAM Baking Spray. They have combined the no stick power of PAM spray with flour. This spray will reach every area of your baking pans, even those hard to reach areas.
You can use the PAM spray for more things than just baking. When you are rolling cookies, spray your hands to keep the dough from sticking to your hands. Spray measuring cups to keep sticky ingredients from sticking. Coat your cookie scoops with spray, so the dough comes out uniform every time. You can also spray your knives for easier cutting. This helps keep even and neat slices.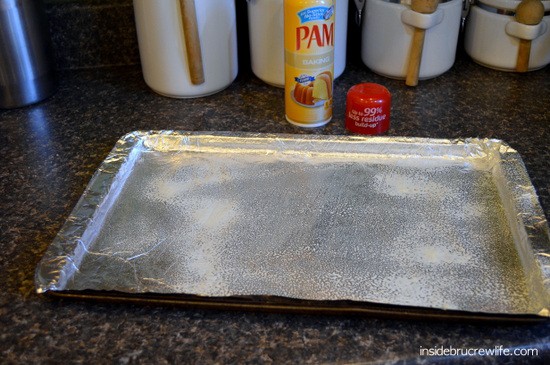 One cookie that makes our holiday list every year are these peppermint snowball cookies. You can roll the dough into balls to bake, or you can press the dough onto your prepared pan and make bars for a quicker version.
See how I lined my pan and coated it with spray?
I love that I can just fold this foil up after the cookies are done baking. This is one less dish I will be washing this year. Press the dough gently into an 11×9 inch rectangle right on the foil. The Pam Baking Spray will help it move smoothly over the foil.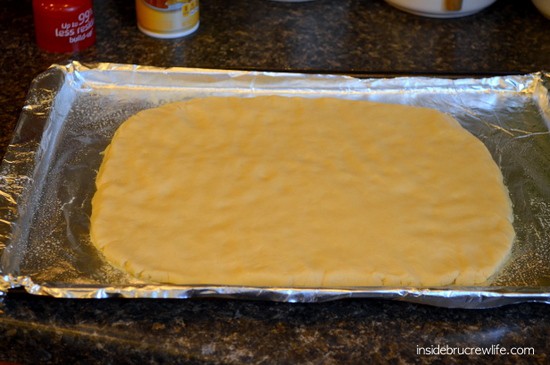 As soon as the cookies come out of the oven, use a knife or pizza cutter to cut the warm dough into small rectangles. Then let the bars cool completely before adding your chocolate and candy. The bars come right off the foil without even needing a spatula. I love knowing that part of my cookies will never be left behind.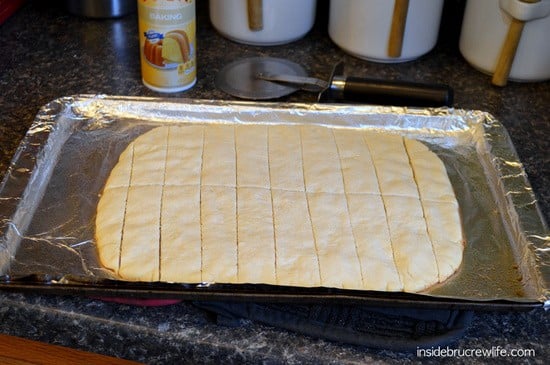 Peppermint is such a great holiday flavor. Actually I enjoy peppermint all year long, but it is extremely popular right now. These bars have just a little bit of dark chocolate, crushed candy canes, and sprinkles to give them some holiday flair. These are the perfect cookie to enjoy with a steaming cup of coffee.
Go ahead and bake a batch, and then invite a friend over for coffee, cookies, and girl time.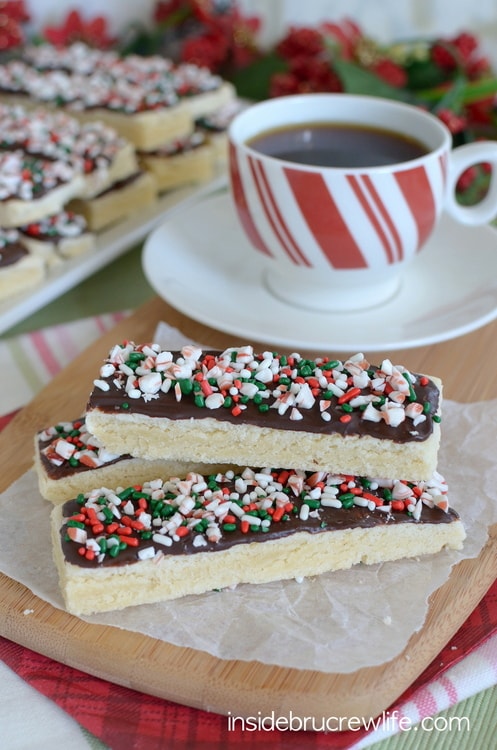 Connect more with Pam Cooking Spray: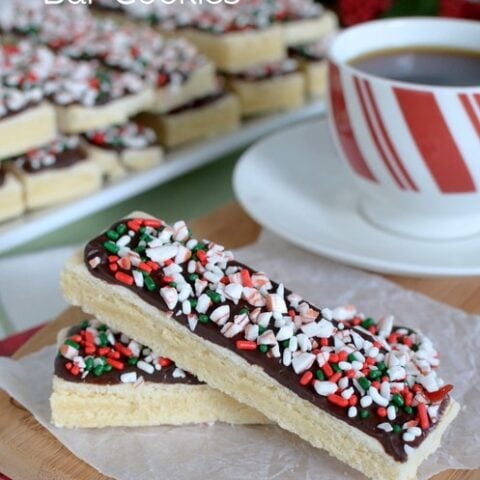 Peppermint Shortbread Bar Cookies
Shortbread cookies topped with dark chocolate and peppermint candies are the perfect holiday cookie for enjoying with coffee.
Ingredients
1/2 cup unsalted butter, softened
1 cup powdered sugar
1 large egg
1 teaspoon vanilla extract
1/4 teaspoon salt
2 1/2 cups all-purpose flour
1/2 cup dark chocolate chips
1 teaspoon vegetable shortening
1/4 cup crushed peppermint candy canes
3 tablespoons holiday sprinkles
Instructions
Preheat oven to 350°.
Beat the butter and powdered sugar in a mixing bowl. Add the egg and vanilla and beat again. Slowly add the flour and salt until the dough comes together. Roll into a ball.
Line a baking sheet with foil. Spray the foil with non stick baking spray. Place the ball in the center of the pan. Gently press the dough into a 9x11 inch rectangle. Keep the dough as even as possible.
Bake 10-12 minutes. Remove from the oven and cut into 20 smaller rectangles. Let them cool completely.
Place the chocolate chips and shortening in a microwave safe bowl. Heat for 30 seconds and stir. Repeat. Stir until melted.
Spread on top of each cookie bar. Top with peppermint candies and sprinkles. Store in sealed container. Makes 20 bar cookies.
Nutrition Information:
Yield:

20
Serving Size:

1
Amount Per Serving:
Calories:

169
Total Fat:

7g
Saturated Fat:

4g
Trans Fat:

0g
Unsaturated Fat:

3g
Cholesterol:

22mg
Sodium:

33mg
Carbohydrates:

24g
Fiber:

1g
Sugar:

10g
Protein:

2g
Nutrition facts are an estimate and are not guaranteed to be accurate. If you need special diet advice, please see a registered dietician.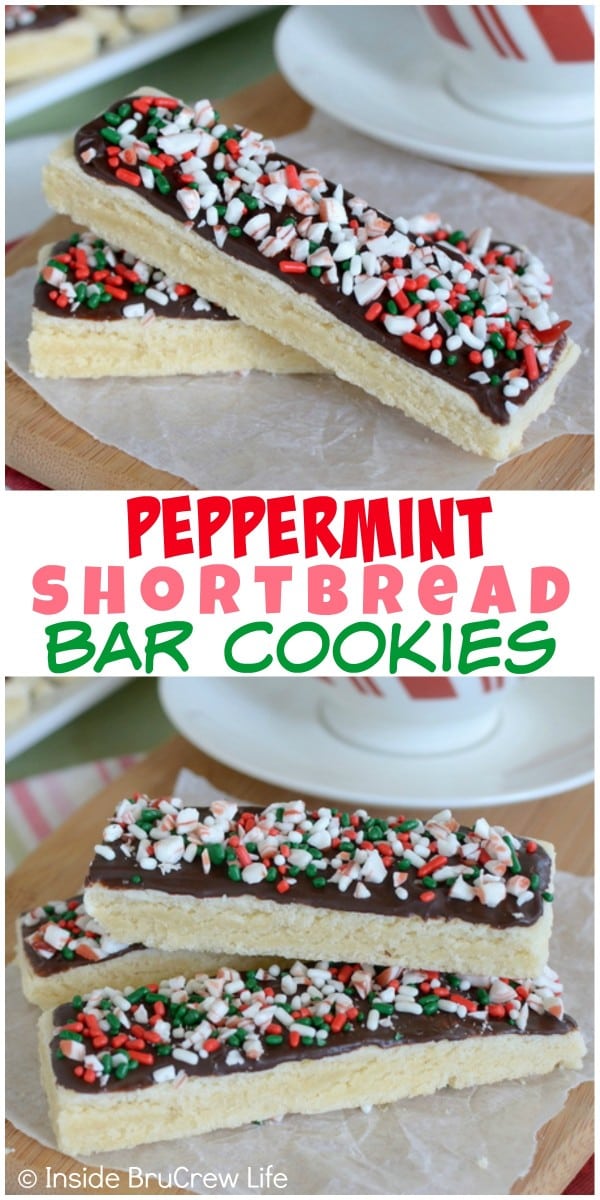 *Inside BruCrew Life was compensated with product and payment to create a recipe for PAM cooking spray. All opinions are 100% my own.