Get the party started with a tray of Tortilla Pizza Roll Ups. Loaded with your favorite pizza toppings, these bite sized appetizers are easy to make and taste amazing.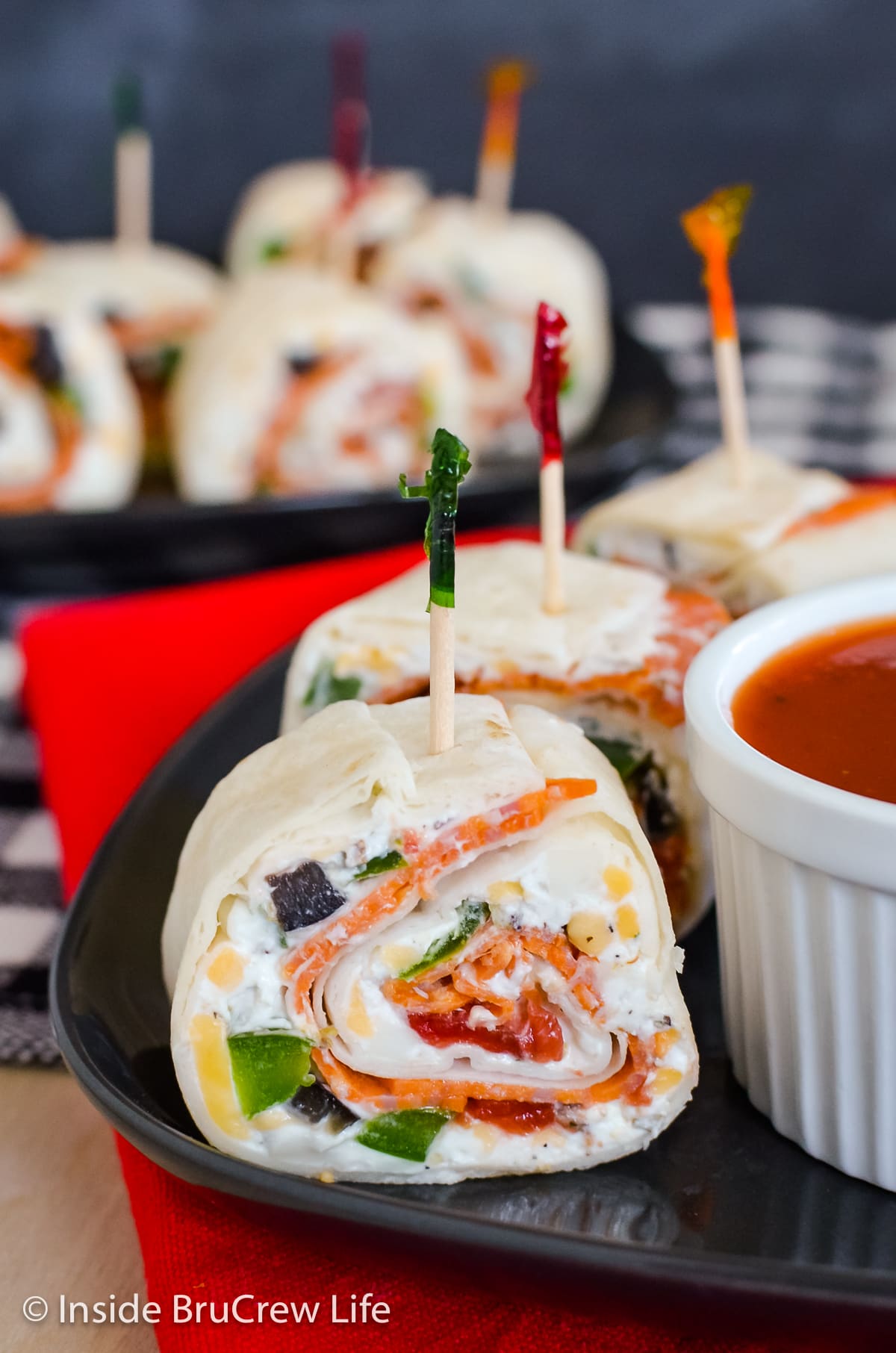 Jump to:
We think finger foods are the best part about any party. That's why we created "snacks giving" - a few days a year where we go all out on appetizers.
From cheesy chicken sliders, buffalo chicken pinwheels, and parmesan chicken rolls, our trays are loaded with so many delicious appetizers. And of course it's not a party without good company and fun games. So, we invite friends and family over for a fun evening of snacks, games, and conversation.
Whether you are celebrating a birthday, a big game, or an event, there is just something special about bringing people together with some fun food.
Why Pizza Roll Ups are the Perfect Snack
Our family loves all kind of pizza inspired recipes. Pizza bites and tomato basil pizza dip always are on the top of the finger food list. But these pizza tortilla roll ups are making their way to the top for so many reasons.
Easy to Make - You can make a bunch of these rolls in about 10 minutes because there is no baking or cooking required.
Inexpensive - This appetizer is a cheap way to fill a tray and to feed a crowd.
Fun Topping Choices - Everyone has different things they love on pizza. These pizza roll ups can be made with all types of toppings to please everyone.
Great for Parties and Picnics - Whether you are headed to a summer picnic, hosting a game day party, or just want a simple appetizer, these rolls are the perfect choice.
Ingredients Needed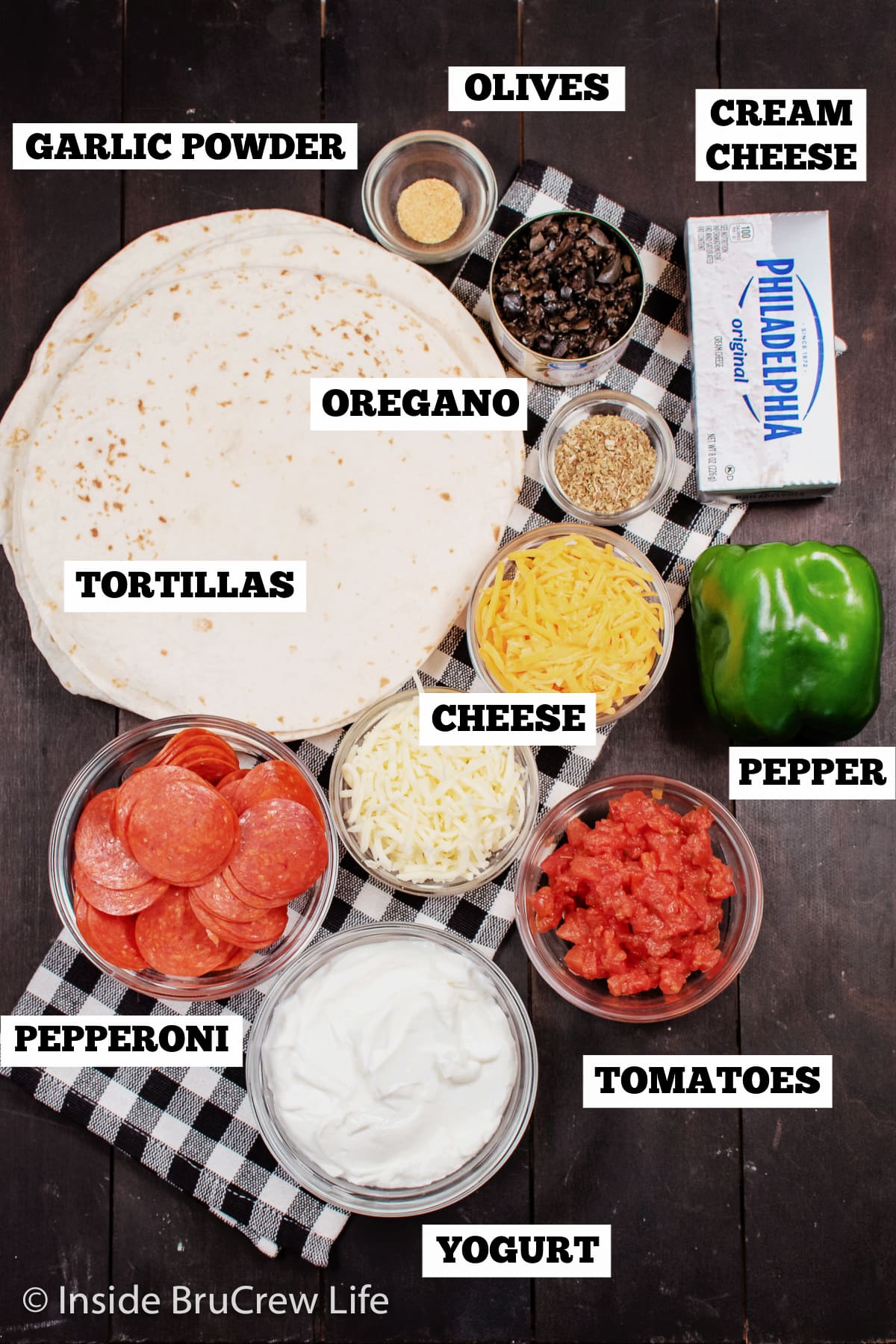 All you need are a few simple ingredients to make pizza roll ups. Choose your favorite toppings, then roll them up for a fun twist on pizza.
Soft Tortillas - This recipe calls for 10 inch flour tortillas. Use a high fiber or low carb tortilla if you prefer.
Cream Cheese - Full fat will give you the best flavor and texture.
Shredded Cheese - A mixture of mozzarella cheese and cheddar cheese give it a cheesy goodness.
Seasonings - Dried oregano and garlic powder add a good flavor.
Toppings - Fill the pinwheels with pepperoni, green peppers, black olives, and tomatoes
How To Make Tortilla Rolls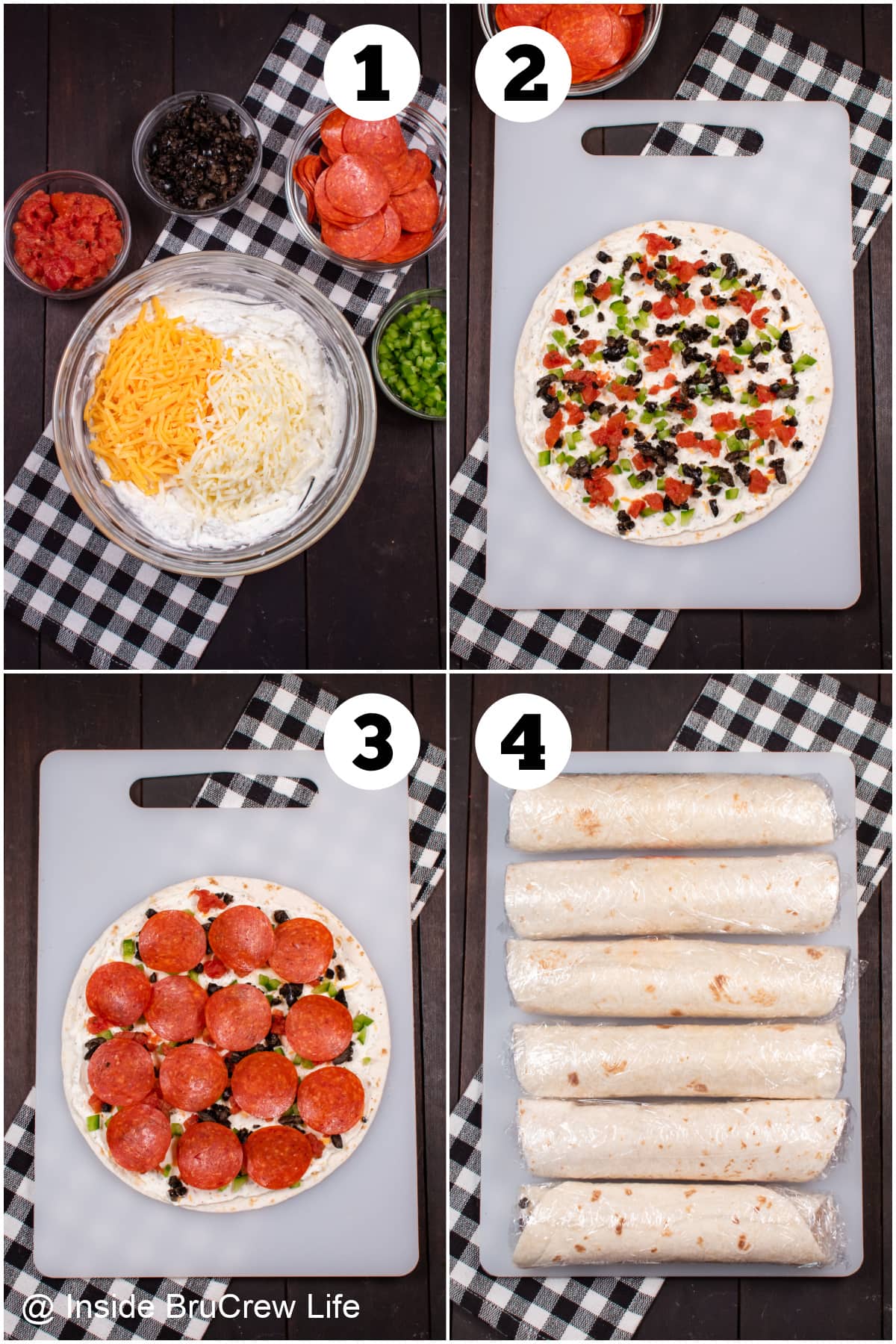 This pizza roll ups recipe only take minutes to prepare, so you can whip them up any time for an after-school snack or a late-night bite.
Make cream cheese spread. Mix the softened cream cheese and seasonings until creamy. Stir in shredded cheese.
Add filling and toppings. Spread the filling evenly on top of 6 tortilla shells. Divide the toppings evenly on the tortillas.
Cover with pepperoni. Layer sliced pepperoni on the toppings and press down gently.
Roll and wrap. Roll up tightly; place seam side down on plastic wrap. Wrap tightly and chill in the refrigerator for 1-2 hours before serving.
Topping Ideas for Pizza Pinwheels
Imagine the flavor combination possibilities - cheese paired with pepperoni, olives and mushrooms; spinach and feta; bacon and jalapenos…the options are endless!
Meats - pepperoni, sausage, ham, bacon, chicken, beef
Veggies - mushrooms, onions, green peppers, tomatoes, olives, spinach
Cheese - mozzarella, Swiss, Parmesan, cheddar, Mexican blend, feta, blue cheese
Dips - pizza sauce, ranch dressing, pesto, blue cheese dressing, garlic butter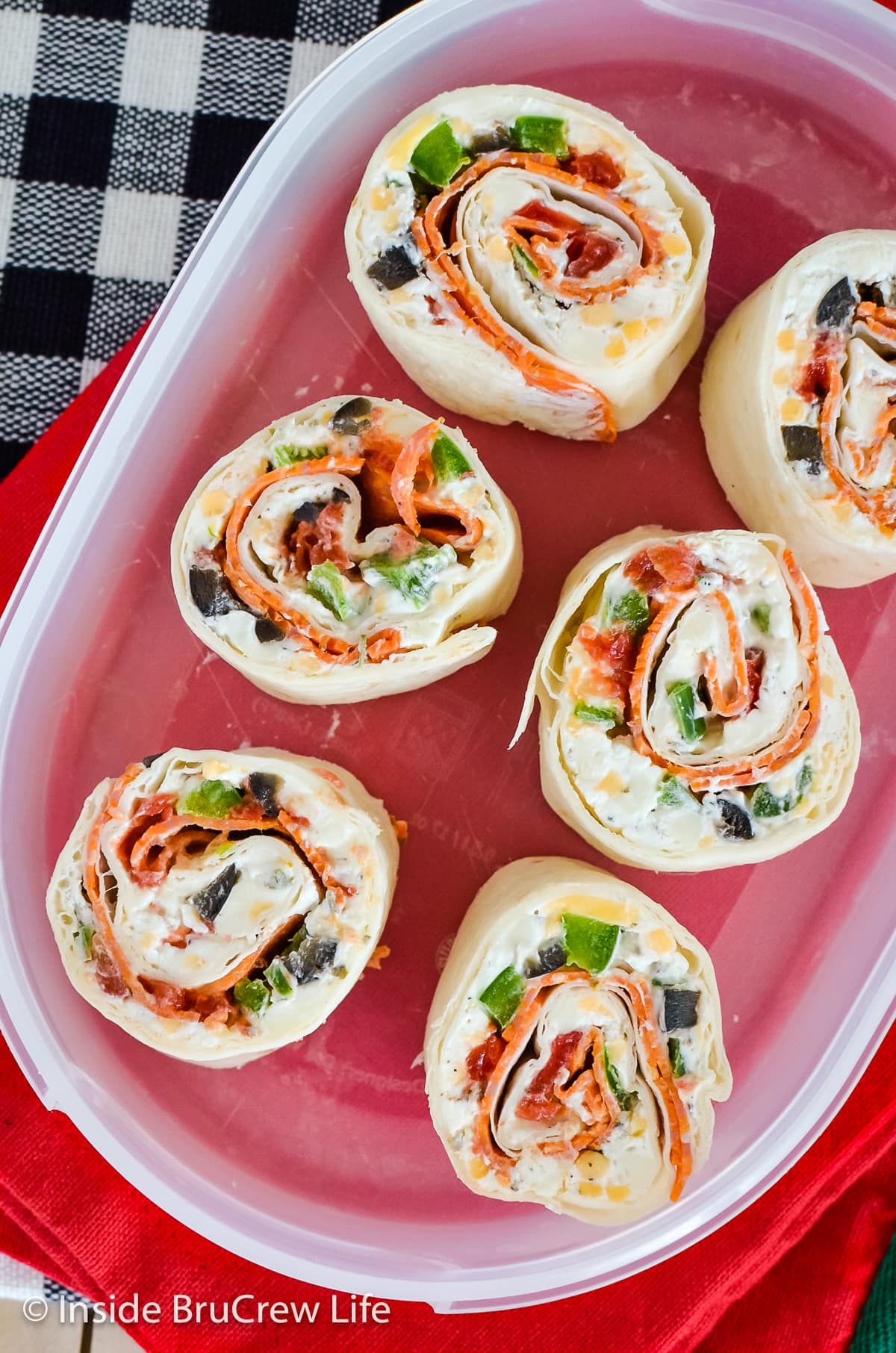 Storage Recommendations
In the Refrigerator - Store any leftover pieces in an airtight container in the refrigerator for up to 3 days. It is best to serve the rolls within a day, because the tortillas absorb moisture the longer they sit.
In the Freezer - Before slicing, wrap the rolls in a paper towel, then in an airtight container for up to 2 months. Allow them to thaw in the refrigerator overnight. Then slice and serve.
Tips and Tricks
Use any kind of tortilla. Some great ones to use are spinach and sun dried tomato. You can even use a low carb tortilla or high fiber tortilla to fit your eating plan.
Have fun with the toppings. There is no limit to what you can add to these rolls. Remember to use precooked meats.
Drain the vegetables very well. This will keep the moisture down and keep the tortillas from getting soggy. You can even pat the vegetables dry with a paper towel to remove as much liquid as possible.
Dice the toppings into small pieces. This will make the pizza rolls easier to roll, slice, and eat.
Wrap the pinwheels tightly. The tighter you wrap them the better they will hold together when you slice them.
FAQs
Can I make tortilla pizza roll ups ahead of time?
Yes. They are fine to make 3 days ahead of time and store in the refrigerator. You can even freeze them if you need to store them longer.
How do I keep the toppings from falling out of my tortilla?
Make sure you wrap the tortilla tightly. Then wrap it in plastic wrap and place in the refrigerator for 2-3 hours for it to completely set up.

You could even insert a toothpick into each roll if it continues to open up on you.
Can I heat a pizza wrap in an air fryer?
Yes, these rolls can be heated in an air fryer. Do not cut into slices. Place 2 toothpicks into the full roll to hold it together. Heat at 350° for 7-8 minutes. Remove and enjoy.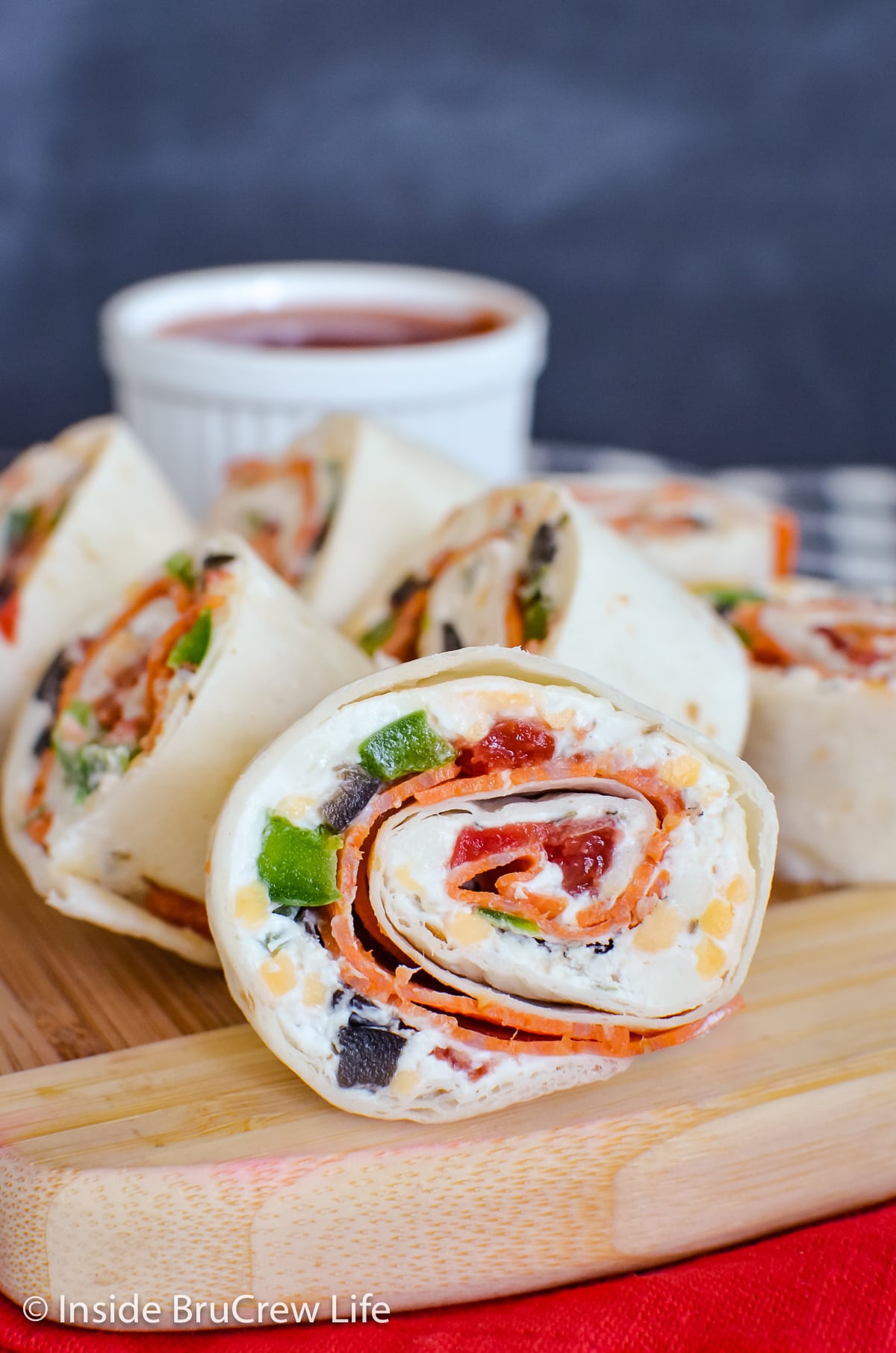 More Appetizers
Do you love a recipe you tried from Inside BruCrew Life?
Please leave a 5-star ⭐️ rating and a review in the comments section below.
*This post was first published September 2013. It was updated and republished June 2023.