These easy two ingredient Pumpkin Raisinets Muffin Tops are a delicious breakfast treat on a chilly fall morning. Extra chocolate drizzles on top will get extra smiles from everyone!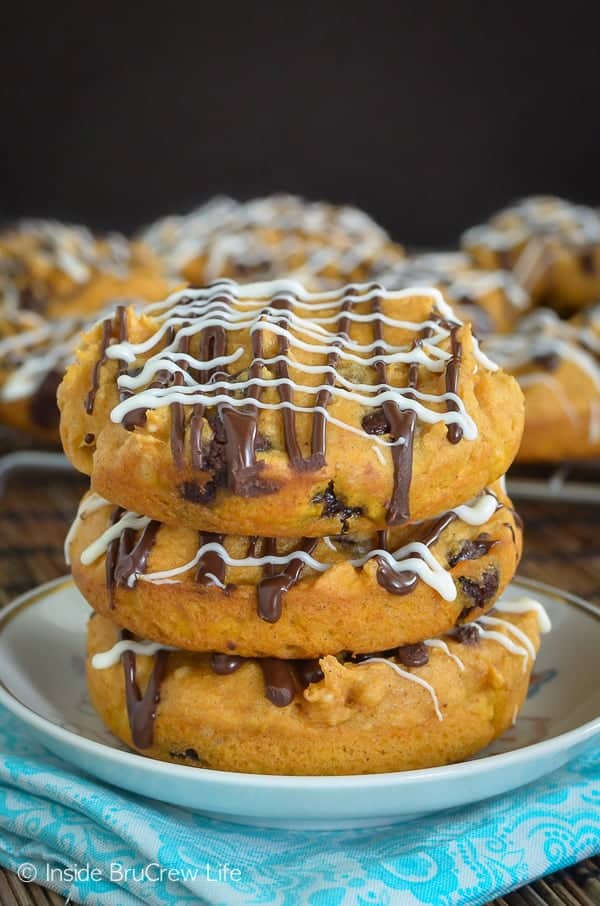 I think it is safe to say that I like to bake. A lot. One of the things that I enjoy baking the most are different breakfast items.
Lots of Banana Bread Muffins, Cinnamon Sugar Apple Donut Holes, and Toffee Latte Scones get cranked out pretty regularly in our kitchen.
My kids love having muffins or donuts instead of eating dry cereal, and I am happy to make them these yummy breakfast treats.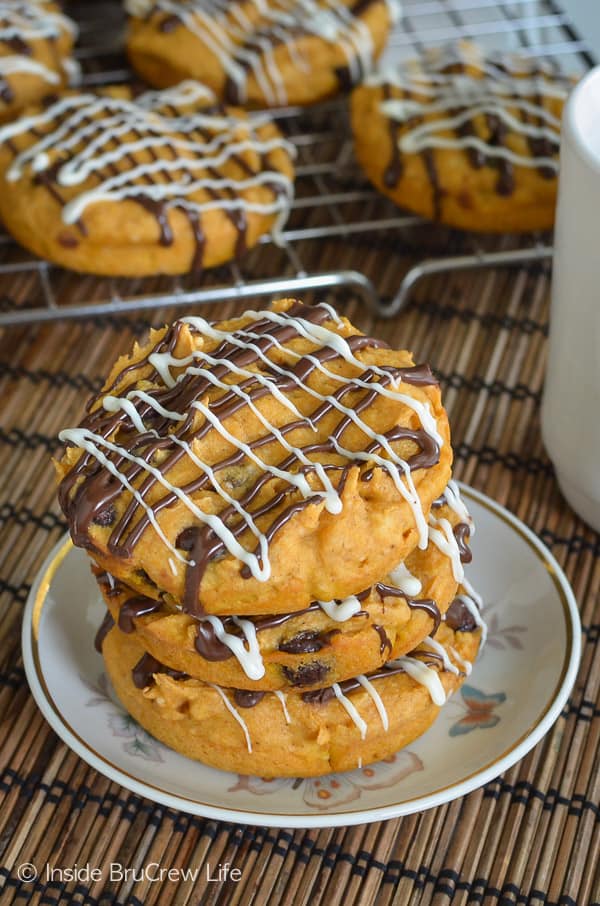 Two Ingredient Pumpkin Muffins
How do you make pumpkin muffins from a cake mix? If you mix it with a can of pumpkin puree it makes a sweet muffin batter.
I love how fast and easy these two ingredient pumpkin muffins are to whip up in a pinch.
Although, the first time I made them they were just a little too heavy for my taste, so this time I added a little water and some spices. So technically now they are now four ingredient pumpkin muffins, but who is counting water.
If you want to use a spice cake instead of a white cake mix, that would eliminate the spices you need.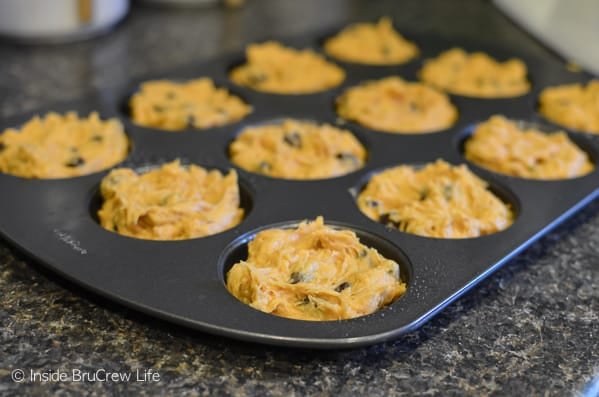 This time I baked them in a muffin top pan, and I added some dark chocolate Raisinets to the batter. It was one of my better ideas!
But then I apparently have the taste buds of a granny because I love me some raisins in my baked goods.
I also drizzled two kinds of chocolate on top because I happen to like chocolate on everything. It's not necessary to add the drizzle, but I totally think anyone who leaves out extra chocolate is probably an alien. Just saying...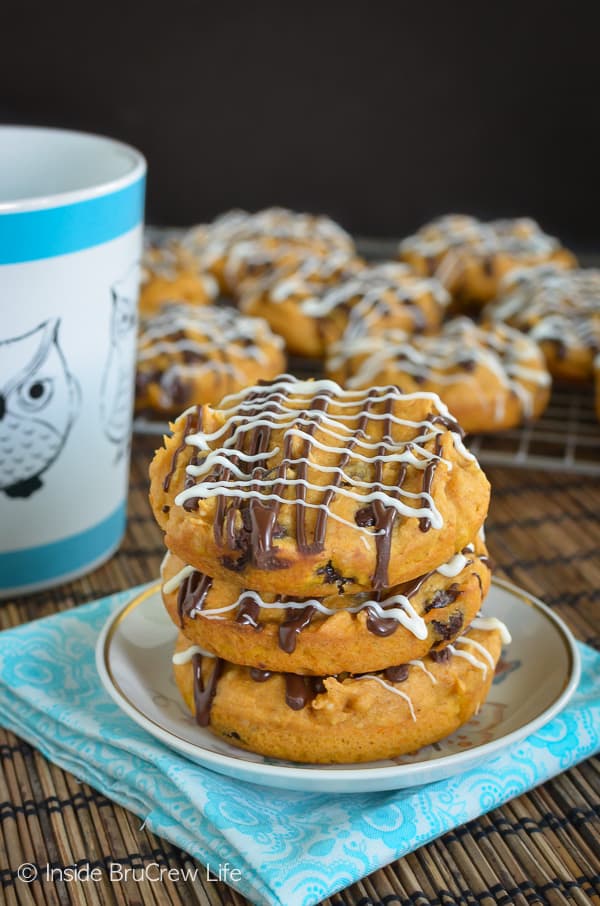 As I was baking these pumpkin muffins, I started to think about all the things I do with my family that gives me JOY.
Now of course baking makes me really happy, and I love that my kids have been asking to help out in the kitchen A LOT lately.
Although, I really think they just like to "clean" out the bowls and spatulas when we make the Homemade Chocolate Chip Brownies more than "help" me!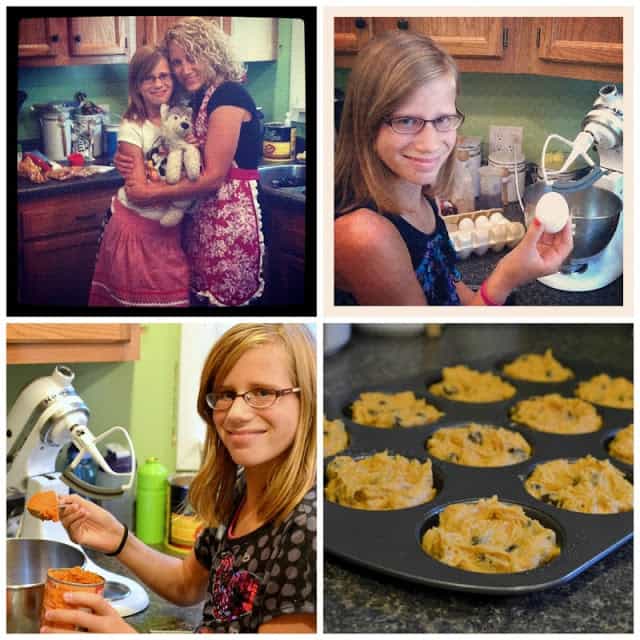 Other things that we do as a family that brings me joy is playing games, pizza & movie night, taking walks, reading books, playing video games, and "date" days.
Just the other day my girl and I had one of these fun "dates". We think it is important for some one on one quality time for each of our kids.
Coffee is always a must on these days. Then on to the mall for some fun finds like spikey earrings and candles.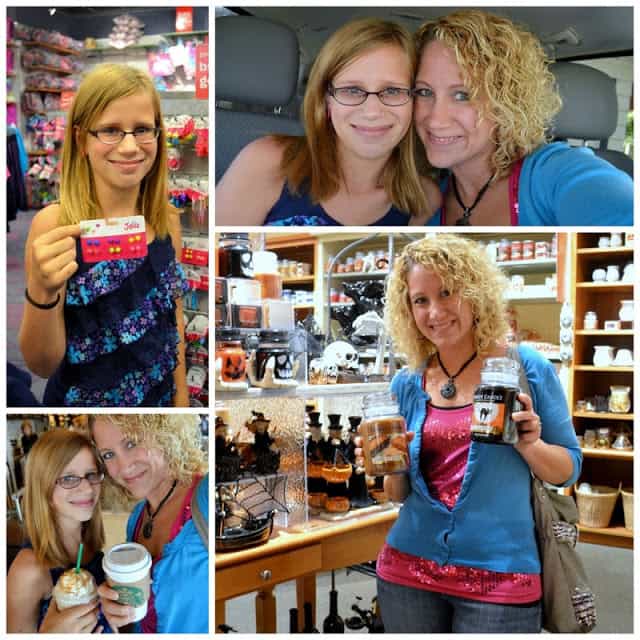 Tips for making Pumpkin Raisinets Muffin Tops:
Stir together the cake mix, water, spices, and a can of pumpkin puree until a stiff batter forms. Stir in the Raisinets gently.
If you are opposed to raisins in your baked goods, feel free to substitute your favorite chocolate chip. I think white, chocolate, butterscotch, or cinnamon would be delicious.
Spoon a large Tablespoon of batter into the cavities of a muffin top pan. Bake for 17 minutes.
Can I bake these pumpkin muffin tops in a muffin tin instead? Yes, you can. Just fill the muffin pan a little fuller and bake them for about 20 minutes, or until an inserted toothpick comes out with just a few crumbs on it.
Remove the pan from the oven and let the muffin tops cool in the pan for a few minutes. Then gently remove them and place on a wire rack to cool completely.
Place the chocolate chips and shortening in a bowl and heat for 30 seconds. Stir until it is melted and creamy. Spoon into a Ziplock baggie and cut one corner off. Drizzle lines over the tops of the pumpkin muffin tops.
Repeat this step with the white chocolate chips and remaining shortening.
Store these Pumpkin Raisinets Muffin Tops in a loosely sealed container. You want a little bit of air to get in because these are a very soft muffin, and if you seal them up tightly they will get extra soft.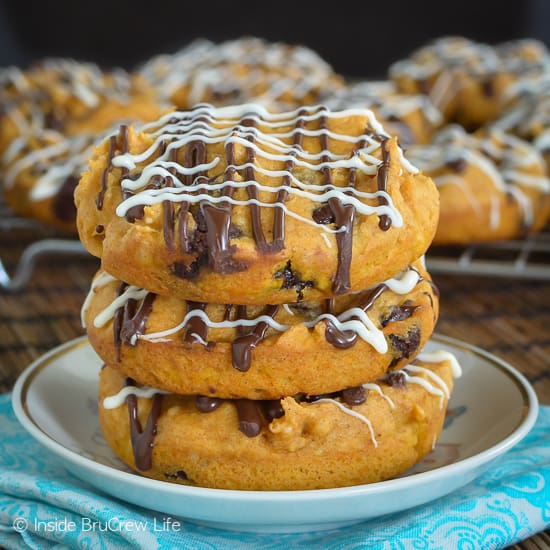 More pumpkin recipes you may enjoy for breakfast:
Pumpkin Raisinets Muffin Tops recipe: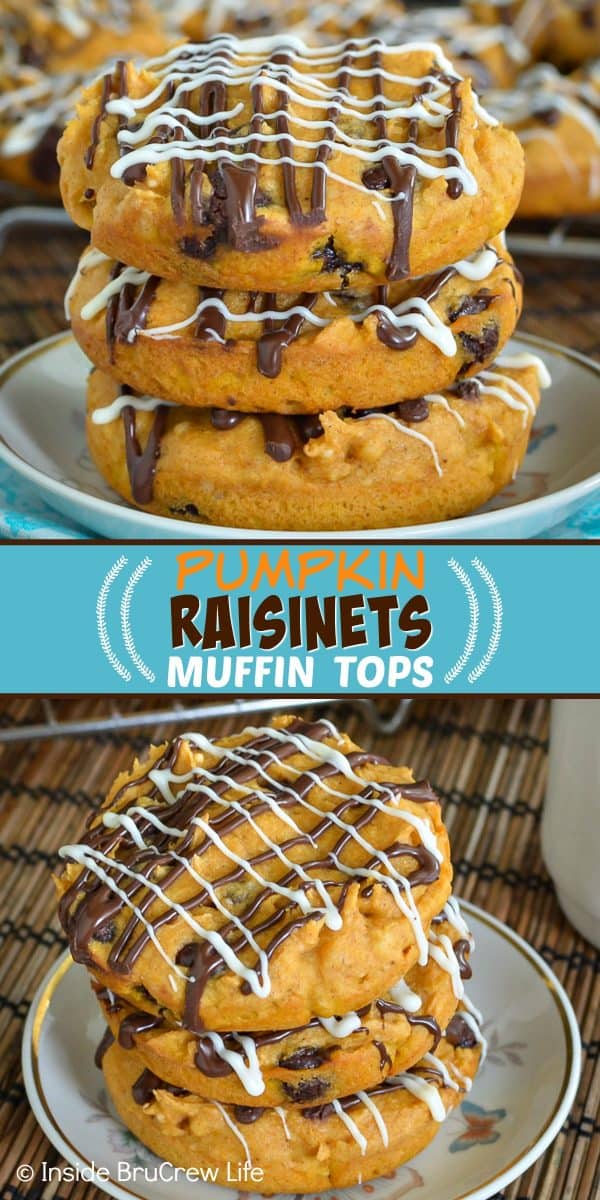 *This post contains affiliate links. Inside BruCrew Life may receive a small percentage from sales made through these free links. As always, these do not cost you any extra. Thank you for letting us share products we use and love this way.