Adding some spices, pumpkin, and a creamy frosting makes these Pumpkin Spice Sugar Cookie Bars a fun fall treat.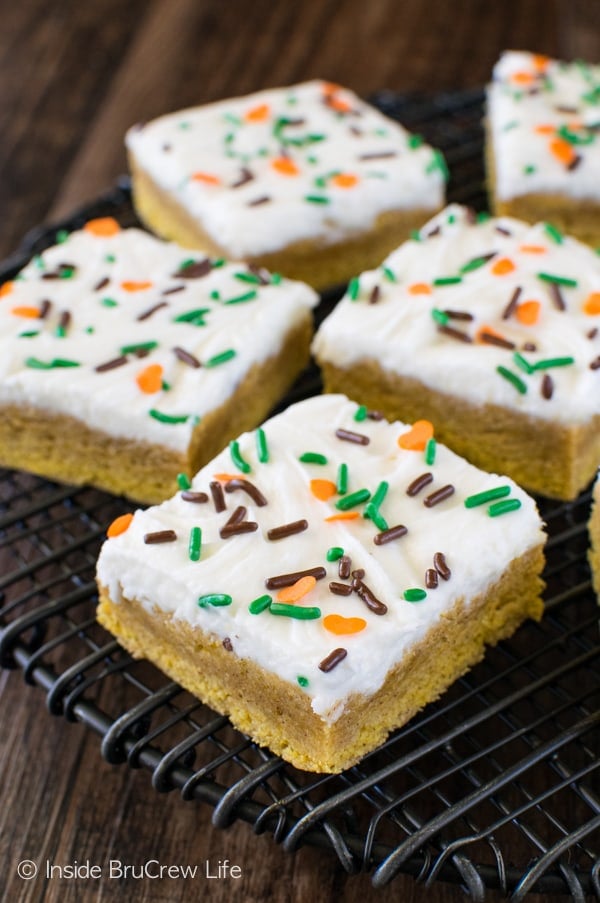 CLICK HERE TO PIN THE RECIPE FOR LATER!
The magazine creators know how to get me to purchase their magazines.  Just put a delicious picture on the front cover with a tantalizing title, and then place this publication right where I have to check out.  Really, it's brilliant because it works on me every single time.
I don't know why I can't say no to these food magazine.  Seriously, I have a stack of at least 10 waiting by my bed to be looked through.  Yet, two more came home with me just the other night.  The allure of more pumpkin goodness was too much for me to resist…
And yet, as I flipped through the pages of the ones I just bought, most of the recipes and ideas looked vaguely familiar.  I'm pretty sure all of those recipes were from previous years.  The recipes just got a little twist and a new picture, and voila a fun new recipe is born.  [Read More…]