This post has been brought to you by Silk. Chocolate, Almond Milk, and coconut turn this easy, homemade hot chocolate into a gourmet drink without all the extra calories.  Try one of these Almond Joy Hot Chocolate drinks the next time you need a drink to warm you up.
*Make sure you sign up for the BruCrew email, so you see these recipes in your inbox each morning.**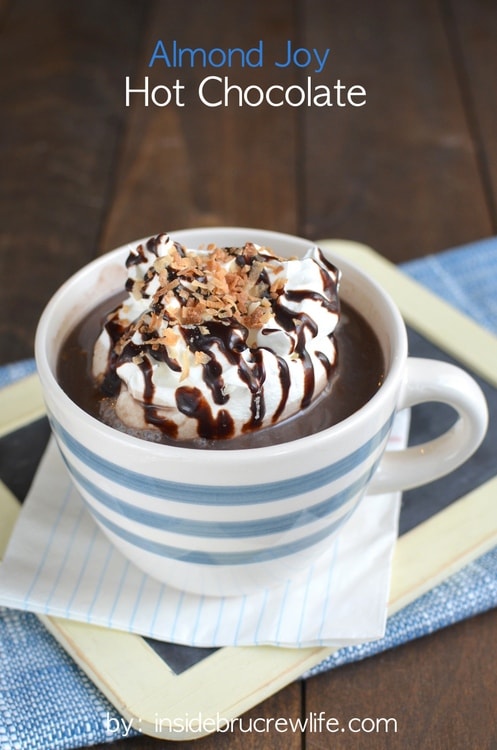 Fall has arrived completely here. The leaves on the trees have changed into the vibrant reds and oranges. The crisp smell of bonfires and leaves greets our noses each morning. We have been enjoying a bonfire on our deck a few nights a week, so the morning after the lingering smell of smoke greets you as you walk out the door. These chilly nights around the fire call for the three staples of hot dogs, s'mores and hot chocolate.
Not just any regular hot chocolate though. This Almond Joy Hot Chocolate is my newest fun creation using only 3 ingredients. Usually I just buy the big box of packaged mixes and keep those in my cupboard for easy grabbing when the kids want a warm drink. But now that I know how easy it is to make homemade, this one will be happening quite often around here.