Looking for a dessert recipe that is healthy and decadent at the same time?  This Apple Snickers Cake will have you going back for another piece in no time.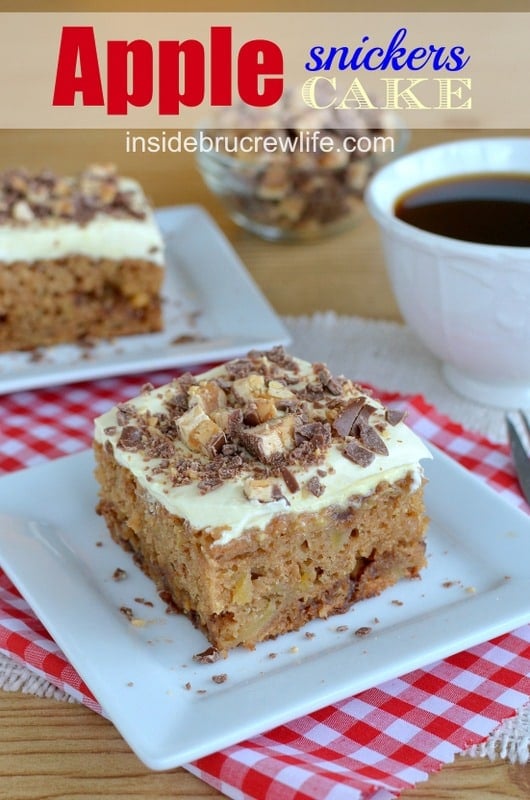 How many of you have had this Snickers Salad before?  It is a definite favorite with our kids.
Of course it always made me laugh every time I heard people talking about this salad, because Snickers and salad just don't sound right together.  But then I had some of the deliciousness, and I was a believer.   The creamy Jello pudding and Cool Whip mixed with apple chunks and Snickers bars…now that's the kind of salad I can get behind every night.  That's one way of having your apple a day, right?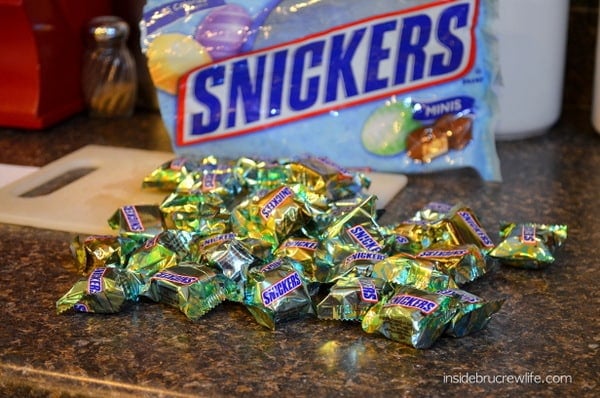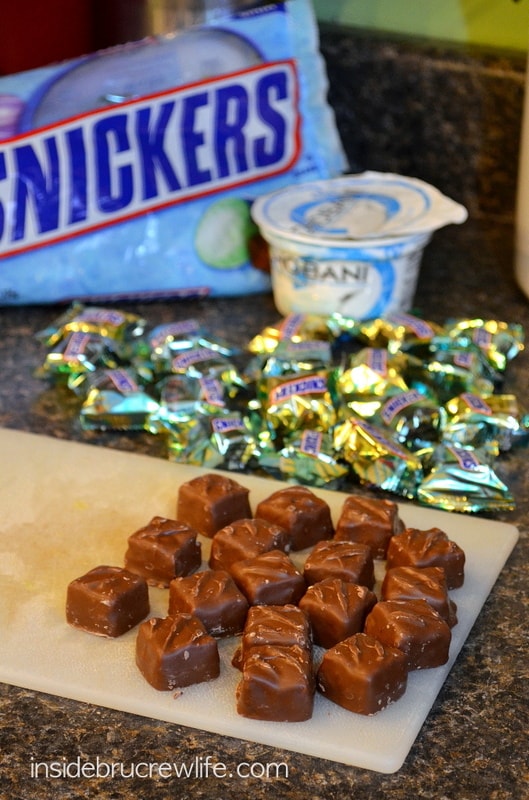 The other day I bought more Crunch Pak apples for school lunches and after school snacks.  As much as the kids would like to have cookies and cake every day, we have been trying to enforce more healthy options and I love how convenient the bags are for kids to eat.  Nothing wrong with encouraging the kids to eat more healthy snacks with individual portion sizes. I also picked up an extra bag of apples because I also wanted to make some muffins or bread too.
But then I wandered into the Easter aisles at Walmart, and I had this crazy desire to put Snickers into said muffins or bread.  Of course a bag of those Snickers went into my cart in quite a hurry.  What was that I said about eating more healthy snacks?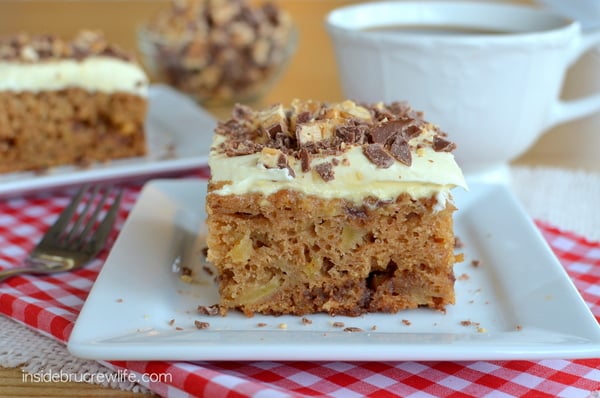 My husband just shakes his head in disbelief every time I come home with more candy.  I realize I have issues if you are wondering.  This time I was telling him about my crazy need to bake some apple bread with Snickers when he stopped me.  His suggestion was an apple cake with the Snickers Salad on top as frosting.  The more I thought about it, the better it sounded!  Let me tell you people, he is a genius because this cake is simply to die for.
This Apple Snickers Cake is actually quite healthy…if you forget that it has candy bars and sugar in it.  I used a mixture of applesauce and yogurt in place of any oil and butter.  And 3 cups of chopped apples means lots of apple in every bite.  See totally healthy right?  Ok, fine, now you are shaking your head at me in disbelief too.
Whatever. This cake is amazing!  Case closed on whether it is really healthy or not!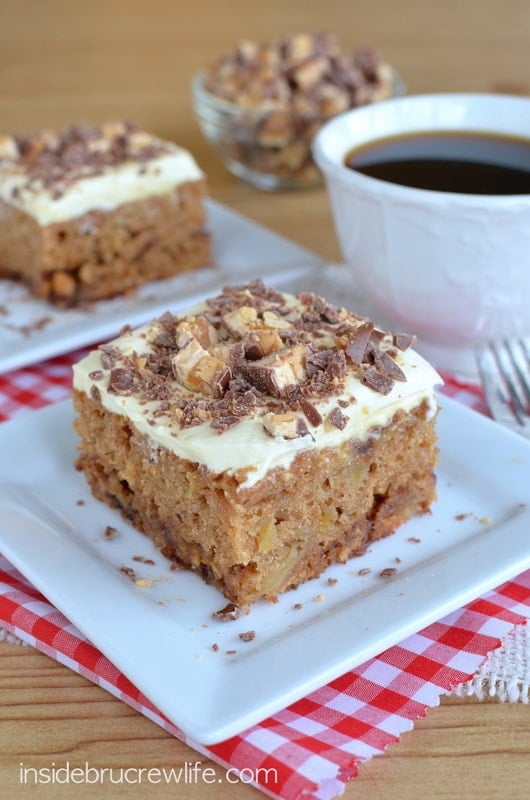 Need more yummy apple cake in your life?
It is your lucky day because my friend Aimee from Shugary Sweets also has an amazing recipe using Crunch Pak apples.  Head over and check out her Caramel Apple Cinnamon Roll Coffee Cake.  It looks heavenly!!!
Make sure you don't miss any of the crazy baking
by following the BruCrew here:
FACEBOOK | PINTEREST | GOOGLE+ | TWITTER | INSTAGRAM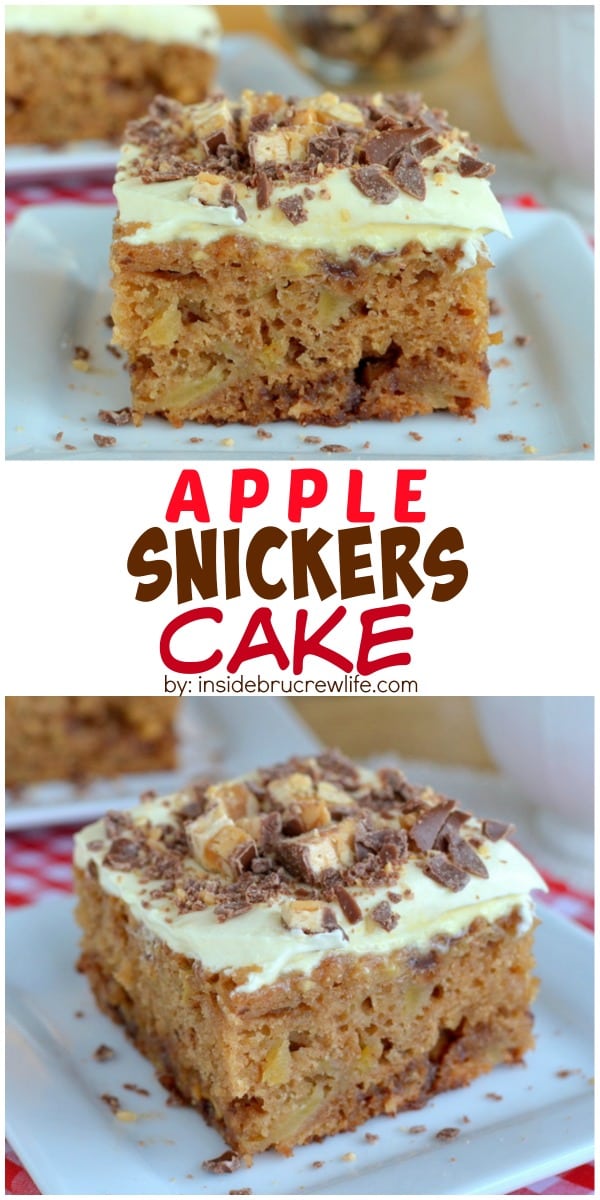 Here are a few other ways we eat our apples: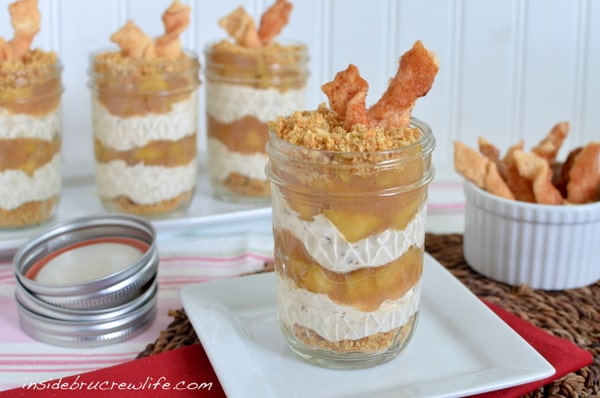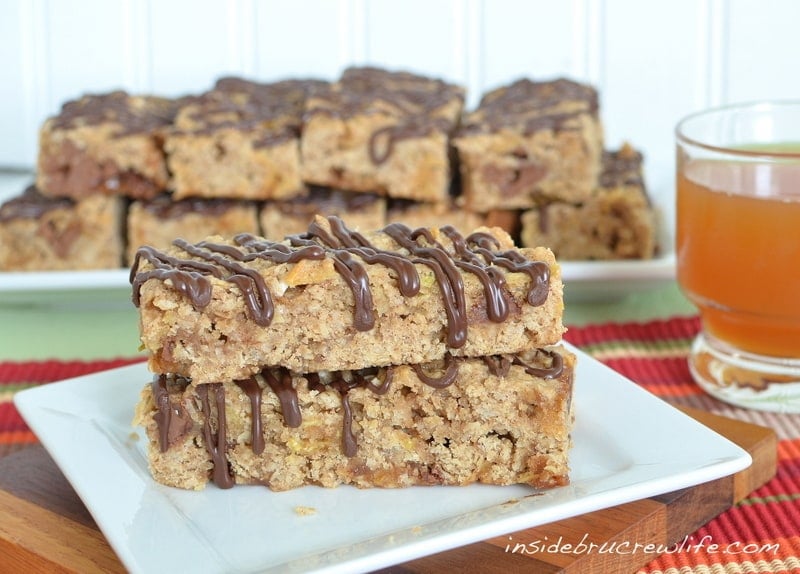 Other friends that love apples:
Caramel Apple Cheesecake from Will Cook For Smiles
Taffy Apple Pizza from Love Grows Wild
Caramel Apple Scones from Recipe Girl
*Crunch Pak Apples is a sponsor for Inside BruCrew Life.  They have provided coupons for free product and other compensation.  All opinions are completely my own.