Layers of chocolate and peppermint fudge and Oreo cookie chunks make this Chocolate Peppermint Oreo Fudge a knockout fudge.  It will stand out on those holiday cookie trays for sure!
*Be sure to sign up for the BruCrew email to get these delicious recipes in your inbox each day.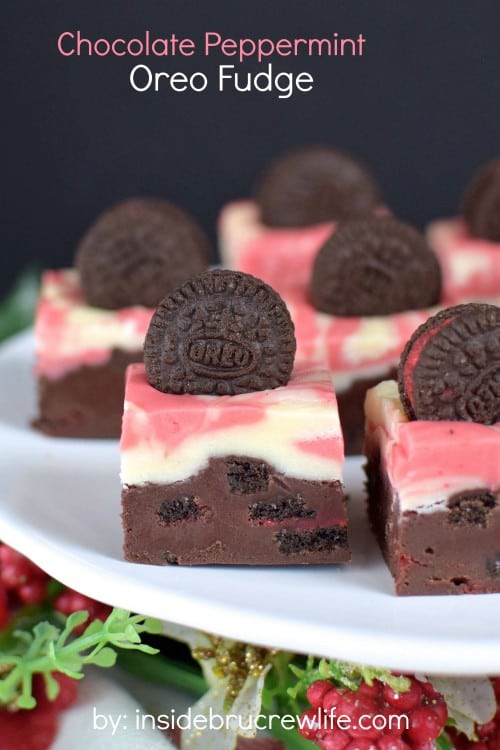 Do you have your stretchy pants out yet?
This is the month I find myself needing them the most.  Every where you turn there is a plate of fudge and cookies.  Oh, believe me I am not complaining.  I can totally put away more sweet treats than you can imagine possible.  When it comes to sweets, I am like a teenage boy…only much cuter and not a boy.  Ok, that might have been a dumb analogy, but…we are going to go with it because it is late and my brain is not thinking straight.
But you get the picture, right?  I have no problem whatsoever downing sweets at any time of day!  It's why I have to keep going to the gym.  I do cross fit in the morning…I taste test fudge in the afternoon.  Gotta love a job that "makes" you eat fudge, cookies, and cake.  Oh, and don't forget the cheesecake, truffles, and popcorn.  Yup, best job EVER!!!   [Read More…]