This BLT Chicken Braid is a great lunch or easy dinner idea for busy days. Bacon, lettuce, and tomato wrapped in a flakey crust with gooey, melted cheese will get smiles from everyone.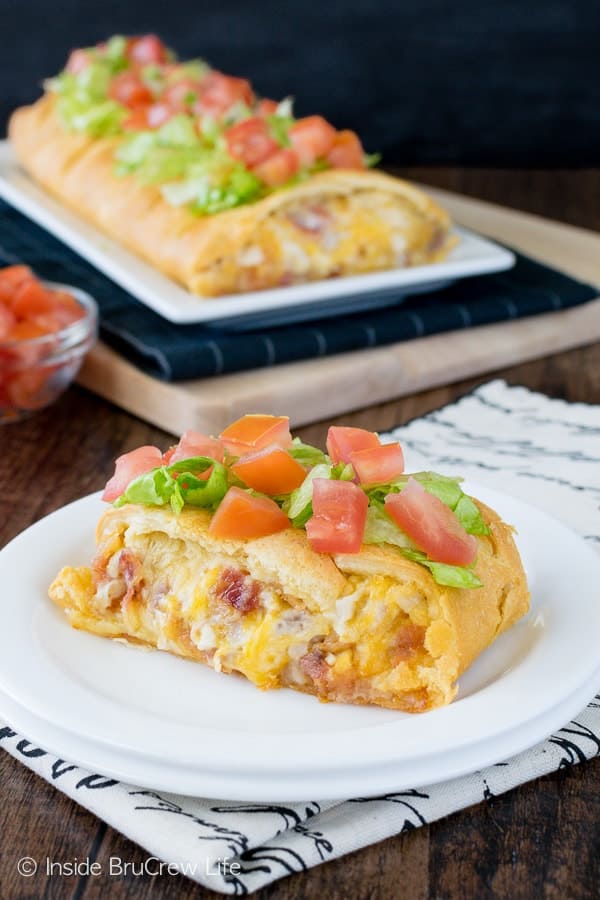 Want to know a secret? Can I tell you it without getting smacked or things thrown at my head? There was a part of my life when I did not like bacon.
Ok, I guess that is not entirely true because I have always loved eating BLT sandwiches in the summer. Well, as long as the bacon is super crispy that is. If the bacon is chewy, I'm out.
And I have been adding it to all the pasta dishes like this Cheddar Bacon Macaroni and Cheese. Maybe I just thought I don't like bacon, but I really did. Hhhhmmmm....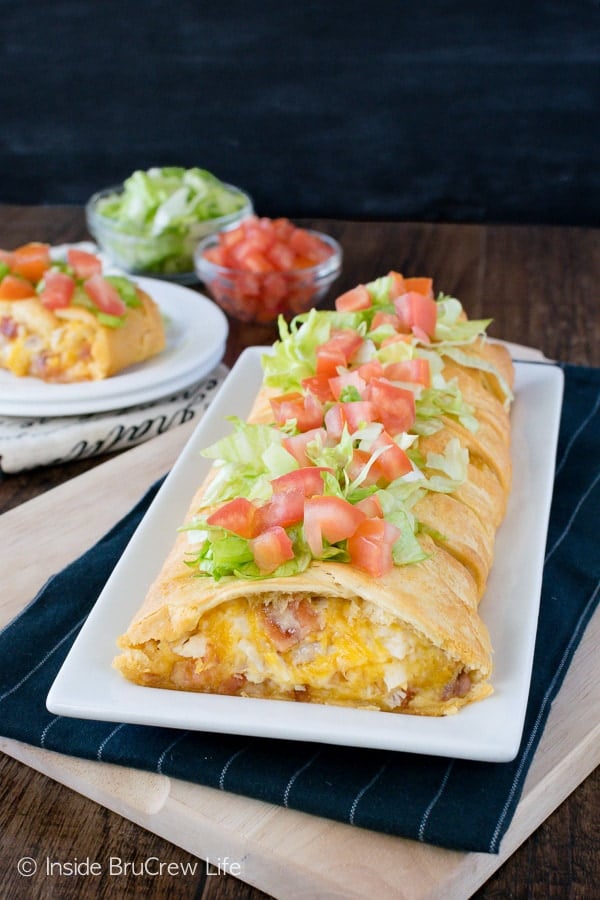 There is just something about a fresh bacon, lettuce, and tomato sandwich on a hot summer day. My love for bacon began when I started adding it to other meals.
After making and eating this Bacon Broccoli Macaroni and Cheese, these Chicken Bacon Alfredo Lasagna Rolls, and this Bacon Broccoli Tortellini Salad I have decided that bacon is a meat that I do in fact like.
Lately, I have been sneaking pieces of hot crispy bacon while it is cooling on our counter when my hubby makes it for his breakfast sandwiches.
How to Cook Bacon in the Oven:
Preheat the oven to 400 degrees. Line a large sheet pan with foil.
Lay the raw bacon on the foil making sure not to overlap the slices. It's ok if the slices touch because the bacon will shrink as it cooks.
Place the pan in the oven and bake for 20-25 minutes or until it reaches your desired level of crispiness. Remember it will crisp up as it cools, so do not over cook it.
Remove the bacon from the oil and place on sheets of paper towels.
We had an extra package of bacon in the refrigerator this week, and for some strange reason I got the desire to make a fun new lunch recipe using some of that freshly cooked bacon.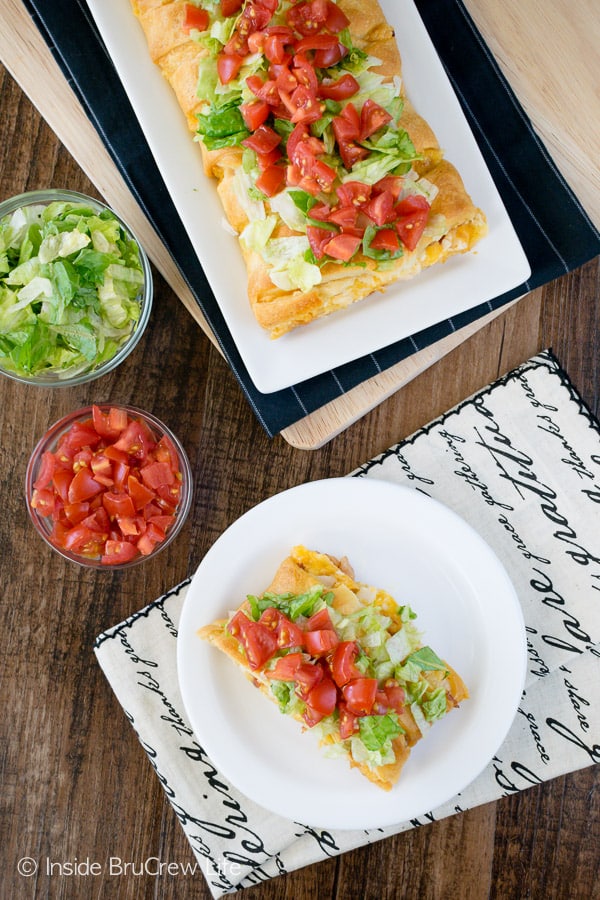 Crescent Roll Braids
Refrigerated crescent roll dough is a great thing to use when you need to make an easy meals or appetizers. It's easy to unroll the dough, fill it with your choice of meats, cheeses, and veggies. This Meat Lover's Crescent Braid is another one that our family enjoys.
Or fill it with cream cheese, chocolate, or pie filling like in this Nutella and strawberry dessert.
Tips for making a BLT Chicken Braid:
Mix together the bacon, cheese, chicken, and mayonnaise in a bowl.
Unroll the crescent rolls and press together all the seams. Use a knife to cut slits down both sides. Just make sure you do not go all the way to the center. Leave a 3-4 inch section in the middle.
Spread the chicken mixture down the middle of crescent dough.
Criss cross the strips over the filling. Make sure to pinch together the ends, so your filling doesn't melt out.
Bake the crescent braid for about 20 minutes.
Chop some lettuce and tomato while the braid is baking, so you can serve it right away without the dinner getting cold.
Cut the braid into 8 pieces and top with the chopped veggies right before serving.
Although, don't expect it to serve 8 people because once you start eating the warm flakey pastry with BLT flavors, you will be reaching for another slice in a hurry.
With three kids who love bacon, we didn't have any trouble making this BLT sandwich disappear in a hurry.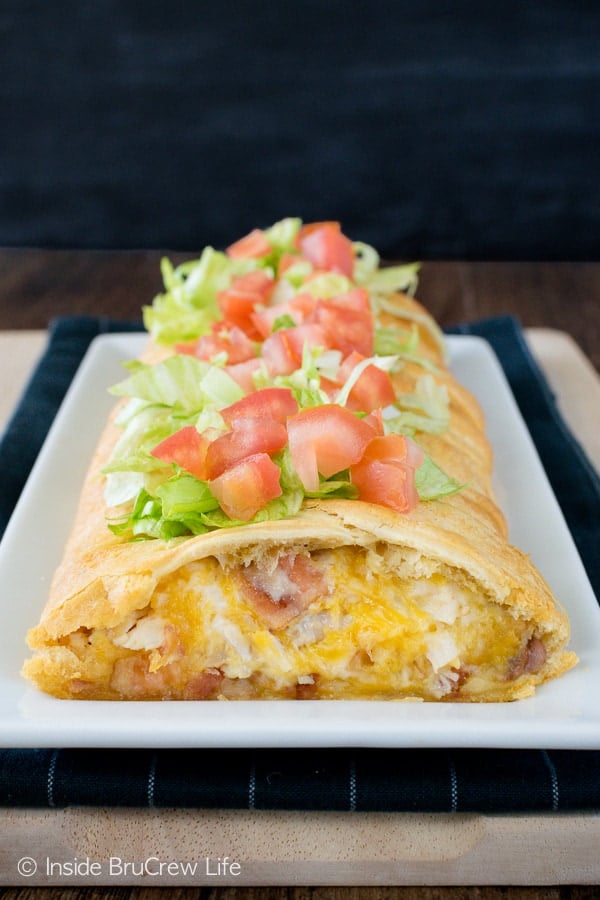 More crescent roll recipes:
Gooey cheese, pepperoni, and chicken tenders make this Chicken Pepperoni Sandwich perfect for your dinner plans or game day parties.
Tomatoes, bacon, and lettuce add a fun summer flair to this easy BLT Pizza.
Barbecue meatballs and pineapple chunks make these Tropical Meatball Crescent Cups a delicious party appetizer.
This Cherry Chicken Salad is also delicious when served on fresh crescent rolls or your favorite bread.
Ham, cheese, chicken, and crescent rolls make these Chicken Cordon Bleu Crescent Rolls a family favorite.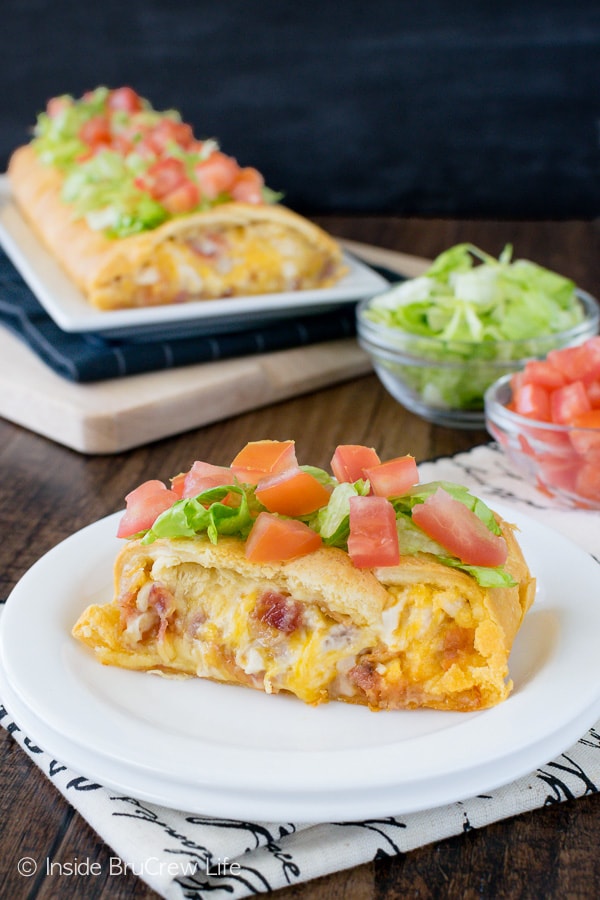 *The post and recipe for BLT Chicken Braid was first published on July 10, 2013. The pictures have been updated and the post has been republished on January 31, 2019.