This kid and adult approved Brown Butter Pumpkin Streusel Coffee Cake is the perfect breakfast to wake up to in the fall.  It would also be perfect for Thanksgiving morning.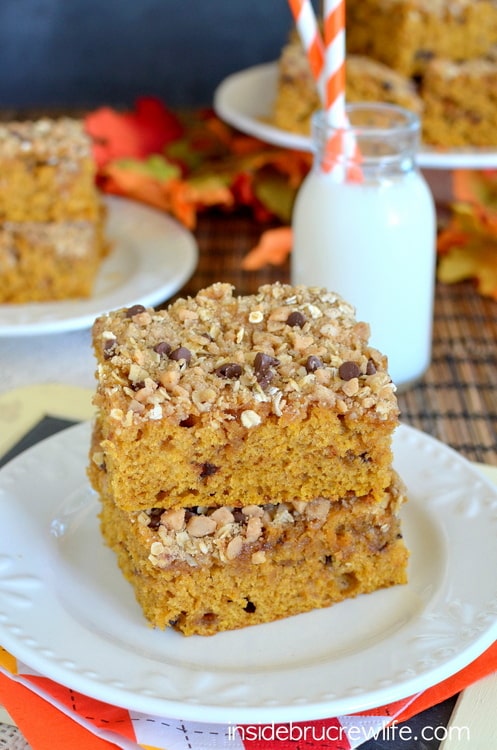 It feels like fall just got here and then left just as suddenly.  We woke up to a light dusting of snow this morning.  I am so not ready for that season yet.  I want to enjoy the red leaves and the crisp air a little bit longer.  So thank you for visiting winter, but really you can just leave because you are not welcome yet.
To be quite honest, I would be happy to skip winter all together.  Haha!  Don't tell my kids that!  They live for snow!  Crazy kids!   I can celebrate Christmas in the 60's just as well as I can in the 20's, so I think I can live without all the cold and snow.  The problem is that I am in the wrong state for that.  Since moving is kind of out of the question, I just have to keep my self bundled and keep my little space heater with me in every room.  Well, every room except the kitchen.  I keep that room toasty with all the baking that I do.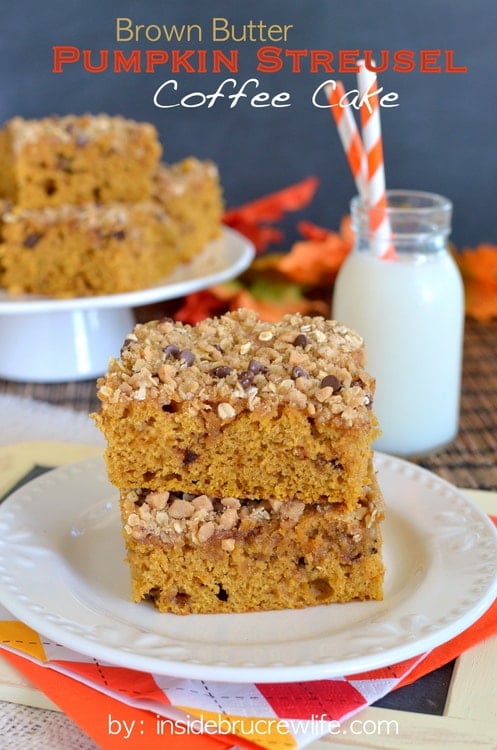 I do remember that I told you I was over pumpkin.  But I have taken a break for a little while, and my pumpkin love came back!
This pumpkin coffee cake starts out with brown butter.  It is the yummiest thing ever to have in your kitchen.  The smell is amazing when it turns brown.  Here is a quick step by step picture of the different stages when browning your butter.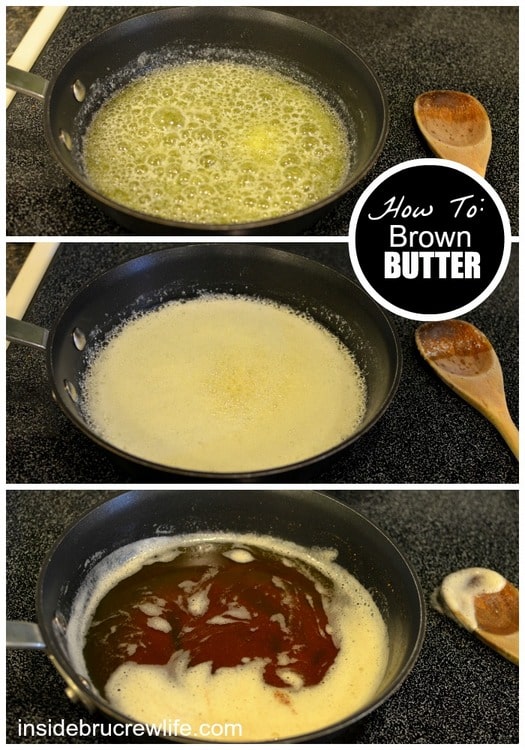 Browning butter only takes a few minutes.  First start with your butter in a skillet over medium heat.  Melt the butter completely.  It will start to get all bubbly.  Keep stirring gently.  The next stage is foamy butter.  And then before you know it, the foam starts to disappear and the brown butter shines through.
Depending on your recipe, you may need to let it cool a little bit before adding it to your other ingredients.  I just pour it into another bowl and set it aside while I get my other ingredients out and get my pan ready.
I made this pumpkin coffee cake for breakfast a while ago, and it quickly disappeared in no time.  Even my husband enjoyed this one.  He said he loved that it was simple…I think that was his way of telling me I make crazy wild desserts most of the time.  But I am cool with that.  That's just me, and I don't want to change that part of me.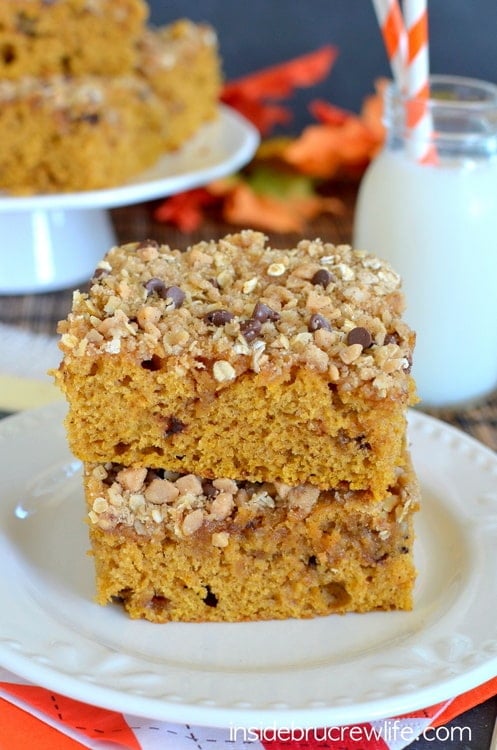 Stay up to date on all the BruCrew baking here:
FACEBOOK | PINTEREST | GOOGLE+ | TWITTER | INSTAGRAM | BLOGLOVIN
Brown butter and pumpkin make this coffee cake a warm and delicious breakfast for the fall mornings.
Ingredients
1/2 cup butter
1 cup brown sugar
1 cup canned pumpkin puree
2 eggs
1 teaspoon vanilla extract
2 teaspoons pumpkin pie spice
2 teaspoons baking powder
1/2 teaspoon salt
1 1/2 cups flour
Streusel Topping

1/2 cup quick oats
1/4 cup brown sugar
1/4 cup flour
2 Tablespoons butter, melted
1/4 cup mini chocolate chips
1/2 cup toffee bits
Instructions
Place the butter in a skillet. Heat over medium heat until melted. Keep stirring while it bubbles, foams, and turns brown. It will take about 5 minutes. Set aside to cool slightly.
Beat the cooled butter with the brown sugar until it looks like sand. Add the eggs, pumpkin, and vanilla and beat again. Sift together the pumpkin pie spice, baking powder, salt, and flour. Slowly stir into the butter mixture. Do not over mix.
Stir together all the topping ingredients. Stir half of the topping into your cake batter. Spread the cake batter in a greased 9x13 pan. Sprinkle the rest of the topping over the top. Bake at 350 degrees for 25 minutes. Let cool a little bit. Cut into squares and serve slightly warm. Store the cake sealed and on the counter. Makes 24 squares.
https://insidebrucrewlife.com/brown-butter-pumpkin-streusel-coffee-cake/
Copyright Inside BruCrew Life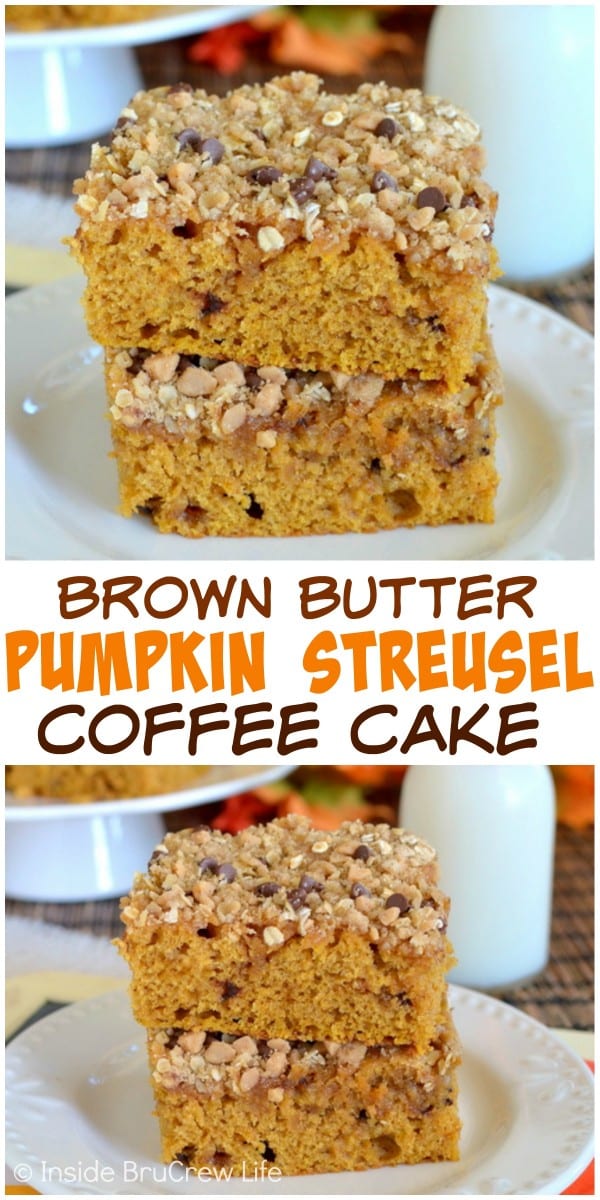 More pumpkin breakfast ideas to get you going in the morning: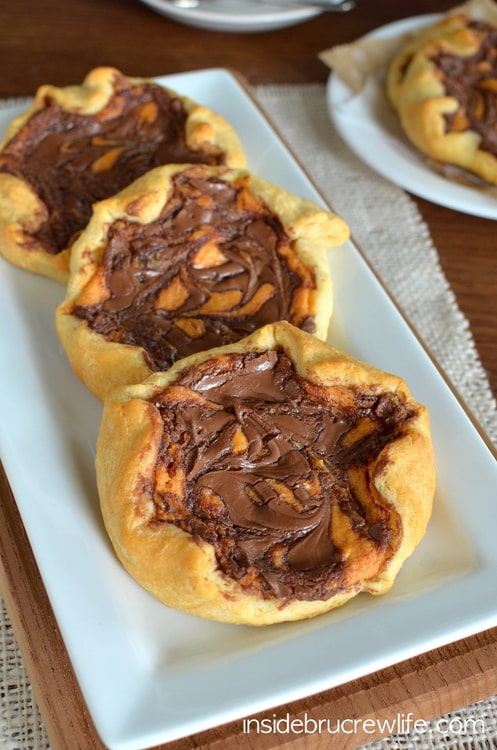 Pumpkin Nutella Cheesecake Danish