This easy Cheesecake S'mores Danish is filled with graham crackers, marshmallow cream, and chocolate cream cheese. It's a perfectly acceptable way to enjoy s'mores for breakfast.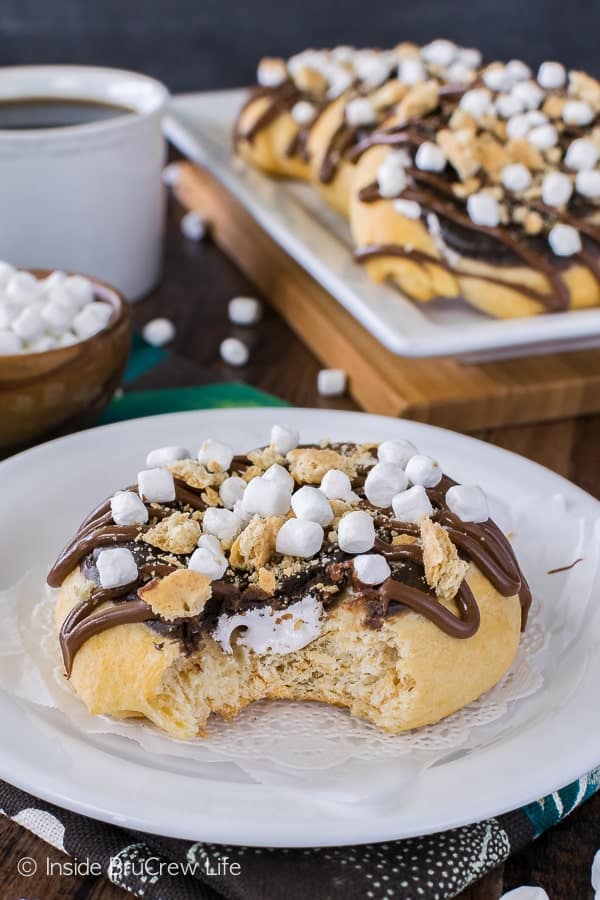 The great outdoors and I have never really been one. It's part of the reason that I prefer to do my camping from a hotel. That and mosquitoes eat me alive! They must know how much I like to eat sugar!!
But I will brave the elements to enjoy a good campfire every once in a while. The thought of ooey, gooey marshmallows get me there every time.
I have to admit that one of my favorite parts is roasting marshmallows and eating s'mores until I feel sick!!!
My husband is super patient and will slowly toast his marshmallows until they are golden brown and and pretty. Now me on the other hand, I like to get it in there, burn it good, slap it on a cracker with chocolate, and eat the crunchy goo. Then repeat that 10 more times.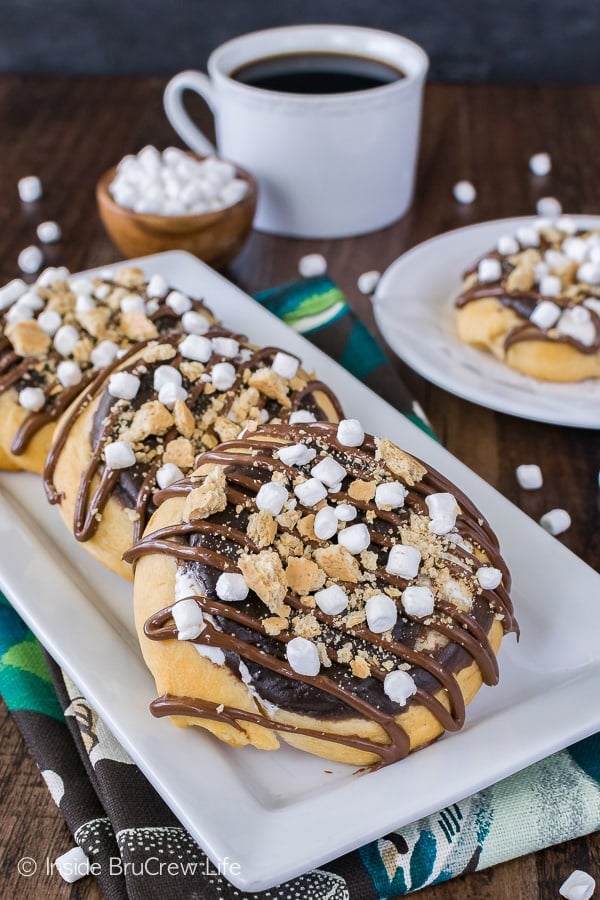 Then you have our kids. They barely hold it over the fire and then wonder why it isn't getting warm. Or they put it right in the center and poof it goes up in flames.
Of course, sticks flying around with flaming balls of sugar always make me so nervous, so I am always on the lookout for other fun ways to enjoy the s'mores flavor without having to breathe fresh air or dodge flaming marshmallows!
A batch of these No Bake S'mores Tarts or these Peanut Butter S'mores Bars do the trick every time!
The thing with s'mores is that it has been made into everything. So many yummy things have been created using the delectable combo of chocolate and marshmallows. Most things have even been done 10x's or more.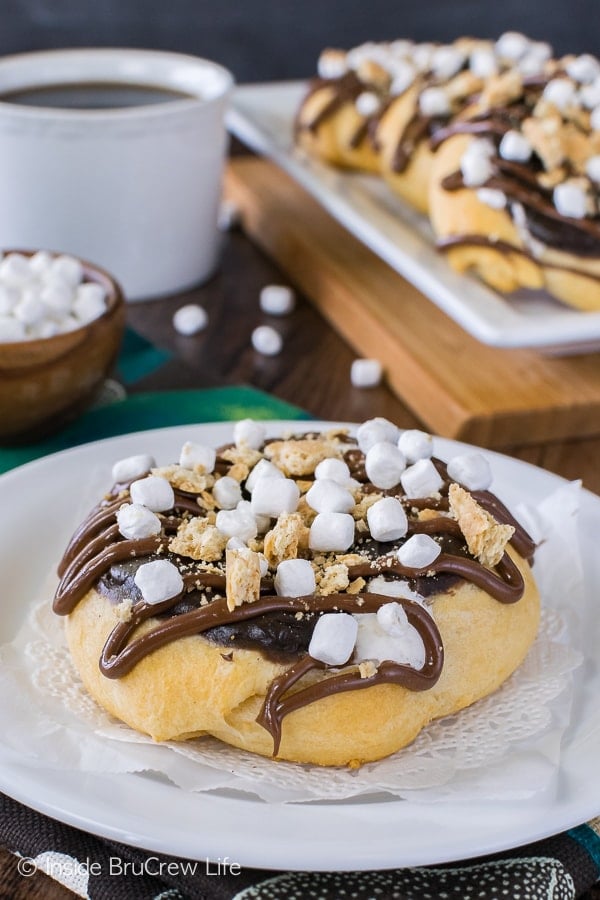 A while ago I thought breakfast s'mores could be an awesome thing to do.
Don't you want chocolate cream cheese and marshmallow fluff all wrapped up in a graham cracker filled roll? Yes, please! I know I sure do!!!!
I just love that sweet rolls are a completely acceptable morning treat...even if they are filled to the brim with marshmallows and chocolate!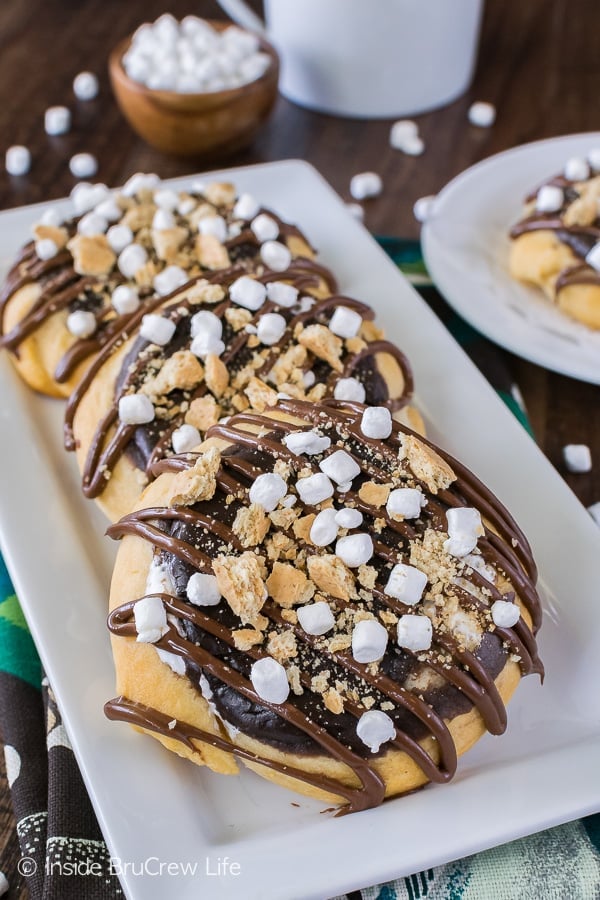 I had to run to the grocery store the other day to pick up some ingredient for another pan of this Cheesy Chicken Pasta because our kids absolutely love it.
So I grabbed some more rolls and cream cheese to make an easy cream cheese danish.
At home I quickly got to work because I couldn't wait any longer for the gooey goodness.

How to make Cheesecake S'mores Danish:
Lay out the crescent rolls into 4 rectangles. Press the seams together.
Spoon the graham cracker crumbs onto each one and press them into the dough with the back of the spoon so they stay put.
Roll the dough up like a cinnamon roll, starting from the longest side.
Roll each log up into a spiral. Flatten each one to about 3 ½ inches with the palm of your hand.
Use your fingers to make a large indent in the middle of each roll.
Fill the indent with marshmallow fluff and top it with the chocolate cream cheese. Bake and cool.
Drizzle with chocolate and add some extra marshmallows and graham crackers because more chocolate is always a good idea.
Who says you have to wait for breakfast for a cheesecake danish??? These are also amazing as an afternoon snack!!!

More s'mores dessert recipes you may like: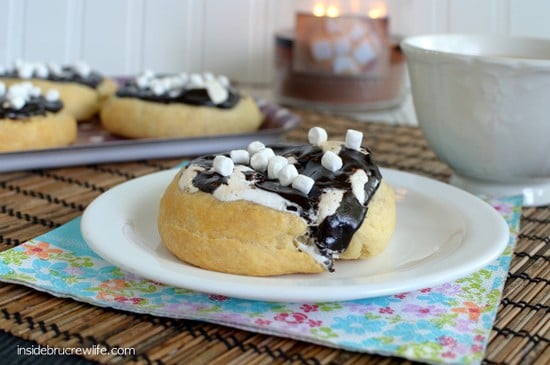 (original photo from April 2012)
*The post and recipe for S'mores Cheesecake Danish was first published on April 26, 2012. The photos were redone May 2017, and it was republished on July 25, 2019.