A creamy coffee frosting and a layer of chocolate makes these decadent homemade Coffee Cream Brownies a great dessert. Perfect pick-me-up after a long day of school or work!
*Keep in touch with us. Subscribe to the free BruCrew email to have these recipes sent to your inbox.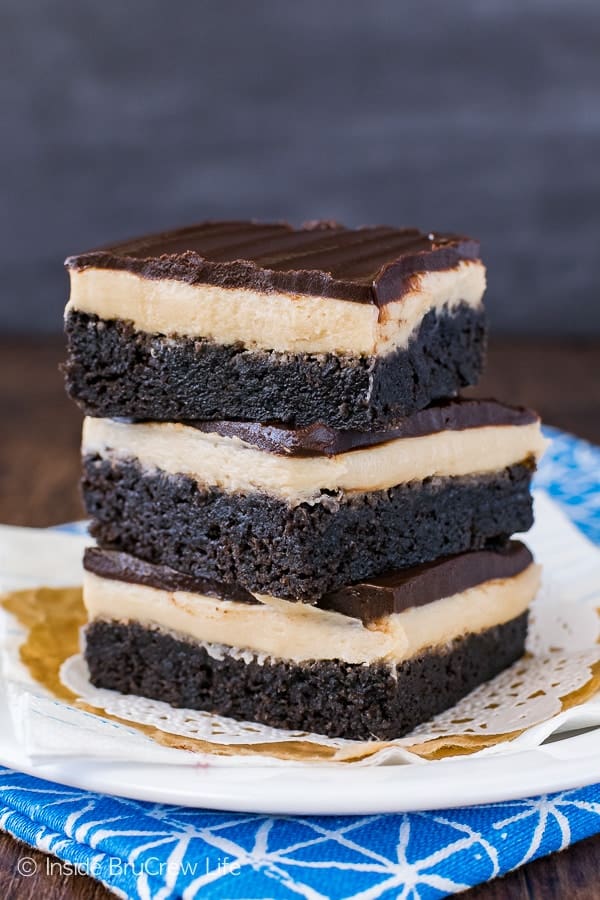 CLICK HERE TO PIN THIS RECIPE FOR LATER!
Well, school has officially started for two of the BruCrew kiddos. Both of them set their alarms last night and were up and getting ready without any prompting from us. We'll see if that happens after a week of classes has gone by. I'm sure the nervousness from starting at a new school again fueled their start up this morning.
They were both a little hesitant about finding their way around a building that they were not familiar with. I got an excited text later in the morning from my daughter saying she got her schedule and found her first class ok. Yay! I knew they would do fine!
So, now all we have to do is get our son settled at college this coming weekend. I'm doing ok with that at this very moment. But I'm sure the minute I have to leave without him all the waterworks will get started again because that's my first baby!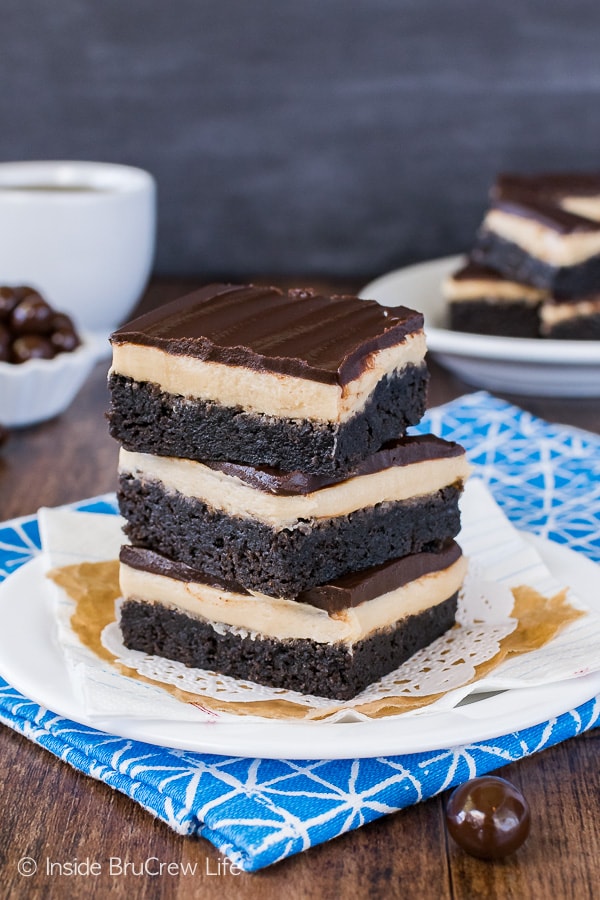 I made it through his graduation and open house without any tears. It's exciting to see how he has grown into a responsible and caring adult. But leaving him in another state is going to be rough. All you mommas of older kids understand, right? I need your prayers and any tips you have for getting through the first few days and weeks.
A few months ago we made these brownies for his open house party. His first request for the dessert bar was this easy tiramisu. Since there are so many creamy layers that isn't exactly a finger food dessert.
So, we did a layer of coffee frosting and chocolate on top of these homemade chocolate chip brownies. Cutting them into little squares with a chocolate covered coffee bean on top made them look so cute.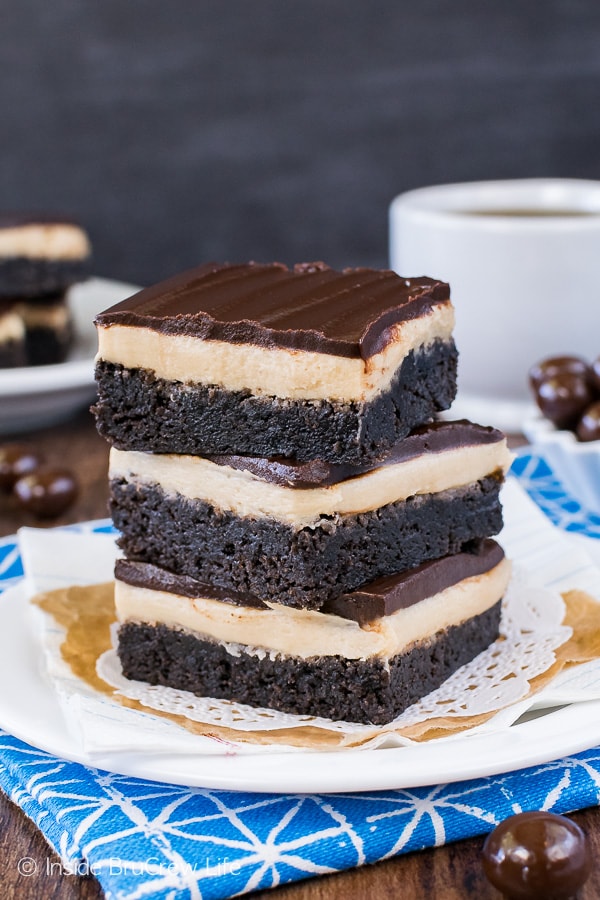 These peanut butter truffle brownies from a few years ago were my inspiration in coming up with these coffee cream brownies.
Have you noticed that I have a thing for making layered desserts? They just make me so happy.
Normally I go for a box mix, but for these brownies I made a homemade brownie base because it has become my ago-to recipe for brownies.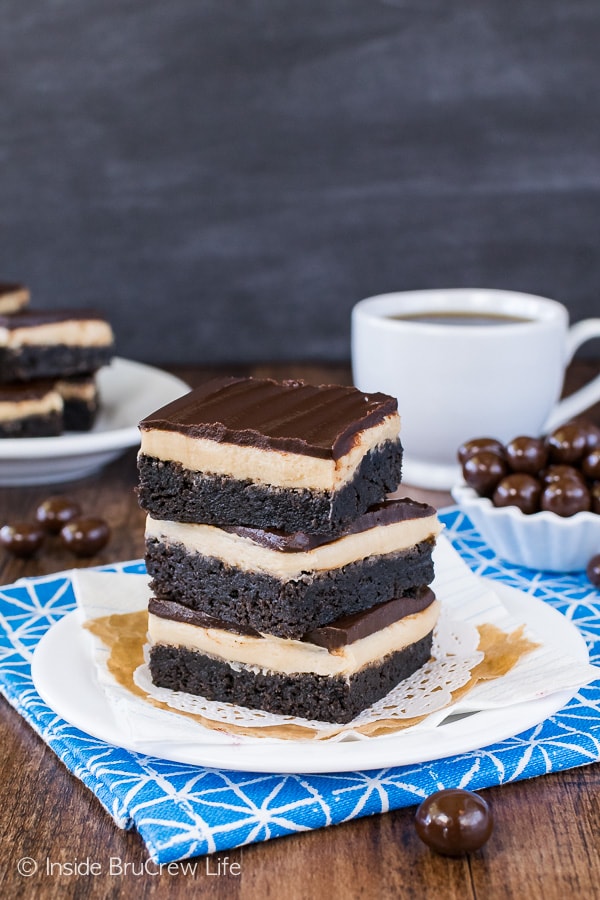 I also like to use dark chocolate cocoa powder and dark chocolate chips in most of my chocolate recipes. You can totally use regular cocoa powder and semi-sweet chips if that's what you have on hand or prefer. You can also use a box mix if that suits you better. I'm all about easy when it comes to baking or cooking.
A pan of these rich brownies are waiting on the counter for our kiddos when they get home from school. I'm sure they will be dragging a little after a long day at school. Who am I kidding? I'm going to need a pick-me-up too since I had to be up early to drive them to school. Give me a few of these brownies and some caramel frappuccino pudding pops for my caffeine boost!!!
If you are like me, you will enjoy making some of these other brownie recipes that I found from some of my friends. The layers in these mint chocolate brownies are definitely calling my name. Like I said, I like layers in my dessert! Sweet and salty lovers will fall in love with these potato chip brownies! Give me the whole pan please! And when I'm done with those, I'll take a few of these cookies and cream brownies. That gooey center is so enticing!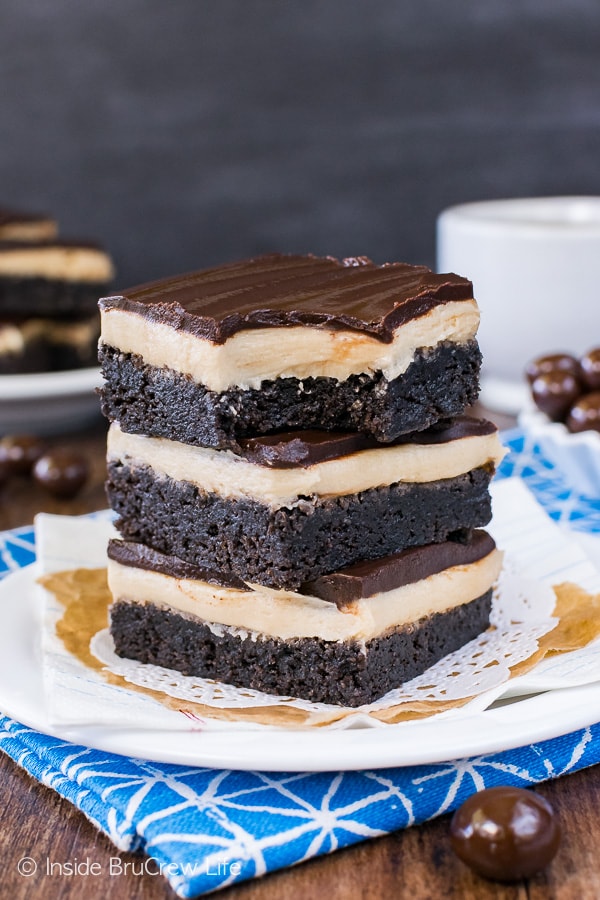 Stay up to date on all the BruCrew baking here:
FACEBOOK | PINTEREST | TWITTER | INSTAGRAM | BLOGLOVIN
Sign up to receive an email in your inbox for each new recipe:
EMAIL SUBSCRIPTION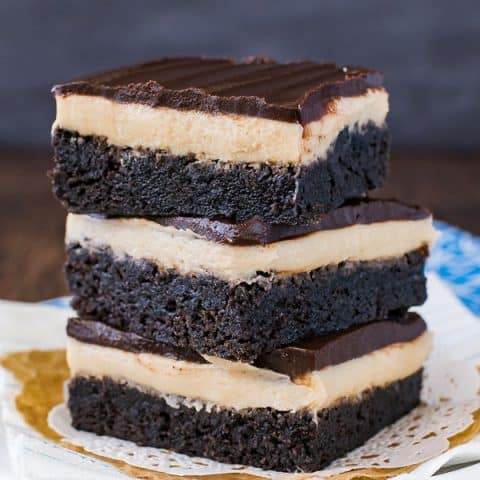 Coffee Cream Brownies
A creamy coffee frosting and a layer of chocolate makes these decadent homemade Coffee Cream Brownies a great dessert. Perfect pick-me-up after a long day of school or work!
Ingredients
For the Brownies
½ cup butter, melted
¼ cup dark cocoa powder
1 cup sugar
2 eggs
1 teaspoon vanilla extract
½ teaspoon salt
¼ teaspoon baking powder
¾ cup flour
For the Coffee Frosting
3 Tablespoons heavy whipping cream
1 ½ teaspoons instant coffee granules
¼ cup butter, softened
⅛ teaspoon salt
1 ¾ cup powdered sugar
For the Chocolate Topping
½ cup dark chocolate chips
2 Tablespoons heavy whipping cream
Instructions
Preheat the oven to 350 degrees. Line an 8x8 pan with foil. Spray with nonstick baking spray.
Whisk together the melted butter and cocoa powder.
Beat the sugar,eggs, and vanilla until light and fluffy. Add the chocolate butter mixture and mix again.
Stir together the salt, baking powder, and flour. Slowly stir that into the butter mixture.
Spread in the prepared pan and bake for 25-28 minutes, or until a toothpick inserted in the center comes out a little sticky. Remove and cool completely.
Stir together the cream and instant coffee.
Beat the butter and salt until creamy. Slowly add the powdered sugar and coffee cream while beating.
Once everything is mixed in, beat it on high for 1 minute or until light and fluffy. Spread on top of the cooled brownies.
Place the chocolate chips and heavy cream in a microwave safe bowl. Heat for 30 seconds. Stir until melted and creamy. Heat an additional 15 seconds, if needed.
Spread on top of the frosting. Let the chocolate set before cutting into 16 squares.
Nutrition Information:
Yield:

16
Serving Size:

1
Amount Per Serving:
Calories:

253
Total Fat:

13g
Saturated Fat:

8g
Trans Fat:

0g
Unsaturated Fat:

4g
Cholesterol:

52mg
Sodium:

170mg
Carbohydrates:

33g
Fiber:

1g
Sugar:

27g
Protein:

2g