A pan of this Mint Brownie Swirl Fudge is the perfect addition to your holiday treat trays. Swirls of white chocolate and mint in every bite will have you grabbing another square in a hurry.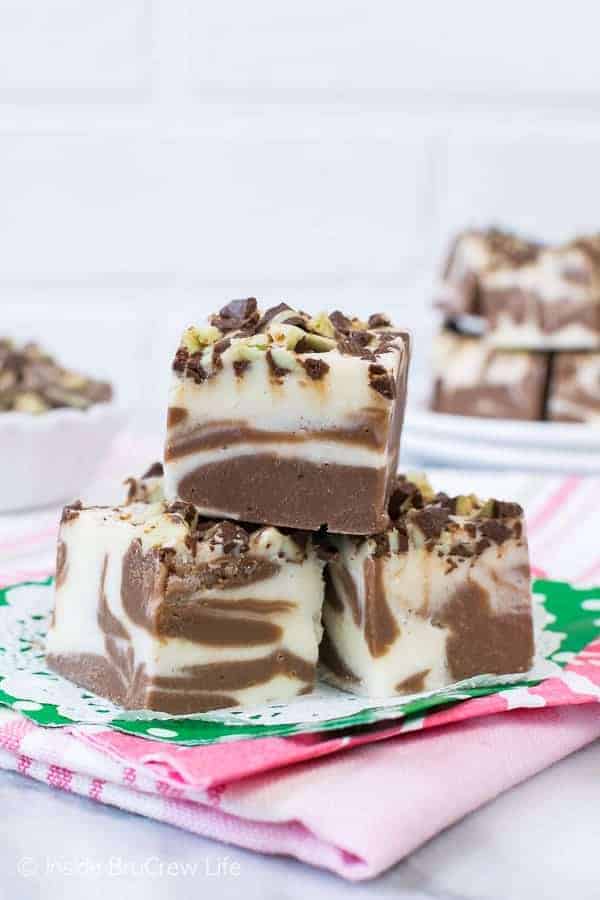 So this morning I stepped on the scale after a week of non-stop holiday cookie and sweets eating. Oh fudge!!!
Those were not the numbers I was hoping to see. And we still have the rest of the holidays to get through. It's probably time to slow down on the cookies, the White Chocolate Peppermint Oreo Cake, and the Peppermint Oreo Bark consumption.
I did say slow down, not stop if you noticed. I have tried the whole "not eat sugar thing" before, and it has never lasted very long.
So, I'm going to limit myself...severely limit mind you! I may even try to take the tiniest mouse bites instead of an entire piece. LOL! Like that's going to happen.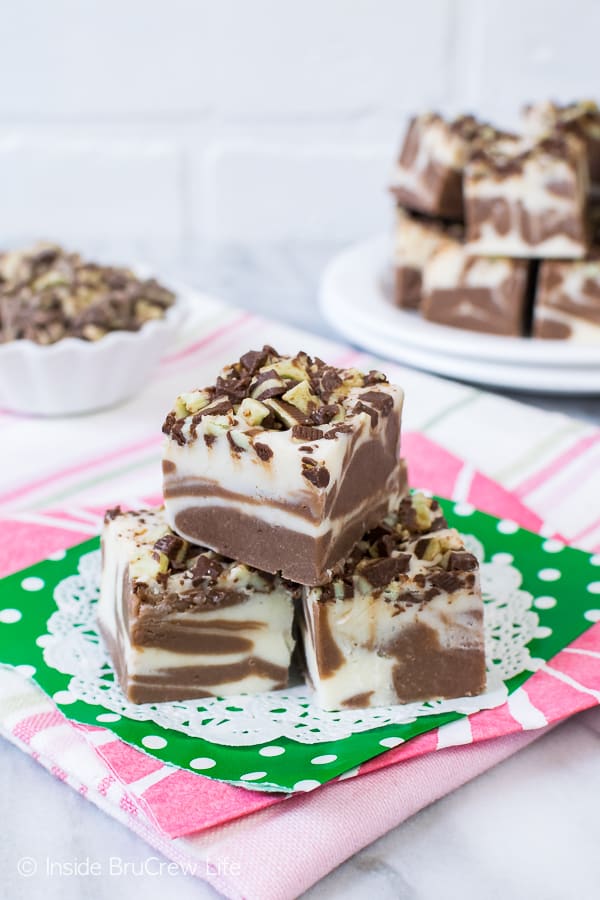 There is a chance I might need to take some time away from baking because the scale keeps going up. Or I should stop munching on so many of these Peppermint Brownie Truffles...
Stop laughing!!! That wasn't supposed to be so funny! Ok, fine. If you have been reading this blog for any length of time, you know that statement was freaking hilarious! I bake almost every single day because I love it so much.
No wonder my scale doesn't like me. Things like these Oreo Peppermint Crunch Cookies always happen this time of year!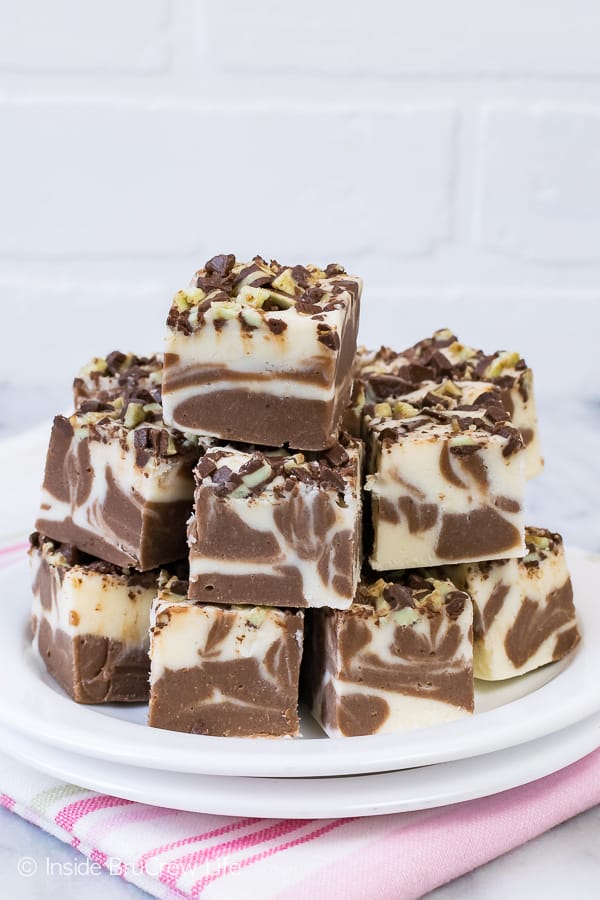 How to make Mint Brownie Swirl Fudge
Now lucky you, I still have some holiday sweets that I made a while ago and just haven't shared yet. Like this Mint Brownie Swirl Fudge that is staring at you right now. The answer is yes!! It is as good as it looks!
The swirls in this treat are so pretty. Each bite has the subtle taste of brownies and mint within the white chocolate flavor. Adding dry brownie mix and mint baking chips to the melted chocolate is the key to the easy flavor.
You will be surprised at how creamy this fudge is. Using marshmallow cream keeps the fudge from setting up to a hard candy. It is so soft and easy to bite into.
I think this is why I like this fudge so much. Of course, I will never turn down any kind of fudge!
You can keep this fudge in a container on the counter for a softer fudge, or you can keep it in the refrigerator for a harder fudge-like texture.
Maybe just one more batch of fudge before I swear off desserts for a while. I have to have some sort of sweet to welcome in the New Year, right?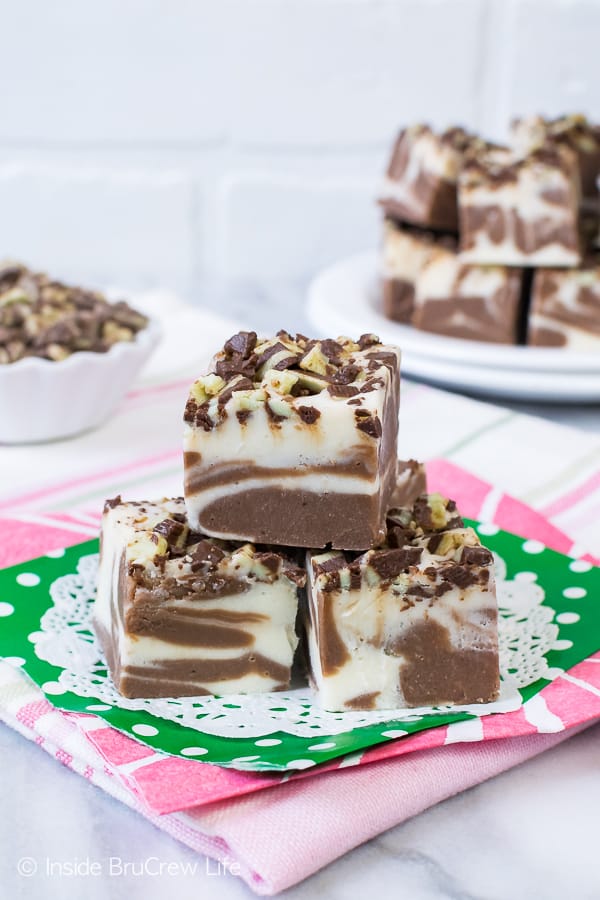 More fudge recipes you may like for the holidays
CLICK HERE TO PIN THIS RECIPE FOR LATER!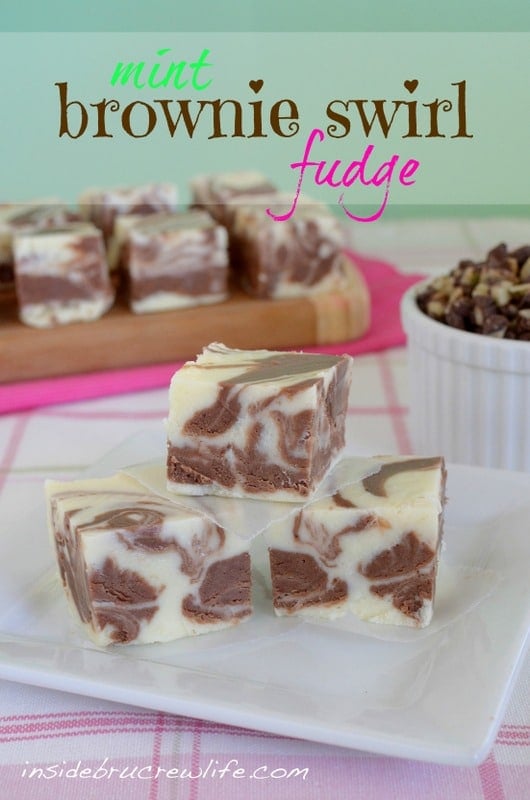 (original photo from December 2012)
*The post for this Mint Brownie Swirl Fudge was originally published on December 26, 2012. The pictures and recipe has been updated and republished on December 17, 2018.