These No Bake Cherry Cookies and Cream Cheesecake Parfaits are a fun and delicious dessert recipe to make for summer picnics and barbecues. A creamy cookie cheesecake topped with cherry pie filling will have everyone reaching for another cup.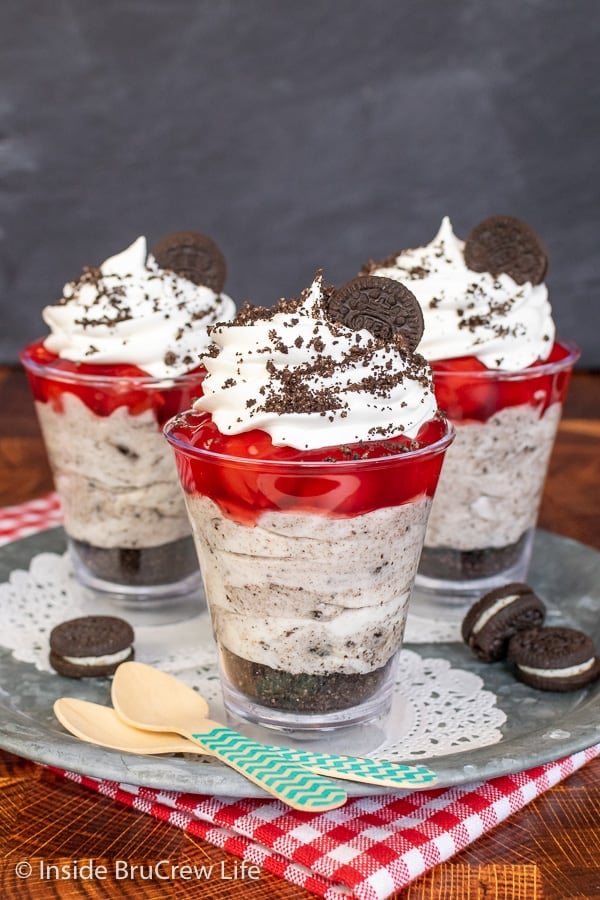 One of my favorite things to make when I do not feel like baking are no bake cheesecake parfaits. There is something so fun and satisfying about putting the different layers in a small party size cup and digging in with a spoon.
Normally, I'm all about baking cheesecake and enjoying a slice, but summer has already arrived here in Florida. So, I'm opting to leave the oven off for now and make more no bake cheesecakes.
The bonus to making cheesecake parfaits is that you can eat them as soon as you layer everything together. Can I get a hip hip hooray for no waiting time?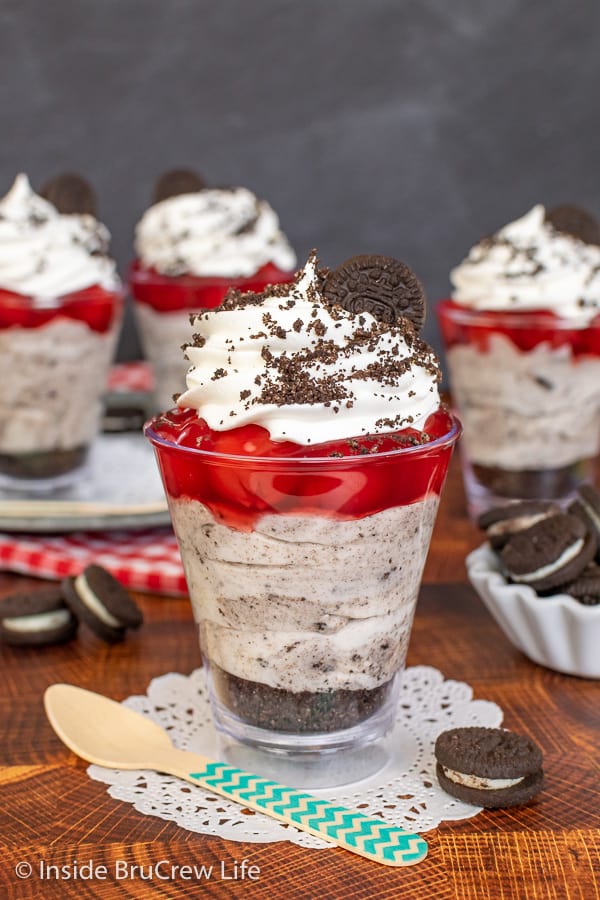 I love how easy mini parfaits are to put together. The flavor combos are endless, and the layers are so fun to customize. Plus, no bake desserts are the best kind of dessert to make when it is hot outside, or you are tired of baking all the things.
I have had the privilege of working with Lucky Leaf® and their pie fillings for quite a few years now. Being able to work with a brand that I buy and use regularly in my recipes still gives me goosebumps.
Lucky Leaf pie fillings do not contain any high fructose corn syrup in their fruit packed cans. They have quite a variety of fillings, and I always look forward to creating a new recipe using their pie filling.
Each can is loaded with fruit, so I can't resist sampling a spoonful before I start to create things like these Blueberry Key Lime Cheesecake Bars, these Lemon Coconut Cupcakes, or these new cherry cheesecake parfaits.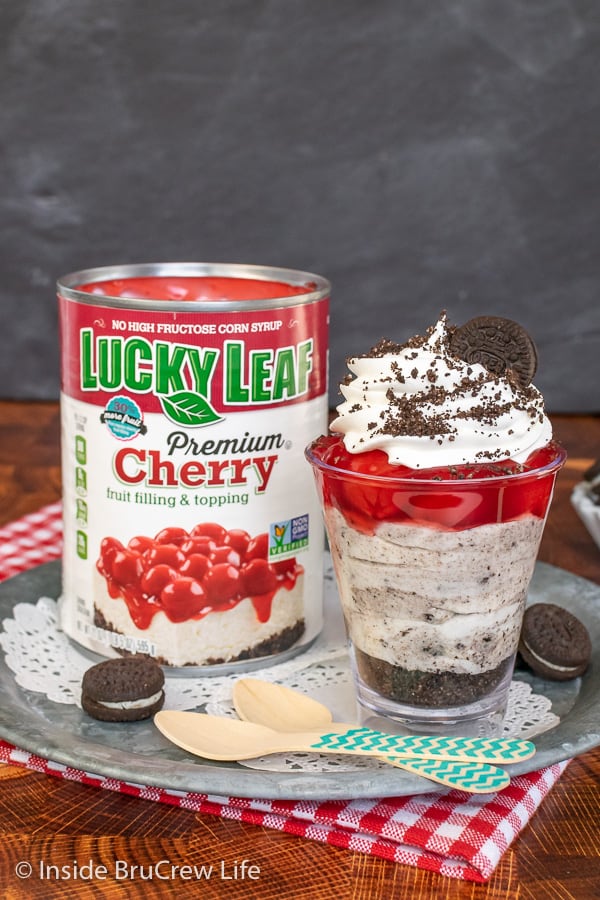 This week I pulled a can of cherry pie filling from our pantry and started thinking about new combos for another cheesecake parfait recipe that would be delicious for Mother's Day or Memorial Day picnics.
Our daughter absolutely loves anything cookies and cream. This Berry Cookies and Cream Fluff Salad is one of her favorites, so adding cookie crumbs and chunks to a vanilla cheesecake layer was a no brainer.
Plus, we had an open package of cream filled cookies in the pantry that needed to be used up, so it was meant to be.
How to make No Bake Cherry Cookies and Cream Cheesecake Parfaits:
Crush the chocolate cream filled cookies and spoon evenly into eight mini cups. (full recipe at bottom of post)
Beat the softened cream cheese and powdered sugar together until creamy.
Add the whipped topping and beat again.
Fold in crushed cookie crumbs and cookie chunks gently.
Spoon the cheesecake filling in a bag with a large opening. Swirl into the prepared cups evenly.
Open the can of cherry pie filling and spoon it evenly on top of each cup.
Add more whipped topping, a mini cookie, and cookie crumbs to the top of each cheesecake parfait.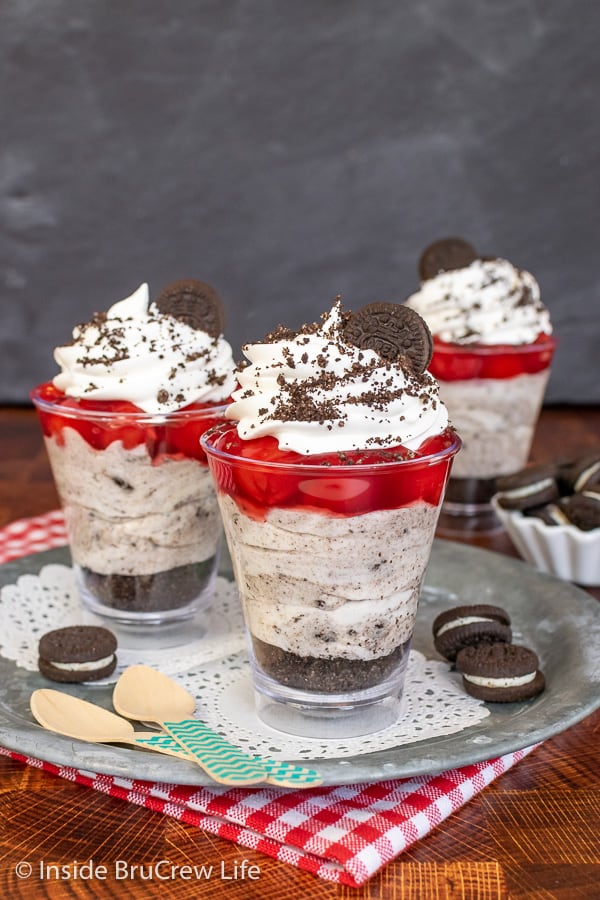 Recipe Tips and Tricks:
Make sure to set your cream cheese out ahead of time. It is much easier to beat cream cheese and sugar when it is soft. If you forget, remove the foil wrapper and microwave the cream cheese on a plate for about 20 seconds.
If you prefer, you can make homemade whipped cream to use in place of the store-bought whipped topping. Beat 1 & ½ cups heavy whipping cream and 6 tablespoons powdered sugar in a chilled bowl until stiff peaks form.
Fold the cookie crumbs and chunks into the no bake cheesecake very gently. Do not over mix it, or it will turn gray. You should still see swirls of vanilla cheesecake in your mixture.
Use a spoon or a piping bag with a large open tip to fill the parfait cups. Some cups may come with a lid. These are great for transporting the mini no bake cheesecakes to parties. Just add the toppings once you arrive.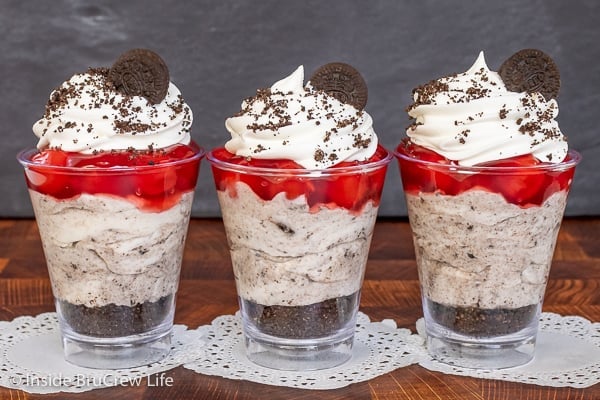 More easy recipes using pie filling:
Other no bake cheesecake parfaits you may like: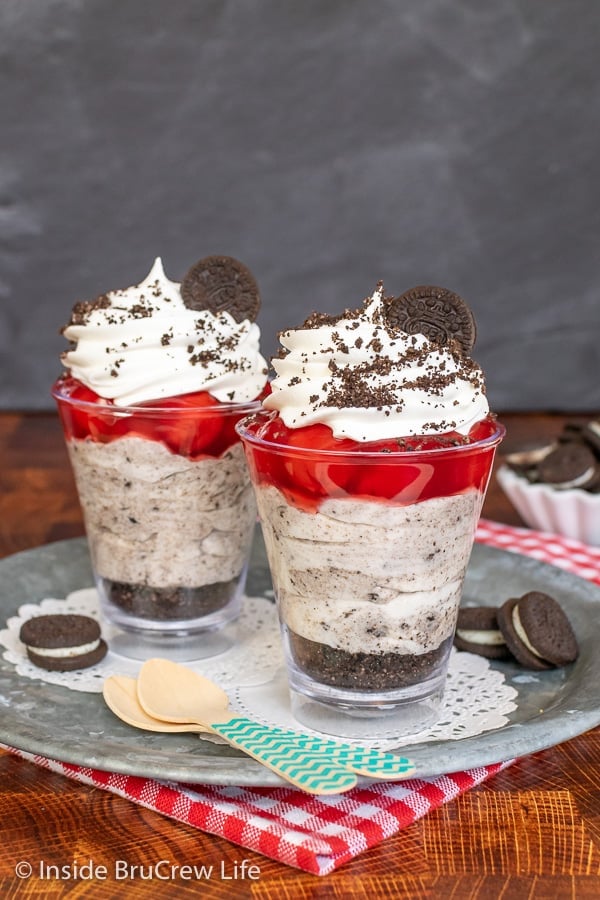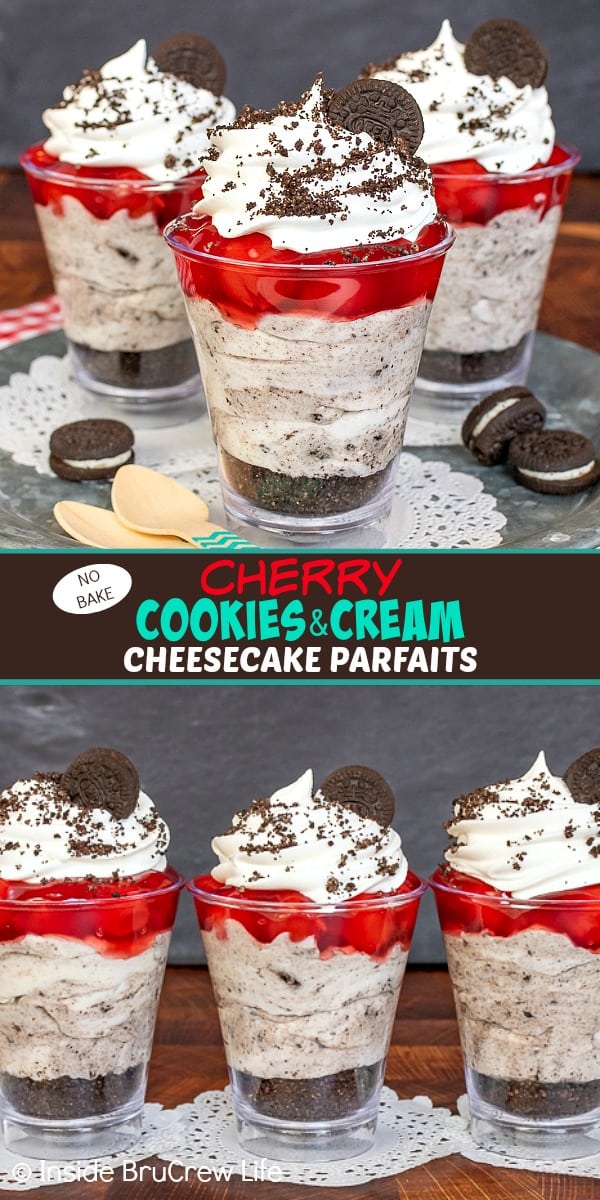 *This recipe was sponsored by Lucky Leaf. All opinions expressed are 100% my own. Thank you for letting me share products and brands I use and love. See my disclosure policy for more information.*