A spicy rub adds a blast of flavor to this easy Sheet Pan Chili Lime Cod. A healthy sheet pan dinner that can be on the table in under 30 minutes is the perfect meal for busy nights. Enjoy this oven baked cod with your favorite veggies.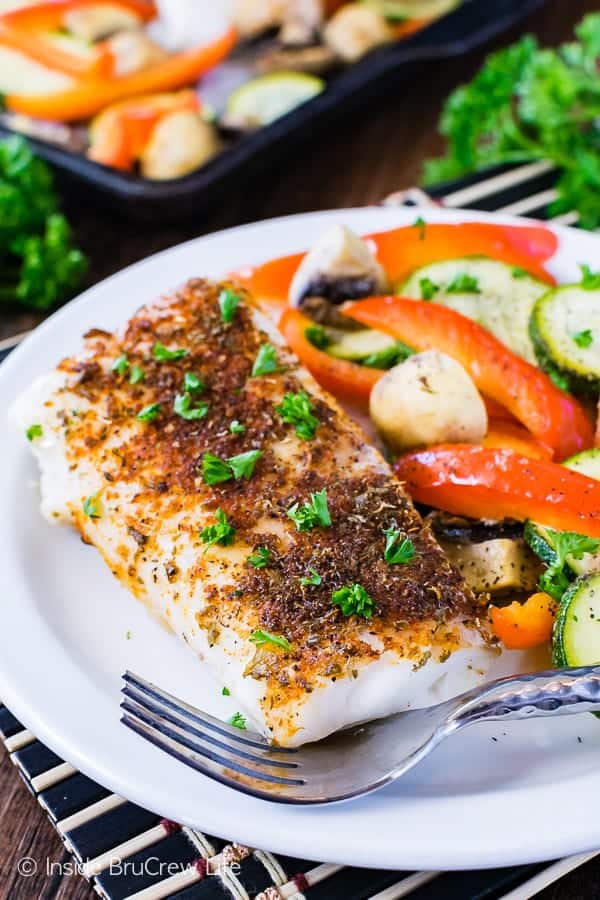 The funny thing is that even though most of the recipes I share here on the blog are crazy ridiculous over the top desserts like this Snickers Cheesecake Brownie Cake, we actually eat fairly healthy.
Although, we do make our fair share of Homemade Pizza Dough on a regular basis. Given the choice though, I definitely prefer to bake sweet desserts over cooking lean and green meals any day.
We finally got back to doing some harder work outs this week too. We have kind of slacked off a little. We still were doing some stuff, but not as intense as before.
After two days of hitting hard, I can hardly move because my muscles are so upset with me right now.
My hubby is loving his new job as a health coach. The other day he bought a few more "torture" devices...aka a squat rack and another air dyne bike. I'm scared for the next few days of work outs.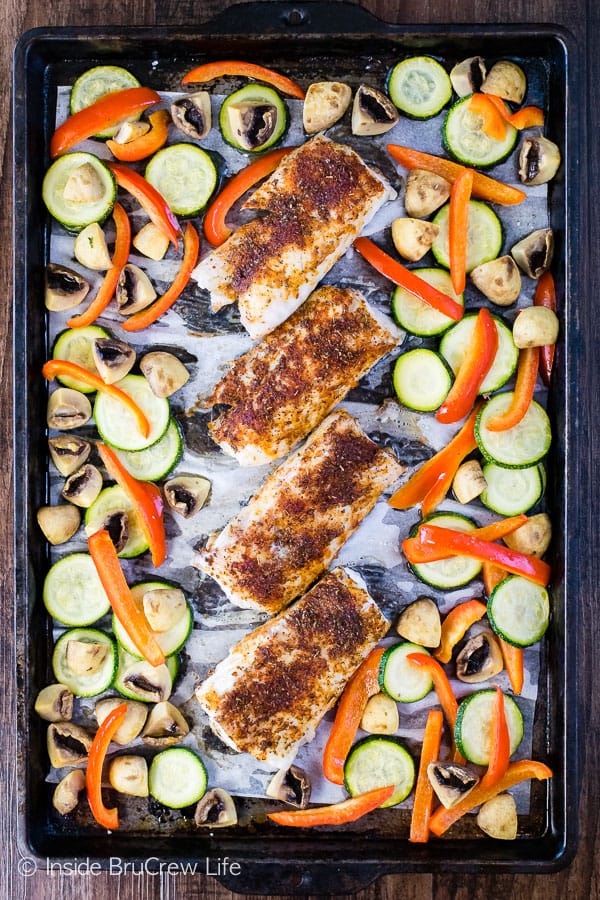 Oven Baked Cod
Since eating right REALLY is the main thing to getting fit, we have been trying to incorporate more things like these Roasted Veggies and these Low Carb Fish Taco Bowls to our healthy dinners.
The kids aren't thrilled about it, but hey, we are trying to teach them healthy habits at a young age. It's so much harder to do this once you have gotten old and set in our ways.
I've never been a huge seafood or fish eater, but I have been trying to add it in more often because eating chicken all the time gets old. And I realized that I like baked fish now. Well, baked cod anyway. It's such a mild and flakey fish that I enjoy eating it.
Since healthy sheet pan dinners are all the rage right now, I decided to jump on that train. The other night we mixed together a homemade spicy rub and added it to some thawed cod fillets from Sam's Club, then baked them on a sheet pan with some veggies.
Easy, delicious, and ready in less than 30 minutes makes this a great recipe to stay on track with healthy eating goals. I can't wait to make more of this oven baked cod for spicy fish tacos.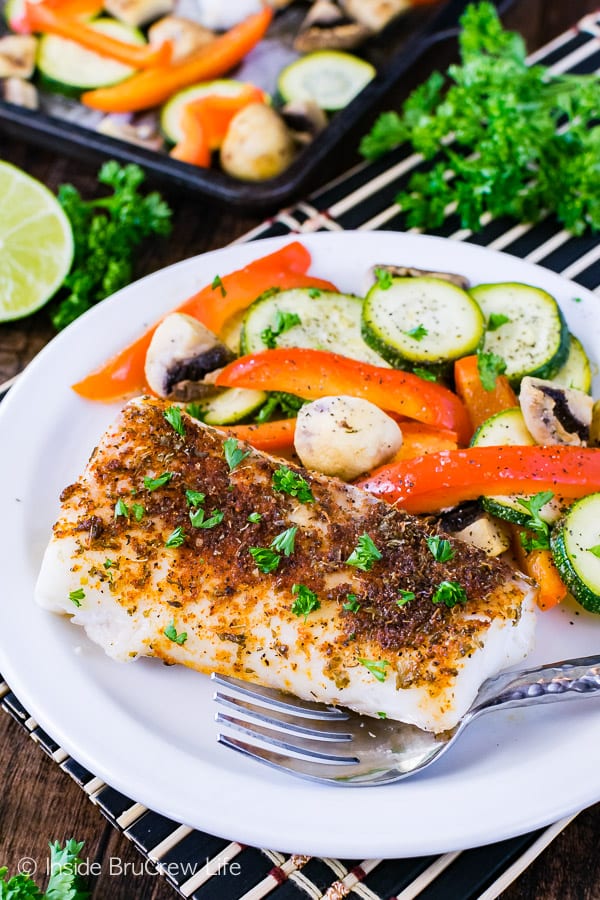 What You'll Need:
Seasonings - oregano, chili powder, cumin, garlic, dried parsley, salt, and pepper makes a delicious and spicy rub
Marinade - olive oil and lime juice
Cod Fillets - fresh or frozen
Veggies - zucchini, red pepper, mushrooms
Feel free to use your favorite spice blend in place of our homemade version. And if you do not like the veggies we chose, go ahead and substitute other ones instead.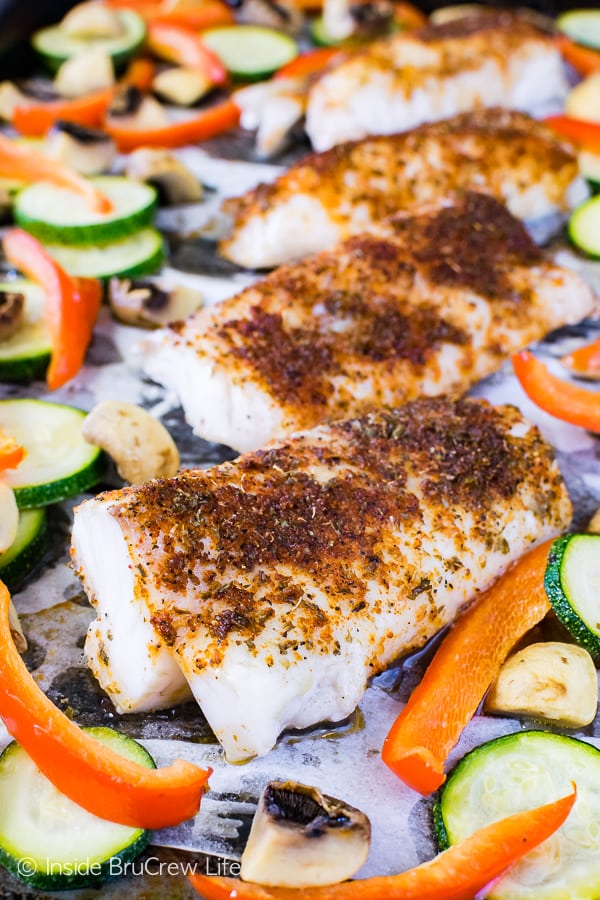 How to make Sheet Pan Chili Lime Cod:
Mix together seasonings in a bowl.
Whisk together oil and lime juice and brush on cod. Rub the seasoning blend on the thawed fish, and place on sheet pan.
Drizzle the extra oil mixture over the cut veggies and place around the fish on the tray.
Bake 15 minutes and then serve immediately.
Gotta love an easy peasy dinner that counts as a super healthy option. This chili lime cod would be absolutely delicious in fish taco bowls. Just saying...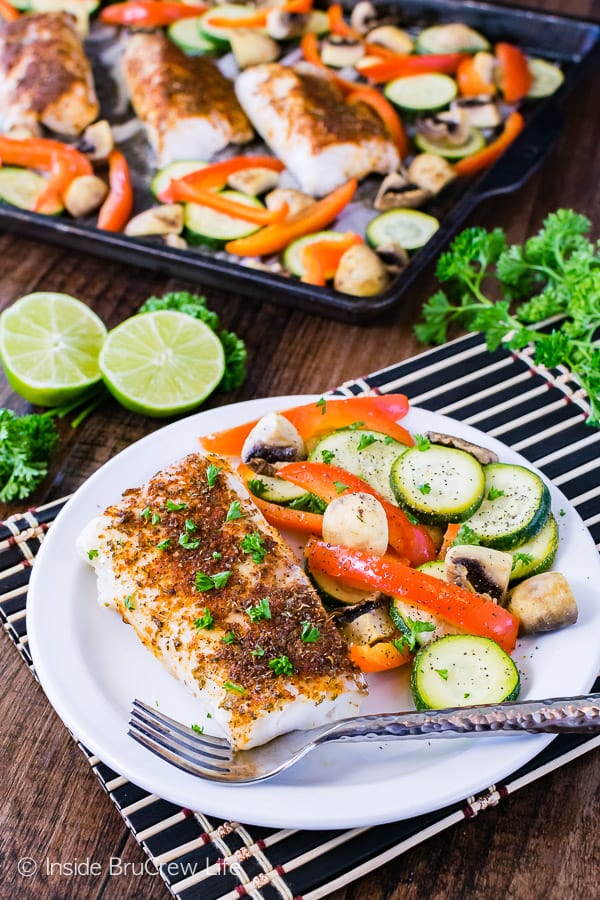 More easy healthy dinners: