A spicy rub adds a blast of flavor to this easy Sheet Pan Chili Lime Cod. A healthy lean and green dinner that can be on the table in under 30 minutes is the perfect meal for busy nights.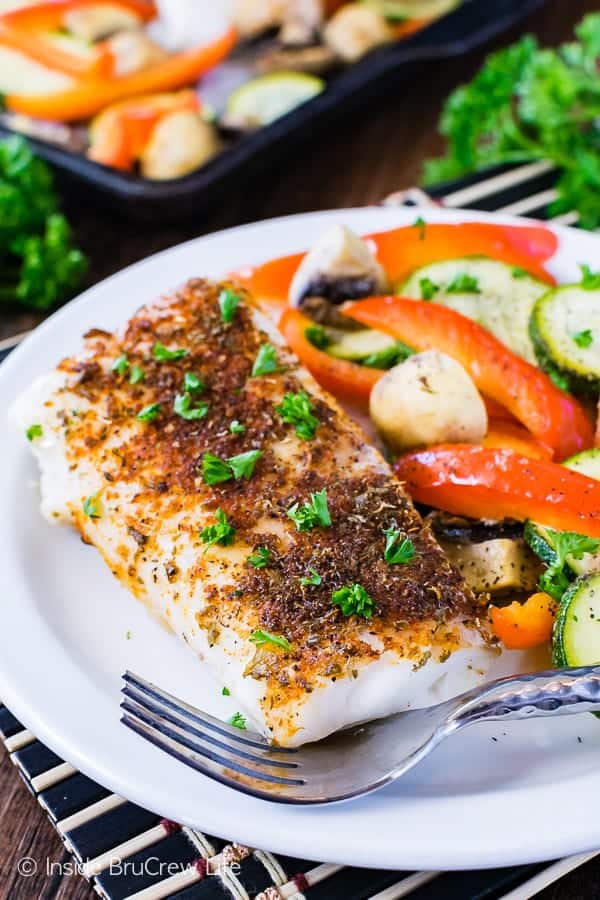 CLICK HERE TO PIN THIS RECIPE FOR LATER!
Wait, wait, wait!   Yes, you are in the right place.  Seeing an extremely healthy dinner staring back at you right now has you totally disoriented, I'm sure.  You may even be wondering what kind of alternate universe you woke up in.
Trust me. You hit the right button, and you are really on Inside BruCrew Life. I know the strange feeling you are experiencing right now.  It's the same one I get when I'm in the kitchen creating healthy dinners for my family to eat. I definitely prefer to bake over cook any day.
The funny thing is that even though most of the recipes I share here on the blog are crazy ridiculous over the top desserts like this Snickers cheesecake brownie cake, we actually eat fairly healthy. Most of the time.
I throw that phrase in there because we do make our fair share of homemade pizza dough on a regular basis.  Thank goodness for CrossFit work outs to blast off the calories I eat on those nights.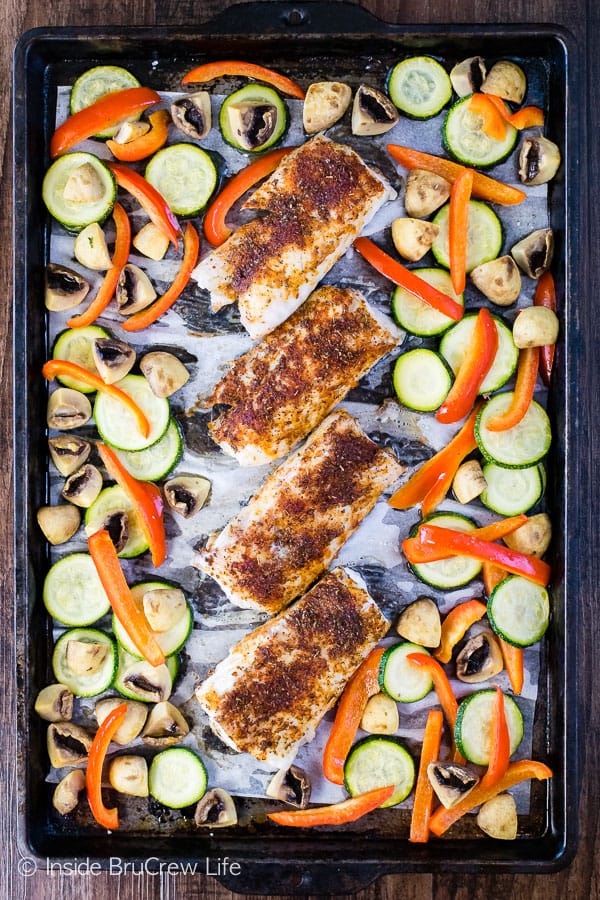 Speaking of CrossFit, we finally got back to doing some work outs this week.  Since we moved just a few weeks ago, we have kind of slacked off a little.  We still were doing some stuff, but not as intense as before. After two days of hitting hard, I can hardly move.
My muscles are so upset with me right now.  You know it's bad when you groan about going to the bathroom…or moving in general.
My hubby is loving his new job as a health coach.  He is definitely has the encouraging and caring spirit to do this job well. He is also set on getting on our garage gym all set back up and organized.
The other day he bought a few more "torture" devices…aka a squat rack and another air dyne bike.  I'm scared for the next few days of work outs.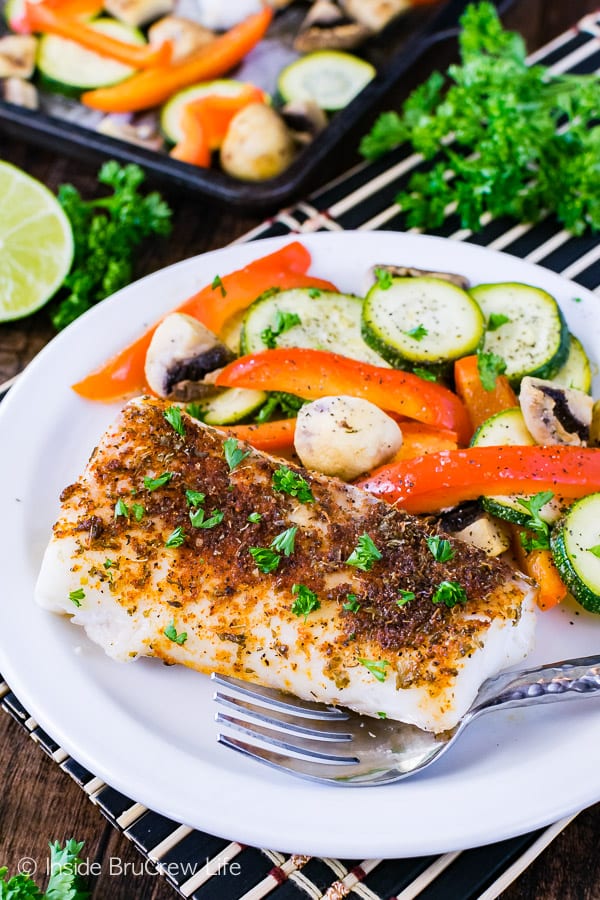 I say I'm scared, but I still get up and hit it hard every morning. Losing 15 pounds of weight by eating right and working out kind of keeps you motivated to get after it every day.
What gets you going in the morning? Honestly for me the biggest reason I keep going is that I am buying pants and shorts two sizes smaller than I did last summer.  That's huge!
If you are at that point where you are ready to get healthy or want to learn more about what a health coach can do for you, feel free to contact me with any questions, and I'll have my husband message you back.
Since eating right REALLY is the main thing to getting fit, we have been trying to incorporate more lean and green meals and things like these roasted veggies to our menu. The kids aren't thrilled about it, but hey, we are trying to teach them healthy habits at a young age. It's so much harder to do this once you have gotten old and set in our ways.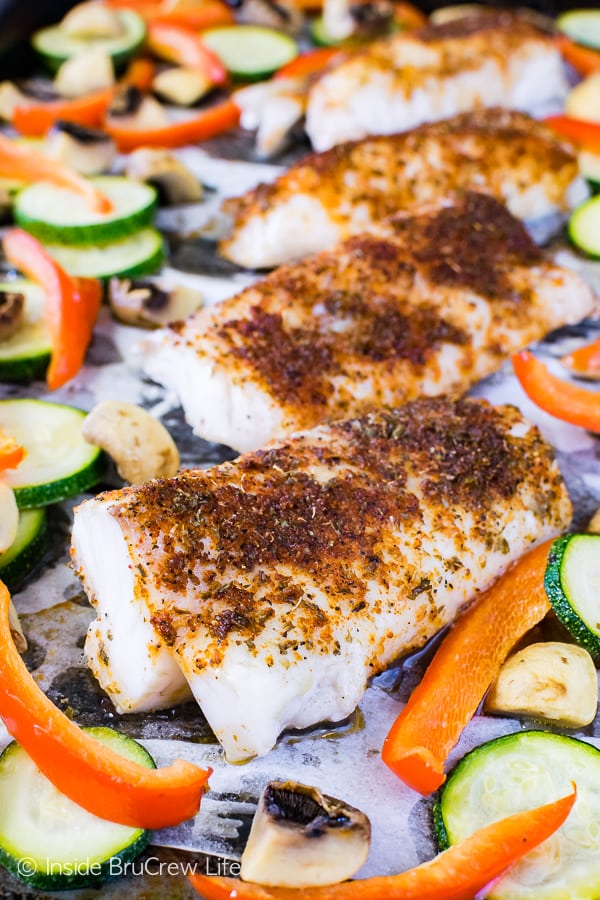 I've never been a huge seafood or fish eater, but I have been trying to add it in more often because eating chicken all the time gets old. A few months ago we picked up a bag of frozen cod fillets from Sam's Club.  Guys, I am a huge fan of fish now.  Well, cod anyway. It's such a mild and flakey fish, and I actually enjoy eating it.
Since easy sheet pan dinners are all the rage right now, I decided to jump on that train too. We drizzled the fish with an oil and lime mixture and then rubbed it with a chili spice mixture.
The leftover oil mixture was drizzled on some cut veggies and then everything was placed on a sheet pan.  15 minutes later this sheet pan chili lime cod dinner was ready to be plated and served! Gotta love an easy peasy dinner that counts as a super healthy option.
If you are looking for a few more healthy dinners to add to your meal rotation. Check out these recipes I found. This Healthy Shrimp Pad Thai can be made and eaten in 15 minutes. I love easy dinners like that! A big bowl of this Healthy BLT Slaw would be perfect for any picnic or dinner that you get invited to this weekend. I love how colorful it is!!! And now that I'm on the sheet pan train this Caribbean Chicken Curry Sheet Pan Dinner sounds amazing. Bring on the tropical goodness in a pan!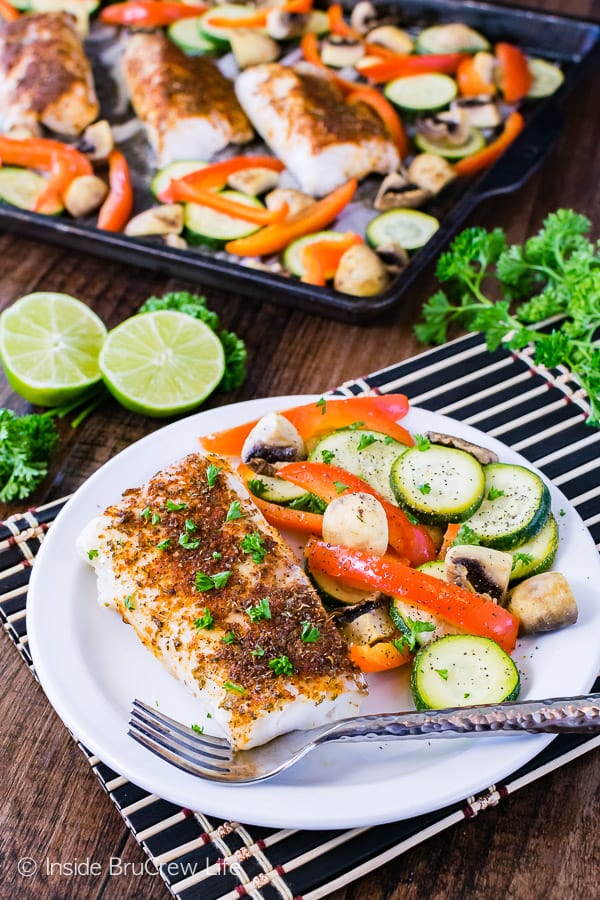 Stay up to date on all the BruCrew baking here:
FACEBOOK | PINTEREST | GOOGLE+ | TWITTER | INSTAGRAM | BLOGLOVIN
 Sign up to receive an email in your inbox for each new recipe:
EMAIL SUBSCRIPTION
Yield: 4 cod fillets
Sheet Pan Chili Lime Cod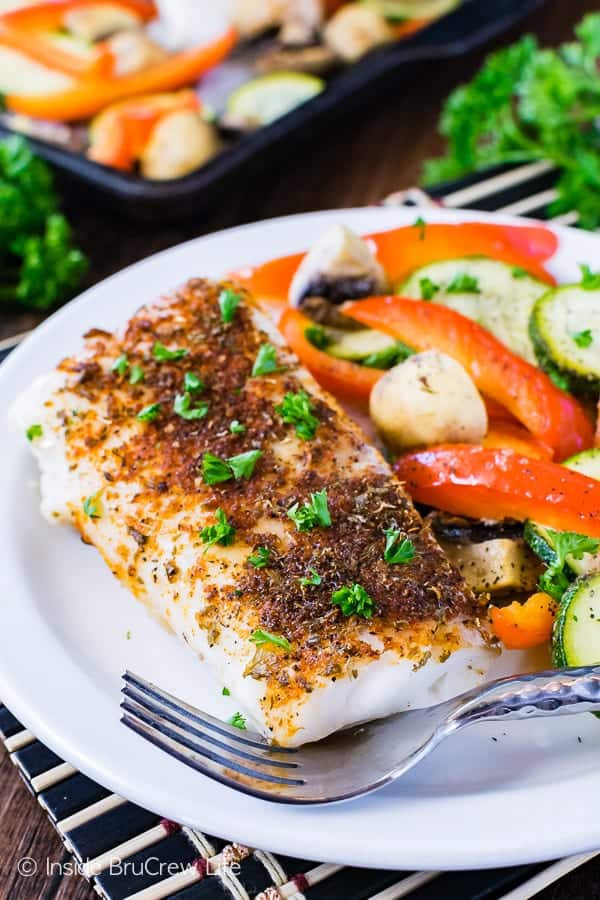 A spicy rub adds a blast of flavor to this easy Sheet Pan Chili Lime Cod. An easy and healthy dinner that can be on the table in under 30 minutes is the perfect meal for busy nights.
Ingredients
1/2 teaspoon dried oregano
1 teaspoon chipotle chili powder*
1/2 teaspoon cumin
1/2 teaspoon garlic powder
1/4 teaspoon salt
1/4 teaspoon pepper
1/2 teaspoon dried parsley
2 Tablespoons olive oil
1 lime
4 frozen cod fillets, thawed
1 medium zucchini, sliced
1 red pepper, cut into strips
1 - 8 ounce box white mushrooms, quartered
Instructions
Preheat the oven to 400 degrees. Line a sheet pan with parchment paper, if desired.
Stir together the oregano, chili powder, cumin, garlic, salt, pepper, and parsley.
Whisk together the oil and the juice from the lime. Brush the oil mixture on the thawed cod fillets and rub them with the spice mixture.
Drizzle the remaining oil over the cut veggies. Arrange the cod in the center of the prepared pan and place the veggies all around the outside of the cod fillets. Bake for 15 minutes. Serve immediately.
Notes
*We like spicy food, so I used 1 teaspoon of chili powder. If you want to make it a little less spicy, just use 1/2 teaspoon instead.
Nutrition Information:
Yield:
4
Serving Size:
1
Amount Per Serving:
Calories:

292
Total Fat:

9g
Saturated Fat:

1g
Trans Fat:

0g
Unsaturated Fat:

7g
Cholesterol:

99mg
Sodium:

297mg
Carbohydrates:

9g
Fiber:

3g
Sugar:

4g
Protein:

44g